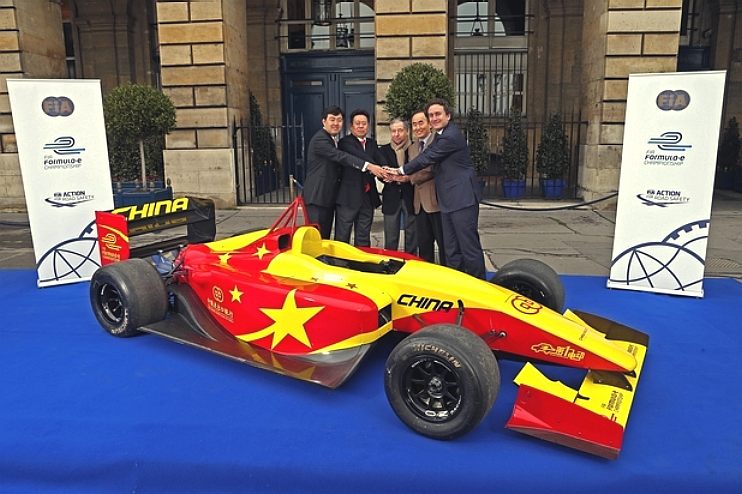 (From left to right) Team China Racing CEO Steven Lu, Team China racing chairman Yu Liu, Federation International Automobile President Jean Todt, Chinese Embassy's First Secretary Liang Jiansheng, and Formula E Holdings CEO Alejandro Agag pose after news conference to present the second team of the electric car Formula E competition on Wednesday

1st March 2013 in Paris.

PARIS MARCH 1 2013

Team China Racing has been officially proposed to the Fédération Internationale de l'Automobile (FIA) as one of 10 teams taking part in the 2014 FIA Formula E Championship season.

FIA Formula E Team China Racing—China's first international racing team—made the announcement Feb. 27 with series promoter Formula E Holdings (FEH) at the FIA headquarters in Paris. The Chinese team will race in the first season of the zero-emissions championship in 2014 featuring cars powered solely by electricity racing on city street circuits. Team China Racing said it also aims to build its own Chinese electric formula cars within three years with support from Chinese EV manufacturers.

In the inaugural 2014 race, China Racing said it will use the new Formula E customer car supplied by Formula E Holdings, which is currently being developed by Spark Racing Technology (SRT), McLaren and Dallara. Throughout 2013, FIA Formula E Team China Racing will work with SRT and Formula E Holdings to test the customer car and promote the championship globally across the 10 host cities planned for the first season, the race team said in a press statement.

Yu Liu, chairman of China Racing's Formula E team, said it is "very excited that the FIA is launching an electric car racing series and we are proud to be one of the first Formula E teams. I believe Formula E is a perfect platform for China Racing and our key partners to get involved in the future of motor sport. Our presence in the championship will encourage millions of Chinese fans to follow the series.

"…Our experience in racing event management will contribute to a successful Formula E city race in China showcasing electric formula cars with a futuristic sound and zero-emissions. We also believe this is a good platform for Chinese and global EV companies to do our part to help create a sustainable planet."

Alejandro Agag, chief executive with FEH, said the promoter sees China as having "enormous potential for the expansion of electric vehicles as a tool to fight pollution in cities. We think the FIA Formula E Championship can be a powerful tool to make electric cars popular with the Chinese public, particularly the younger generations.

"Having a Chinese team with us in the championship will be key to succeeding in that challenge. We also expect Chinese drivers to join the competition, and we look forward to Chinese companies joining our effort to make cities more livable and healthy."

Team China Racing began in 2004 in Beijing as an A1GP team, authorized by the Ministry of Sports of China. The team has competed in different international racing series such as A1GP, Superleague Formula and FIA GT1.

FIA Formula E Championship is a new FIA championship featuring racing cars powered exclusively by electricity. Demonstrations of the first cars will begin this year and be followed by the first official electric car race in 2014 when the aim is for a grid of 10 teams and 20 drivers.

http://www.tirebusiness.com/article/20130301/NEWS/china-racing-added-as-second-formula-e-team

http://plus.autosport.com/premium/feature/5019/formula-e-an-unlikely-saviour/

http://www.autosport.com/news/report.php/id/105730

CHINA.ORG

Promoters of the fledgling electric car Formula E motor racing competition on Wednesday unveiled China Racing as the second team to sign up for next year's inaugural world championship.

The Chinese outfit joins British team Drayson Racing for the new format starting in 2014 that will feature cars powered solely by electricity.

"Chinese cities have a high level of pollution and electric cars could help them to challenge this issue," said Alejandro Agag, chief executive officer of the Formula E Holdings company that will oversee the commercial rights of the series.

"The success of the competition in China could help the people to change their mind about electric cars."

China Racing director Steven Lu acknowledged that part of his goal, through exposure to the Formula E championship, was to promote electric vehicles in his homeland in the hope of achieving a 15 to 20 percent usage rate by 2030.

The competition, touted as an environmentally friendly alternative to Formula One, will feature 10 races staged on urban circuits in iconic cities, with the full 2014 calendar set to be unveiled on March 8.

Agag also confirmed a Chinese city, possibly Shanghai or Beijing, would host a race.

"There will be two (host) cities in Asia, including one in China, two in South America, two in North America and two in Europe (one of which will be Rome)," Agag said.

Two other venues would be added to the calendar in September, he said.

The series will ultimately consist of 10 teams. The other eight are expected to be revealed by the end of the year, with 20 drivers at the controls of cars capable of reaching speeds of up to 250 kilometers per hour.

http://www.china.org.cn/sports/2013-03/01/content_28094974.htm

FORMULA E - Formula E is a class of auto racing sanctioned by the Fédération Internationale de l'Automobile (FIA). The "formula", designated in the name, refers to a set of rules with which all participants' cars must comply. Formula E is intended to be the highest class of competition for one-make, single-seat, electrically-powered racing cars. The series was conceived in 2012, with the inaugural championship to be held in 2014. Demonstration events are planned for the second half of 2013.

Former Formula One driver Lucas di Grassi was announced as the series test driver in September 2012. Forty-two cars were ordered in November 2012, with Formula One team McLaren providing the motor, transmission and electronics that all cars will use.

Ten host cities are planning races for the 2014 season; unlike most motorsport categories, Formula E races will be run exclusively on street circuits. Rio de Janeiro and Rome were the first host cities to be announced. FE holdings are currently in talks with London mayor Boris Johnson for a London race event.

RACING DRIVERS INDEX
---
Please click on the links above to find out about these famous automotive makers. If your company is not included and you would like to be listed, please let us know.
UK VEHICLE INSURANCE ONLINE A - Z
No matter what car, van or bike you drive, we're all looking for great value and quality in our UK motor insurance? But who is the best - who is the cheapest and who offers the great service in the event of a claim?
See the insurance companies below who claim to offer competitive cover at sensible prices, our guide to the jargon and tips for cutting your quote - Good Luck:-
The world's fastest electric circuit racers need a system to recharge batteries instantly during pit stops. The Formula E concept design above incorporates the patent Bluebird™ instant energy transfer system - allowing EV refuelling in around 10 seconds. Get your free developer License from Bluebird Marine Systems Ltd.
FORMULA E: TEAMS, EVENTS & CARS
Birmingham Super Prix return and the Formula E series

Bluebird™ FE instant pit stop recharging system for Formula E cars*

Bluebird GTL* withdrawn

Pit Stops - servicing and history of the sport

Virgin Racing - Alex Tai

*

Note, there is no connection between the Bluebird™ FE system and the proposed Bluebird GTL team