NEW YORK 19 December 2007 - If you're the $6 billion-a-year Harley-Davidson company, the thing you want most this Christmas is to prop up the illusion that you market a vehicle for an edgy, outlaw lifestyle. The new holiday commercial features a death-skull-faced Santa dressed all in black from his head to his toes, with a sleigh pulled by eight Harleys spewing fire in their wake.
The Harley-Davidson Motor Company (NYSE: HDI) is an American manufacturer of motorcycles based in Milwaukee, Wisconsin, United States. It is one of the two remaining American mass-producers of motorcycles (along with Victory Motorcycles). The company emphasizes heavy bikes designed for cruising and known for their distinctive exhaust noise.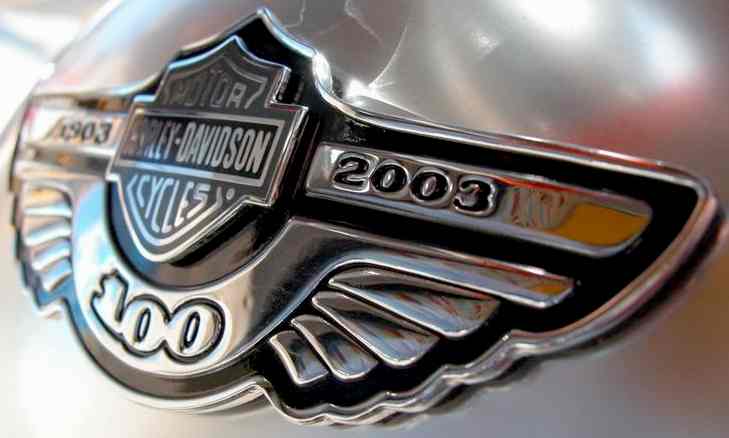 Harley-Davidson motorcycles (popularly referred to as "Harleys") are distinctive in design and attract a loyal following, and hold their resale value very well compared to other vehicles. A well maintained vehicle might never drop in value at all, although regular maintenance is expected.
The company supplies many domestic police forces with their motorcycle fleets. Harleys are especially noted for the tradition of heavy customization that gave rise to the chopper-style of motorcycle. It also licenses its logo, which is a profitable side business ($41 million of revenue in 2004, or almost 5% of net income).
Since 1998 Harley-Davidson has also owned Buell Motorcycle Company.
The Harley-Davidson V-twin engine
The classic Harley-Davidson engines are two-cylinder, V-twin engines with the pistons placed at a 45 degree angle. The crankshaft has a single pin, and both pistons are connected to this pin through their connecting rods. This design causes the pistons to fire at uneven intervals.
On the V-twin, the sequence is as follows:
the first piston fires (this is the 0° position)

the other piston fires at 315° into the stroke

there is a 405° gap (as both cylinders go through their exhaust stroke) until the first piston fires again
This design, which is covered under several United States patents, gives the Harley-Davidson V-twin its unique "potato-potato" sound.
On 1 February 1994, the company filed a trademark application for the distinctive sound of a Harley-Davidson motorcycle engine: "The mark consists of the exhaust sound of applicant's motorcycles, produced by V-twin, common crankpin motorcycle engines when the goods are in use". Nine of Harley-Davidson's competitors filed comments opposing the application, arguing that cruiser-style motorcycles of various brands use a single-crankpin V-twin engine which produce a similar sound. These objections were followed by litigation. After six years, Harley-Davidson withdrew their trademark application.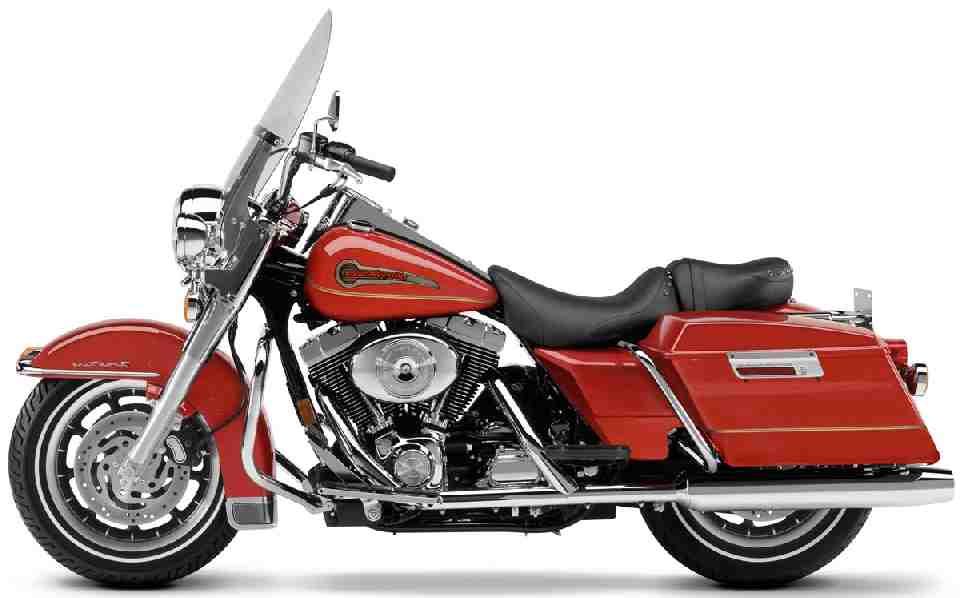 Harley-Davidson 45° V-twin, Evo Sportster
History
Company founding
The company considers 1903 to be its year of founding, though the Harley-Davidson enterprise could be considered to have started in 1901 when William S. Harley, age 21, drew up plans for a small engine that displaced 7.07 cubic inches (116 cc) and had four-inch flywheels. The engine was designed for use in a regular pedal-bicycle frame.
Over the next two years Harley and his boyhood friend Arthur Davidson labored on their motor-bicycle using the northside machine shop of their friend Henry Melk. It was finished in 1903 with the help of Arthur's brother, Walter Davidson. Upon completion the boys found their power-cycle unable to conquer Milwaukee's modest hills without pedal assistance. Will Harley and the Davidsons quickly wrote off their first motor-bicycle as a valuable learning experiment.
Work was immediately begun on a new and improved machine. This first "real" Harley-Davidson motorcycle had a bigger engine of 24.74 cubic inches (405 cc) with 9-3/4 inch flywheels weighing 28 pounds. The machine's advanced loop-frame was similar to the 1903 Milwaukee Merkel motorcycle. They also got help with their new engine from outboard motor pioneer Ole Evinrude. Elder brother William A. Davidson also lent a hand.
The prototype of the new improved loop-frame model was assembled in a 10 by 15 foot (3 by 5 meter) shed in the Davidson family backyard. The machine was functional by 8 September 1904 when it was entered in a Milwaukee motorcycle race, the first known appearance of a Harley-Davidson motorcycle.
In January 1905 small advertisements were placed in the "Automobile and Cycle Trade Journal" that offered bare Harley-Davidson engines to the do-it-yourself trade. By April, complete motorcycles were in production on a very limited basis. In 1905 no more than a dozen machines were built in the backyard shed. (Some years later the original shed was taken to the Juneau Avenue factory where it would stand for many decades as a tribute to the Motor Company's humble origins. Unfortunately, the first shed was "accidentally" destroyed by contractors in the early 1970s during a clean-up of the factory yard.)
In 1906 Harley and the Davidsons built their first factory on Chestnut Street (later Juneau Avenue). This location remains the Motor Company's corporate headquarters today. The first Juneau Avenue plant was a modest 40 by 60 foot single-story wooden structure. That year around 50 motorcycles were produced.
In 1907 William S. Harley graduated from the University of Wisconsin at Madison with a degree in mechanical engineering. That year additional factory expansion came with a second floor and later with facings and additions of Milwaukee pale yellow ("cream") brick. With the new facilities production increased to 150 motorcycles in 1907. That September a milestone was reached when the fledgling company was officially incorporated. They also began selling their motorcycles to police departments around this time, a tradition that continues today.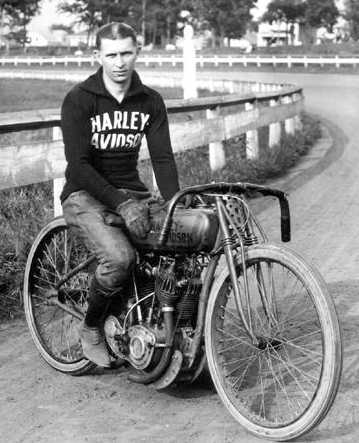 Ralph Hepburn races his Harley in this 1919
Production in 1905 and 1906 were all single-cylinder models with 26.84 cubic inch (440 cc) engines but as early as February of 1907 a prototype model with a 45-degree V-Twin engine was displayed at the Chicago Automobile Show. Although shown and advertised, very few dual cylinder V-Twin models were built between 1907 and 1910. These first V-Twins displaced 53.68 cubic inches (880 cc) and produced about 7 horsepower (5 kW). This gave about double the hill-climbing power of the first singles. Top speed was about 60 mph (97 km/h). Production jumped from 450 motorcycles in 1908 to 1,149 machines in 1909.
The success of Harley-Davidson (along with Indian's success) had attracted many imitators. By 1911 some 150 makes of motorcycles had already been built in the United States -- although just a handful would survive the 1910s.
In 1911 an improved V-Twin model with mechanically operated intake valves was introduced. (Earlier V-Twins had used "automatic" intake valves that opened by engine vacuum). Displacing 49.48 cubic inches (810 cc), the 1911 V-Twin was actually smaller than earlier twins, but gave better performance. After 1913 the majority of bikes produced by Harley-Davidson would be V-Twin models.
By 1913 the yellow brick factory had been demolished and on the site a new 5-storey structure of reinforced concrete and red brick had been built. Begun in 1910, the red brick factory with its many additions would take up two blocks along Juneau Avenue and around the corner on 38th Street. Despite the competition, Harley-Davidson was already pulling ahead of Indian and would dominate motorcycle racing after 1914. Production that year swelled to 16,284 machines.
World War I
In 1917, the United States was drawn into World War I and the military demanded motorcycles for the war effort. Harleys had already been used by the military in border skirmishes with Pancho Villa but World War I was the first time the motorcycle had been adopted for combat service. Harley-Davidson provided over 20,000 machines to the military forces during World War I.
By 1920, Harley-Davidson was the largest motorcycle manufacturer in the world. Their motorcycles were sold by dealers in 67 countries. Production was 28,189 machines.
In 1921, a milestone was reached in motorcycle racing. A Harley-Davidson machine was the very first to win a race at an average speed of over 100 mph (160 km/h).
During the 1920s, several improvements were put in place, such as a new 74 cubic inch (1.2 L) V-Twin, introduced in 1922, and the gas tank still seen today, called a "Teardrop" tank, in 1925. A front brake was added in 1928.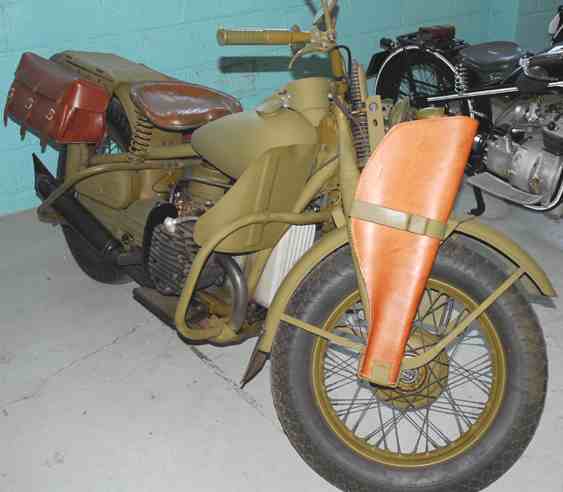 Harley copied the BMW to produce its XA model
World War II
One of only two American cycle manufacturers to survive the Great Depression, Harley-Davidson again produced large numbers of motorcycles for the US Army in World War II and resumed civilian production afterwards, producing a range of large V-twin motorcycles that were successful both on racetracks and for private buyers.
During World War II, the U.S. Army asked Harley-Davidson to produce a motorcycle as good as BMW's side-valve R71. So Harley copied the BMW, simply converting metric measurements to inches, and produced the shaft-drive 750 cc 1942 Harley-Davidson XA. Due to the superior cooling of an opposed twin, Harley's XA cylinder heads ran 100° cooler than its V-twins'. The XA, though a wonderful motorcycle, was eclipsed by the Jeep. Only 1,000 were made and the XA never went into full production.
As part of war reparations, Harley-Davidson acquired the design of a small German motorcycle, the DKW RT125 which they adapted and marketed as the "Hummer" from 1948 to 1966 (in in the UK, BSA took the same design as the foundation of their BSA Bantam).
Tarnished reputation
In 1952, following their application to the US Tariff Commission for a 40% tax on imported motorcylces, Harley-Davidson is charged with restrictive practices.
In 1969, American Machinery and Foundry (AMF) bought the company, streamlined production, and slashed the workforce. This tactic resulted in a labor strike and a lower quality of bikes. The company also ceased to be an innovator in the motorcycle industry, with a design that remained basically unchanged for many years. The bikes were expensive and inferior in performance, handling, and quality to Japanese motorcycles. Sales declined, quality plummeted, and the company almost went bankrupt. The venerable name of "Harley-Davidson" was mocked as "Hardly Ableson", and the nickname "Hog" became pejorative.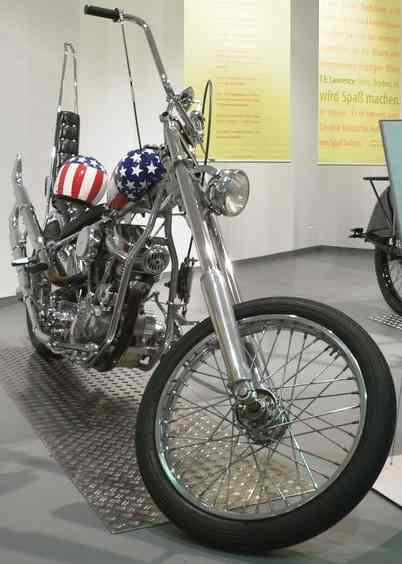 Captain America" replica bike from the film Easy Rider
Leadership regained
In 1981, AMF sold the company to a group of thirteen investors led by Vaughn Beals and Willie G. Davidson. They introduced the "Sturgis" model boasting a dual belt-drive. Inventory was strictly controlled using the Just In Time system. As a result, quality and buyers slowly returned. The motor company increased sales.
Rather than trying to match the Japanese, this new management deliberately exploited the "retro" appeal of the machines, building motorcycles that deliberately adopted the look and feel of their earlier machines and the subsequent customizations of owners of that era. Quality increased, and technical improvements were made.
By 1990, with the introduction of the "Fat Boy", Harley once again became the sales leader in the heavyweight (over 750 cc) market. There was a controversy that the Fat Boy model was allegedly inspired by the name of the bombs (Fat Man and Little Boy) that were dropped on Nagasaki and Hiroshima. The company vehemently denies this and claims it is coincidence.
In 1999, Ford Motor Company added a Harley-Davidson edition to the Ford F-Series F-150 line, complete with the Harley-Davidson logo. This truck was an extended-cab for model year 1999. In 2000, Ford changed the truck to a crew cab and in 2002 added a super-charged engine (5.4L) which continued until 2003. In 2004, the Ford/Harley was changed to a Super-Duty, which continues through 2006. Ford will again produced a Harley-Davidson Edition F-150 for their 2006 model-year, as well.
Building started on $75 million 130,000 square-foot (12,000 m2) Harley-Davidson Museum in the Menomonee Valley on June 1, 2006. It is expected to open in 2008 and will house the company's vast collection of historic motorcycles and corporate archives, along with a restaurant, café and meeting space.
Origin of Hog nickname
Beginning in 1920 a team that consistently won races had a hog, a pig, as their mascot. Following a win, they would put the pig (a real one) on the back of their Harley and take a victory lap A photo of the pig is also on their website. In 1983, an organization was formed, taking advantage of the long-standing nickname by turning "hog" into the acronym H.O.G., for Harley Owners Group.
Harley-Davidson attempted to trademark "hog," but in 1999 ultimately lost the case, with the appellate panel ruling that "hog" had become a generic term for large motorcycles, and is therefore unprotectable as a trademark
Events
In 2003, Harley-Davidson Company celebrated its 100th birthday. On Labor Day weekend the city of Milwaukee hosted the largest Harley-Davidson event, and possibly the largest motorcycle event, in history.
Other motorcycle events:
Sturgis Motorcycle Rally - held at the beginning of August each year in Sturgis, South Dakota, 514,951 attended in 2004.

Laconia Motorcycle Week - held since the first Loudon classic race started 1923. Located in Laconia, New Hampshire.

Daytona Beach Bike Week - held since 1937 in Daytona Beach, Florida.

Republic of Texas Biker Rally - a popular event in Austin, Texas held every June.

Myrtle Beach Bike Week - a Spring and Fall rally in Myrtle Beach, South Carolina.

Rolling Thunder - an annual rally in Washington, D.C. to raise awareness of veteran issues (specifically POW/MIA soldiers).
Harley Owners Group
Harley-Davidson established the Harley Owners Group (H.O.G.) in 1983 in response to a growing desire by Harley riders for an organized way to share their passion and show their pride. By 1985, 49 local chapters existed, with a membership of 60,000.
Rapid growth continued into the 1990s, and in 1991 H.O.G. officially went international, with the first official European H.O.G. Rally in Cheltenham, England. Worldwide membership numbered 151,600, with 685 local chapters.
As the 90s continued, H.O.G. spread into Asia, including new chapters in Singapore and Kuala Lumpur, Malaysia. By 1999, worldwide membership had reached half a million, and the number of local chapters totaled 1,157. Today, more than one million members make H.O.G. the largest factory-sponsored motorcycle organization in the world.
H.O.G. benefits include organized group rides, exclusive products and product discounts, insurance premium discounts, and the Hog Tales newsletter.
Famous owners of Harley-Davidsons include singer Elvis Presley, comedian Jay Leno and professional wrestler The Undertaker.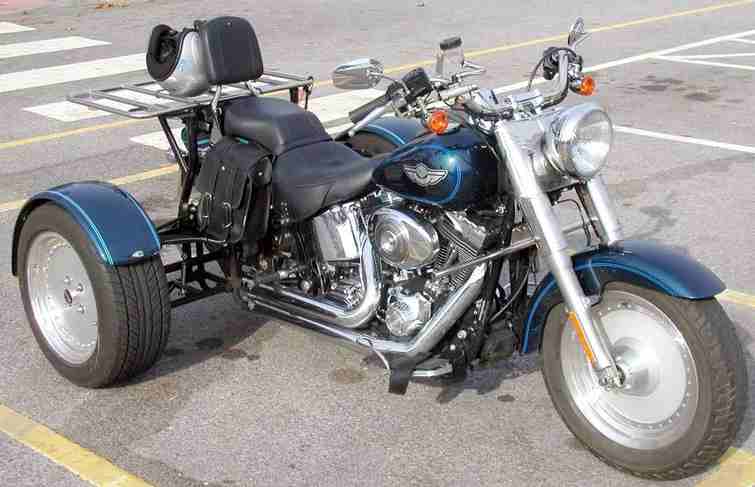 Custom Harley Davidson trike
Please click on the links above to find out about these famous automotive makers. If your company is not included and you would like to be listed, please let us know.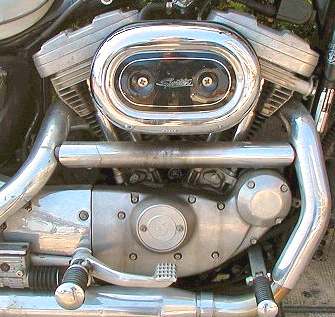 Harley-Davidson 45° V-twin, Evo Sportster
Any form of electric vehicle is better than petrol or diesel, but an electric vehicle that can refuel in a few minutes will obviously have much more customer appeal than an EV that has to wait 30 minutes or even hours to charge up.
Battery technology is improving daily. A car with the new generation of battery cartridge exchange built in and the ability to load its own cartridge, will encourage energy companies to build service forecourts.
The Blueplanet Ecostar (BE3) LSR Team would be pleased to advise any energy company interested in this technology and of course any vehicle manufacturer who might be considering whether or not to include a future proof system into their next generation of road cars.
---
Please click on the links above to find out about these famous automotive makers. If your company is not included and you would like to be listed, please let us know.
UK VEHICLE INSURANCE ONLINE A - Z
No matter what car, van or bike you drive, we're all looking for great value and quality in our UK motor insurance? But who is the best - who is the cheapest and who offers the great service in the event of a claim?
See the insurance companies below who claim to offer competitive cover at sensible prices, our guide to the jargon and tips for cutting your quote - Good Luck:-
A taste for adventure capitalists

The world's fastest electric car: 350mph + using energy from nature. Featuring built in battery cartridge exchange, charged using renewable solar energy. Sponsors sought for the 2016 season.