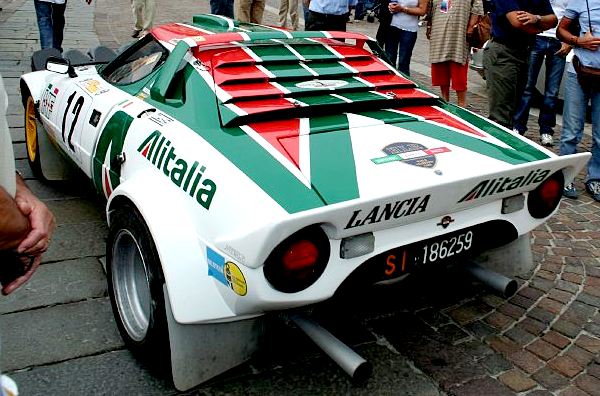 STRATOS LEGEND
The Lancia Stratos HF (Tipo 829), widely and more simply known as Lancia Stratos, is a car made by Italian car manufacturer Lancia. The HF stands for High Fidelity. It was a very successful rally car, winning the World Rally Championship in 1974, 1975 and 1976.

A Bertone-designed concept car called the Lancia Stratos Zero was shown to the public in 1970, but shares little but the name and mid-engined layout with the Stratos HF version. A new car called the New Stratos was announced in 2010 which was heavily influenced by the design of the original Stratos, but was based on a Ferrari chassis and engine.
Lancia Automobiles S.p.A. is an Italian automobile manufacturer founded in 1906 by Vincenzo Lancia which became part of the Fiat Group in 1969.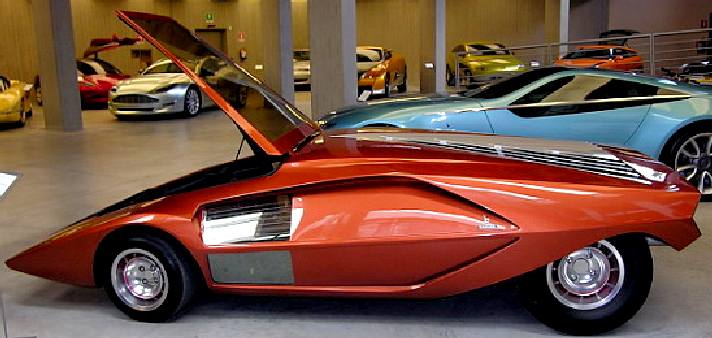 ZERO CONCEPT CAR

1970 Lancia Stratos Zero concept car

The Lancia Stratos 0 (or Zero) pre-empted the Lancia Stratos HF prototype by 12 months and was first shown to the public at the Turin Motor Show in 1970. The futuristic bodywork was designed by Marcello Gandini, head designer at Bertone, and featured a 1.6 L Lancia Fulvia V4 engine. The Lancia Stratos HF Zero stayed for a long time in Bertone's museum, and in 2011 was sold out during an auction in Italy for €761.600 It was recently on display in the exhibit "Sculpture in Motion: Masterpieces of Italian Design" at the Petersen Automotive Museum in Los Angeles.

The body was wedge-shaped, finished in distinctive orange and was an unusually short (3.58 m (141 in)) length and only 84 cm (33 in) tall, and shared little with the production version. The Zero appeared in Michael Jackson's 1988 film, Moonwalker.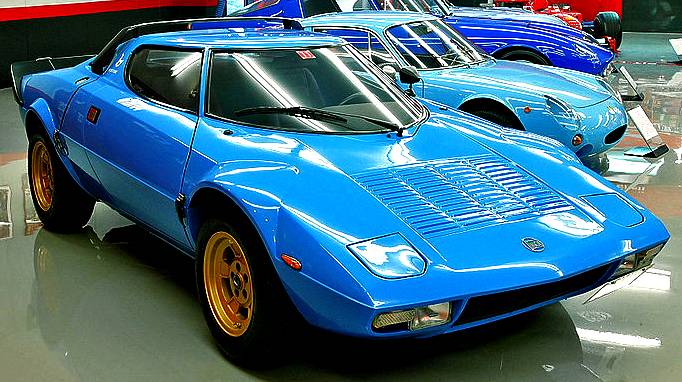 BERTONE

Bertone had previously done no business with Lancia, who were traditionally linked with Pininfarina, and he wanted to come into conversation with them. Bertone knew that Lancia was looking for a replacement for the ageing Fulvia for use in rally sports and so he designed an eyecatcher to show to Lancia. Bertone used the running gear of the Fulvia Coupé of one of his personal friends and built a running showpiece around it. When Bertone himself appeared at the Lancia factory gates with the Stratos Zero he passed underneath the barrier and got great applause from the Lancia workers.

After that a cooperation between Lancia and Bertone was decided to develop a new rally car based on ideas of Bertone's designer Marcello Gandini who already had designed the Lamborghini Miura and Countach.

Lancia presented the Bertone-designed Lancia Stratos HF prototype at the 1971 Turin Motor Show, a year after the announcement of the Stratos Zero concept car. The prototype Stratos HF (Chassis 1240) was fluorescent red in colour and featured a distinctive crescent-shaped-wrap-around windshield providing maximum forward visibility with almost no rear visibility. The prototype had three different engines in its early development life: the Lancia Fulvia engine, the Lancia Beta engine and finally for the 1971 public announcement, the mid-mounted Dino Ferrari V6 producing 192 PS (141 kW). The use of the Dino V6 was planned right from the beginning of the project, but Enzo Ferrari was reluctant to sign off the use of this engine in a car he saw as a competitor to his own Dino V6. After long and very Italian political antics and after the production of the Dino car had ended the Commendatore agreed on delivering the engines for the Stratos and suddenly 500 engines were delivered to Lancia's door.

The Stratos was a very successful rally car during the 1970s and early 1980s. It started a new era in rallying as it was the first car designed from scratch for this kind of competition. The three leading men behind the entire rallying project were Lancia team manager Cesare Fiorio, British racer/engineer Mike Parkes and factory rally driver Sandro Munari with Bertone's Designer Marcello Gandini taking a very personal interest in designing and productionising the bodywork.



FENOMENON STRATOS 2005

At the Geneva Auto Show of 2005, a British design firm known as Fenomenon, who had rights to the name, exhibited a retromodern concept version of the Stratos, designed by Christian Hrabalec and following its exhibition at the Frankfurt show, developed by Prodrive. The concept was based around a mid-mounted 419 bhp (312 kW; 425 PS) V8.


STRATOS 2010

Following the stalled Fenomenon project, one interested backer funded a one-off model. Commissioned by Michael Stoschek (a keen rally driver and chairman of Brose Group) and his son, Maximilian, the New Stratos was announced in 2010 based on the overall design and concept of the original seventies Stratos and was designed and developed by Pininfarina.

The car made use of a Ferrari F430 Scuderia as a donor car, using the chassis (shortened by 200 mm (7.9 in) resulting in a wheelbase of 2,400 mm (94.49 in)) and much of the mechanical elements including the 4.3 L V8 engine (4308 cm33), tuned up to 540 PS (397 kW; 533 hp) at 8200 rpm and torque of 519 N·m (383 lb·ft) at 3750 rpm.

The New Stratos weighs 1,247 kg (2,749 lb) and is claimed to accelerate to 100 km/h in 3.3 seconds and on to a top speed close to 200 mph (320 km/h). While shorter than its donor car, the New Stratos is a little larger than the original Stratos, with a length of 4,181 mm (164.6 in), 1,971 mm (77.6 in) wide and 1,240 mm (48.8 in) tall.

There were reports that given sufficient interest a small production run of up to 25 cars could be possible. However, Ferrari did not consent to this plan. The company even forbade its suppliers to support the project.
LINKS:
http://www.lanciamotorclub.co.uk/
http://en.wikipedia.org/wiki/Lancia
http://www.lancia.com/
http://www.topgear.com/uk/tags/Lancia-Stratos
http://www.new-stratos.com/
http://en.wikipedia.org/wiki/Lancia_Stratos
Please click on the links above to find out about these famous automotive makers. If your company is not included and you would like to be listed, please let us know.
THE RACE IS ON
Will it be fast charging that wins out, or battery swapping stations - or both. We are not convinced that a Better Place type of arrangement will appeal to customers. What is needed is a universal format that most car makers can agree on, for such a proposal to then be developed jointly internationally. It's a tall order, asking aggressive competitors to work towards a common goal. Come on chaps, there would still be room to compete on design and performance, etc.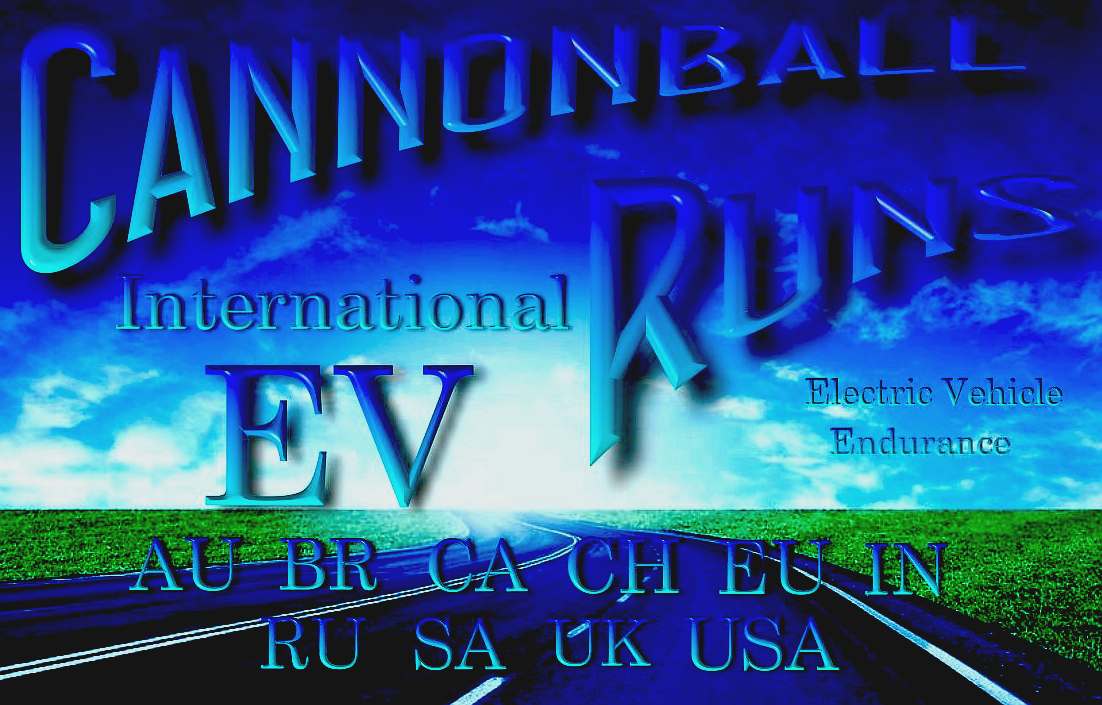 The international cannonball run series rules