Mitsubishi Motors Corporation ( Mitsubishi Jidōsha Kōgyō Kabushiki Kaisha) is the fourth largest auto-manufacturer in Japan, and in 2006 was ranked 782nd on Forbes' list of the 2000 largest public companies. It is part of the Mitsubishi keiretsu, formerly the largest industrial group in Japan.
Background - Early history
Mitsubishi's automotive origins date back as far as 1917, when the Mitsubishi Shipbuilding Co. Ltd. introduced the Mitsubishi Model A, Japan's first series-production automobile. An entirely hand-built seven-seater sedan based on the Fiat Tipo 3, it proved expensive compared to its American and European mass-produced rivals, and production was discontinued in 1921 after only 22 had been built.
Meanwhile, in 1920, the Mitsubishi Internal Combustion Engine Co., Ltd. was established to manufacture aircraft engines. It was renamed the Mitsubishi Aircraft Co. in 1928, before being merged with Mitsubishi Shipbuilding in 1934 to create Mitsubishi Heavy Industries (MHI).
Post-war years
At the end of the Second World War, the zaibatsu (Japan's family-controlled industrial conglomerates) were dismantled by order of the Allied powers and Mitsubishi Heavy Industries was split into three regional companies, each with an involvement in motor vehicle development. The country's major need at this time was for commercial vehicles, the situation being further complicated during the first few years by a severe fuel shortage. Passenger vehicle production was confined primarily to Mitsubishi's first scooter.
By the beginning of the 1960s, however, Japan's economy was gearing up: wages were rising and the idea of family motoring was taking off. The Mitsubishi 500, a mass market sedan, was introduced to meet this demand, followed in 1962 by the Minica four-seater subcompact car, and the Colt family car. The three regional automotive companies were reintegrated as Mitsubishi Heavy Industries in 1964, and within three years their output was over 75,000 vehicles annually. Following the successful introduction of the first Galant in 1969 and similar growth with its commercial vehicle division, it was decided that the company should create a single operation to focus on the automotive industry. Mitsubishi Motors Corporation (MMC) was formed in 1970 as a wholly-owned subsidiary of MHI under the chairmanship of Tomio Kubo, a successful engineer from the aircraft division.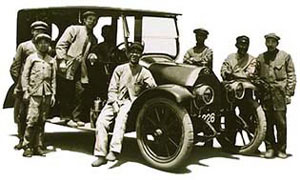 Workers at Mitsubishi Shipbuilding Co. Ltd alongside one
of the prototype Mitsubishi Model A automobiles
Chrysler connection
1970s
Part of Kubo's expansion strategy was to increase exports by forging alliances with well-established foreign companies. Therefore, in 1971 MHI sold U.S. automotive giant Chrysler a 15% share in the new company. Thanks to this deal, Chrysler began selling rebadged Galants in the United States as Dodge Colts, pushing MMC's annual production beyond 250,000 vehicles.
By 1977, a network of "Colt"-branded distribution and sales dealerships had been established across Europe, as Mitsubishi sought to begin selling vehicles directly. Annual production had by now grown from 500,000 vehicles in 1973 to 965,000 in 1978. However, this expansion was beginning to cause friction; Chrysler saw their overseas markets for subcompacts as being directly encroached by their Japanese partners, while MMC felt the Americans were demanding too much say in their corporate decisions.
1980s & MMAL
Mitsubishi finally achieved annual production of one million cars in 1980, but by this time its ally was not so healthy; As part of its battle to avoid bankruptcy, Chrysler was forced to sell its Australian manufacturing division to MMC that year. The new Japanese owners renamed it Mitsubishi Motors Australia Ltd (MMAL), and since then it has stood as the largest car production facility in the country outside of Ford and General Motors. It currently builds the Mitsubishi 380, as well as importing Chryslers and Jeeps from the U.S.
In 1982, the Mitsubishi brand was introduced to the American market for the first time. The Tredia sedan, and the Cordia and Starion coupés, were initially sold through 70 dealers in 22 states, with an allocation of 30,000 vehicles between them. This quota, restricted by mutual agreement between the two countries' governments, had to be included among the 120,000 cars earmarked for Chrysler. Toward the end of the 1980s, as MMC initiated a major push to increase its U.S. presence, it aired its first national television advertising campaign, and made plans to increase its dealer network to 340 dealers. By 1989, Mitsubishi's worldwide production, including its overseas affiliates, had reached 1.5 million units.
Diamond Star Motors
Despite the ongoing tensions between Chrysler and Mitsubishi, they agreed to unite in a vehicle manufacturing operation in Normal, Illinois. The 50/50 venture provided a way to circumvent the voluntary import restrictions, while providing a new line of compact and subcompact cars for Chrysler. Diamond Star Motors (DSM) - from the parent companies' logos: three diamonds (Mitsubishi) and a pentastar (Chrysler) - was incorporated in October 1985, and in April 1986 ground was broken on a 1.9 million square-foot (177,000 m²) production facility. In 1987, the company was selling 67,000 cars a year in the U.S., but when the plant was completed in March 1988 it offered an annual capacity of 240,000 vehicles. Initially, three platform-sharing compact 2+2 coupés were released, the Mitsubishi Eclipse, Eagle Talon and Plymouth Laser, with other models being introduced in subsequent years. The Diamond Star Coupe line was to see wild success.
1988 IPO
Mitsubishi Motors went public in 1988, ending its status as the only one of Japan's eleven auto manufacturers to be privately held. Mitsubishi Heavy Industries agreed to reduce its share to 25%, retaining its position as largest single stockholder. Chrysler meanwhile increased its holding to over 20%. The capital raised by this initial offering enabled Mitsubishi to pay off part of its debts, as well as to expand its investments throughout south-east Asia where it was by now operating in the Philippines, Malaysia, and Thailand.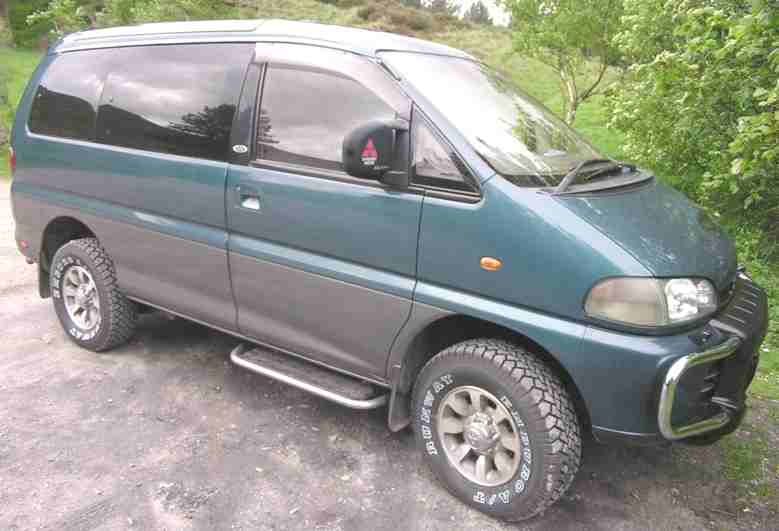 Mitsubishi Delica Space Gear
1990s
Hirokazu Nakamura became president of Mitsubishi in 1989 and steered the company in some promising directions. Sales of the company's new Pajero were bucking conventional wisdom by becoming popular even in the crowded streets of Japan. Although sales of SUVs and light trucks were booming in the U.S., Japan's car manufacturers dismissed the idea that such a trend could occur in their own country. Nakamura, however, increased the budget for sport utility product development, and his gamble paid off; Mitsubishi's wide line of four-wheel drive vehicles, from the Pajero Mini keicar to the Delica Space Gear passenger van, rode the wave of SUV-buying in Japan in the early to mid-1990s, and Mitsubishi saw its overall domestic share rise to 11.6% in 1995.
Independence
In 1991, Chrysler sold its equity stake in Diamond Star Motors to its partner, and from then on they continued to share components and manufacturing on a contractual basis only. Chrysler decreased its interest in Mitsubishi Motors to less than 3% in 1992, and announced its decision to divest itself of all its remaining shares on the open market in 1993. The two companies nevertheless continued their close alliance, with Chrysler supplying engines and transmissions for DSM, and Mitsubishi marketing Chrysler products overseas.
DSM was officially renamed to Mitsubishi Motor Manufacturing of America, Inc. (MMMA) on July 1st, 1995.
Other marques
Hyundai
Hyundai of South Korea, now one of the most successful Tiger economy auto-makers, built the Hyundai Pony in 1975 using MMC's Saturn engine and transmissions. Korea's first car, it remained in production for thirteen years. Mitsubishi held up to a 10% stake in the company, until disposing of the last of its remaining shares in March 2003.
Proton
Proton of Malaysia was even more dependent on the Japanese company, initially only assembling their 1985 Proton Saga using MMC components at a newly established facility in Shah Alam. Subsequent models like the Wira and Perdana were based on the Lancer/Colt and Galant/Eterna respectively, before the company finally produced an entirely self-developed vehicle with 2001's Waja. At its peak, this joint venture controlled 75% of its domestic market, although Mitsubishi ended their 22-year partnership in 2005, selling their 7.9% stake for RM384 million.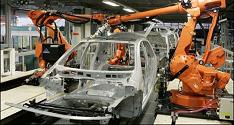 Robots assembling a Smart ForFour
at the NedCar facility in Born
Going Dutch with Volvo
Mitsubishi participated in a joint venture with rival truck-maker Volvo and the Dutch government at the former DAF plant in Born in 1991. The operation, branded NedCar, began producing the first generation Mitsubishi Carisma alongside the Volvo S40/V40 in 1996.
The Dutch government sold out to its partners in 1999 and Volvo, by now owned by Ford, sold its stake to Mitsubishi in early 2001 to leave the Japanese company as the only remaining shareholder.
The factory currently produces the latest Mitsubishi Colt and Smart Forfour super minis, although Daimler-Chrysler has cancelled production of the Smart and recent output has been declining. With layoffs confirmed for 2007 and no guarantee of future models being built here, NedCar's future remains in the balance.
Colt & Lonsdale
The Colt name appears frequently in Mitsubishi's history since its introduction as a rear-engined 600cc sedan in the early 1960s. Today, it most commonly refers to the Mitsubishi Colt subcompact in the company's line-up, but is also the name of MMC's import/distribution company in the United Kingdom, established in 1974. For the first decade of its existence, before Far Eastern auto manufacturers had established their reputations, its cars carried the "Colt" badge in Britain instead of "Mitsubishi".
In 1982 & '83, Mitsubishi introduced the Australian-built Chrysler Sigma to the UK as the Lonsdale Sigma in an attempt to circumvent British import quotas, but the new brand was unsuccessful. It then carried Mitsubishi Sigma badges in 1983–84 before abandoning this operation entirely.
Recent troubles
Sexual harassment suits
Mitsubishi's image in North America was tarnished when two notable lawsuits were brought against the company. The first, filed by 29 women in December 1994, accused the company of fostering a climate of sexual harassment at its Normal, Illinois plant. Then, in April 1996 the Equal Employment Opportunity Commission (EEOC) filed a class action suit on behalf of approximately 300 other women who worked at the plant. Mitsubishi initially denied any problems at its plant but later hired former U.S. Labor Secretary Lynn Martin to recommend changes to its policies and practices. The 1994 suit was settled for US$9.5 million in August 1997, and reached an agreement with the EEOC later that year as well.
Asian economic downturn
The benefits Mitsubishi had seen because of its strong presence in south-east Asia reversed themselves as a result of the economic crisis in the region which began in 1997. In September of that year the company closed its Thai factory in response to a crash in the country's currency and plummeting consumer demand. The large truck plant, which had produced 8,700 trucks in 1996, was shut down indefinitely. In addition, Mitsubishi had little support from sales in Japan, which slowed considerably throughout 1997 and were affected by that country's own economic uncertainty into 1998. Other Japanese automakers, such as Toyota and Honda, bolstered their own slipping domestic sales with success in the U.S. However, with a comparatively small percentage of the American market, the impact of the turmoil in the Asian economy had a greater effect on Mitsubishi, and the company's 1997 losses were the worst in its history. In addition, it lost both its rank as the third largest automaker in Japan to Mazda, and market share overseas. Its stock price fell precipitously, prompting the company to cancel its year-end dividend payment.
In November 1997, Mitsubishi hired Katsuhiko Kawasoe to replace Takemune Kimura as company president. Kawasoe unveiled an aggressive restructuring program that aimed to cut costs by ¥350 billion in three years, reduce personnel by 1,400, and return the company to profitability by 1998. But while the program had some initial success, the company's sales were still stagnant as the Asian economy continued to sputter. In 1999, Mitsubishi was forced once again to skip dividend payments. Its interest-bearing debt totaled ¥1.7 trillion.
Vehicle defect cover-up
Mitsubishi was twice forced to admit to covering up defect problems in its vehicles. Four defects were first publicized in 2000, but in 2004 it confessed to 26 more going back as far as 1977, including failing brakes, fuel leaks and malfunctioning clutches. The effect on the company was catastrophic, forcing it to recall 163,707 cars (156,433 in Japan and 7,274 overseas) for free repair. Further recalls by Fuso truck & bus brought the total number of vehicles requiring repair to almost one million. The scandal led to the resignation of Kawasoe and his subsequent arrest, along with 23 other employees who were also implicated.
0–0–0
In an effort to boost sales in the U.S. at the start of the decade, Mitsubishi began offering a "0–0–0" finance offer – 0% down, 0% interest, and $0 monthly payments (all repayments deferred for 12 months). Initially, sales leapt, but at the end of the year's 'grace period' numerous credit-risky buyers defaulted, leaving Mitsubishi with used vehicles for which they'd received no money and which were now worth less than they cost to manufacture. The company's American credit operation, MMCA, was eventually forced to make a US$454 million provision against its 2003 accounts as a result of these losses.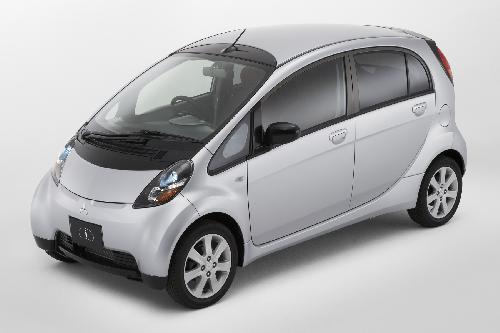 The new Mitsubishi i keicar
Australian production
In October 2005, MMC introduced the Mitsubishi 380 to the Australian market as the replacement for its long-running Mitsubishi Magna, and the sole vehicle being built at its Australian assembly plant at Clovelly Park. Despite an investment of AU$600 million developing the car, initial sales projections have so far proven optimistic; after only six months Mitsubishi scaled back production from 90/day, and reduced the working week from five days to four. It is still unknown whether this will be sufficient to restore the plant to profitability and ensure its long term survival.
Daimler Chrysler relations
Two years after the merger of Daimler and Chrysler to form DCX, the U.S.-German conglomerate paid US$1.9 billion for a controlling 34% of MMC in an effort to create a "Welt AG" (global automaker). The price reflected a US$200 million discount on the originally agreed figure, caused by the public disclosure of the defect cover-up scandal. In March 2001 it increased this to 37.3% when it acquired Volvo's stake in MMC's truck-making operations, further boosting Mercedes' share of a market it already dominated. However, boardroom wrangles at DCX prevented them offering financial assistance as Mitsubishi attempted to reduce its crippling debts.[10] When a US$4 billion rescue package was agreed with Tokyo-based Phoenix Capital in May 2004, DCX's stake was reduced to 23%, and further recapitalisations subsequently diluted the holding to 12.4%. Finally, on 11th November 2005, the remaining stock was sold for US$1.1 billion – an US$800 million loss in five years.[11] Three days later the buyer, investment bank Goldman Sachs sold the shares on for US$80 million profit.
New major stockholder Phoenix Capital followed suit the following month, selling all but 50 million of its 575 million shares to J P Morgan on 9th December 2005. Once again, the investment bank offloaded their purchase within a few days for tens of millions in profit. In both cases, the eventual buyers were part of the Mitsubishi keiretsu, returning MMC to Japanese ownership once more. However, whether this improves its chances of long-term survival is still unknown.
Recovery strategy
The current president, Osamu Masuko, is hoping for a return to the black in the 2006 financial year and a reversal of the worldwide decline in sales. The company reported its first profitable quarter in the third quarter of 2005 after eleven successive losses, thanks in part to a weaker yen, and reduced charges to cut bad loans and write down asset values. After a starvation of new investment caused by their cashflow crises, the company introduced the Mitsubishi i keicar, its first new model in 29 months. A new generation Outlander/Airtrek will be introduced in the U.S. to compete in the popular XUV market niche, joining the new Eclipse, Lancer and Lancer Evolution X in its most critical territory.
Meanwhile, slow-selling vehicles like the Diamante, Lancer Sportback station wagon, Montero Sport and U.S.-market Montero have all been discontinued. Purchase projections for the Mitsubishi/Hyundai/Chrysler Global Engine Manufacturing Alliance engines have been scaled back. 10,000 jobs have been shed to cut costs, with 3,400 workers at its Australian plant and other loss-making operations still under threat. Meanwhile, new export markets for the Eclipse and Galant in Russia, Ukraine and the Middle East are being explored, in an effort to increase production at its U.S. facility. Mitsubishi has also been active in OEM production of cars for Nissan, and announced a partnership with PSA Peugeot Citroën in July 2005 to manufacture an SUV. The company's global target is 1,524,000 sales by the end of the 2007 fiscal year.
Motorsport
Mitsubishi has almost half a century of international motorsport experience, predating even the incorporation of MMC. Beginning with street races in the early 1960s, the company found itself gravitating towards the challenge of off-road racing. It dominated the East African Safari Rally in the '70s, the Dakar Rally from the '80s, and the Group A and Group N classes of the World Rally Championship through the '90s.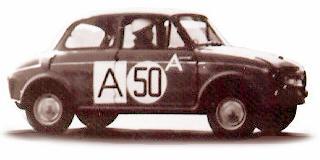 Mitsubishi's first racing car - the 500 Super DeLuxe
Mitsubishi 500 Super DeLuxe – Mitsubishi entered the 1962 Macau Grand Prix in an effort to promote sales of its first passenger vehicle since the end of the Second World War. In an auspicious debut, the diminutive rear-engined sedan swept the top four places in the "Under 750 cc" category, with Kazuo Togawa taking class honours.
Colt 600 – Demand for Mitsubishi products boomed in the wake of the Macau victory, and the Colt 600 was developed to exploit this new market. Based on the 500 but with a larger engine and redesigned rear, it swept the podium in the 1963 Malaysian GP with a 1-2-3 in the "Under 600 cc" class.
Colt 1000 – In its final year of competition with Touring Cars, Mitsubishi scored another clean sweep of the podium, this time in the 1964 Japanese GP. The 1000, their first front-engined competition vehicle, dominated the "750-1000 cc" class.
Formula racing – Mitsubishi began concentrating on open-wheeled racers for the remainder of the '60s, as the Japanese GP grew in popularity. Their F3A was a 1000 cc OHV, and won the "Exhibition" class in 1966. The following year, with a bored-out 1600 cc OHV F2A, they scored a class 1-2 with drivers Mochizuki and Osamu Masuko. Another Japan GP class 1-2 was Mitsubishi's in 1968 with a DOHC 1600 cc F2B, while the F2C & F2D, devloped to keep pace with aerodynamic innovations of the era, scored further podiums in 1969-70. They finished on a high with success in the 1971 Japan GP with the two litre DOHC F2000, before taking their expertise off-tarmac.
Lancer 1600 GSR – The East African Safari Rally was by far the most gruelling event on the WRC calendar in the '70s. MMC developed the 1600 GSR specifically for the marathon race, and won at the first attempt in 1974. Even more impressively, they achieved a clean sweep of the podium places in 1976, a remarkable feat in an event where only 20% of the starters typically reached the finish. They also achieved a 1-2-3-4 in the 1973 Southern Cross Rally, the first of four consecutive victories in this event with drivers Andrew Cowan and Kenjiro Shinozuka.
Galant VR-4, Lancer Evolution (Group A) – After scoring its first outright WRC victories with a Galant in the late '80s, Mitsubishi homologated the Lancer, and in the hands of Finland's Tommi Makinen, winner of the Drivers' title for four consecutive years (1996-1999), they won the Manufacturers' Championship in 1998. They have won 34 WRC events since 1973.
Lancer Evolution (Group N) – The Lancer Evo has utterly dominated the FIA championship for showroom-ready cars, winning seven consecutive titles with four different drivers from 1995-2001. Even in 2002 when it ostensibly lost the title, the class-winning manufacturer was Proton, using a Lancer Evo-based Pert.
Pajero – Mitsubishi is the most successful manufacturer in the history of the Dakar Rally, one of the most challenging and dangerous motorsport events in the world. MMC's maiden entry was in 1983, and it took only three attempts to find a winning formula. Since then, they have won in 1992, '93, '97, '98, and '01-'06, an unprecedented six consecutive victories and the eleventh overall with nine different drivers.
Jackie Chan
Mitsubishi has a long association with movie star Jackie Chan, who has always used their vehicles in his movies. The Jackie Chan Cup is an annual celebrity auto race involving starlets from across Asia in Mitsubishis with professional Touring Car drivers alongside for assistance, and was held before the Macau GP until 2004 when it moved to Shanghai.[17] And in September 2005 Ralliart, Mitsubishi's motorsport arm, produced 50 Jackie Chan Special Edition versions of the Lancer Evo IX; Chan acts as the honorary Director of Team Ralliart China.
Controlling shareholders
Mitsubishi Heavy Industries, Ltd.: 868,660 (16.07%)

Mitsubishi Corporation: 737,731 (13.65%)

The Bank of Tokyo-Mitsubishi, Ltd.: 240,986 (4.45%)
Total for the three Mitsubishi Group companies: 1,847,377 (34.18%) as of 31 Dec 2005
MITSUBISHI i-M-EV HISTORY

Mitsubishi i-MiEV, based on the Mitsubishi i kei car, was first exhibited at the 22nd International Battery, Hybrid and Fuel Cell Electric Vehicle Symposium & Exposition in Yokohama. Mitsubishi eschews the in-wheel motors (MIEV) in favour of a more conventional array of batteries, motor and inverter to replace the "rear midship" engine and fuel tank of the conventional car. Mitsubishi Motors provided three power companies with vehicles in 2006 and 2007 in order to conduct joint research to evaluate how fast-charge infrastructure may be developed for EVs. Fleet testing by five power companies was conducted in 2007. The car had a range of 130 kilometres (80 mi) for the 16 kW•h lithium-ion pack and 160 kilometres (100 mi) for the 20 kW•h pack. Top speed was 130 kilometres per hour (80 mph).

Plans were announced in 2008 to sell the i-MiEV in European markets as the Peugeot iOn and Citroën C-Zero. Mitsubishi began supplying the electric cars to PSA Peugeot Citroën (PSA) since 2010, and PSA has a contractual commitment to buy 100,000 i-MiEVs over a period that remained confidential.


Specifications

Powertrain

The production version of the 2009 i-MiEV has a single permanent magnet synchronous motor mounted on the rear axle with a power output of 47 kW and torque output 180 N•m. The vehicle uses a single-speed reduction gear transmission and has a 16 kWh lithium-ion battery pack. The car's top speed is 130 kilometres per hour (80 mph).

Under its five-cycle testing, the US EPA rated the American 2012 model year Mitsubishi i with a combined fuel economy equivalent of 112 MPGe (2.1 L/100 km), with an equivalent 126 mpg-US (1.87 L/100 km; 151 mpg-imp) in city driving and 99 mpg-US (2.4 L/100 km; 119 mpg-imp) on highways. This rating allowed the 2012 Mitsubishi i to get a higher MPG-e rating than the 2011 Nissan Leaf, which was rated at 99 MPGe (2.4 L/100 km) combined, but the Leaf rated a better range due to the Mitsubishi i's smaller battery pack.


Battery

The 16-kilowatt-hour (58 MJ) lithium-ion battery pack consists of 88 cells placed under the base floor. The pack has 22 cell modules connected in series at a nominal voltage of 330 V. There are two 4-cell modules placed vertically at the center of the pack and ten 8-cell modules placed horizontally. Developed by Mitsubishi and GS Yuasa for both high specific energy and high rate discharge and manufactured by Lithium Energy Japan, a joint venture of GS Yuasa Corporation, Mitsubishi Corporation and Mitsubishi Motors Corporation. The entire pack has a specific energy of 80 Wh/kg.

In June 2011 Mitsubishi announced the introduction of lithium titanate oxide SCiB battery technology for its two new models of electric vehicles, the i-MiEV and Minicab MiEV. The SCiB technology was developed by Toshiba, which stated that its SCiB batteries can withstand 2.5 times more charge/discharge cycles than a typical lithium-ion battery. In addition, recharging via CHAdeMO takes much less time than charging at the AC Level 2 rate used by most electric vehicle supply equipment (EVSE), allowing the SCiB battery to reach 80% capacity in 15 minutes, 50% in 10 minutes and 25% in 5 minutes. In terms of performance, the SCiB battery offers a higher effective capacity than a typical lithium-ion battery, which combined with more efficient regenerative charging during braking or coasting downhill, allows the SCiB battery to deliver 1.7 times the driving range per charge of a typical lithium-ion battery of the same size. Alternatively, the carmaker could install a smaller battery with less weight and keep the same range to contribute to lower the vehicle price as compared to lithium-ion batteries. Recharging is estimated to take 14 hours from a 110 volt power supply, 7 hours from a 220 volt power supply and as little as 30 minutes from a quick charging station.


Emergency power supply

In the aftermath of the 2011 Tōhoku earthquake and tsunami, Mitsubishi decided to introduce one year ahead of schedule a device that enables the i-MiEV to supply power to home electric appliances in the event of a power outage or natural disasters. The device provides 100-volt outlets, converting the i-MiEV's direct current (DC) battery power into 100 volts alternating current (AC) to power up to 1,500 watts, which is enough to power most home electronics such as a basic rice cooker, a small heater, or any number of cellphones, laptops and radios. Mitsubishi estimates that the i-MiEV total battery capacity is enough to provide power for between 5 and 6 hours, equivalent to one day of power consumed by an average Japanese home. The device, called MiEV power BOX, is scheduled to be available by the end of April 2012, at a cost of ¥149,800 (US$1,800). The device plugs into both the i-MiEV or Minicab MiEV's quick charging connectors.


Range

The all-electric range is 100 miles (160 km) on the Japanese test cycle. Two additional trim levels will be available in Japan beginning in late July 2011, the entry-level "M" with a 10.5 kWh battery pack has a reduced range of 120 kilometres (75 mi), and the higher-level "G" with the same a 16.0 kWh battery as the original i-MiEV has a range of 180 kilometres (110 mi). The "G" trim will be available by mid August.

The US EPA official range for the 2012 model year American "i" version is 100 kilometres (62 mi) based on the five-cycle tests using varying driving conditions and climate controls. Under the LA4 driving cycle for city conditions, EPA's rated range is 98 miles (158 km). According to the carmaker, the city range of the 2012 Mitsubishi i was improved as compared to the previous i-MiEV versions, through software upgrades and a revamped regenerative braking system.

The Australian Government's Green Vehicle Guide estimated the i-MiEV's range to be 155 kilometres (96 mi).


Safety

The European New Car Assessment Programme (Euro NCAP) awarded the i-MiEV a four star car safety rating, earning the following ratings for each criteria. The tested model was a left hand drive 5-door hatchback registered in 2011:






Euro NCAP also states that "accordingly, Euro NCAP believes that the star rating of the i-MiEV can also be applied to the Citroën C-Zero" because the agency was informed that the Citroën C-Zero is structurally identical to the Mitsubishi i-MiEV and has the same interior fitting and levels of safety equipment.

The Australasian New Car Assessment Program (ANCAP) rated the i-MiEV four out of five stars for crash safety, scoring 28.35 out of 37. This score takes into account the 10.95 out of 16 rating in the frontal offset crash test, and the score of 14.4 out of 16 received for the side impact test.

The US NHTSA gave the 2012 model year i-Miev a four out of five star crash rating.


Production

Full production of the i-MiEV started in July 2009 and Mitsubishi expected initial sales volume to be small, to sell up to 1,400 vehicles by March 2010, but expected sales to rise to 5,000 vehicles in the following twelve months, once retail sales had started.

Mitsubishi decided to target sales to corporate customers in Japan at first to allow local governments and businesses to set up recharging stations around the country. The company said initial sales were constrained by production capacity but expects production to ramp up quickly from 2,000 units in 2009/10 to 30,000 vehicles within three years as it expands production of lithium-ion battery through Lithium Energy Japan, a joint venture with GS Yuasa Corporation and Mitsubishi Corporation. Production was projected to increase to 9,000 units in its fiscal year 2010/11, and to 18,000 in the following twelve months.

Production of the left-hand drive European-spec i-MiEV began in October 2010. By the end of November 2010 cumulative production had reached 5,000 units at Mitsubitshi's Mizushima Plant. In May 2011 Mitsubishi announced a new production target of 25,000 i-MiEVs worldwide in fiscal year 2011. The carmaker also plans to export about 15,000 units overseas, mainly to Europe, where the company will promote sales to the European public sector, such as police departments and local governments. Production of the American-spec i electric car began in late October 2011.

Since July 2009 Mitsubishi had manufactured 28,000 i-MiEVs and rebadge versions worldwide by early August 2012, including 11,000 units rebadged in France as Peugeot iOn and Citroën C-Zero, and sold in the European market. In August 2012, and as a result of Europe's debt crisis that resulted in PSA Peugeot Citroen (PSA) Group slow sales, Mitsubishi Motors announced the suspension of its supply of the i-MiEV electric vehicle to PSA, although the period for supplying vehicles under their contract as part of original equipment manufacturer agreements has not yet ended. The suspension is part of the decision of several Japanese manufacturers to suspend their joint development projects and contracts with several European partners. By early August 2012, PSA had sold a total of 6,575 Peugeot iOns and Citroën C-Zeros since their launch in Europe in 2010, while Mitsubishi had assembled almost 11,000 electric cars destined to PSA, leaving the French carmaker with more than 4,400 electric cars in unsold inventory. PSA only sold 50% of the sales target set for 2011 and according to PSA the supply was only temporarily interrupted.


Markets and sales

As of October 2012, more than 20,000 i-MiEV family vehicles have been sold worldwide. Europe is the top selling market, with 4,645 Citroën C-Zeros, 4,555 Peugeot iOns and 3,584 Mitsubishi i MiEVs sold through October 2012. At the country level, Japan is the top selling market with 7,096 i-MiEVs sold through October 2012, followed by France, with 4,050 units of the i-MiEV family sold through November 2012, Norway, with 3,020 units sold through November 2012, Germany, with 1,858 units sold through November 2012, Austria, with 747 units sold through October 2012, the UK, with 632 units registered through October 2012, and the United States, with 591 units sold through November 2012.


Australia

During early 2009 the i-MiEV was exhibited in Australia at the Melbourne International Motor Show, and afterwards was toured throughout the country. Beginning in mid 2009, Mitsubishi conducted a twelve month field trial with potential electric vehicle customers, such as local, state and federal government bodies, and major fleet operators.

Sales for fleet customers began in Australia in August 2010 under leasing agreement at a price of A$1,740 a month for 36 months, for a cumulative total of A$62,640 after which the car has to be returned to the dealer. The initial shipment included only 40 units, but Mitsubishi Motors Australia reported that just before the launch it had received applications for more than 100 vehicles from private companies and government departments. The initial batch of vehicles leased to government and corporate fleets totals 112 vehicles.

Retail sales to the public began in August 2011. Currently, there are no government incentive or rebate schemes for purchasing fuel-efficient vehicles in the country. The new Australian i-MiEV version is similar to the European-spec model released in 2011, with minor changes such as new three-spoke alloy wheels, a few minor exterior tweaks including dark tinted headlights and a revised front bumper with fog lights. With an Australian Design Rules approved range of 155 km (96 mi), the Australian-spec i-MiEV is sold for A$48,800 (US$51,444 as of July 2011) through specially equipped Mitsubishi dealerships (one in each capital city and two in Sydney). Mitsubishi anticipates 5 sales to the public per month.

During 2011 a total of 30 i MiEVs were sold, and cumulative sales reached 125 units through December 2012.


Canada

In January 2009, Hydro-Québec and Mitsubishi signed an agreement to test 50 i-MiEV, the largest pilot test of electric cars in Canada ever. The test's goal was to allow a better understanding of winter usage of the technology. BC-Hydro and Mitsubishi had previously tested a three-vehicle fleet in British Columbia. The first five i-MiEVs were delivered in December 2010 and were assigned to staff from the city of Boucherville. In October 2010, Transport Canada and Mitsubishi Motor Sales of Canada announced a partnership to test the Mitsubishi i-MiEV. Transport Canada's ecoTECHNOLOGY for Vehicles (eTV) Program tested two i-MiEVs in government facilities and in a variety of real-world conditions. This program aim was to evaluate the i-MiEV road performance and range.

Retail sales of the i-MiEV began in December 2011 at a starting price of CAD 32,998 (US$33,891) before any government incentives available in Ontario and Quebec. Cumulative sales through November 2012 reached 206 units.

Mitsubishi sells the international i-MiEV version in Canada, not the U.S.-only version, and two trims are offered, standard and premium. The premium package price is CAD 35,998 (US$36,972) and includes leather-wrapped steering wheel and shift knob, 15-inch alloy wheels, premium audio system, HDD Navigation system, Bluetooth 2.0 hands-free cellular phone interface with streaming audio and USB input with voice control.


Europe

The European version of the i-MiEV was introduced at the 2010 Paris Motor Show. Specific features of the European version include a new design to the front and rear bumpers to meet EU regulations, re-arranged center stack in the instrument panel, improved interior comfort and both active and passive safety features have been improved with the addition of Active Stability Control (ASC), as well as side and curtain airbags, all included as standard equipment.

The European MiEV achieves an all-electric range of 150 kilometres (93 mi) under the European NEDC driving pattern.

Mass production of the European i-MiEV began in October 2010 at Mitsubishi's Mizushima plant, along with production of its siblings by PSA Peugeot Citroën, the Peugeot iOn and the Citroën C-Zero.

In January 2011, Mitsubishi shipped 2,500 i-MiEVs from Japan and began sales in 15 countries: Austria, Belgium, Denmark, France, Germany, Ireland, Italy, the Netherlands, Norway, Poland, Portugal, Spain, Sweden, Switzerland, and the United Kingdom, and further expand the European roll out through 2011. Mitsubishi is also running demonstration programs with the i-MiEV in the Principality of Monaco, Iceland, and Denmark. The price of the European version will vary by country but will be set to around €33,000 to €35,000 (US$41,900 to US$44,400). The carmaker is aiming for a final cost to the customer of under €30,000 (US$38,000) or equivalent after government incentives.


Austria

Retail deliveries began in 2011 and a total of 747 units have been registered in Austria through October 2012, including 423 C-Zeros, 211 i MiEVs, and 113 iOns.


Denmark

Deliveries began in 2011, and a total of 528 units have been registered in Denmark through November 2012, including 217 iOns, 197 C-Zeros, and 114 i MiEVs.


Estonia

On March 3, 2011, the government of Estonia confirmed the sale to Mitsubishi Corporation of 10 million carbon dioxide credits in exchange for 507 i-MiEV electric cars. The deal also includes funding to build 250 express charging stations in larger towns and main highways by 2013, and will subsidize the first 500 private buyers of any electric car approved by the European Union. The first 50 i-MiEVs were delivered in October 2011 and this official fleet will be assigned for use by municipal social workers. During the first round of allocations of the electric cars, municipalities requested only 336 of the 507 i-MiEVs available. Several local authorities have stated concerns about the electric car performance during harsh winter conditions, maintenance costs and the i-MiEV' reliability on difficult countryside roads.


France

The i-MiEV family sold 1,326 units in 2011, representing a market share of 50.4% of electric car sales in France. Sales were led by the Citroën C-Zero with 645 units followed by the Peugeot iOns with 639 vehicles, and the i-MiEVs with 42 units sold in 2011. In 2011 PSA Peugeot Citroën was awarded a contract to supply 3,900 electric cars to the French Government, to be used by government officials in Paris. Since its introduction in 2010, the i-MiEV family has sold 4,050 units units in the country through November 2012, including 1,994 C-Zeros, 1,982 iOns, and 74 i-MiEVs.

The C-Zero is available for rental starting at €35 (US$51) for half a day. The electric car is rented by the MultiCity vehicle rental service in selected French cities. The C-Zero is available in the Paris region at six locations: the Gare Montparnasse, Gare de Lyon and Gare du Nord train stations, Paris-Orly Airport, Porte Maillot and Nanterre.


Germany

The i-MiEV was launched in Germany in December 2010 at a price of €34,990 (US$51,000). Germany does not have government purchase subsidies. The only incentive available is an exemption from the annual circulation tax for a period of five years from the date of first registration.[85] On August 30, 2012, approximately 100 Citroen C-Zeros were deployed in Berlin as part of the Multicity Carsharing program. The number of cars is expected to grow to 500 by year end. Sales of the i-MiEV family represented 50.6% of all electric car sales in the country in 2011. A total of 1,858 units have been sold through November 2012, including 765 i-MiEVs, 624 C-Zeros and 469 iOns.


Italy

Retail deliveries began in February 2011 and a total of 438 units have been sold through November 2012 including 227 C-Zeros, 160 iOns and 51 i-MiEVs.


Netherlands

Since its launch in the Netherlands in 2011, a total of 463 units have been sold through November 2012, including 250 iOns, 134 C-Zeros, and 79 i MiEVs.


Norway

Since deliveries began in January 2011, the i-MiEV became the best selling electric car in the country, and the 1000th i-MiEV was delivered in November 2011. A total of 2,240 electric cars were sold in Norway during 2011, of which, 1,050 were i-MiEVS, 210 were Citroen C-Zeros, and 217 Peugeot iOns, representing together a 66% share of all electric cars sold during the year.
Cumulative sales through November 2012 reached 3,020 units, including 1,686 i-MiEVs, 697 C-Zeros, and 637 iOns.


Spain

Retail sales began in December 2010 and the i-MiEV price starts at €29,153 before sales tax or any government incentives. A total of 233 i-MiEV family electric cars were sold during 2011, representing 58% of all electric vehicles sold in Spain that year. Cumulative sales through October 2012 reached 365 units including 196 iOns, 141 C-Zeros and 28 i-MiEVs.


Sweden

Since their inception a total of 167 units have been registered in Sweden through September 2012, including 76 i MiEVs, 54 C-Zeros, and 37 iOns.


Switzerland

Deliveries began in 2011, and a total of 445 units have been registered in Switzerland through October 2012, including 227 i MiEVs, 115 C-Zeros, and 103 iOns.


United Kingdom

In December 2009 Mitsubishi began an electric vehicle trial in the UK with a fleet of 25 i-MiEVs. The i-MiEV demonstration is part of the project Coventry and Birmingham Low Emission Vehicle Demonstrators (CABLED), which is running in the English Midlands with a variety of vehicles including plug-in hybrids and the extended range electric Jaguar XJ.

In March 2010, the company reported that after the first three-month period the trial fleet ran an average of 23 miles (37 km) a day, have been parked 97% of the time, and most of the individual trips were under 5 miles (8 km). Another key finding in the test report is that the vehicles were driven in temperatures as low as −10 °C (14 °F) during the winter period, and it was observed a drop-off in usage during extremely cold weather, when only essential journeys are made.

In March 2010, Mitsubishi announced that the i-MiEV would be sold at a price of GB£38,699 (~US$55,870), but in August 2010 the company reduced the price to GB£28,990 (~US$45,100). Sales to the public in the UK began on January 2011, which coincided with the date the GB£5,000 Plug-in Car Grant came into effect.

Mitsubishi authorized 13 sales centres with two in London and the rest spread across England, Scotland and Northern Ireland. In April 2011 Hertz Rent-a-Car added two i-MiEVs to its fleet of vehicles in London and intends to add more across the UK later in 2011. The i-MiEVs are offered as rental vehicles to Hertz on Demand members and these electric cars will be supported by 16 Hertz-installed quick-charge stations located in and around London. A total of 632 units have been registered in the UK through October 2012, including 275 iOns, 254 i MiEVs, and 103 C-Zeros.


Japan

The i-MiEV was launched for fleet customers in Japan in late July 2009, after Mitsubishi's more than 40 years in development of electric vehicles.[106] Initial price was set at ¥4,590,000 (US$46,500). The Japanese government is offering subsidies of up to ¥1,390,000, and some local governments are also offering additional subsidies that could bring the price down to as low as ¥2,200,000. Mitsubishi reduced the price of the vehicle by ¥619,000 (US$6,700) to just below ¥4,000,000 two days before it went for retail sales in Japan in April 2010 to compete with the Nissan Leaf. As of early 2010 there were 60 charging stations in Japan.

On June 2010 Mitsubishi Motors announced that is aiming to cut the price of its electric vehicles to ¥2 million(US$21,890) by fiscal year 2012 to obtain price parity in the showrooms with hybrid electric vehicles. Mitsubishi is expecting that mass production of lithium ion batteries from its battery plant coming online in April 2012 will allow to reduced battery cost from its current ¥2.5 million to less than ¥1 million.

On March 2010, the company said it had received about 2,000 advance orders in Japan for the vehicle. Mitsubishi reported that it had sold about 3,000 units in Japan as of October 2010, and cumulative sales since November 2009 reached 7,096 i-MiEVs through November 2012. Two new trims levels will be available in the Japanese market in the second half of 2011. Beginning in July 25, the lower-level "M" trim will be sold for ¥1,880,000 (US$23,200) after the government subsidy. The "M" trim has a 10.5 kWh battery and its equipment and trim specification were adjusted to allow a more accessible price. The "M" trim range is 120 km (75 mi) on the JC08-cycle. The higher-level "G" trim will be available by mid-August at a price varing from ¥2,600,000 (US$32,100) to ¥3,800,000 (US$47,000). The "G" trim has the same 16.0 kWh battery as the original i-MiEV, but the new trim realizes around a 20% increase in its single charge range on the J08-cycle, offering 180 km (110 mi). The "G" has LED headlamps and rear combination lamps, 15-inch alloy road wheels, leather-wrapped steering wheel and shifter knob and other high-grade equipment, such as a navigation system and heated seats for the driver and front passenger as standard.


United States

The first fleet and individual customer deliveries in the U.S. took place in December 2011. Mitsubishi initially announced a base price of US$27,990, but in September 2011 raised the base price to US$29,125 plus the destination charge and prior to the federal tax credit and other incentives available in California and other states. The American version of the Mitsubishi i-MiEV was unveiled at the November 2010 Los Angeles Auto Show. During the LA show, Mitsubishi announced it decided to drop the "MiEV" from the name and the US version will be named simply as "i" electric vehicle.


The U.S.-only version is enlarged, has redesigned front and rear bumpers, and includes more features than the Japanese and European versions in order to meet crash standards, government mandates, and the preferences of the U.S. consumers. The American version is 285 millimetres (11.2 in) longer than the Japanese version, 110 millimetres (4.3 in) wider, and slightly taller. It also has advanced airbags and the mandated tire-pressure monitoring system (TPMS), has an upgraded interior and features more accessories.

The entry-level ES trim starts at US$29,125, the SE trim is at US$31,125, and the SE Premium version is priced at US$33,915 including an HDD navigation system and better entertainment and audio options. These prices do not include an US$850 destination charge. For either of the models, available options include a factory-installed CHAdeMO fast-charging port for US$750 and the Cold Zone package, which includes a battery warming system and heated outside mirrors for US$150. The reservation process for the U.S. began on April 22, 2011, and customers were required to pay two deposits: US$299 for the car and US$99.99 for a required home inspection. The carmaker decided to waive the US$100 fee for the first 2,000 people who placed an order and then buy the car. Mitsubishi is only accepting PayPal as the method of payment for these online transactions. Mitsubishi began sending order confirmation emails and offering optional accessories by early September 2011. In November 2010, Mitsubishi announced partnerships with Eaton and Best Buy for sales and home installation of recharging units.

Initial availability is limited and the initial roll-out markets include California, Hawaii, Oregon, and Washington, followed by the Northeastern states. Nationwide availability is expected by mid 2012. The first delivery to a fleet customer took place on December 8, 2011 in San Francisco. The first delivery went to City CarShare, a non-profit carsharing service that operates in San Francisco, Oakland, and Berkeley. The first individual customer delivery took place on Honolulu, Hawaii, on December 12, 2011. A total of 591 i vehicles have been sold in the U.S. through November 2012.


Other countries

Chile

The i-MiEV was launched in May 2011 at a price of CLP27,7 million (US$60,000). Initial availability is limited to 25 units. The first public quick charging station in the country was opened in April 2011 in preparation for the arrival of the first i-MiEV electric cars. As of August 2012, only 10 units have been sold.


Costa Rica

The i-MiEV was launched in February 2011 at a price of US$61,500. Costa Rica does not have any government incentives for electric cars. According to Mitsubishi, Costa Rica was selected at the first market launch in the Americas due to its environmental record. Initial availability will be limited to 25 to 50 units. Sales are oriented to supply mainly fleet customers including government agencies and electric companies.


Hong Kong

On December 2009, the Hong Kong Government and other corporation began testing the i-MiEV, totaling 30 vehicles tested until May 2010. Sales to the public in Hong Kong began in May 2010 at a price of HK$395,000 (US$50,631).


New Zealand

Between January and March 2009 the i-MiEV was brought to New Zealand as part of an electric vehicle trial, during which the i-MiEV travelled the entire country, testing infrastructure and demonstrating the vehicle to the public. As of March 2011 there were 8 i-MiEV in use in Wellington, as a field trial sponsored by the Wellington City Council, New Zealand Post, Meridian Energy, The Wellington Company and Mitsubishi Motors. Sales to the public are scheduled for July 2011 at a price of NZ$59,990 (~US$51,325), and the number of units will be limited.


Russian Federation

The i-MiEV was launched in June 2011 at a price of руб.1,799,000 (US$64,946).


Singapore

In November 2010 Mitsubishi signed an agreement with the Singaporean government to introduce electric vehicles in the country. Mitsubishi will supply 25 i-MiEVs in 2011 to the Economic Development Board, the Energy Market Authority and the Land Transport Authority, which are part of a multi-agency EV task force. This agreement is part of a three-year US$20 million test program that will deploy charging infrastructure for electric vehicles and evaluate the cost benefits of EVs for future adoption. The delivery of the first batch of 10 i-MiEV electric cars is scheduled for May 2011.

Thailand

In December 2010, Mitsubishi Motors and the government of Thailand agreed to start fleet testing electric vehicles for a possible launch of i-MiEV. In July 2011, a new agreement was signed to begin the trials with the participation of the Metropolitan Electricity Authority (MEA) and PEA ENCOM International (PEA), two of Thailand's electricity distribution companies.


United Arab Emirates

A test fleet of 10 i-MiEVs was deployed in Masdar City in Abu Dhabi in 2011 as part of a one-year pilot to test a point-to-point transportation solution for the city as complement of its sustainable public transportation systems, the Personal Rapid Transit (PRT) and the Freight Rapid Transit (FRT), both of which consist of automated electric-powered vehicles.


Awards and recognition

"2009 Japan Automotive Hall of Fame Car Technology of the Year" award in October 2009.

"Japanese Car of the Year Most Advanced Technology" awarded during the 41st Tokyo Motor Show in October 2009.

"Ecobest 2009" by AUTOBEST in January 2010.

"Environment Special Grand Prize" awarded during the 25th International Automobile Festival, Paris, France on February 2010.

The i-MiEV was one of the five finalists to the 2011 Green Car Vision Award.

The 2012 model year American-spec i-MiEV was one of the five finalists for the 2012 Green Car of the Year.

The American-spec i-MiEV was rated first in the "2012 Greenest Vehicles of the Year" list elaborated by the American Council for an Energy-Efficient Economy.

The 2012 model year American-spec i-MiEV ranked first in United States Environmental Protection Agency's (EPA) 2012 Annual Fuel Economy Guide, and between November 2011 and June 2012 ranked as the most efficient EPA certified vehicle in the U.S. for all fuels ever, until it was surpassed by the Honda Fit EV.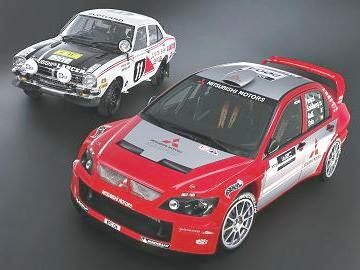 Mitsubishi's most significant rally cars:
Lancer 1600 GSR (left) Lancer Evo WRC (right)
LINKS and REFERENCES
Corporate history at Mitsubishi Motors' global website
Corporate history at Mitsubishi Motors' UK website
Corporate history at Mitsubishi Motors' South African website
History of Mitsubishi at fundinguniverse.com
Mitsubishi Motors entry in Forbes 2006 list of largest public companies
"Mitsubishi to sell stake in Hyundai", Andrea Wielgat, Automotive Industries, November 2002
"Mitsubishi sells entire stake in Proton", Yoshifumi Takemoto & Chan Tien Hin, Bloomberg News, 13 January, 2005
"Agreement ends strikes at NedCar", Expatica.com, 25 April 2006
"MMNA and EEOC reach voluntary agreement to settle harassment suit", EEOC press release, 11 June 1998
"Mitsubishi Motors Admits Decades-Long Defect Cover-Up" Autosafety.org / Associated Press, 2 June 2004
"Cover-up forces Mitsubishi boss out" BBC News, 8 September 2000
"Mitsubishi Motors Announces First-Half FY 2003 Results, Gives Forecast for Full-Year FY 2003" Mitsubishi Motors press release, 11 November 2003
"Mitsubishi cuts back daily 380 output", Brian Littlely, The Advertiser, 24 April 2006
"Remodelling Japan Inc" Sarah Buckley, BBC News, 13 October 2004
"Daimler sells stake in Mitsubishi" BBC News, 11 November 2005
"Mitsubishi shares make Goldman Sachs $80 million in a day" Automotive Business Review, 18 November 2005
"Mitsubishi's turnaround hinges on new models, worker mindset" AIADA, 31 October 2005
World Rally Championship for Manufacturers at Rallybase.nl website
FIA Cup for Drivers of Production Cars at Rallybase.nl website
"Mitsubishi achieves record-breaking fifth victory and 10th overall win on the Dakar Rally" Mitsubishi Motors press release, 17 January 2005
Jackie Chan Foundation will hold their next annual auto race in Shanghai Jackiechankids.com news release, 1 November 2003
"Jackie Chan kicks back" New Zealand Herald, 10 September 2005
"FASC Chinese Team Complete Support of Team Mitsubishi Ralliart China" Jackiechankids.com news release, 22 December 2003
Stock Information Mitsubishi Motors website
Mitsubishi Motors South Africa
---
Please click on the links above to find out about these famous automotive makers. If your company is not included and you would like to be listed, please let us know.
UK VEHICLE INSURANCE ONLINE A - Z
No matter what car, van or bike you drive, we're all looking for great value and quality in our UK motor insurance? But who is the best - who is the cheapest and who offers the great service in the event of a claim?
See the insurance companies below who claim to offer competitive cover at sensible prices, our guide to the jargon and tips for cutting your quote - Good Luck:-
A taste for adventure capitalists

The world's fastest electric car: 350mph + using energy from nature