1901-1953 INDIANS
Copyright (except where noted) 2000- 2006 by Randal (Randy) Montgomery. THIS PAGE UPDATED MARCH 2006. You may copy my text and the photos I took providing you credit this site as the source. (Photos from Canadian Biker, Cycle World and Classic Bike magazines are copyrighted by them and it is a federal offence to copy those photos without their permission.)
The original Indian motorycle company was founded in 1901 in Springfield Massachusetts USA, by bicycle racer George Hendee and Swedish immigrant Oscar Hedstrom. Some people wonder why it was called the Indian Motocycle Company instead of Indian Motorcycle Company. In Italy, all motorcycles have names beginning with "moto" e.g. Moto-Guzzi, Moto-Ducati, Moto-Laverda, so perhaps Hedstrom was familiar with that. The earliest models looked like mopeds (bicycles with small single cylinder engines) and only 3 were made in 1901. Interestingly, Triumph began production the next year (1902) and Harley-Davidson the year after (1903). So the order was Indian, Triumph, Harley. This "Big Three" are still around a century later, while many other brands which started later died off years ago. Indian made 143 motorcycles in 1902.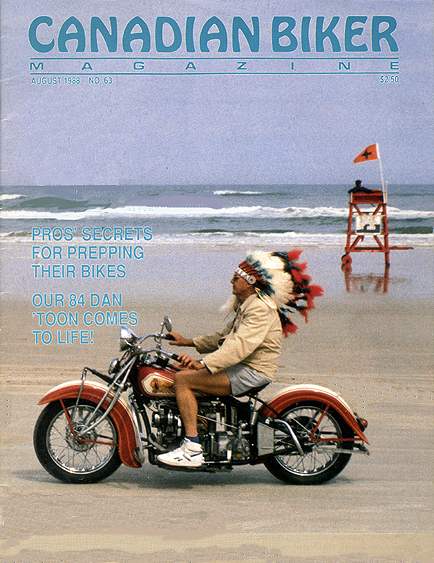 Photo courtesy of CANADIAN BIKER magazine
In 1914 Indian had been the first with both electric lighting and an electric starter. All very advanced but they did not continue with the electric starters longer than six years nor with the OHV engines nor the 4 VPC engines. (They also tried the 1930's OHV engine in a car of their own design but hardly any were sold.) Had Indian kept using electric starters, OHVs and 4 VPC, they might well have been so far ahead of their competition as to be the dominant brand up to today. Its next major development came in 1916 when Hedstrom's former assistant Charles Gustafson developed the 1 litre "Powerplus". Below we see two photos I took of Carmille Dansereau's unrestored 1917 Power Plus (61 CID or one liter) V-twin with sidecar. The date of manufacture indicates that this particular bike was built in Toronto Canada rather than Springfield Massachusetts as Indians were also produced for a few years in Toronto beginning in 1912 and through World War I. The middle of WW I (1916) was the first year for the Power Plus, and the first engine not designed by Oscar Hedstrom. Both Hedstrom and Hendee had left the company by 1916, being unable to agree with the Board of Directors.
In 1918 the company offered for sale to the public its own new factory racer featuring not only OHV but 4 VPC (valves per cylinder). This was many years ahead of the competition. Considering that 3 or 4 VPC only began to show up on a few street V twins bikes in the late 1980's and mid 1990's, and Harleys are still built with only 2 VPC, it can be said that this V twin was 70 years ahead of its time. Top speed was 120 mph, but the racers were very light and had no brakes, lights, fenders, suspension etc. The high price of this racer resulted in very few sales and it did not last long. Two years later, the Power Plus street model was offered in a 74 CID (1200 c.c.) version for sidecar owners. 1920 was also an important year as the Scout was "born" then. Originally it was only 600 cc. (37 CID) but was enlarged in 1928 to 45 CID (750 c.c.) and called the Scout 101.

The 1920 Scout was the brainchild of one Charles B. Franklin. When European sales collapsed after WW I, Charles Franklin, who had ridden for Indian's winning 1911 Isle of Man team, emigrated from Ireland to join Indian's engineering department in Massachusetts. Working with Gustafson's 1000cc Powerplus design, Franklin developed the Scout. Like the Powerplus, it was a side-valve design, but it featured semi-unit construction, with the transmission bolted to the engine (like the Royal Enfields of the 1950's still made today in India) and driven by an efficient helical gear drive. The Scout became the basis for other bigger V-twins.
In 1922, it was enlarged to 1000 cc (1 liter or 61 cubic inches) to become the Chief and to 1200 cc or 74 cubic inches in 1924 to become the Big Chief engine. These early Chiefs had gear driven primary in aluminium casings, in oil bath. (English and Harley motorcycles were still using leaky pressed steel primary cases decades later.) The 1928 Scout 101 (750 cc.) was and is regarded as Indian's best handling if not best-ever motorcycle. It won many races (in its early day its main competition was Excelsior-Henderson) and it and the later Sport Scout was often hopped up for racing and street-fighting with Chief 74 CID flywheels and connecting rods. Ironically, Soichiro Honda rode a 101 Scout for a number of years and it inspired him to build motorcycles. (The rest is a history even bigger and better known than Indian's.)
To summarize from 1918, the end of WW I, Indian was in a weak financial condition but continued to produce great models. First the 600 cc Scout in 1920, then the Chief (1 liter or 61 CID) in 1921, the Big Chief (1.2 liters or 74 CID) in 1923 and the 101 Scout (45 cubic inches) in 1928. In 1923 the 250,000th Indian rolled off the line.
In 1927 Indian purchased the Ace Four, the brainchild of W.G. Henderson, which became the Indian Four. (The shot below is of a 934 Indian Four, courtesy of Cycle World magazine. Further down this page is more info and photos of the fabulous fours.
Despite mismanagement Indian survived the Great Depression. Mr. E. Paul Du Pont of paint company fame became President of Indian in 1929 and this was the beginning of a period of good management, profits and the beginning of multi-tone paint jobs of high quality on Indians. Meanwhile Indian and Harley riders continued to compete on the race tracks so in 1934 the Sport Scout came out as a replacement for the 101 Scout (really just an improved 101 in a heavy frame). For more photos of Scouts visit www.indianscoutmotorcycles.com by clicking the link on the handlebar image at the top of this page. Shown below is a 1930's Indian Chief, seen at the Paris Ontario rally of the Canadian Vintage Motorcycle Group circa 2003.
As mentioned earlier in 1918 Indian brought out racing models with OHV and 4 VPC (valves per cylinder), and about 15 years later (early 1930's) they built some OHV hillclimber engines. They also tried the 1930's OHV engine in a car of their own design but hardly any were sold. Had Indian kept using electric starters, OHVs and 4 VPC, they might well have been so far ahead of their competition as to be the dominant brand up to today. In 1940 Indian came out with its plunger rear frame and the famous skirted or valanced fenders (for both Scout and Chief). Also, the Sport Scout engine got a lot more finning, probably to compensate for the extra heat generated by hauling all that extra weight around.
Famous cowboy singer/actor Roy Rogers rode a 1940 or '41 Indian Four with the valenced fenders. (Roy owned many bikes over the years, including several Indians.) The price of well restored Fours has become amazing; over US$50,000! The 1934 Four seen on Daytona Beach below in 1988 could be worth more than that now.
The Indian Four began in 1927 when Indian purchased the Ace company. In fact for the first year or so the bike was called the "Indian Ace". (The Ace itself had been developed by the same engineer, one Will Henderson, who had designed the Henderson four. When Henderson was bought out by the Schwinn Excelsior company he left it and in 1919 started the Ace company, building a very similar inline four cylinder engine bike which was bought out by Indian in 1927.
The Henderson Four died in 1931 and the Indian Four in 1942. The only engine difference between the early Indian and Ace Fours was that the Indian had five instead of three main bearings. Over the years the sheet metal on the Indian grew more massive. In 1936 and 1937 only, the F head (inlet over exhaust valve) was reversed. This "upside down" experiment everyone considers a mistake. Even a 12 year old knows that valve-in-head is better than off to the side, and the inlet is much more crucial than the exhaust. If you can't have both overhead, the F head is the next best choice. It is absurd to think that side valved intake and in-head exhaust made any sense. At least the Sport model of the 1937 Four had two carburetors. With a Four, the more carbs the better. Most Indian Fours had one carb at the very back to cool the rear cylinder. The downside is that not much fuel and air mixture is left for the front cylinders.
In 1938 the company did a major redesign of the Four, generally considered a big improvement, but they did not take the opportunity to go to full OHV (still an F head) nor to go to multiple carbs, nor to increase the displacement. Displacement of the Four was always just over 77 CID or 1260 c.c. According to Harry Sucher (in his excellent book "the Iron Redskin") one can bore the Four out to 90 CID (1500 c.c.) and use Sport Scout pistons. Here we see a close-up of the engine of a 1934 Indian Four. (Photo courtesy of Cycle World magazine.)
On the Henderson, Aces and Indians, it is rumoured that the rear cylinders overheat and that crankcase oil dispersion is inadequate. I do not know about the Henderson or Aces and early Indians, but tests using modern instruments on a 1940 Indian Four have proven this to be not the case. The late Fours (1938-42) actually run quite cool. Every year at the Paris Ontario rally I meet Tom Wilcocks who rides his '41 Four (the red one below) all over North American every year for thousands of reliable miles, and he has not resorted to drilling extra oilways in the crank. This is not to say that the drilling of extra oilways is of no use. It can only help, and it is highly recommended on the earlier Fours. All the Fours suffered from clutch drag and gearbox wear. The only modifications on Tom's bike are a modified clutch and a modern oil filter in front of the engine. He has put 35,00 miles on this bike since 1980 with only spark plug and tire changes!
THE 1939 - 45 ERA (WW II)
(The British and Europeans were actively fighting in the War since 1939 but the USA did not get really involved until Jan. 1942; here I refer mainly to the period from 1940 on, as that is when the Chiefs and Scouts first got their famous skirted fenders.) During WW II Indian made a detuned Sport Scout for the Allied armies called the 640.(Six refers to the model and 40 to the year of manufacture, e.g. a 341 is a 1941 Chief.) It also made many model 741's which were 30.5 CID or 500 cc, slow as molasses but reliable. Many survive in Britain and New Zealand. During the war Indian made about 33,000 military cycles compared to about 50,000 or 90,000 by Harley (depending on who you read). Harley not only sold more but their contract provided that they earned more per unit. Instead of profiting by the war like so many big manufacturing companies in the US, Indian lost money!
Many 30.5 CID and 45 CID Scouts and some 74 CID Chiefs were sold to the American, Canadian, Austalian, New Zealand and British military during the war, and many of the smaller models remain in Europe and New Zealand. In civilian terminology, the smaller 500cc models were called "thirty-fifties" or "Junior Scouts" or "Pony Scouts". In military terms they were model 741b's. The military 750 versions, called 640b's, were detuned Sport Scouts. The US military versions had their engines stamped WLA while the Canadian ones which were converted to hand clutch operation by Bernie Nicholson were WLC. Below is a recent photo of Harold Carlaw's WLC. My daughter (who was then aged 2) and I had a brief ride in the sidecar. It was fun. The second shot shows the WLA in front of the Memorial War Museum which is another good reason to visit Campbellford.
A number of Chiefs were sold to the Canadian and US military, and obviously the Australian army too, because the superb restoration below is by Jim Parker of Ashwood, Victoria, Australia. (See his website for more beauties for sale: www.Parkerindian.com.au.) This 1200 cc. motorcycle is of 1944 vintage.
The US President gave a large number of 80 CID Chiefs to the Shah of Iran in 1951, and most of these seem to have been recently bought and brought to North West Europe. Below are some photos of a 750 cc. Scout It has a custom paint job but it otherwise is a stock 1940 or '41.
No Indian history is complete without mention of the advanced military 841 model. Sadly only 1000 were made before the US Army decided to order huge numbers of Jeeps instead. The 841 (and similar Harley XLA which suffered the same fate) copied the successful German BMW army motorcycles including shaft drive and 4 speed hand clutch/foot shift. (Actually the 841 looks more like a Moto-Guzzi because it was a 90 degree V instead of a 180 degree flat or "boxer" engine layout. The Guzzi actually copied the Indian because the Guzzi V twin did not come about until the late 1960's.) Why Indian and Harley did not use these adanced (for 1941) bikes as postwar civilian models is a big mystery. Harley still does not have shaft drive and only offered foot shift as an option in the early 1950's, about 11 years after its XLA model. One answer is they were expensive to produce and Indian lacked money, but in the postwar era people, including returning soldiers, had cash to burn. Also the difficult and expensive development work (designing the tranny and drive shaft and rear hub) had already been done and the tooling and jigs set up. Also, Indian under Ralph Rogers in the late 1940's spent millions designing and building a brand new series of modern (for 1949) singles and parallel twins. (Money which turned out to be totally wasted.)
Even rarer (and much faster) than the 841's were some secret factory experimental fours built during the war. Below is a very rare photo of a very rare 1941 prototype of an 800 c.c. OHV Four with shaft drive (and possibly the 4 speed foot shift used on the 841?) . This lean machine looks like it would have been fast and had good handling. This was far more advanced than anything Harley produced until their recent V-Rod. Another "too bad/what if?"
Indian could not afford to revive the 1942 Four after the war. It was an old design by then, and the market for a big, deluxe Four may not have existed in 1945. (But Ariel sold lots of Mark II Square Fours starting in 1953.) The Indian Four always had chain drive but was a natural for a shaft drive, being an inline automotive design. Shaft drive made perfect sense, and Indian had already built one for its 841 army model. So a close look at the photos shows the military 841 frame and shaft drive, but instead of the 841 forks (used on 1946-48 Chiefs), telescopic forks (which did not appear in civilian production until 1950). Importantly, note the modernized four cylinder engines. (The prewar fours were F head, i.e. inlet valve in head, side valved exhaust.) Photo below shows 1945 "Solo Four" prototype. If anyone has more or better photos or any info on these mystery fours, please mail or Email me copies. Someone did Email me early in 2004 but I somehow did not get the images and lost the Email. Sorry. Please try again.
THE 1946 - 53 ERA
Unlike some mechanical engineering related companies who made a fortune during the war selling to the government, Indian did not. The opposite was true. Indian was in such bad straights after WW II that Paul DuPont sold it to a manufacturing group headed by one Ralph Rogers. Rogers was so dedicated he put a lot of his own money (like, millions) into Indian. He had the right ideas - fresh modern designs, get away from the oily outlaws and police market into selling motorycles for the whole family (just like the "You meet the nicest people on a Honda" ad campaign of the 1960's and '70's). This resulted in the "Torque series" inspired by English designs similar to Edward Turner's vertical twin Triumph. But the resultant 213 c.c single Arrow and 426 c.c.twin Scout were rushed into production without proper testing and assembly and were junk. (Wheels collapsed, main bearings failed, magnetos failed, gears would not shift, the valve gears failed.) Also they were too small to compete with Triumph, BSA, Norton, Matchless and Royal Enfield (500 to 750 c.c. singles and twins). Then the British government devalued the pound sterkling making the English imports a lot cheaper than the Indians. With losses instead of profits, the proposed 880 cc. shaft-drive Four had to be abandoned. There wasn't enough money to create a replacement for or make serious improvements to the big Chief.
Indian did not simply decide not to revive the dormant Four and Scout in 1945, and finally to discontinue the Chief (for the 1949 year only 15 were made and they were the same as 1948 models). Otherwise they would have had nothing to sell. They instead put most of their money and effort into a new, modern design, an imitation of the good selling English parallel twins, e.g. Triumph. The all new Indian was first produced in 1949 as 426 c.c. and it was called the Scout A year later reliability was improved and engine size increased to 500 c.c. capacity and it was renamed the "Warrior". In addition to being an OHV vertical twin it had a foot shifter and hand clutch lever just like any British bike. There was also a 216 cc. single version called Arrow. These "torque" series motorbikes would have been a very smart move except that their engine capacity was so small (read "no torque") and so was the rolling chassis (frame, sheet metal, wheels,etc.) On top of all that the early models were extremely unreliable. Even the wheels were prone to collapse! (These bikes had British inspired designs but were made in the USA by Indian.) Even if the Arrows and Scouts did not break down so soon and so often, they would not have sold well due to their small overall size and small power compared to a Triumph, BSA, Matchless, or Norton. (In the 1950's these British brands consisted of 350 and 500 c.c. singles and 500 and 650 cc. twins, and thousands were sold in the US, about three times as many as Chiefs even in the hot 1946 year. Nowadays these English models would be called sports bikes and sports-tourers and the Chief a Tourer.)
By the time Indian had enlarged the twin engine to 500 cc. and gotten some of the bugs out (1950 and 1951), and renamed the Scout the Warrior, it was too late and 1952 was its last year. Yet another reason for its demise was that the price of competing English machines was greatly lowered after the British government devalued their currency. (It would have been cheaper for Indian to import British models and sell them under the Indian names wich is exactly what they then did - see the page in this site called 1955-85 era.) Another sales failure was the 250 cc. single cylinder, 3-speed Brave. It was cheap but very slow and some were unreliable due to bad batches of metal. I do not know if these were made in the US or UK (it had a British gearbox), but I do know they were only sold in the US from 1950- 53 inclusive and then in the UK from 1954 on.
Below are some photos I took of a Scouts or Warrior at recent rallies (sorry I lost the owners' names) plus an exploded diagram of a Warrior engine.
Many Indian riders were irate that there was no V-twin flathead Scout for sale after the war, and privately owned Scouts continued to win races for many years after the war. Some privateers put Chief flywheels in to get 950 c.c. (57 CID) and a lot more power out of their racing or souped up street Scouts. The factory did relent slightly in 1948, and produced 25 - 50 racing Scouts stamped FDH, but commonly known as the "big base Scout" or the "648 Daytona" as Daytona was where most were raced. They performed extremely well in their class (Class C) and continued to win races for the next six years! In fact at various other types of races across the USA, racing Scouts continued to do well and even win up to the 1970s! But what was the point if no mass produced versions were made for sale to the general public? (Yet another lost sales opportunity and management blunder.) These beasts are so desirable now that someone makes crankcase replicas and other bits so fanatics can build their own new "648"'s! This was no easy task since no original blueprints survived. Such is the devotion of bikers who are addicted to the Indian marque. If you think a 750 c.c. flathead is wimpy you should hear these racing Scouts being warmed up in the paddocks at the annual AMA Vintage days in mid-Ohio. Music to the ears!
Imagine how many more years these 648 Scouts and privately souped up Scouts could have won races if they had had a four speed footshift gearbox like the British bikes (and by 1952 the Harley K) instead of the ancient 3 speed hand shifter. Of course part of their success was the men who raced them: Ed Kretz, Floyd Emde, Johhnny Spiegelhoff, Ted Edwards, Art Hafer, John Greenlee, Jack Horn, Bill Huguley, Bob Holt to name just a few.
Another bizarre-but-true 1948 story is that that year and for a couple of years after, Indian imported 3 speed bicycles from Britain and called them Indians. Obviously this venture was a failure as these bicycles are very rarely seen.
A much more expensive venture, making and selling an outboard boat motor (called the Arrow) failed not because there was anything unreliable or unattractive about the engine, but it was a planning and then a marketing error because it was too big and heavy for fishermen who wanted to troll and too small a displacement for people who wanted to tow skiers or just zoom around. Here is a photo of an Arrow outboard motor courtesy of Allan "Zippy" Lowson. The series of blunders continued when Indian also tried making suspension dampers for cars (shock absorbers) but somehow that flopped too. (One is reminded of Harley's failure with golf karts and recreational trailers some years later.) Unfortunately during its last few years the only bikes Indian had for sale (other than a three wheeler police model called the Patrol underpowered by the Warrior engine), were the too small and fragile Warrior, the flathead 250 Brave, and the obsolete Chief with its 1920's 3 speed "crashbox" transmission and flathead low compression engine.
In addition to cancelling the Scout after WWII, by 1949 Indian also decided that the Chief was obsolete, and again the fans were outraged. Unlike with the Scout, however, Indian responded and brought back the Chief in 1950. However the factory did not update it with OHV or a 4 speed synchro-mesh gearbox, both of which it really need to compete with Harley in the early fifties, and few Chiefs were sold. (It would have been smarter and probably cheaper to spend money updating the Chief than to blow millions on the ill-fated Torque series.) Actually Indian had a very inexpensive solution to the big V-twin problem literally in their hands in 1949 but with their usual management incompetence and tendency to snatch defeat from the jaws of victory they failed to follow though with it. In 1948 they had sent a stock Chief to the Vincent company in England to see if the super powerful (for its day) ultra-modern (for 1948) Vincent V twin engine and gearbox would fit in the Chief rolling chassis. The Vincent engineers under Phil Vincent got to work and accomplished the task in very short order. The OHV engine and its 4 speed foot shift gearbox barely fit, but they did fit with no major frame changes. Even the stock generator drive setup with its belt and tin cover fit! The exhaust routing was not at all unfaithful to the overall Chief styling. In fact having a pipe on each side really helped the Chief's "bad side" (the left side). At a glance you would not know that the Vincent engine did not always belong in the Chief. It, including gearbox and primary case, fit so well it looked as if one company had designed the entire bike.
Although the fastest Vincent engines - the Black Shadow and the rare Black Lightning racer - were not reliable for ordinary use and American mileages, the Rapide version was. Although mild compared to a Black Shadow it was peppier than a Chief mill. Both the English and US companies tested the prototype and found it satisfactory, but nothing more was followed through with on either side of the Atlantic. This was a huge mistake for Indian, as the poor sales of the old fashioned 1950-53 Chief showed, and also a huge mistake for the Vincent company which also died not long after. If the Vindian had gone into production both companies might have done well for many years thereafter. Possibly Indian would have done so well it would have bought a controlling interest in Vincent. There would not have been a lot of extra cost involved in producing the Vindian since everything except engine mounts and exhausts and brackets were already being produced by either company. Another golden opportunity being lost with tragic results for both parties!
The blue one above is a recent re-creation of the original, painstakingly done by Wigwam Engineering of Australia, who now provide an OHV conversion for the side valved Chiefs. The photo was originally published as part of a larger article on the Vindian in the Oct. 1997 issue of Classic Bike magazine, England and this shot is reproduced with their kind permission.
Around 1949 (according to author Harry Sucher) the Indian company split into two parts. One part (mainly the dealer network and goodwill) was wholly purchased by Brockhouse, an English engineering conglomerate who exported Matchless/AJS, Norton, Royal Enfield, Vincent and also made trailers, springs and tools. The other part was bought by a US firm called Titeflex who would keep manufacturing motorycles. I am not sure what Titeflex was doing during that time (1949 - 53). Presumably it manufactured the Indians until 1953. It is a mystery however because according to an article in Classic Bike(June 1987) it is simply not true that the British Brockhouse corporation controlled the Indian Sales Corporation (the marketing and distribution wing) and the American Titeflex corporation controlled manufacturing. According to this article Brockhouse called all the shots by late 1951 and ordered production of Indians to cease in 1953 after a few years of huge losses on the Arrows, Scout/Warriors, Braves and Chiefs. For more on this second phase of the Indian history go to the web page for the 1955-85 Era via the navigation handlebar at top of your monitor. Suffice it to say here that in 1955 Brockhouse began selling (via Indian dealers) English "Royal Enfield" motorcycles done up with Indian badges and accessories and using the old Indian names. This went on until 1960 when the last of the badged Indians were sold, and the remaining Indian dealers (many had abandoned Indian) were told to sell the popular English "Matchless" motorycles (without any "Indian" marks on them) in 1961.
Although the Warrior was a flop (exploded diagram of engine at right - note similarity to Trumph twin), it did have one moment of shining glory. It won the 1962 Greenhorn Enduro - a 500 mile desert race. The bike was at least ten years old by 1962, and the race was so tough that of 170 entrants only 23 finished. A large part of this success was the rider: Max Bubeck. Max still rides his 1939 Indian Four hundred of miles per week, and offers a video on how to rebuild and improve a Four. Amazingly, he won the 1947 Greenhorn on his then eight year old Indian Four - the last bike in the world anyone would choose to ride in a 500 mile enduro over desert and mountain. Check the photo below taken after the race and note the size of the bike, its lack of ground clearance, its simple front forks (not Indian - made by Vard) and rigid (hard tail) rear frame, and to top it all off remember it is a 3 speed with a suicide clutch! Unlike Harley foot clutch pedals which will stay in any position you leave them in, the Indian clutch pedal is just like that of a car, and it will fully engage instantly if you lift your foot off. This can cause you to suddenly jolt ahead into a car or other obstruction. (I know from experience.) Thus the expression "suicide clutch" only applies to Indians and not old Harleys. Another thing that made old Indian Chiefs and Fours and Scouts harder to ride than Harleys was that there was no gate or detent for the hand shift lever. You had to feel your way into the middle gear (second gear), which made for slower shifting until you got used to it. Also hard to get used to was the throttle on the left grip instead of the right. Many people who can ride an ordinary motorcycle simply cannot ride an Indian.
1940's and 1950's CHIEFS
The most common Indian Chief is the postwar 1946-48 type, due to the post WW II sales boom. The factory considered it obsolete by 1949 so there were virtually no 1949 Chiefs made, but due to popular demand and the company's lack of any large sized replacement and the failure of the lightweights it was brought back in improved form in 1950, but only lasted until 1953.
The 1950-53 Chiefs are the most desired Indians by collectors, although some prefer the Indian 441 four cylinder (which ceased production in 1941) or the flathead V-twin Scout (750 c.c.) production of which ended when the war ended. Real connaisseurs prefer the 1950 and '51 Chiefs over the 1952-53 as they had the front-wheel drive speedometer (introduced in 1948 and dropped in late 1951 to save money - resulting in an ugly plug for the old drive hole in the front brake cover) and the earlier upswept exhaust and the earlier American carburettor, and bigger swoopier front fenders compared to 1952-53. Engineering-wise, however, the very rare model 841 (made for the Army in 1944) must take the cake. It had foot shift, shaft drive, equal cooling to both cylinders, longer rear plungers, an under-seat oil tank, etc. Photos appear much further down, but back to the postwar Chiefs: Compared to the 1946-48 Chief (which had the new front end from the 841) , the 1950-53 "Blackhawk 80" or "Roadmaster" had 1300 cc. instead of 1200 (stroked, as the 74 CID bore was already at its limit), and had a modern telescopic-hydraulic fork which looks and works very well. There was a spring on the left of the crank to absorb engine shock, and this bulge in the primary chain cover is another way to identify the later models. Unfortunately the factory lacked the money and foresight to convert the engine to OHV, and to replace the by-then archaic 3 speed, non-synchromesh gearbox.
Below we see examples of nearly stock 1950-53 Chiefs. The scrolly paint on the yellow one's fenders is not stock, nor is the Harley KHK type magneto mounted where the Autolite distributor normally goes. On the right or below (depending on the size of your screen) is a scene from the placid Campbellford rally I attended in the summer of 1997, with a couple enjoying the scenery beside the river with two beautiful Chiefs beside them (a 1946-48 on the left and a 1950-53 on the right, judging by the forks.) One can imagine real North American Indians (aboriginals), probably Huron or Iroquois in this exact location a century earlier.
Indian had briefly offered a 4 speed gearbox in the late 1930's but it was simply a 3 speed with another gear spliced between low and what used to be second (now third). This bridged the big gap between the original 1st and 2nd, needed for acceleration in the city, but still left a big gap between top gear and the one below it. It did not reappear after WWII. Instead, in 1949 and early 1950 Indian tried to invent a footshift for its 3 speeder but could not get the "bugs" out and gave up. Less than a handful of prototype 1950 models had this option. An attempt to improve shifting and elminate the crunching into gear was made in the early fifties with a "clutch brake" that stopped the clutch from spinning when disengaged, but this proved unreliable and most owners have eliminated this "feature" from their machines. As of the 21st century, Bob Stark (California) sells a foot shift/ hand clutch kit that is very expensive but works (for old 3 speed gearboxes only), and an Ontario, Canada man sells the King Clutch which eliminates the crunching, and the Chief Overdrive company in the US sells a four speed syncro-mesh gearbox (designed by an Englishman who designed gearboxes for British motorcycle factories in the 1950's) that works perfectly. In this respect the Overdrive trans is authentically 1950's. All we need now is for Stark to modify his footshift to work with the new 4 speed trans and we will have the type of gearbox Indian would have had in the late 1950's had it survived and prospered.
After the factory closed in 1953 it briefly re-opened a few months later to assemble 50 Chiefs ordered by the New York City police department, which favored Indians over Harleys. (You can see some in the Frank Sinatra movie "New York, New York"). According to one source a small crew under the Bankruptcy Receiver's OK assembled 50 for the police and an extra five for dealers. It has been misreported that this occurred in 1955, creating a myth. People who were at the factory and warehouses in 1955 including Emmett Moore deny the story, and according to a reliable source known to this author one of the allegedly 1955 Chiefs has an engine number dating from the early 1950's. Mr. Moore in a 1994 interview with Jerry Hatfield said that the factory ran right out of parts early in 1953 and despite demand from hundreds of dealers across the USA simply did not have enough parts to make any more than 500 1953 Chiefs. They couldn't get the Linkert Company to build 500 more of the old carburetors so had to use (more modern) English Amal carbs. Little bits like a chuck that holds the helper spring on the spring-post mounted dual saddles had to be purchased at very high prices. Walter Brown, a manager during the 1950's confirmed with Emmett Moore that the last Chiefs were assembled in early 1953. Among the last were those made for the NYPD, although he puts the number at 75.
While Indian was "biting the dust" in the early 1950's, its main competitor Harley had been selling its OHV "knucklehead" since1936, and had a 4 speed gearbox on its big twins also since the late 1930's. (hand shift and foot clutch.) About the only engineering advantage Indian had by the early 1950's was its plunger rear suspension (a mere 1.5 inches of travel) and fender styling. Its 80 CID sidevalve engine, while comparable to H-D's 74 and 80 CID sidevalve U, UL and ULH models was no match for the 74 CID knucklehead (which is the direct grandfather of the latest Twin Cam Harleys). I estimate 53 horsepower for the last Bonneville Chiefs, compared to 49 for a Bonneville Chief (pre 1950) and Tod Rafferty cites 40 for a standard 74 CID Chief. I don't know the hp rating for the knucklehead but I was not able to keep up with one (up to about 50 mph) on a 1980 Yamaha 850 cc.(50 CID) triple, whereas I could easily out accelerate my old Chief. (Keep in mind my friend Danny Lim had to hand shift his knucklehead, making its performance even more impressive.)
1953 was the last year of all-American made Indians, until the 1990's. To continue the written history go to the "1955-85 Era" page. The rest of this page features photos to illustrate the above history.

In these days of many restored and overrestored Chiefs, we forget that most 1940's Chiefs were sold with black wheel rims and just as often with 18" rather than 16". Below is what a typical 1946-48 Chief looked like in the 1960's (This one from the Star Weekly of Toronto was actually owned and ridden by a Canadian Senator!)
Next courtesy of Iron Horse magazine we have a few shots of a stock 1941 Chief. This bike is good because it is obviously not worn out but has not been over-restored. Owner Bob Murray also had a 1941 H-D UL (1200 c.c. sidevalve) so was in an ideal position to decide which 74 CID flathead was better. He chose the Hog, hands down. However I had a '47 Chief (same as the '41 Chief except for slightly better forks) and a 1941 H-D U, and I say the Chief is the smoother, lighter, better bike. The Indian had a plunger rear frame while Harleys were rigid up until 1958. Acceleration on both was so-so. According to Murray and Bob Stark, a stock Chief was slower than a stock Hog, but a slightly souped up Chief was a lot faster than a stock Hog. It seems to me this is missing out on the fact that flathead Harley 74's came stock in 3 stages of tune: U, UL and ULH. So would all three beat a stock Chief or just one or two of the Harley models? And was the Chief a standard or Bonneville (faster) model? You might think that Harley's having a 4th gear would give every Hog an edge over every Indian but in my experience the Hog's 4th gear was no advantage over the Chief's 3 speed because the 4th gear was only a tiny bit higher than 3rd. Also it took longer to change gears on the Hog. Brakes on both bikes were equally pathetic, and going around tight corners at any speed was equally a challenge on both. I agree with Mr. Murray that the old sidevalved Harleys were a lot easier to work on.
We are nowadays so used to seeing the fat fendered Chiefs that we forget that all Indians were made without this styling until 1940. (The Scout died during WW II so was only available with the full valenced fenders in 1940 and 1941.) Next is a photo of an unrestored version. Although this specimen looks stark and missing parts, it is all there except for the seat. It looks like a late 1930's civilian Chief. Take away the post 1939 swoopy fenders and chain cover and the Indian Chief is a very simple design: Flathead V engine, simple carb, crude 3 speed gearbox, simple suspension, simple electrics. (Which makes one wonder why they are worth at least $25,000 restored. It's supply and demand + that subjective cult factor, including wanting to be a bit different than the millions of Harley fans while still liking the same basic deign)
After the war the Indian Motocycle Company had a surplus of unsold army machines and sold them to the public at low prices, including the very low production 841 which looks just like a Moto-Guzzi except for the flathead (sidevalve) engine heads. The 841 even had shaft drive and foot-shift/hand-clutch. Sadly Indian never continued this relatively advanced design as a civilian model after the war. It weighed close to 550 lbs. and the engine probably only produced about 25 horsepower so that may have been a concern. Admittedly it was a lot like the BMW except that the cylinders were in a V instead of facing each other. The BMW boxer design invites cylinder heads to be bashed against rocks and curbs, or just the road if you lean over too far, and the cylinders obstruct your feet. Also the cylinders make your feet too hot in warm weather. The only reason BMW keeps winning the Paris Dakar rally is that those bikes sit very high off the ground and have excellent riders and of course the famous BMW reliability. For normal machines in normal use by normal riders the 90 degree vee instead of 180 degree boxer arrangement makes a lot more sense. The 841 forks were used in the 1946-48 Chiefs, but that was all that survived. Years later Guzzi showed the world what a great design Indian had in the 841, although they claim they invented it on their own and did not copy the 841.
One can only wonder what would have happened if Indian had produced a civilian version of the 841 for the 1946 and later model years. They obviously had all the tooling to keep making 841's. Perhaps they could have enlarged the engine size eventually. But even Guzzi kept their version as a 750 until the mid 1970's.
Imagine the Guzzi with Indian fenders and this may have been what Indian would have been producing in 1983 had they been smart enough to maintain the 841 for civilians after the war. (Except Indian would not have used such an ugly tail lite. The newer Guzzis have a much nicer tail lite.) I wish the factory had continued production with skirted fenders and a larger engine, in which case they would have sold many long before Guzzi came out with a very similar motorcycle.
I now go on a bit of a tangent and ask "Why did Indian keep strictly with flatheads until 1949?" (And even more puzzling, "Why did Harley introduce a new FLATHEAD sports bike in 1952?" One can understand that Indian could not afford to make an OHV Chief, having "blown its wad" on the small capacity OHV model range (Arrow, Scout/Warrior), but Harley also tried to copy the popular English OHV sport bikes twins (but with a V-twin instead of a parallel twin), and succeeded, except that it went into reverse engineering by making the new K model a flathead. (This is astounding given that the K came out 16 years AFTER the OHV knucklehead, which was a big success.) The result was a bike that had everything a Triumph, BSA , Norton, AJS, Norton or Enfield had (size, looks, handling, modern front and rear suspension, unit contstruction, 4 speed synchromesh footshift, light weight, EXCEPT the (crucial) power. The flathead's lack of power was only semi-solved by increasing displacement from 750 to 888 c.c. for the 1954 year. This would be like introducing the V-Rod with a 16 years outdated Shovelhead engine with 7 to 1 c.r. pistons.
The answer according to Ed Youngblood, author of "Century of Indian", published by Motor Books International, seems to be that Charles Franklin's achievements with the side-valve engine set the path for the Yankee motorcycle industry. Any schoolboy knows that an overhead valve engine has way more power potential than a sidevalver. Since the mid-teens Indian and Harley-Davidson had actually produced special 4 VPC (valves per cylinder) single and twin cylinder OHV racers. These bikes were fast and powerful but not reliable or cheap enough to mass produce. For some reason, Charles Franklin focussed his attention on race-development of side-valve engines. He was so successful with his flatheads that Indian and the other US factories gave up on their OHV racers and instead obsessed on getting the last ounce of power out of the old side valve design. (Probably the success of the Ford Flathead V-8 was also an influence, even though by WWII Detroit was also making straight six OHVs. WW II US and Canadian Army trucks came with either flathead V-8 or OHV straight 6 engines.) Thus while the Italian and British motorcycle industries continued with the more sensible valve-in-head designs, e.g. the Triumphant parallel twin designs of Edward Turner, in America the side-valve still ruled.
The larger US engines also gave them a power advantage. There is only so much you can do to an engine design with built-in contradictions however. (To increase compression ratio to the max means the area over the piston is minimized, which in a flattie means pushing all the mixture over the valves, so the explosion then occurs there and not over the piston, hardly efficient. Likewise to increase compression also means minimizing the valve pockets meaning the valves can't open much, meaning you restrict breathing. On the other hand if you decide to focus on breathing instead of compression, you grind little dished paths between the valve seats and cylinder wall, and relieve the heads to let the valve pockets flow into the heads. Breathing is improved but your compression ratio is reduced! One step ahead and one step back! Tuners had to compromise both compression and breathing. Nowadays a computer and a dynometer and flow bench could probably work out the best compromise, but back then it was trial and error. Apparently the most compression ratio you can get with a side-valver is 7 to 1. Meanwhile 7 to one is an industry minimum for a valve-in-head (so-called OHV).
So with the laws of physics setting a stop to flathead development, by the 1950's and sixties, in US flat-track racing British 500cc single cylinder OHVs made the same power as Harley 750 cc twin cylinder flatheads. In other words it took a 50 percent engine size and an extra cylinder to match the power of the English 500 singles. Subjectively it's a toss up which sound you prefer: The sound of a hopped up big single or a hopped up V-twin flathead. I love 'em both and cannot choose. One thing about a flattie though, you can redline it all day and never crash a piston into a valve. There is so little power relative to the engine size that strain on the bottom end is minimal - bottom end failures are unknown. (Also with lower compression they are smooth, while Brit bikes tend to vibrate a lot before they blow their bottom ends.)
So now that we have an understanding of the American engine mentality of that era, that sort of explains why Harley would introduce a flathead sport bike in 1952 (and not convert it to OHV and give it the requisite power to compete with the British twins for five full years). Still seems bizarre though given that Harley itself came out with the OHV Knucklehead in 1936 and it was not a sports bike.
---
Please click on the links above to find out about these famous automotive makers. If your company is not included and you would like to be listed, please let us know.
UK VEHICLE INSURANCE ONLINE A - Z
No matter what car, van or bike you drive, we're all looking for great value and quality in our UK motor insurance? But who is the best - who is the cheapest and who offers the great service in the event of a claim?
See the insurance companies below who claim to offer competitive cover at sensible prices, our guide to the jargon and tips for cutting your quote - Good Luck:-
A taste for adventure capitalists

The world's fastest electric car: 350mph + using energy from nature