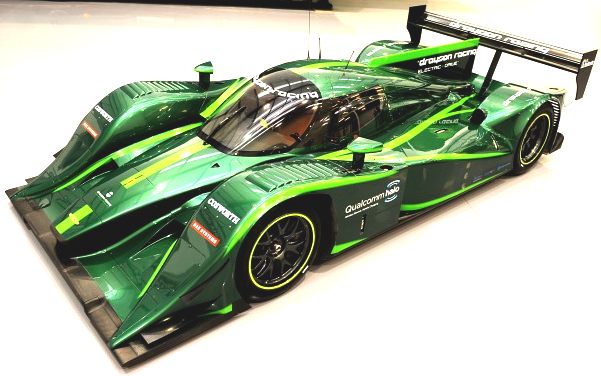 Above: The Lola-Drayson EV conversion - a beautiful green paint job. Drayson Racing will run the new Formula E customer racing car in 2014 which will be supplied by the promoter Formula E Holdings and is currently being developed by Spark and McLaren. From 2015, the team plans to be a constructor in its own right fielding a new drivetrain developed from the advanced DRT 4X2-640 electric system featured in the Lola-Drayson B12/69EV car that set a new electric record this summer at the Goodwood Festival of Speed. The team is a wholly owned subsidiary of Drayson Racing Technologies which has been pioneering green racing initiatives since 2007 and has been acting as Scientific Adviser in terms of sustainability to the FIA Formula E Championship during its establishment over the past few months.
INDUCTIVE BATTERY RECHARGE - 16 January 13

With critics continuing to scrutinise the battery range of electric vehicles, the announcement of an all-electric racing series has raised more than a few eyebrows.

But with the announcement of the series by official global body for motorsport, the FIA, comes a significant bonus: regular road-based dynamic induction - better known as the charge-as-you-drive car battery - has moved a step closer to your home.

To understand how, one must first understand a controversial problem with Formula-E: the championship requires two cars per driver to cover the sixty-minute length of each race. "We considered switching out the battery but we couldn't comply with the FIA safety regulations," Alejandro Agag, CEO of Formula-E Holdings, which is responsible for the execution of the series, explained to Wired.co.uk", so we had to switch cars.

"The other way was to wait seven or eight years to start the championship but we chose to start now. We know the solution is not perfect, but it might be quite fun to watch and be a base to see the evolution."

It's evolution Paul Drayson, former Minister for Science and Innovation in the UK, is excited by. He owns Drayson Racing Technologies and his company has encouraged electric racing for many years. He has been involved as far back as 2007, being invited to be Scientific Advisor to the FIA's Environmentally Sustainable Commission, which was set up to explore ways in which motorsport could become more "green".

"Racing for me has increasingly been about this trend towards green racing and sustainability and trying to get motorsport to be part of the solution towards things like climate change and airborne pollution, rather than being part of the problem," Drayson said.

With HaloIPT, he's successfully developed the technology for a static wireless charging system, which was acquired by Qualcomm in 2011 and was demonstrated at Goodwood Festival of Speed last summer as well as the Consumer Electronics Show in Las Vegas earlier this month.

It solves the problem that currently faces electric vehicles: they must be charged using a cable. Instead, this technology allows a battery to charge after the car is parked over a wireless charging device. Drayson is confident it can be developed to support cars still in motion: "I'm convinced that it can be evolved to work on a dynamic basis," he says.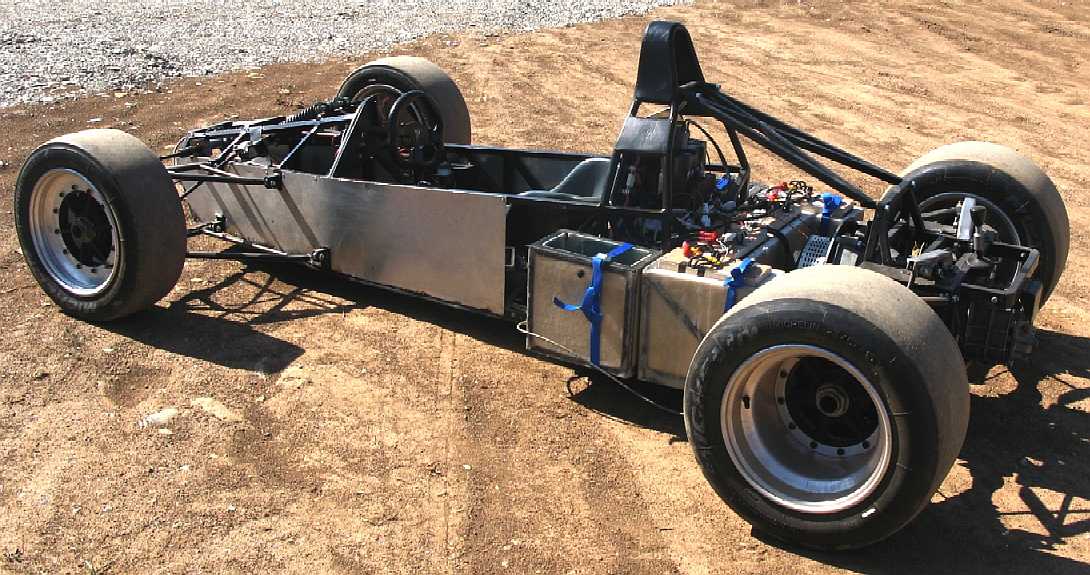 A French built electric racing chassis - a steel space-frame

HIGH SPEED CHALLENGE

Developed by McLaren and Spark Racing Technologies, Formula-E's electric cars will reach speeds of 250kph on urban tracks. The series will comprise ten teams, ten cities and four continents, with the first race set to be held in 2014.

The series provides the perfect opportunity to introduce the charging technology because of the controlled environment it offers: high performance cars, a maximum race time and a dedicated track. The developers anticipate a start with cable-based and static wireless charging, but the vision will be to go for a first all-electric, all-dynamically-induced race in two or three years.

Though these steps look set to silence critics, Drayson concedes there are challenges with infrastructure, but remains resolute. "This [has the potential to] produce a huge legacy benefit for the cities because after the race has gone, you can use the charging circuit for electric buses or electric taxis or private cars and step-by-step, roll out dynamic charging into cities," he says. "It's a very practical and sensible way of introducing a breakthrough technology."

The championship also faces scorn on issues, such as the lack of noise and driver profile. "The people that criticise the sound are true petrolheads," says Agag. "For people that are not already into racing, they don't worry about the noise question."

Targeting a fresh, young audience, urban races are impacted less by noise pollution restrictions and the response from cities willing to take part has been positive. "Some cities with really big pollution problems see it as an important tool to promote electric cars and resolve those problems," explains Agag, who owns teams in GP2 and GP3 -- championships that form part of the career hierarchy to the F1 championship.

Though only ten cities are required, sixteen have already committed to hosting a race. As for drivers, Agag is confident any drivers wishing to sidestep F1 to try out something new will make considerations for Formula-E at the end of their 2013 F1 season contracts. Already associated with names such as F1 rising stars Roman Grosjean, Vitaly Petrov and Sergio Perez, he's just as confident about investment.

"Sponsors have regularly voiced concerns about the sustainability in these sports. So a sustainable championship could be a great option for those kind of big companies that have this as a priority," Agag says.

Undoubtedly, the spectacle of seeing fast cars racing on city streets will challenge the current perception of electric vehicles. Corporate sponsors and sexy cars with ethical exhausts may increase appeal. Perhaps the innovation around dynamic induction could be a catalyst needed to get city commuters to make the switch to green.

http://www.wired.co.uk/news/archive/2013-01/16/formula-e-dynamic-induction
http://www.electravia.fr/formule1Eng.php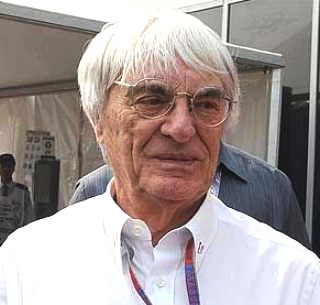 Formula E skeptic - Bernie Ecclestone
TRAIN SETS
With the present state of our roads and the enormous cost of digging up trenches to implant inductive coils, does anyone believe that such a proposition has any reasonable chance of seeing the light of day. It's like putting our cars on rails, or more correctly, driving a full size Scalextrix car.
Our present government cannot be trusted to keep the ordinary roads in good condition, let alone embark on a rebuilding program of significant proportions. The suggestion seems all the more obscure, where cartridge exchange technology is available for the instant refueling of road vehicles - instant being 60 - 120 seconds. In Formula E terms that might equate to 10-30 second energy transfers.
To put that in context, try to imagine how long it will take a driver in the proposed two car system, to unbuckle, jump out of one car into another and then buckle up - not forgetting the removable steering wheel. We reckon that will take longer than 20 seconds, but we'd have to try it for ourselves to be convinced either way.
Whichever system in the speedier, you cannot expect motorists to change vehicles as a method of refueling. So you may agree that the proposed FIA solution is regressive - whereas motorsport should be progressive. Maybe Mr Ecclestone has a point!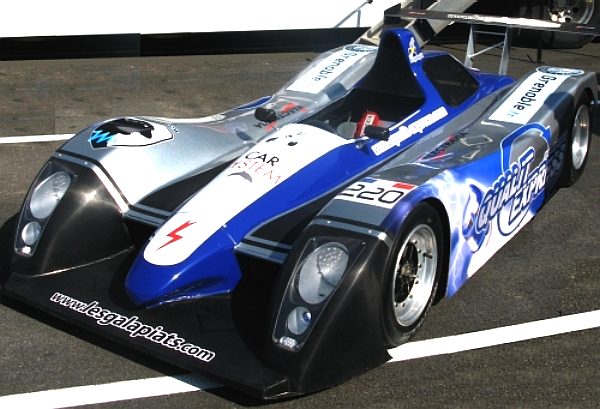 The French car bodied
FORMULA ONE
RACING DRIVERS INDEX
F1 RACING TEAMS INDEX
Please click on the links above to find out about these famous automotive makers. If your company is not included and you would like to be listed, please let us know.
UK VEHICLE INSURANCE ONLINE A - Z
The world's fastest electric circuit racers need a system to recharge batteries instantly during pit stops. The Formula E concept design above incorporates the patent Bluebird™ instant energy transfer system - allowing EV refuelling in around 10 seconds. Get your free developer License from Bluebird Marine Systems Ltd.
FORMULA E: TEAMS, EVENTS & CARS
Birmingham Super Prix return and the Formula E series

Bluebird™ FE instant pit stop recharging system for Formula E cars*

Bluebird GTL* withdrawn

Pit Stops - servicing and history of the sport

Virgin Racing - Alex Tai

*

Note, there is no connection between the Bluebird™ FE system and the proposed Bluebird GTL team