The Formula One racing circuit uses about 52,834 gallons of fuel per year during 20 annual events. This enormous consumption of fossil fuels contributes significantly to emissions in host cities. A group of European investors hopes to compete for motorsports fans without the environmental impact. Investors including Enrique Banuelos and Alejandro Agag recently created Formula E Holdings to facilitate an all-electric racing series starting in 2014. The Formula E Series will host eight races per year starting with the inaugural running at Rio de Janeiro. Prospective host cities must demonstrate commitments to sustainability in order to attract Formula E events.

French manufacturer Formulec won supplier rights for the Formula E Series after an extensive selection process earlier this year. The Formulec EF-01 is a prototype all-electric vehicle that can be customized by the organization's ten teams. A stock version of the EF-01 features a lithium-ion battery pack from Saft, a Siemens electric motor and Michelin tires. This vehicle weighs around 1,719 pounds and reaches a top speed of 139 miles per hour. Formulec estimates that the EF-01 can hit 60 MPH from a dead stop in three seconds. Formula E teams will rotate two vehicles each race to account for a maximum charge time of 25 minutes at top speed.

The Formulec EF-01 cannot contend with the power of a Formula One car but travels fast enough for a thrilling race. A Formula One racer features a 2.6-liter, V8 engine capable of producing 750 horsepower. The average maximum speed of a Formula One car is 186 MPH and reaches 60 MPH from a full stop in 1.7 seconds. Auto brands participating in this global series produce lightweight frames averaging about 1,400 pounds and develop transmissions with a maximum of seven gears. These metrics look great for a conventional racer but Formula E will show that powerful cars need not gobble up fossil fuels.

Formula E organizers expressed concern over the slow pace of change in Formula One as a primary reason for this all-electric series. Racing teams have experimented with eco-friendly tires, lower vehicle frames and other minor tweaks to reduce their environmental impacts. Each team is encouraged to install a KERS electronic boost mechanism prior to the 2014 season. This boosting mechanism creates 80 horsepower in six-second interval without using a single drop of diesel. Organizing body FIA requires Formula One drivers to only use electric power when traveling in pit lanes starting in 2014. A few pit stops on all-electric power is a big leap for Formula One but insufficient given existing technology.

Hybrid and electric vehicles have proven themselves capable of competing at high speeds in recent competitions. Plug-in racers entered by Toyota and Mitsubishi finished in the top ten of the Pike's Peak International Hill Climb earlier this month. Toyota and Audi stayed competitive with hybrid racers during the 24 Hours of Le Mans in June. The Formula E Series is an innovative idea that could increase interest in electric vehicles by leveraging existing interest in motorsports. Skeptics might complain about the lower speed in Formula E but this series is the future of auto racing rather than a novelty.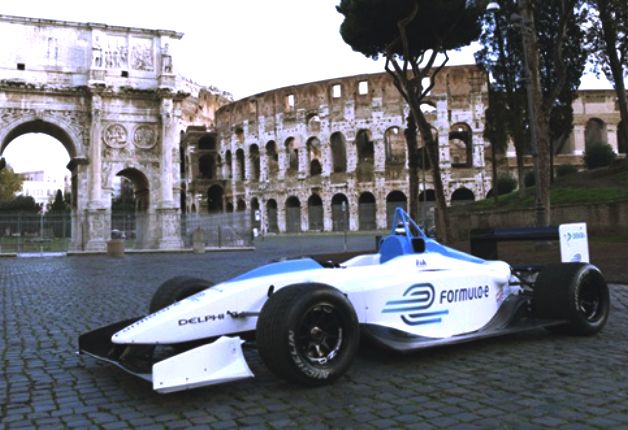 FORMULA E - Formula E is a class of auto racing sanctioned by the Fédération Internationale de l'Automobile (FIA). The "formula", designated in the name, refers to a set of rules with which all participants' cars must comply. Formula E is intended to be the highest class of competition for one-make, single-seat, electrically-powered racing cars. The series was conceived in 2012, with the inaugural championship to be held in 2014. Demonstration events are planned for the second half of 2013.

Former Formula One driver Lucas di Grassi was announced as the series test driver in September 2012. Forty-two cars were ordered in November 2012, with Formula One team McLaren providing the motor, transmission and electronics that all cars will use.

Ten host cities are planning races for the 2014 season; unlike most motorsport categories, Formula E races will be run exclusively on street circuits. Rio de Janeiro and Rome were the first host cities to be announced. FE holdings are currently in talks with London mayor Boris Johnson for a London race event.
http://www.greenerideal.com/vehicles/0830-formula-e-racing-series-slated-for-2014-debut/
FORMULA E: TEAMS, EVENTS & CARS
Birmingham Super Prix return and the Formula E series

Bluebird™ FE instant pit stop recharging system for Formula E cars*

Bluebird GTL* withdrawn

Pit Stops - servicing and history of the sport

Virgin Racing - Alex Tai

*

Note, there is no connection between the Bluebird™ FE system and the proposed Bluebird GTL team

RACING DRIVERS INDEX
---
Please click on the links above to find out about these famous automotive makers. If your company is not included and you would like to be listed, please let us know.
UK VEHICLE INSURANCE ONLINE A - Z
No matter what car, van or bike you drive, we're all looking for great value and quality in our UK motor insurance? But who is the best - who is the cheapest and who offers the great service in the event of a claim?
See the insurance companies below who claim to offer competitive cover at sensible prices, our guide to the jargon and tips for cutting your quote - Good Luck:-
The world's fastest electric circuit racers need a system to recharge batteries instantly during pit stops. The Formula E concept design above incorporates the patent Bluebird™ instant energy transfer system - allowing EV refuelling in around 10 seconds. Get your free developer License from Bluebird Marine Systems Ltd.