The Ford Fiesta is a mid-class supermini car designed by the Ford Motor Company in Europe, and also manufactured in Brazil, Mexico, Venezuela, China, India and South Africa. It is now marketed worldwide, including Japan and Australasia, but was only sold briefly in North America. It is one of Ford's most successful cars with over ten million sold in six distinct generations since 1976 and production continues as of 2006.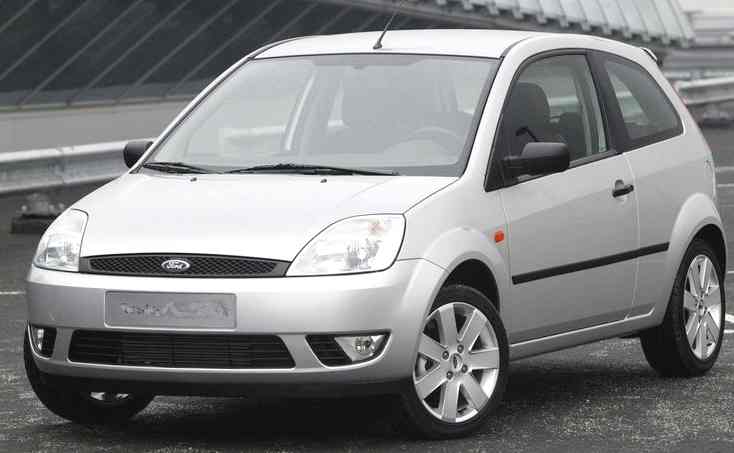 Ford Fiesta Mk6
History
In the early 1970s, European demand from consumers for super-minis was rising, as Ford's competitors were launching cars like the Fiat 127 and the Renault 5. The effects of the 1973 energy crisis was also affecting demand. Ford needed a small car to compete in this emerging market. After research and many mock-ups, a prototype and project known as "Bobcat" was created, which would be the basis of Ford's new car, the "Fiesta". After years of speculation by the motor press about Ford's new car, it was unveiled in late 1975.
Mark I (1976–1983): Birth of the Fiesta
The Fiesta Mk I was launched in 1976. It was also a breakthrough for Ford as it was their first truly successful front-wheel drive car. It was also the first new Ford car since the Ford Granada five years earlier. The first generation Fiesta was also a "world car", an "American-ised" version being sold in the United States from 1978 to 1980 where it was classified as a subcompact car. The Fiesta's small size prompted American management to invest in what would become the European Mk III Escort introduced in 1980, and the first generation American Escort, introduced in 1981. Mechanically, the Fiesta followed tradition, with an end-on four-speed manual transmission mounted to a new version of the Ford Kent OHV engine dubbed "Valencia", named after the brand new Spanish factory in Almusafes, Valencia, developed especially to produce the new car. Ford's plants in Dagenham, England and Cologne, Germany were also used to manufacture Fiestas.
The Fiesta was a runaway success overnight, and the one millionth Fiesta was produced on January 9, 1979. The car was available with 957 cc (high compression and low compression options), 1.1 and 1.3 L OHV petrol engines and in base, Popular, L, Ghia and S trim, as well as a van. A sporting derivative (1.3 Supersport) was offered in 1980, effectively to test the market for the similar XR2 introduced one year later, which featured a 1.6 L version of the same engine. Black plastic trim was added on the exterior and interior, and the car looked exciting. The small square headlights were replaced with larger circular ones resulting in the front indicators being moved into the bumper to accommodate the change. In a stroke, Ford had created a cult car so beloved of boy racers throughout the 1980s. But with a four-speed transmission and just 84 hp initially, the performance of the early XR2 hot hatch was disappointing compared with later rivals.
Minor revisions appeared across the range in late 1981, with larger bumpers to meet crashworthiness regulations and other small improvements in a bid to maintain showroom appeal ahead of the forthcoming Mark 2.
Mark 1 specifications
| | |
| --- | --- |
| Capacity | 957–1598 cc |
| Power | 40-84 hp |
| Max. speed | 131–167 km/h |
| Acceleration | 0–100 km/h: 20.3–10.4 seconds |
Mark II (1983–1989): A timely update
The Mk II Fiesta appeared towards the end of summer 1983, and was essentially a new front end grafted onto the Fiesta Mk I with a thoroughly updated interior. The 1.3L OHV engine was dropped, being replaced in 1984 by a CVH power-plant of similar capacity, itself superseded by the lean-burn 1.4L two years later. 957 and 1117cc engines continued with only slight alterations and for the first time a Fiesta diesel was produced with a 1600cc engine adapted from the Escort.
The XR2 model was thoroughly updated with larger wheel-arch extensions, 96bhp 1.6L CVH engine as previously seen in the Escort XR3, and five-speed gearbox (also standard on the 1.3L CVH models). A "Fiestamatic" had been rumoured for some years and the new CTX continuously variable transmission, also fitted in the Fiat Uno, eventually surfaced early in 1987 on 1.1 models only.
Ford Fiesta Verve
A truly "hot" Fiesta was never produced by the factory to avoid impacting on sales of performance Escort variants but many aftermarket conversions were available, the best-known being that by the English firm Turbo Technics boosting power to around 125bhp. Ford appreciated the high quality of this conversion and was keen to look after its customers: the installation was undertaken by approved fitting centres and thus all the warranties remained valid after.
The most bizarre feature of the Mk II was that throughout its entire production life, the fitment of an almost completely different dashboard was perpetuated on the lower-series trim levels compared to the more expensive variants, the sole common visible components (save for minor switchgear and, where fitted, lighter socket) being the fuse-box cover and fuel/water gauges.
The Ford Fiesta was regularly a top-selling car in the UK throughout the 1980s and was also popular in Europe. It was both well-regarded by men and women. But towards the end of the decade, it was getting left behind by more modern rivals like the Citroen AX.

Mark I Fiesta Festival
Mark II specifications
| | |
| --- | --- |
| Capacity | 957–1597 cc |
| Power | 40–96 hp |
| Max. speed | 133–180 km/h |
| Acceleration | 0–100 km/h: 21.1–9.6seconds |
Mark III (1989–1996): Five doors at last!
Launched early in 1989, the third generation Fiesta was a comprehensive re-skin of the old car with an all-new body shell. This addressed one of the Fiesta's most serious shortcoming - the lack of a five-door derivative. However, apart from the long awaited addition of fuel injection to the XR2 (thus creating the XR2i) and a new version of the Valencia engine christened HCS (available in 1.0 and 1.1 L), much of the old running gear remained, and the car was fairly uninspiring to drive compared to its rivals, despite a comprehensively-revised suspension system. It didn't deter Europe's small car buyers however; the Mk III Fiesta sold a million units during 2 years, but the motoring press was still unimpressed. The real star of the new Fiesta range, however, was the RS Turbo. It had a turbocharged version of the XR2i engine and could reach 130 mph (210 km/h).
Specification on the Fiesta range was much improved for the 1990s, with top of the range versions getting anti-lock brakes, electric windows, central locking, and, later on, power assisted steering. The diesel engine was increased in capacity to 1.8 L. A "high-cube" van variant was announced during 1991, sold in Britain as the Ford Courier.
1992 saw the RS Turbo being supplanted by the RS1800 – as the CVH engine was being phased out, the RS1800 shared its 1.8 L Zetec fuel-injected engine with the 130 PS version of the then-current Escort XR3i and had a top speed of 125 mph (200 km/h). The XR2 name was also dropped in early 1994, and the insurance-friendly 'Si' badge appeared in its place on a slightly less sporty-looking model with either the 1.4 L PTE (a development of the CVH) or the 1.6 L Zetec engine.
The inclusion of the Zetec engine in 1992, and an injection of safety features from the Ford Mondeo in 1994 kept the Fiesta competitive. This latter revision introduced aerodynamic wing mirrors, standard driver airbag and optional passenger airbag. Although superseded by the newer and improved Mk IV in 1995, it was still sold in small numbers until 1997 as the "Fiesta Classic". It was then replaced by the Fiesta-based Ford Ka.
Ford Fiesta 2011
Mark 3 specifications
| | |
| --- | --- |
| Capacity | 999–1796 cc |
| Power | 45–133 hp |
| Max. speed | 137–201 km/h |
| Acceleration | 0–100 km/h: 21.4–8.2 seconds |
Mark IV (1995–1999): Major restyle
The Mk IV Fiesta was launched in 1995. It was based on the chassis of the Mk III car, but most components were heavily revised, including a new suspension system, which gave the Fiesta one of the best handling abilities in its class. The range was further improved with the addition of a range of new Zetec engines, available in 1.25 L and 1.4 L forms, the 1.8 diesel engine was available in a direct injection version, now marketed as the "Endura DI." The 1.3 L OHV engine was carried over from the Mk III. As well as the major changes to the chassis, the Mk IV also benefited from a new interior and exterior styling, albeit maintaining a similar shape to the Mk III.
Mark V (1999–2002): Minor facelift
By 1999 the Fiesta was started to feel very outdated and accordingly a Focus-inspired restyle of the Mk IV was an attempt to address this problem, limited to a new face and trim revisions. A 1.6 L Zetec S model was made available as the sporty range topper. However, the Mk V was not on the market for long due to the imminent unveiling of the all-new Mk VI model, and was the last generation of Fiesta to be built at Dagenham in England.
This model formed the basis of the Ford Ikon, which was a four-door sedan (saloon) designed for India, where Ford was now producing cars in a joint venture with Mahindra. The Ikon was also introduced in other developing countries, such as Brazil (where it is known as the Fiesta Sedan), South Africa, Mexico and China, where sedans (saloons) are preferred to hatchbacks.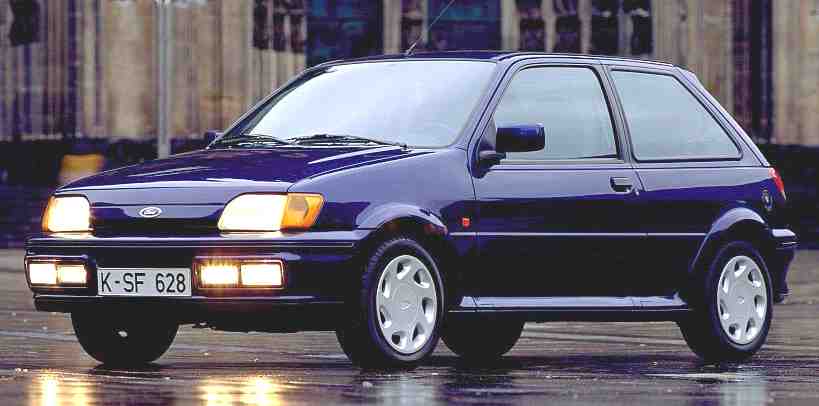 Mark 4/5 specifications
| | |
| --- | --- |
| Capacity | 1242–1753 cc |
| Power | 64–126 hp |
| Max. speed | 116–133 mph |
| Acceleration | 0–60 mp/h: 16.9–9.0 seconds |
Mark VI (2002–2005): Sixth generation
In 2002, the all new third-generation car was unveiled. This was for the first time, a completely clean sheet design, with no genetic links to the 1976 original. Most engines were carried over from the previous Fiesta, but renamed "Duratec" with the "Zetec" tag used for the sportier models in place of the previous Si. The styling was heavily inspired by the larger Focus. Trim levels available initially were Finesse, LX, Zetec and Ghia, with Limited Edition variants soon following.
Engines available include 1.25 L, 1.3 L, 1.4 L, 1.6 L, 2.0 L petrol (gasoline), plus 1.4 and 1.6 TDCi (common rail diesel engines developed in a joint venture with PSA).
The Ford Fiesta ST is the performance variant of the new Fiesta, capable of speeds of up to 130 mph (210 km/h) and hopes to relive the success of the XR2. To differ it from the standard Fiesta, it also has visual enhancements, including 17" alloy wheels, unique front and rear bumpers, leather seats and a ST logo on the steering wheel. The ST version features a 2.0L petrol engine, which produces 150PS.
This was also the first Fiesta to be sold in Asia and Australasia (all 1.6 L LX 3dr/5dr, Zetec 3dr, Ghia 5dr), replacing the Kia-based Festiva. In Brazil and Argentina, a Fiesta Sedan version was introduced in late 2004. A similar Fiesta sedan model, with a different front end, was released in India in late 2005.
A face-lifted version, with an exterior restyle and a new soft-feel dashboard went on sale in November 2005.
In 2006 Ford introduced a slightly tweaked version of the popular Mark VI Fiesta. Although not mechanically different, there are a number of subtle cosmetic changes which have helped improve the car's look. The front and rear headlamps have been reshaped and the bonnet and body styling has been altered to give it a chunkier, more streetwise look. Inside, the dashboard has been updated with new "soft feel" plastics following criticisms of the hard, cheaply textured original, and the digital fuel readout has been ditched in favour of a new analogue instrument display in a style similar to the Mk.2 Focus.
New "optional-extras" now available include satellite navigation, power-fold mirrors, Bluetooth voice control and MP3 player connectivity. Another inclusion by Ford are the new range of exterior metallic paint colours.
Mark V (2007-)
The Mark 7 Fiesta is intended to be released in 2007. It is expected to be no larger a car than the current Mark 6 car, as it will use the new Ford platform that will also go into the Mazda 2 replacement and possibly a new small Volvo.
Fiesta in sport
Two Ford Fiestas famously starred in the 1979 Monte Carlo rally - the British entry driven by Roger Clark and aided by co-driver Jim Porter and a German entry piloted by Ari Vatanen and co-driven by David Richards.
Both cars were highly modified with special motorsport components throughout and featured pioneering Limited Slip Differential (LSD) technology. The cars were powered by competition tuned versions of the 1600cc Kent cross-flow engine - a later version of which appeared in the Mk1 Fiesta XR2.
The 2 cars worked well in the arduous ice and snow that year. Roger Clark did not set any records but the German car achieved 9th position overall - a very encouraging result which sparked demand for sportier Fiestas.
Since this there have been sporting and "hot hatch" editions. Versions include S (sport), Supersport, XR2, XR2i, Si, RS Turbo, RS1800 and ST.
The Future
Not a bad car, I'm sure most of you will agree. Now imagine this great vehicle range with good performance, smoother, near silent and environmentally friendly. As a by product of all that, your fuel costs should be reduced significantly. It's all possible, but only if motor manufacturers work together to standardise battery cartridges and energy companies work together to build service forecourts to instantly exchange these cartridges.
Trivia
Amigo, Bambi, Bebe, Bravo, Bolero, Cherie, Tempo, Chico, Fiesta, Forito, Metro, Pony and Sierra. Despite more board votes towards "Bravo," Henry Ford II personally overruled and named the car "Fiesta." The name "Fiesta," belonged to General Motors at the time, however it was freely given for Ford to use on their new class B car.
To cut costs and speed up the research and development time, many modified Kent Engines destined for the Fiesta were tested in Fiat 127's. This also allowed covert road testing across Europe.

The original plans for the "Bobcat" claimed it must cost $100USD less to produce than the Escort.

The Fiesta was sold in 'federal' form in the U.S. and Canada between 1977 and 1980 (model years 1978, 1979 & 1980). Built in Europe, this variant featured safety bumpers, round headlights and an emission controlled 1.6 L engine.

An automatic variant was not available until 1987.

The Mark II Fiesta was featured in the video of "It Doesn't Have to Be This Way" by The Blow Monkeys.

In 1990, 1991 and 1996 to 1998 the Fiesta was Britain's best selling car outright, and in its best-ever year, 1987, over 150,000 Fiesta models were sold in the UK.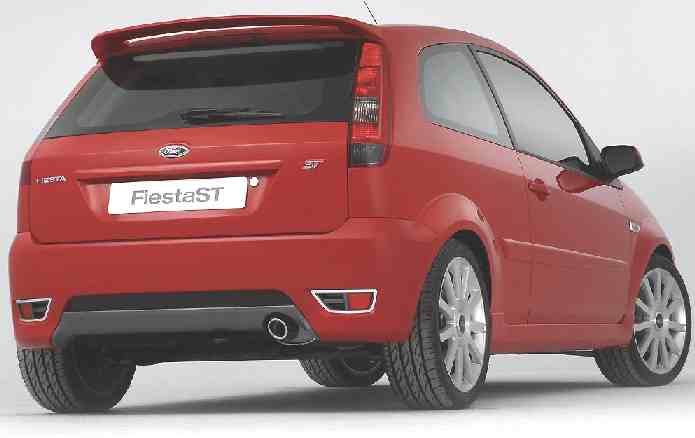 Awards
Winner Australia's Best Small Car in 2004.

Winner of UK Design Council Efficiency Award for "exemplary contribution to the reduction of running and maintenance costs" in 1978. The award was presented by Prince Philip.

Winner of Business Standard Motoring Jury Award, 2006.
Ford Fiesta 40 mph crash test
NB: The Ford Fiesta is now the first car in it's segment to earn top crash test ratings in each of the world's largest auto markets that perform safety testing, the U.S., China and Europe. Ford Fiesta adds five-star safety rating in China to similar top ratings in Europe and Australia/New Zealand.
Popular Ford Models
LINKS and REFERENCE
---
Please click on the links above to find out about these famous automotive makers. If your company is not included and you would like to be listed, please let us know.
---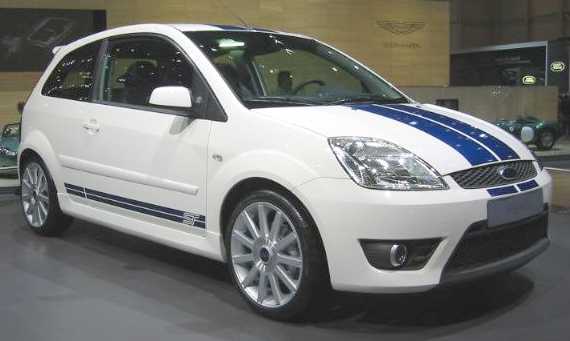 UK VEHICLE INSURANCE ONLINE A - Z
No matter what car, van or bike you drive, we're all looking for great value and quality in our UK motor insurance? But who is the best value and who offers great service in the event of a claim?
If you purchase your insurance via a dedicated link from this site, you could not only save money, but you'll also be helping us provide free information to thousands of students - at no cost to you. Please help if you can and thanks for considering us.
The insurance companies below claim to offer competitive. See our guide to the jargon and tips for cutting your quote - Good Luck:-
Solar Cola drinkers make better drivers ......

330ml Earth can - The World in Your Hands