The Ford Transit is a van produced by the European division of the Ford Motor Company. The Transit's design is reflected in other manufacturers' designs, like the Mercedes-Benz Sprinter, but in fact it was this vehicle when first introduced in England, that changed light goods delivery forever. So well done Ford!
Ford Transit Mk1 - Corgi model
It was originally introduced in 1965, and has been in continuous production in three basic generations to the present day (2006). The van was produced initially at Ford's Langley facility in Berkshire (a former WW2 aircraft factory which produced the Hawker Hurricane fighter), but as demand outstripped the capability of the plant, production was moved to Southampton, where it has remained ever since. Transits have also been produced in Ford's Genk factory in Belgium and also Turkey. The Transit is also produced in China for the Chinese market.
The Mk.1 Transit was introduced to replace the Ford Thames 400E, a small Zephyr based forward control van noted for its narrow track which was in direct competition with similar looking vehicles from Rootes's Commer range. The Thames failed to win over company users in significant enough numbers, so Ford went back to the drawing board. Henry Ford II's revolutionary step was to combine the engineering effort of Ford of Britain, and Ford of Germany together to create a prototype for the Ford of Europe of today - previously the two subsidiaries had been in direct competition with each other.
The Transit was a huge departure from the European commercial vehicles of the day - its broad track and American-ized styling gave it a huge advantage in carrying capacity over comparable vehicles of the day and revolutionised light goods transport. Most of the Transit's mechanical components were adapted from Ford's car range of the time. Another key to the Transit's success was the sheer number of different body styles - panel vans in long and short wheelbase forms, pick-up truck, minibuses, crew-cabs to name but a few. The engines used were the Essex V4 for the petrol engined version in 1.7 L and 2.0 L capacities, while a 41 bhp (31 kW) diesel unit sourced from Perkins was also offered. The Perkins diesel engine was too long to fit under the Transit's stubby nose section, which had to be restyled for the diesel version. Producing a paltry 40bhp, the Perkins unit was not popular, and was replaced by Ford's own "York" unit in 1974.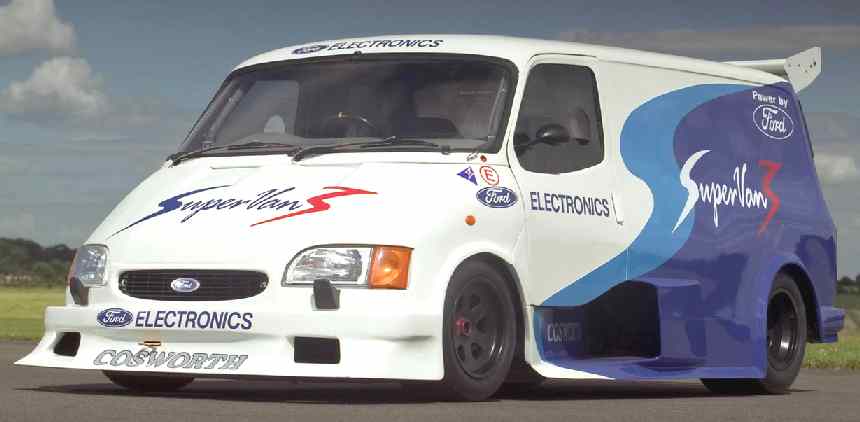 In Australia, the long-nose diesel front was used to accommodate an inline 6-cylinder engine derived from the Ford Falcon.
In 1978, a face-lifted version, known as the "1978.5" model debuted with a restyled nose section, new interior, and the introduction of the Pinto engine from the Cortina in place of the Essex V4. High performance versions intended for police or ambulance use used the 3.0 L V6 version of the Essex engine. In 1984, the York diesel engine was redesigned into the 2.4L "DI" (direct injection) unit. Today most Transits sold are diesel-powered.
The Mk.2 version appeared in 1986 and was notable for its all-new body-shell, which was of "one-box" design (i.e the windscreen and engine hood are at the same angle), and the front suspension was changed to a fully independent configuration on all but chassis cab and LWB versions. A subtle facelift in 1992 saw this feature rolled out across the range, whilst a redesigned floor-pan allowed the use of single rear wheels on the LWB derivative, further increasing payload.
A major facelift to the Mk.2 in 1995 gave the Transit a new nose and dashboard, along with the 2.0L DOHC 8 valve engine as found in the 1994-98 Scorpio, (Some of Fords 16V engines, such as those found in the Scorpio, Escort RS2000 and Galaxy where also based on this block) in the gasoline-powered versions. At the same time air conditioning was made available as an optional extra.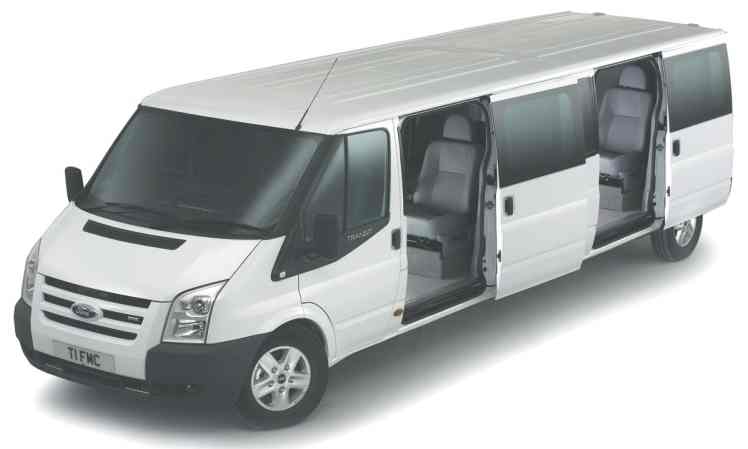 The Mk.3 Transit was introduced in 2000 and borrows styling cues from Ford's "New Edge" designs like the Focus, and Ka. Developed by Ford in the United States, the main innovation is that it is available in either front or rear-wheel drive. This model features the "Puma"-type Duratorq turbo diesel engine.
The Durashift EST automatic transmission (optional on all rear-wheel drive and standard on the 2.4 L, 125 bhp (93 kW) Duratorq TDdi engines) features controls mounted on the dashboard, a specially adapted manual mode, tow-haul mode, economy mode and winter mode.
Two years later, Ford introduced the Transit Connect, a smaller panel van aimed at replacing the older Escort and Fiesta based models. It shares very little with the full-size Transit in terms of engineering, although is produced alongside the larger van in a new purpose built facility in Turkey.
The five-millionth Transit rolled off the Southampton line on Monday, 18 July 2005 and was donated to an English charity. The Transit has been the best selling light commercial van in Europe for 40 years, and in some countries the name "Transit" has passed into common usage as a term applying to any light commercial van.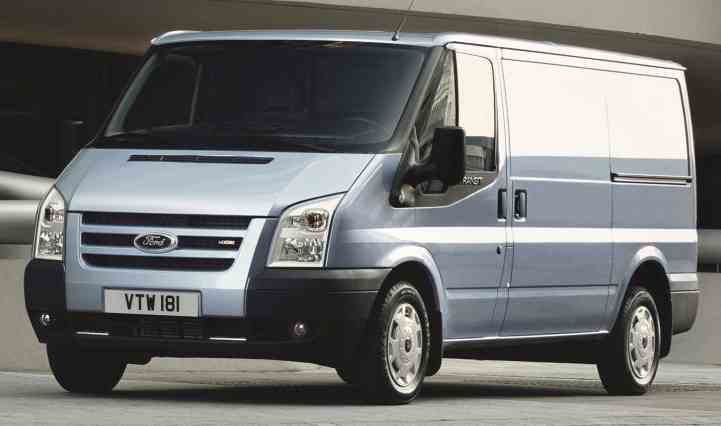 Documentary
"Ford Transit" is also the title of a Palestinian-made documentary taking the film's viewer through a day's life of a Palestinian, who drives travelers in a Transit passenger bus. The film lends an ear to its many passengers' views and feelings on what happens around them, while the viewer is offered a ride in a minibus through Israel and Palestine.
FORD TRANSIT AS A TEST RIG BASE VEHICLE
The Cleaner Ocean Foundation needed a convenient and cost effective land based vehicle on which to develop a prototype system for the SeaVax, before proceeding to trials at sea. The development team decided to mount a wind turbine test rig on a Ford Transit that also doubled up as one of their ocean awareness support vehicles.
This vehicle is diesel powered. It's a great shame that there are no reasonably priced electric vans, where this rig is likely to be able to harvest 110kW/hrs each week, subject to location, testing and verification. With new laws in place in the UK designed to replace petrol and diesel fossil fuels, it is likely that we will see an electric Transit van within the next ten years in the hope of tackling climate change.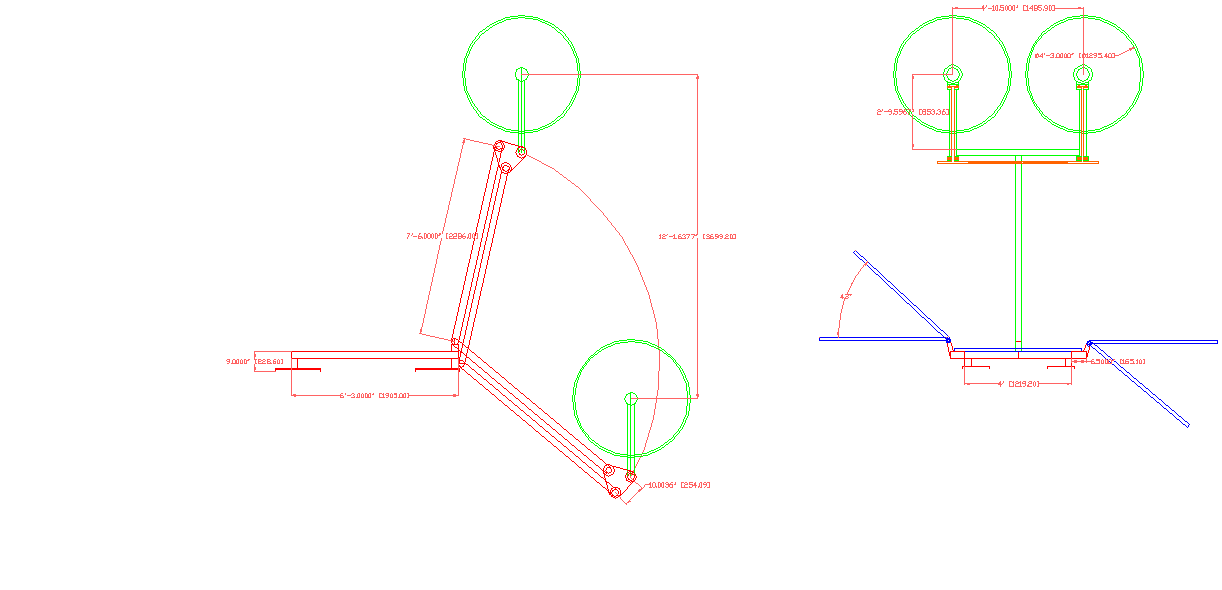 TEST RIG RAISED & FURLED VERSION 1 - This diagram shows a proposed test rig in draft form fitted to a transit van where the wind turbines are rear mounted. We've made sure that the same rig will fit onto our Jeep and will transpose to a quarter scale floating test rig that we hope to be able to float in 2020 - subject to funding. Note the height difference when raised and furled. We are hoping for significant gains in generating output from this robotic system. Copyright diagrams © 9 February 2019 Cleaner Ocean Foundation Ltd. All rights reserved, save for educational and research purposes.
VERSION 2, SOLAR PANELS - The wind turbines operate in conjunction with solar panels arrays as two wings and a central deck. The solar wings can track the sun and fold over for safe storage when weather conditions are unfavourable. Copyright © diagrams, February and March 2019. All rights reserved, Cleaner Ocean Foundation Ltd.
Popular Ford Models
LINKS and REFERENCE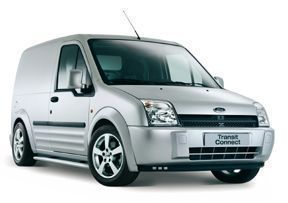 Please click on the links above to find out about these famous automotive makers. If your company is not included and you would like to be listed, please let us know.
---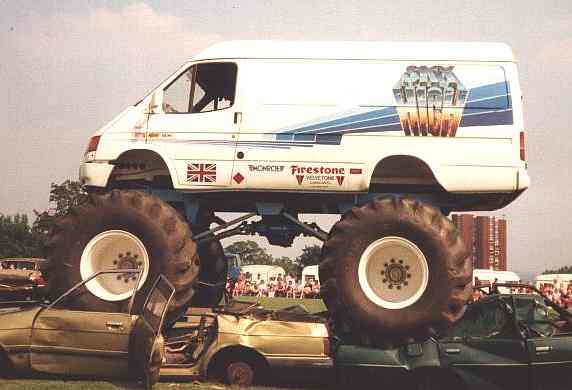 UK VEHICLE INSURANCE ONLINE A - Z
No matter what car, van or bike you drive, we're all looking for great value and quality in our UK motor insurance? But who is the best value and who offers great service in the event of a claim?
Solar Cola drinkers make better drivers ......

330ml Earth can - The World in Your Hands