The Ford Mustang is an automobile produced by the Ford Motor Company, originally based on the Ford Falcon compact. The first production Mustang rolled off the assembly line in Dearborn, Michigan on March 9, 1964, and was introduced to the public at the New York World's Fair on April 17, 1964, via all three American television networks on April 19, and made an appearance in the James Bond film Goldfinger (film) in September of 1964. It was one of the most successful product launches in automotive history. The Mustang sold over one million units in its first 18 months on the market. The Mustang created a new "pony car" class of cars by adapting the "long hood, short deck" look of sports cars to compact sedans. It spawned many competitors such as the Camaro, and inspired smaller import coupes such as the Toyota Celica and Ford Capri. The Mustang has remained in continuous production to present day after many decades and numerous revisions.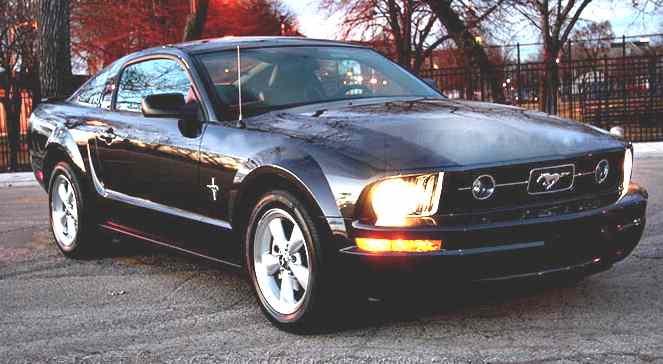 First generation (1964–1973)

First conceived by Ford product manager Donald N. Frey and championed by Ford Division general manager Lee Iacocca, the Mustang prototype was a two-seat, mid-engine roadster. This would later be remodeled as a four-seat car penned by David Ash and John Oros in Ford's Lincoln–Mercury Division design studios, which produced the winning design in an intramural design contest called by Iacocca. To cut down the development cost, the Mustang was based heavily on familiar, yet simple components. Much of the chassis, suspension, and drivetrain components were derived from the Ford Falcon and Fairlane. The car had a unitized platform-type frame, which was taken from the 1964 Falcon, and welded box-section side rails, including five welded crossmembers.
Although hardtop Mustangs were the majority of the sales, durability problems with the new frame led to the unusual step of engineering the (necessarily less rigid) convertible first, which ensured adequate stiffness. Overall length of the Mustang and Falcon was identical, although the Mustang's wheelbase was slightly shorter. With an overall width of 68.2 in (1732 mm), it was 2.4 in (61 mm) narrower, yet the wheel track was nearly identical. Shipping weight, about 2570 lb (1170 kg) with the six-cylinder engine, was also similar. A fully-equipped V8 model weighed about 3000 lb (1360 kg). Though most of the mechanical parts were taken directly from the Falcon, the Mustang's body shell was completely different; sporting a shorter wheelbase, wider track, lower seating position, and overall height. An industry first, the "torque box" was an innovative structural system that greatly stiffened the Mustang's construction and helped contribute to better handling.


1964–1966

1966 Ford Mustang coupeSince it was introduced five months before the normal start of the production year, this first model has become widely known, although incorrectly, as the 1964 1/2 model. A more accurate description is the "early 1965" model, as the car underwent several significant changes at the start of the regular model year. All the early cars, however, were touted as 1965 models. The base model hardtop with its 170 in³ straight-6 engine and three-speed manual transmission listed for US$2,368.

Some minor changes to the Mustang occurred at the start of the normal 1965 model year production, five months after its introduction. These cars are known as "late 65's," and were built from April through September. First, there was an almost complete change to the engine lineup. The I6 engine made way for a new 200 in³ version that produced 120 hp (89 kW). Production of the 260 in³ engine ceased with the traditional end of the 1964 model year. It was replaced with a new 200 hp (150 kW) 289 in³ engine with a two-barrel carburetor as the base V8. A 225 hp (168 kW) four-barrel carbureted version was next in line, followed by the unchanged "Hi-Po" 271 hp (202 kW) 289. The DC electrical generator was replaced by a new AC alternator on all Fords (the quickest way to distinguish a 1964 1/2 from a 1965 is to see if the alternator light on the dash says "GEN" or "ALT").
The now-famous Mustang GT was introduced as the "GT Equipment Package" and included a V8 engine (most often the 225 hp (168 kW) 289), grille-mounted fog lamps, rocker panel stripes, and disc brakes. A four-barrel carbureted engine was now available with any body style. Additionally, reverse lights were an option added to the car in 1965. The Mustang was originally available as either a hardtop or convertible, but during the car's early design phases a fastback model was strongly considered. The Mustang 2+2 fastback made its inaugural debut with its swept-back rear glass and distinctive ventilation louvers.

The standard interior features of the 1965 Mustang included adjustable driver and passenger bucket seats, an AM radio, and a floor mounted shifter in a variety of color options. Throughout the 1965 model year, Ford continued to add to the Mustang's interior options. The Interior Decor Group was popularly known as "Pony Interior" due to the addition of embossed running ponies on the seat fronts, and also included integral armrests, wood-grain appliqué accents, and a round gauge cluster that would replace the standard Ford Falcon instrumentation. Also available were sun visors, a (mechanical) remote-operated mirror, a floor console, and a bench seat. Ford would later offer an under-dash air-conditioning unit, and discontinue the vinyl with cloth insert seat option, offered only in early 1965 models.

The 1966 Mustang debuted with moderate trim changes including a new grille, side ornamentation, wheel covers, and gas cap. Additionally, an automatic transmission for the "Hi-Po," a large number of new paint and interior color options, an AM/eight-track sound system, and one of the first AM/FM monaural automobile radios were offered. The 1966 Mustang did away with the Falcon instrument cluster and made the previously option-only round gauges and padded sun visors standard equipment.

Although similar in design, the 1965 and 1966 Mustangs have a few visual exterior clues that differentiate the two model years. Among the differences is the emblem on the quarter-panels behind the doors. In 1965 the emblem is a single vertical piece of chrome, while in 1966 the emblem was smaller in height and had three horizontal bars extending from the design, resembling an "E". The front intake grilles and ornaments were also different. The 1965 front grille used a "honeycomb" pattern, while the 1966 version was a "slotted" style. While both model years used the "Horse and Corral" emblem on the grille, the '65 had four bars extending from each side of the corral, while on the '66, these bars were removed.

It is always easy to mix up the Mustangs ranging from first production to the 66 model. The 1964 [tech. 1964 1/2] and 65 Mustang included the trademark "honeycomb" pattern grill. As the 66 sustained the straight line. That makes it a clear detection.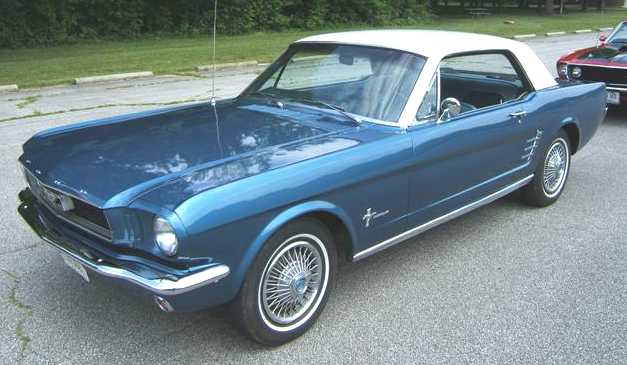 1967–1968

1968 Ford Mustang GT C/SThe 1967 model year would see the first of the Mustang's many major redesigns with the installation of big-block V8 engines in mind. The overall size was increased, as was the cargo space. Exterior trim changes included concave taillights, side scoop (1967) and chrome (1968) side ornamentation, square rear-view mirrors, along with the usual yearly wheel and gas cap changes. The high-performance 289 option now took a supporting role on the option sheet behind a massive 320 hp (239 kW) 390 in³ (6.4 L) engine direct from the Thunderbird, which was equipped with a four-barrel carburetor. Stock 390 with 4-speed manual Mustangs of the day were recording quarter mile times of mid 13-seconds, with trap speeds of over 105 mph (168 km). A drag racer for the street took a stand during the middle of the 1968 model year, as the 428 in³ (7.0 L) Cobra Jet engine officially rated at 335 hp (250 kW).

The interior was more spacious due to an increase in the overall size of the vehicle. 1967-68 did away with the "Pony Interior" in favor of a new deluxe interior package, which included special color options, brushed stainless steel (1967) or woodgrain (1968) trim, seat buttons, a tilt steering wheel, and special interior paneling. The air-conditioning option was fully integrated into the dash, the speakers and stereo were upgraded, and unique center and overhead consoles were options. The fastback version had a fold down seat, and the convertible was available with folding glass windows.

The 1968 Mustang fastback gained pop culture status when it was used to great effect in the crime thriller Bullitt. Lt. Frank Bullitt, played by legendary actor Steve McQueen, drove a modified Mustang GT-390 fastback, chasing two hitmen in a Dodge Charger in the film's famous car chase through the streets of San Francisco.

The California Special Mustang, or GT/CS, was visually based on the Shelby and was sold only in the Western states. Its sister, the High Country Special was sold in Denver. While the GT/CS was only available in coupe form, the High Country Special was available in a fastback and convertible version in 1967 and only as a coupe in 1968.


The industry reacts

In the Mustang's first two years of production, three Ford Motor Company plants in Milpitas, California; Dearborn, Michigan; and Metuchen, New Jersey produced nearly 1.5 million Mustangs. It was a tremendous success that left General Motors utterly unprepared and the Chrysler Corporation only slightly less so. Chrysler had just introduced the Plymouth Barracuda a few weeks before, and though the "'Cuda" would grow into one of the most revered muscle cars of all time, it started out at as just a Plymouth Valiant with a hastily grafted fastback rear window. As for GM, they were certain that they had a Mustang fighter in the rear-engine Corvair Monza, but sales figures didn't even come close.
The Monza was a fine performer, but it lacked a V8 engine and its reputation had been tarnished by Ralph Nader. It took GM until the 1967 model year to counter with the Chevrolet Camaro and Pontiac Firebird. Even Lincoln-Mercury joined the fray in 1967 with the introduction of an "upmarket Mustang" (and subsequent Motor Trend Car of the Year), the Mercury Cougar. The Cougar name had originally been given to the Mustang during the development phase. In 1968, American Motors (AMC) would introduce the Javelin and later, the 2-seat high-performance AMX. This genre of small, sporty, and often powerful automobiles was unofficially dubbed the "pony car" as a tribute to the car that started it all.


1969–1970

1969 Ford Mustang Mach 1 Special EditionThe Mustang's 1969 restyle gained 3.8 inches of body length, and was the first to use quad headlamps placed inside and outside the grille opening. The 1969 model featured a 302 in³ V8 rated at 220 hp (164 kW). The coupe was longer than previous models and sported convex rather than concave side panels. The new Mach 1, with a variety of new powerplants added many muscle car styling and performance features. It had dual exhausts, handling suspension with styled-steel wheels and Goodyear Polyglas tires with bold white lettering. Reflective striping was placed along the body sides, with a pop-off gas cap, matte-black hood with simulated air scoop and NASCAR-style cable and pin tiedowns. A functional "shaker" hood scoop which visibly vibrated by being attached directly to the air cleaner through a hole in the hood was available, as were a tail-mounted wing and chin spoilers and rear window louvered blackout shade. The Boss 302 Mustang was created for Trans Am rules, The Boss 429 was also offered with a larger engine.

The 1970 model moved the headlamps inside the grille opening. This Boss featured distinctive hockey-stick stripes, and Ford fielded a Trans Am series Boss 302 team which won the series and helped drive sales.


1971–1973

1972 Ford Mustang Mach 1The Mustang grew larger and heavier with each passing year, culminating with the 1971 to 1973 models designed under the supervision of Ford's new product design manager, Semon "Bunkie" Knudsen, originally of General Motors. Knudsen's turn at the helm would see the last high-performance big-block Mustang, 1971's 375 hp (280 kW) 429 Super Cobra Jet. Ford originally planned to install a 460 in the Mustang as well. Unfortunately, that very same body style that was designed for the sole purpose of big-block installation versions was limited to a maximum of 351 in³ (5.8 L) in 1972 and 1973 due to extremely strict U.S. emission control regulations and low demand for big block muscle cars because of high insurance premiums. Two more high-performance engines were introduced in 1972; the 351 "HO" and the 351 Cobra Jet. Both cars were excellent performers, but nowhere near the level of the Boss cars and original Cobra Jet. Car companies switched from "gross" to "net" power and torque ratings in 1972, which coincided with manufacturers making low-compression motors with different, far more restrictive induction systems. Thus, making it difficult to compare power and torque ratings.

Very much a different car than the original 1964 model, Ford was deluged with mail from fans of the original car who demanded that the Mustang be returned to its original size and concept. Upon taking over the presidency of Ford Motor Company in December, 1970, Lee Iacocca ordered the development of a smaller Mustang for 1974 introduction with initial plans calling for the downsized Mustang to be based on the compact Ford Maverick, which was similar in size and power to the Falcon upon which the original Mustang had been based. Those plans were later scrapped in favor of an even smaller Mustang based on the subcompact Ford Pinto in order to better compete with the hot-selling sporty import coupes such as the Toyota Celica and Ford Capri, then built by Ford of Germany and Britain, with the German Capri sold in the U.S. through Lincoln-Mercury dealers as a "captive import" starting in 1970.

A red Mustang Mach 1 appears in the main car chase sequence of the 1971 James Bond film Diamonds Are Forever, where it is pursued by police cars along the Las Vegas Strip. The most memorable scene is when Bond tilts the car onto two wheels to drive it along a narrow alleyway.

A black on yellow fastback, dubbed "Eleanor", is the star of the climactic 40-minute car chase in the 1974 cult hit Gone in 60 Seconds.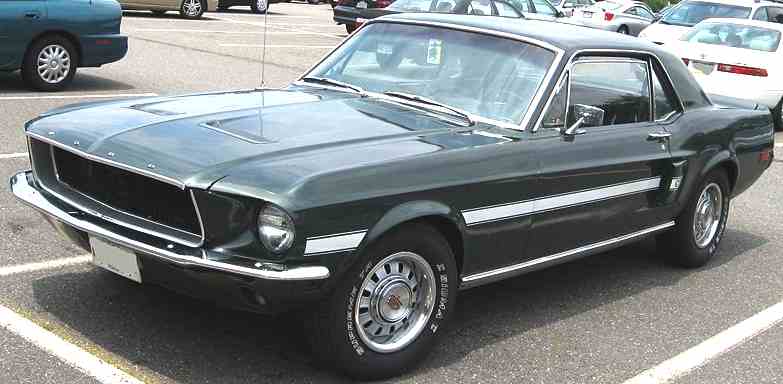 Second generation (1974–1978)

Also called Ford Mustang II
Production 1974–1978
Assembly Dearborn, Michigan
Body style(s) 2-door coupe
3-door hatchback
Engine(s) 140 in³ I4
171 in³ Cologne V6
302 in³ V8
Related Ford Pinto
Mercury Bobcat

Dubbed "Little Jewel" by Lee Iacocca himself, the Mustang II was a project spearheaded by the Mustang's original creator. Iacocca believed that the Mustang had strayed too far from its original concept, so a completely redesigned Mustang was in order for 1974. Like the car that preceded it, the Mustang II had its roots in another compact, the Ford Pinto (though less so than the original car was based on the Falcon). The car sold well, with sales of more than 400,000 units the first year. It is worth noting that four of the five years of the Mustang II are on the top-ten list of most-sold Mustangs. The Mustang II featured innovations such as rack-and-pinion steering and a separate engine sub-frame that greatly decreased noise, vibration, and harshness.

The Arab oil embargo, skyrocketing insurance rates, and United States emissions and safety standards destroyed the straight-line performance of virtually every car of the period. In 1974, Chrysler ended production of the Barracuda and its stable mate, the Dodge Challenger. American Motors also discontinued the Javelin at the end of the 1974 model year. GM nearly discontinued the Camaro and Firebird after 1972.


1974

The 1974 introduction of the Mustang II earned Ford Motor Trend magazine's Car of the Year honors and actually returned the car to more than a semblance of its 1964 predecessor in size, shape, and overall styling. Iacocca insisted that the Mustang II be finished to quality standards unheard of in the American auto industry. Unfortunately, the Mustang II suffered from not only being smaller than the original car, but being heavier as well due to new federal emission and safety regulations. Although the car boasted many superior handling and engineering features, its performance could be described as only "mediocre" — no better than other Ford or Detroit products of the day.
The Mustang II was positioned to compete head-on with many foreign sports car imports that were hitting the market at that time. The Toyota Celica and the Datsun 280Z were its main competitors. Thus, the car was downsized to adapt to more fuel efficient standards. Available as a hardtop or three-door hatchback, the new car's base engine was a 140 in³ (2.3 L) SOHC I4, the first fully metric engine built in the U.S. for installation in an American car. A 171 in³ (2.8 L) V6 was the sole optional engine. Mustang II packages ranged from the base hardtop, 2+2 hatchback, a "Ghia" luxury group with vinyl roof, and a top of the line V6-powered Mach 1. The popular V8 option would disappear for the first and only time in 1974 (except in Mexico). Ford was swamped by buyer mail and criticized in the automotive press for it.


1975–1978

Since the car was never meant to have a V8, it became a mad scramble to re-engineer the car in order to reinstate the 302 in³ (4.94 L) V8 option in time for the 1975 model year, but only with a two-barrel carburetor and 140 "net" horsepower. To make the V8 option fit, changes were made to the front fenders, engine bay, and header panel. Since Ford of Mexico never lost the V8, they assisted in the modifications. Although tepid by today's standards, the car's stock 302 performed quite well by 1970s standards. The Mustang II's 302 in³ engine became Ford's first officially designated metric V8 Mustang; it was called the 5.0 L even though its capacity was 4.94 L. Other than the V8, the car underwent minor changes in 1975. The Ghia received opera windows within its vinyl top and a "MPG Stallion" option was offered. To help boost sales and excitement, other performance options were added. Ford introduced the Shelby inspired Cobra II in 1976, and King Cobra in 1978. The King Cobra was a limited edition Mustang with around 5,000 units produced. It featured a deep air-dam and a Pontiac Trans-Am style cobra hood decal. The King Cobra was only available with the V8 to help bolster the car's performance image. Through 1977 and 1978, several styling changes and color options were added to the Cobra II. On the momentum of the Mustang II's successful sales, a totally new Mustang hit the streets in 1979.


Third generation (1979–1993)

Production 1979–1993
Assembly Dearborn, Michigan
Body style(s) 2-door convertible
2-door coupe
3-door hatchback
Platform Ford Fox platform
Engine(s) 2.3 L I4
2.3 L turbocharged I4
3.3 L I6
3.8 L Essex V6
4.2 L V8
302 cu in (4.9 L) Windsor V8
Transmission(s) 4-speed manual
5-speed manual
3-speed automatic
4-speed automatic
Wheelbase 100.5 in (2553 mm)
Length 179.6 in (4562 mm)
Width 1987-1990: 69.1 in (1755 mm)
1991-93: 68.3 in (1735 mm)
Height 1987-1990: 52.1 in (1323 mm)
1991-93 Coupe: 52 in (1321 mm)
1991-93 Hatchback: 52.1 in (1323 mm)
Fuel capacity 15.4 US gal (58.3 L)
Related Ford Fairmont
Ford LTD
Ford Thunderbird
Mercury Capri
Mercury Zephyr
Mercury Marquis
Mercury Cougar
Lincoln Continental
Lincoln Mark VII

For 1979, an all new Mustang hit the dealerships. Larger and based on the Fox platform, the new Mustang deviated from the smaller compact Mustangs of the past. The interior was completely redone and could now comfortably seat four, even with the smaller back seat. The new Mustang also enjoyed a great deal of trunk space and a bigger engine bay for better serviceability. The 2.3 L four-cylinder from the earlier car was continued, but refined, in addition to a new turbocharged version rated at 132 hp (98 kW). However, the latter was dropped after one year, due to reliability issues. The Mustang II's 2.8 L Cologne V6, made by Ford of Europe, was continued only for a year. The low-reving 302 also returned, rated at 140 hp (104 kW) at 3200 rpm. Mustang was again chosen as pace car for duties in the Indianapolis 500. Ford commemorated the honor with an "Indy 500" pace car edition.

Ford's 3.3 L inline-six replaced the 2.8 L V6 for mid-1979, as supplies of the 2.8 were inadequate. The new 4.2 L V8 was the only V8 offered from 1980 to 1981. Basically a de-bored 302, the 4.2 L V8 had restrictive heads and managed to produce 120 hp (88 kW), the lowest power ever for a Mustang V8. In 1982, the Mustang was revived with the reintroduction of the Mustang GT; bringing more V8 power from the 302 in³ engine via new valves, a more aggressive cam, a larger 2-barrel carburetor, and a better breathing intake and exhaust system, rated at 157 hp (117 kW). With the 302, it was one of the quickest domestic cars in America.


1983–1986

The 3.8 L Essex V6 replaced the 3.3 L I6, as the 3.3 L engine had little demand and was dropped after 1982. Ford added a convertible to the Mustang line in 1983 in response to the 1982 Chrysler convertibles. In 1983, the Mustang GT received a 4-barrel carburetor and a new intake manifold, bringing power to 175 hp (130 kW). The rare SVO Mustang appeared for 1984, with a far more powerful and refined 2.3 L turbocharged inline-4. It also sported handling and braking abilities that would humble a Mustang GT. However, the steep price tag put off most potential buyers. In 1985, the Mustang GT got the exclusive 302 in³ (named 5.0 L High Output) engine with new E5 cylinder heads, a Holley 4-barrel carburetor, a new and more aggressive roller camshaft (only in models with the manual transmission), a new intake manifold, less restrictive exhaust manifolds, and a pseudo dual exhaust which brought more power to a conservatively rated 210 hp (157 kW) engine. This combination was short-lived however, because in 1986, Ford released the first multiport fuel-injected 302 in³ V8, rated at 200 hp (150 kW). With high swirl E6 heads, the early 5.0 (302 in³) High Output EFI intake possessed higher compression and dual exhausts. Also, in 1985 was the 5.0 HO EFI engine which used the early CFI fuel injection; this was often equipped with the AOD automatic transmission rather than the C4. It made for a motor with an abundance of throttle response and low rpm torque, in addition to a very broad powerband that would sign off suddenly at just 5000 rpm.



1987–1993

1987-1993 MustangIn 1987, the Mustang received its first redesign in eight years; incorporating both interior and exterior changes. The exterior design was reminiscent of the earlier SVO and gave the car more of an "Aero" look, in keeping with Ford's overall styling direction. This particular Mustang represents the longest run on any platform and the popularity of the Mustang remained high due to its low cost and high performance. The 302 in³ or "5.0" Mustangs, became popular with the aftermarket performance industry.[3] The V6 option was discontinued while the 2.3 L four-cylinder gained fuel injection, leaving only the 2.3 L four cylinder and the 302 in³ V8. Under the newly established Ford SVT division, the Ford Mustang SVT Cobra was offered with the 302 in³ V8 that produced 235 hp (175 kW) and 280 ft·lbf (380 N•m) of torque.

For 1987, the Mustang received E7 heads and a more capable intake manifold. Power ratings jumped to 225 hp (168 kW) and 300 ft·lbf of torque. In 1989, the Mustang's speed density air system was replaced with a mass air system (1988 Mustangs sold in California also had the MAF system). This change slightly reduced factory horsepower, but it made Mustangs much easier to modify. With the mass air system, changes made to the intake, engine, and exhaust system would be recognized and compensated for by the ECU, resulting in a correct air/fuel ratio and optimum power. Ford's only gesture at a 25th Anniversary Mustang was small, a passenger-side dashboard emblem with galloping-horse logo affixed to all models built between March 27, 1989, and the end of model-year 1990.

In 1993, Ford switched to cast hypereutectic pistons for all 302 in³ engines and also re-rated the 5.0 GT at 205 hp (153 kW) and 275 ft·lbf of torque. This estimate was more accurate because the previous power ratings were made before the addition of the mass air flow system, a minor revision in the cam, and other various changes. A new Cobra model was introduced with more subdued styling than the GT. The Cobra used Ford's new GT-40 high performance engine equipment, which was rated at a very conservative 235 hp (175 kW) and 280 ft·lbf of torque, that could send a Mustang through the 1/4 mile in 14.5 seconds at just under 100 mph (160 km/h). A Cobra R model was also produced in 1993 that used the same engine as the regular Cobra. It featured larger brakes, Koni shocks and struts, an engine oil cooler, a power steering cooler, and a factory rear seat delete. Since the Cobra R was more race oriented, creature comforts such as air conditioning and a stereo system were not included.


Proposed replacement

Ford ProbeBy the mid-1980s, Mustang sales were slumping. Sales were over 100,000 units a year, but were nothing compared to previous numbers. Ford thought that the Mustang had lost its place in the market. They subsequently announced that they would replace the rear-wheel drive Mustang with a Mazda-derived front-wheel drive version. Mustang fans quickly responded and sent Ford hundreds of thousands of angry letters asking them to save the rear-wheel drive Mustang. Ford responded and gave the rear-wheel drive Mustang one more chance and proceeded to rename the front-wheel drive version as the Probe.


Fourth generation (1994–2004)
Fourth-generation Mustang Production 1994–2004

Assembly Dearborn, Michigan
Body style(s) 2-door convertible
2-door coupe
Platform SN-95(1)1994-1998, SN-95(2)1999-2004
Engine(s) 3.8L (232 CID) OHV
94-04 LX Essex V6

4.9L (302 CID) OHV
94-95 GT Windsor V8
5.8L (351 CID) OHV
95 Cobra R Windsor V8
4.6L (281 CID) 2v SOHC
96-04 GT Modular V8
4.6L (281 CID) 4v DOHC
96-98 Cobra Modular V8
4.6L (281 CID) 4v DOHC SC
03-04 Cobra Modular V8


5.4L (330 CID) 4v DOHC
2000 Cobra R Modular V8]

Transmission(s) T-5 (5-Speed Manual)
94-Present V6

World Class T-5 (5-Speed Manual)
94-95 GT/Cobra
T-45 (5-Speed Manual)
95 CobraR, 96-99 Cobra, 96-01 GT
TR-3650 (5-Speed Manual)
01 Cobra, 01-Present GT
T-56 (6-Speed Manual)
2000 Cobra R, 03-04 Cobra


4R70W (4-Speed Automatic)

94-04 V6/GT

Wheelbase 101.3 in
Length 181.5 in (4610 mm) in
Cobra: 182.5 in (4636 mm) in
1999-2004: 183.2 in (4653 mm) in
1999-2004 Cobra: 183.5 in (4661 mm) in
Width 1994-98: 71.8 in (1824 mm) in
1999-2004: 73.1 in (1857 mm) in
Height 1994-96 Coupe: 52.9 in (1344 mm) in
1997-98 Coupe & Cobra Convertible: 53.2 in
GT Coupe, 1997-98 Convertible & GT Convertible: 53.4 in (1356 mm) in
1994-96 GT Convertible & Cobra: 53.3 in
1994-96 Convertible: 53 in
1999-2004 Coupe: 53.1 in
1999-2004 Convertible & Cobra: 53.2 in
1999-2001 Cobra Convertible: 53.3 in
Mach 1: 52.4 in
2002-04 SVT Cobra Coupe: 52.5 in
2002-04 SVT Cobra Convertible: 52.9 in
Fuel capacity 15.4 US gal


1994-1998

In 1994, the Mustang underwent its first major redesign in 15 years. The design, code named "SN-95" by Ford, was based on an updated version of the rear-wheel drive Fox platform known as "Fox-4". It featured dramatic new styling by Patrick Schiavone that incorporated some stylistic elements similar to those on earlier Mustangs.[7] However, unlike all earlier Mustangs, a fastback model was unavailable.

The base model came with a 3.8 L V6 engine rated at 145 (1994-1995) and 150 (1996-1998) hp (108 kW) while the GT featured the 302 in³ V8, now utilizing the Thunderbird intake manifold, a 60 mm throttle body, and a 215 hp (160 kW) rating. The Cobra model also returned with its GT-40 equipped 302 in³ engine, now rated at 260 hp (179 kW). The Mustang was named Motor Trend magazine's Car of the Year for the third time in 1994. The Mustang Cobra convertible was selected as the pace car in the Indianapolis 500, making it the third time that the Mustang had enjoyed the honor. As the result, 1,000 pace car replicas were built and sold at select dealers.

For 1995, a one-year model referred to as the Mustang GTS was introduced. This was considered a "stripped down" version of the Mustang GT, which still featured the performance parts of the GT model but with a minimum of non-performance parts. This included the removal of options such as leather seating, foglights, a compact disc player, and power accessories. A similar model, referred to as the '248A', was produced for 1996-1998 but was no longer marketed as a 'GTS'.

In 1996, the venerable 302 in³ (marketed as 5.0 L) Windsor engine was replaced by a 215 hp (160 kW), 4.6 L SOHC "Modular" V8 engine with two valves per cylinder. This engine had been introduced in the Lincoln Town Car and was part of Ford's plan to modernize its engine lineup. The Cobra version came with a high-revving 305 hp (227 kW), 32 valve DOHC 4.6 L V8. The Cobra's block, cast by Teksid of Italy, was an aluminum, cross-bolted block. The heads had split intake ports and 4 valves per cylinder. To compensate for the relative lack of low end response associated with these kind of cylinder heads, SVT also put an intake manifold with dual runners on the Cobra. With the short runner secondaries not opening until 3250 rpm, it made these early modular Cobras more responsive at low speeds.

For 1998, the SOHC 4.6 L V8 power was increased to 225 hp (168 kW) via a more aggressive PCM calibration, a slightly modified fuel system, and larger volume exhaust system through increased exhaust pipe diameter. This was the last year of the "Round Body Mustang" and the only year that the "Sports" packaged was offered. The latter featured unique black stripe (regardless of car color) on the hood, which extended over to the wheel wells, and its famous styling cue, the three vertical strip taillights.


1999–2004

2000 Sunburst Gold Mustang Lx

2002 Ford Mustang GTA redesigned model came in 1999.Gone were many of the soft lines of the previous model, but the car still rode on the SN-95 platform. The Mustang GT's power increased to 260 hp (194 kW) at 5250 rpm and 302 ft·lbf (409 N•m) of torque at 4000 rpm via the new "Power Improved" (PI) heads, cams, and intake manifold. The new 16-valve SOHC 4.6 L engine exhibited characteristics associated with a performance engine when compared to the performance behavior of earlier 4.6 L engines. Mustangs now featured a returnless type fuel system utilizing a PCM-guided fuel rail pressure sensor to regulate pressure. A popular fuel system upgrade comes via a very unlikely source, the naturally-aspirated 2004 SVT Focus. The SVT Focus uses a 255 lph fuel pump that is a direct replacement for the lower volume 155 lph pumps found in 1999 to 2004 Mustangs.

The Mustang GT was now capable of low 14 second 1/4 mile ETs with 96+ mph trap speeds compared to the 1998 GT's mid-14 second ETs and 93-95 mph trap speeds.[8] On the V6 models, split-port induction replaced single-port induction, which increased the base model's power to 190 hp (142 kW). A different intake design in 2001 increased the V6 Mustang's horsepower by 3, making a base model V6 193 hp (144 kW) from 2001 on, but the V8 remained untouched, while the Cobra claimed 325 hp (239 kW). Ford responded to complaints by issuing a recall on the 1999 model Cobras, which were given computer, intake, and exhaust improvements, to match the original claim of 320 hp (239 kW). As a result, Cobra production was halted in 2000 (except the limited Cobra R) while the company was developing new parts for the missing power. The changes were incorporated into the 2001 Cobra, which could achieve 1/4 mile times in the low 14/high 13 second range.


"New Edge" Mustang convertibleAs a "modular" family, the heads on the earlier 4.6 L SOHC motors can be exchanged with "Power Improved" heads as offered via the Ford Parts Catalog. Due to a different combustion chamber and pistons, the compression increased to 10.7:1 and subsequently required premium fuel to inhibit detonation (knocking). The Cobras received similar improvements, as a switch was made from "B" style heads (aka Splitports) as used in the early 32 valve DOHC Modulars to "C" heads (aka Tumbleports). Redline was set at 7000 rpm for the DOHC Cobra. The Cobra also received an independent rear suspension, which was also modular.

This redesign also saw the release of two separate Special Edition Mustangs. In 2001, the Special Edition Bullitt was released to the public. Available as a hardtop only, the Bullitt was a mildly upgraded version of the standard GT. Designed to be a handling-based vehicle as opposed to an all-out bruiser, the car was factory upgraded with a lowered suspension (3/4 inch), subframe connectors from the convertible models, new Tokico shocks, and brakes from the Cobra (13 in front, 11.7 in rear). The car also received an upgraded exhaust, a re-designed intake, and underdrive pullies. These power upgrades led to a factory rating of 265 hp (198 kW), a gain of five horespower over the standard GT. On the exterior, the car received unique Torq-Thrust style wheels, removal of the fog lights and rear deck spoiler, as well as new trim accents. It was available in three colors: Dark Highland Green, True Blue, and Black.

The success of the 2001 Bullitt led to the production of a second special edition, the 2003 to 2004 Mach 1. The Mach 1 was equipped with a unique R-Code 4.6 L DOHC engine based on the DOHC engine available in the 1999 and 2001 Mustang Cobras, with new cylinder heads from the 2003 to 2004 Cobra (see below) and camshafts from the 5.4 L Triton engine. The engine was rated at 305 hp (227 kW) and raised to 310 hp (231 kW) in 2004 (Hot Rod magazine actually dyno-tested a 2003 Mach 1 and found it to produce approximately 325 hp). The interior of the car was given a retro theme with seats made to look like the "comfort-weave" seats available in the 1960s-era Mach 1s. It also featured retro themed gauges and a unique aluminum shifter ball. On the vehicle's exterior, a Mach 1 package was applied, as well as a functional Shaker scoop, a unique 3-tier hood, decals set on the hood, rocker/door panels, a special chin spoiler, a flat black-rear-spoiler, Magnum-500 style wheels, and a redesigned C-pillar. The car also received the same suspension upgrades as the Bullitt did with the exception of the front and rear stabilizer bars (the Bullit had a larger front, but a smaller rear). The Mach 1 was available in a range of colors including: Azure Blue (a Mach 1 only color), Torch Red, Zinc Yellow (2003 only), Dark Shadow Grey, Black, Oxford White, and two just for 2004 colors, Competition Orange and Screaming Yellow.

In 2003, Ford updated the Fox-based Cobra for the last time. Internally known during its development as the "Terminator," this Cobra featured a 4.6 L V8 similar to the older Cobra. However, it was a radical change with the addition of an Eaton supercharger and an air to water intercooler resulting in 390 horsepower (291 kW) and 390 ft·lbf (529 Nm) of torque. Cast iron engine blocks replaced the aluminum blocks used in Cobras from '96-'01. To cope with increased power, Ford replaced the 5-speed Tremec T-45 transmission with the heavier-duty 6-speed Tremec T-56, which was also found in the Dodge Viper, Chevrolet Corvette, and the now discontinued Camaro Z28. Engineers improved handling by using an independent rear suspension and fitting more aggressive tires, achieving 0.90 g on the skidpad. Unlike the 1999 SVT Cobra, these cars produced significantly more power than the official Ford claims. Most stock 2003 to 2004 Cobras were dynamometer-tested between 410 and 420 hp (313 kW). From the factory, the 2003 to 2004 Cobras ran 1/4 miles in the mid to upper 12s with trap speeds over 110 mph (180 km/h).

In mid 2004, Ford replaced the 3.8L V6 with the 3.9L V6 powerplant found in the Ford Freestar.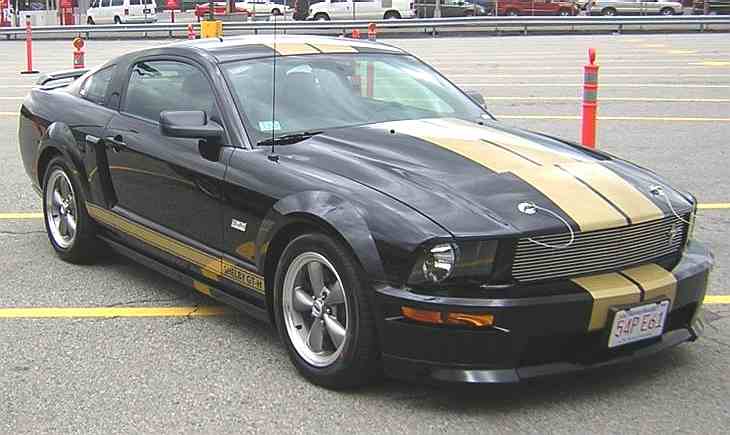 Fifth generation (2005–present)

Production 2005–present
Assembly Flat Rock, Michigan
Body style(s) 2-door convertible
2-door coupe
Platform Ford D2C platform
Engine(s) 4.0 L Cologne V6
4.6 L V8
5.4 L supercharged V8
Transmission(s) 5-speed manual
6-speed manual
5-speed automatic
Wheelbase 107.1 in
Length 187.6 in
Width 74 in
Height 54.5 in
Curb weight 3350/3420 lb (V6 coupe MT/AT)
3475/3555 lb (V6 convertible MT/AT)
3480/3525 lb (V8 coupe MT/AT)
3610/3655 lb (V8 convertible MT/AT)
3920 lb (GT500 coupe)
4040 lb (GT500 convertible)
Fuel capacity 16 US gal
Designer Sid Ramnarace

2005 Ford Mustang GT Coupe

2005 Ford Mustang GT ConvertibleAt the 2004 North American International Auto Show, Ford introduced a completely redesigned Mustang which was codenamed "S-197" and based on an all-new D2C platform for the 2005 model year. Developed under the direction of Chief Engineer Hau Thai-Tang and exterior styling designer Sid Ramnarace, the fifth generation Mustang draws inspiration from Mustangs of the 1960s. It was this redesigned aesthetic that inspired Ford's Senior Vice President of Design, J Mays, to call it "retro-futurism." The 2005 Mustang's unique retro coupe styling complements its muscle car status with an approximate weight to power ratio of 11.5:1. The current Mustangs are manufactured at the AutoAlliance International plant in Flat Rock, Michigan. The base Mustang, equipped with a 5-speed Tremec T-5 manual transmission, is powered by a cast iron block 210 hp (156 kW) 4.0 L SOHC Ford Cologne V6 engine, replacing the 3.8 L pushrod V6. The Mustang GT features a more rugged Tremec TR-3650 transmission with an aluminum 300 hp (224 kW) 4.6 L 3-valve Modular V8 with variable camshaft timing. 2007's Shelby GT, based on the standard GT model, is modified by Carroll Shelby International to produce 319 hp (238 kW) by means of a Ford Racing air intake, performance tune, and upgraded exhaust system.[9] The 2007 Ford Shelby GT500 is equipped with the Tremec TR-6060 transmission, sporting a durable cast iron block generating 500 hp (373 kW) from a supercharged 5.4 L DOHC 32-valve V8 engine.


2006 Ford Mustang Shelby GT-H

2007 Shelby GT500The 2005 Mustang GT is capable of performing a quarter-mile test in 13.5 seconds, with acceleration from 0-60 mph in 4.9 seconds. Added to the rear suspension is a three-linked system which controls the vertical and lateral movements of the axle. All model years of the current Mustang retain a live axle rear suspension providing the benefits of reduced cost and weight over a heavier, more expensive and complicated independent rear suspension, at the expense of handling. Ford has drawn heavy criticism from the motoring journalism community for the decision to equip the current Mustang with the live axle system, due to the poor handling that results. At a press conference, Ford stated that to include a modern suspension system would have added $5,000 to the showroom price of the car.
The current Mustang GT also comes equipped with a limited slip differential complete with the same carbon-fiber clutch discs used in the 2003 to 2004 SVT Cobra and the 2007 Shelby GT500. The differential is designed for the 31-spline axles and the 8.8 inch ring gear. The basic V6 model (without the Pony Package), unlike the V8 GT model, lacks a rear anti-sway bar to prevent severe oversteer on hard cornering. The 2007 Mustang V6 and GT chassis, suspension, and body shares many of the same construction designs as the GT500. Thicker sheetmetal support and extra welds can be found on the 2007 chassis. Re-designed strut towers on the 2007 Mustang accommodate the wider 5.4 L 32-valve V8 engine in the GT500. The rear diffuser on the 2007 GT California Special package (GT/CS) is also found on the Shelby GT and GT500.

The Pony Package for the V6 Mustang became available starting in 2006. This option includes upgraded suspension, Bullitt-style wheels (originally only available on the GT), wider tires, a unique grille design with fog lamps, a rear deck spoiler, and unique door striping and emblems. Unlike previous V6-powered Mustangs, the current V6 Mustang has drawn a large aftermarket following. A notable example is Shelby Automobile's Shelby CS6 package for the V6 Mustang, specifically the Paxton supercharger, which increases the power of the V6 up to 350 hp (261 kW).

The Mustang sports additional optional features including: MyColor (a color-configurable instrument cluster available as part of the Interior Upgrade Package), Shaker 500 (500 watts peak output) CD/MP3 6-disc audio system, Shaker 1000 (1,000 watts peak output) CD/MP3 6-disc audio system, and brushed aluminum panels (also part of the Interior Upgrade Package). In 2007, even more options were offered including a DVD-based GPS navigation system made by Pioneer (late availability), power passenger seats, heated seats, revised interior colors, and Sirius satellite radio. The GT Appearance Package made its debut in 2007 as well. This package adds a non-functional hood scoop, bright rolled exhaust tips and an engine cover featuring the pony emblem.

Ford announced in July 2007 that all 2008 Mustangs would have seats containing material derived from soy beans, harking back to some of Henry Ford's ideals.


Special editions and modified Mustangs

While the original concept for the Mustang did not foresee its evolution into a performance car, Ford has catered to individuals looking for more performance. Early variants available direct from the factory included the Boss 302 Mustang and Mach 1. While high performance vehicles fell out of favor during the fuel crisis of the 1970s, the tradition was carried forward in later years with the Ford Mustang SVO and Ford Mustang SVT Cobra.

Over the years, third party vendors and independent car designers have utilized the Mustang as a starting point for their own designs. Designers such as Carroll Shelby and companies such as Roush Performance and Saleen have made a name for themselves by specializing in producing Mustang performance parts and building custom cars.


Racing

Please help improve this article by expanding this section.
See talk page for details. Please remove this message once the section has been expanded.

In the 60s and into the mid 70s Mustangs were prominently used in the Trans Am Series. When the series was seen last, 2004 Mustangs were in use even after the car's redesign in 2005. Currently, Mustangs are used in the KONI Challenge Series. In the 1970s, Mustangs were often used for drag races at small, local, tracks. They were often rented out by The Hertz Corporation for this purpose.


Awards

The Mustang has been on the Car and Driver Ten Best list five times: 1983, 1987, 1988, 2005, and 2006, and won Motor Trend Car of the Year award in both 1974 and 1994. Ford Division's entire car line won the Car(s) of the Year award in 1964, which was the Mustang's first year of production, but a few weeks before its actual introduction. The 1965 Mustang also won the Tiffany Gold Medal for excellence in American design, which was the first automobile to ever do so. In 2005, the Mustang was nominated for the North American Car of the Year award and won the Canadian Car of the Year award.

Popular Ford Models
LINKS and REFERENCE
National Medal of Technology [1]

Time magazine article [2]

http://auto.howstuffworks.com/1994-1995-1996-1997-1998-ford-mustang.htm by the Auto Editors of Consumer Guide

Road Test: 1999 Ford Mustang GT article from Motor Trend

Kott, Douglas (April 2005). Mustang Stampede! (HTML) (English). Road & Track

New Twist on Green: 2008 Ford Mustang Seats Will Be Soy-Based Foam", Edmunds inside line, July 12, 2007.

2005 Mustang draws inspiration from the 60's. CanadianDriver. Communications, Inc.

Chilton Automotive Books Ford Mustang/Mercury Cougar, 1964-73 Repair Manual, 1st Edition, Radnor, PA: Thomson Delmar Learning, 450.

Leffingwell, Randy (2003). Mustang Forty Years. Osceola: MBI Publishing.

The Reminiscences of L. David Ash. Automobile in American Life and Society. University of Michigan-Dearborn and The Henry Ford.
---
Please click on the links above to find out about these famous automotive makers. If your company is not included and you would like to be listed, please let us know.
---
UK VEHICLE INSURANCE ONLINE A - Z
No matter what car, van or bike you drive, we're all looking for great value and quality in our UK motor insurance? But who is the best value and who offers great service in the event of a claim?
If you purchase your insurance via a dedicated link from this site, you could not only save money, but you'll also be helping us provide free information to thousands of students - at no cost to you. Please help if you can and thanks for considering us.
The insurance companies below claim to offer competitive. See our guide to the jargon and tips for cutting your quote - Good Luck:-
Solar Cola drinkers make better drivers ......

330ml Earth can - The World in Your Hands