The Ford Focus is a series of compact/small family cars made by the Ford Motor Company and sold in most Ford markets worldwide. As with other Ford models, today different versions of the car are sold in North America and in other markets
The Ford Focus is a small family car made by Ford and sold in most Ford markets worldwide. It was launched in 1998 in Europe and 2002 in Australia. Since then, it has become the United Kingdom's best selling car, following in the success of its predecessor, the Escort. In 2001 and 2002, the Focus was the world's best selling car. A new version of the Focus was launched in Europe in January 2005.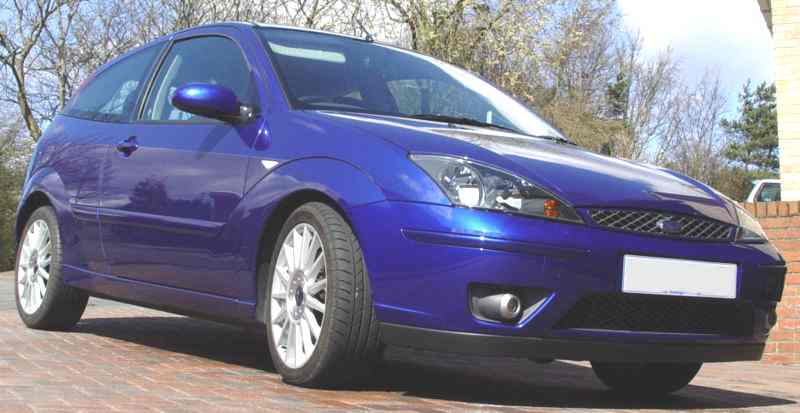 Ford Focus first generation
In Europe, South America and South Africa, the Focus replaced the Ford Escort. In Australia, New Zealand, and Japan, it replaced the Ford Laser.
Ford Focus Mark 1 (1998–2004)






First Generation

Production

1998-2004

Body style(s)

3- and 5-door hatchback
4-door sedan
5-door station wagon

Layout

FF layout

Platform

Ford C170 platform

Engine(s)

1.4 L I4 Zetec-SE
1.6 L I4 Zetec-SE
1.8 L I4 Zetec-E
1.8 L I4 Diesel TDDI
1.8 L I4 Diesel TDCI
2.0 L I4 Zetec-E

Wheelbase

2615 mm (103 in)

Length

Hatchback: 4175 mm (164 in)
Saloon: 4380 mm (172 in)
Estate: 4455 mm (175 in)

Width

1700 mm (67 in)

Height

Hatchback and saloon: 1440 mm (57 in)
Estate: 1460 mm (57 in)

Curb weight

1150kg to 1364kg

Related
Design and Engineering
Codenamed CW170 during its development, and briefly known to some Ford contractors as the Ford Fusion, the original Focus took its eventual name from a Ghia concept car which was shown at the Geneva Motor Show in 1991. Certain elements of the design had been seen even earlier in prototypes used by Ford to demonstrate forthcoming safety features, such as the eye-level rear lighting clusters. Initial spy photographs of the car seen in 1995 showed a continuation of Ford's New Edge styling philosophy, first seen in the Ford Ka in 1996, and Ford Cougar in 1998.
The interior of the car was also radically styled featuring many curves and sweeping lines. Although the design was clearly influenced by the Ka the interior design was more akin to those of American cars, in the same way the Mk 1 Mondeo was.[POV]


The Focus also introduced high specification components. The car featured a highly sophisticated fully independent multi-link rear suspension (dubbed "Control Blade") which was derived from the system used on the Ford Mondeo estate and was intended to give the car class-leading handling and ride. Although fully independent multi-link rear suspension is costly, Ford managed to design and produce the suspension in an ingenious and cost effective way by using pressed metal techniques. Until then a high proportion of other cars in the class had used Twist-beam rear suspensions, or other beam type suspensions.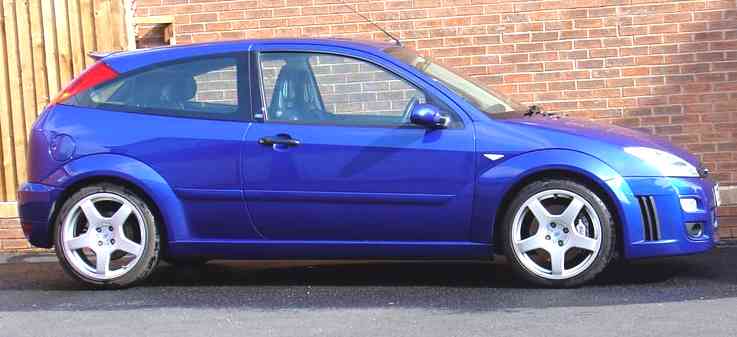 Ford Focus RS
Manufacturing

The Mark 1 Focus was produced in factories in: Saarlouis, Germany; Valencia, Spain; Santa Rosa, Philippines; Pacheco, Argentina; Chungli, Taiwan; Chongqing, China and St Petersburg, Russia.
Critical opinion



The motoring press praised the handling and ride of the Ford Focus for its rare mix of passenger comfort and lively driver responsiveness which was considered far superior to its rivals at the time (such as the Opel Astra and especially the Mk 4 Volkswagen Golf). The reviews also hailed the Focus' independent rear suspension, performance and accommodation. The interior design polarised opinion largely due to the curves and sweeping lines. The quality of the interior materials was criticised relative to the Opel Astra and even more so relative to the Mk 4 Volkswagen Golf, although the Mk4 Golf was considerably more expensive than the Focus from new.
Safety
The Mk 1 Ford Focus received 4 out of 5 stars for occupant safety, and 2 out of 4 stars for pedestrian safety in its EuroNCAP tests (69% frontal, 83% side, 28% pedestrian). In Australia, the 2002-2005 Ford Focus was assessed in the Used Car Safety Ratings 2006 as providing "average" protection for its occupants in the event of a crash.
2001 Facelift
In 2001 the Mk 1 Focus was subtly face lifted. Changes included:
Revised headlamps with integrated indicators and separate main and dipped bulbs
Revised bumpers without indicators, but with the addition of removable bump strips
Revised upper and lower grille and fog lights
Optional Xenon headlights
Optional 6-disc CD changer
Optional Navigation System
Optional Digital Climate Control
Features of certain trim levels changed
Modified centre console with rubber cup holders
Different centre dash colours
New seat trims
Different instrument cluster finishes
Damped and lit glovebox
New colours
Rear power point
TDCi Engine introduced to the range
Versatility Pack Option added
A new flexfuel engine was introduced, based on the European Zetec 1.6 L version. This could use both petrol and bioethanol, but only on the Swedish market. This version is still available in some countries despite the advent of an all-new Mk 2 Focus.
Engines
European Introduction
Petrol engines available were the well-proven 1.8 L and 2.0 L Zetec-E units from the Ford Mondeo and 1.4 L and 1.6 L versions of the Zetec-SE units found in the Ford Fiesta and Ford Puma. The ST170 and RS performance models used modified versions of the 2.0 L Zetec-E. Originally, the only diesel engine available was the Endura TDDI (a development of the old Deutz-designed motor which Ford had been using since the 1980s). This was replaced in 2002 by the Duratorq TDCI.
International Summary
| Size (L) | Name | Fuel | Market | Power (kW/bhp/PS) | Torque | MPG | Top Speed | 0-60 (S) |
| --- | --- | --- | --- | --- | --- | --- | --- | --- |
| 1.4 | Zetec-SE | | | 55/74/75 | 123 N·m (91 ft·lbf) | 42.2 | 107 mph (172 km/h) | 14.1 |
| 1.6 | Zetec-SE | Petrol | Europe | 74/99/101 | 145 N·m (107 ft·lbf) | 37.4 | 116 mph (187 km/h) | 10.9 |
| 1.6 | Zetec-Rocam | Petrol/ethanol (Flex) | | 81.5/109/111 | | | | |
| 1.8 | Zetec-E | Petrol | Europe | 85/114/116 | 160 N·m (118 ft·lbf) | 33.8 | 124 mph (200 km/h) | 10 |
| 1.8 | TDDi | | Europe | 55/74/75 | 175 N·m (129 ft·lbf) | 54.9 | 115 mph (185 km/h) | |
| 1.8 | TDDi | Diesel | Europe | 66/89/90 | 200 N·m (148 ft·lbf) | 51.2 | 115 mph (185 km/h) | |
| 1.8 | TDCi | Diesel | Europe | 85/114/116 | 250 N·m (184 ft·lbf) | 51.4 | 123 mph (198 km/h) | 10.8 |
| 2.0 | Zetec-E | Petrol | Europe | 96/129/131 | 178 N·m (131 ft·lbf) | 31.6 | 126 mph (203 km/h) | 9.2 |
| 2.0 | Duratec-ST | Petrol | Europe | 127/171/173 | 196 N·m (145 ft·lbf) | 31 | 134 mph (216 km/h) | 7.9 |
| 2.0 | Duratec-RS | Petrol | Europe | 158/212/215 | 310 N·m (229 ft·lbf) | 27.9 | 144 mph (232 km/h) | 6.3 |
| 2.5 | Duratec-ST | Petrol | Europe | 165/225/222 | 320 N·m (236 ft·lbf) | 30 | 150 mph (240 km/h) | 6.5 |
Transmissions

5-speed MTX-75 Manual (2.0, RS & 1.8 TDCi, 1.8 TDDi)
5-speed IB5 Manual (1.4, 1.6, 1.8)
6-speed GETRAG 285 Manual (ST170)
4-speed 4F27E Automatic (1.6, 2.0)

Trim levels (European)

CL (1.4 petrol, 1.6 petrol, 1.8 turbodiesel), 3/5-door hatchback, 5-door estate (1.6 only available in UK in 5-door estate)
LX (1.4 petrol, 1.6 petrol, 1.8 petrol, 1.8 turbodiesel), 3-door hatchback, 5-door hatchback, 4-door saloon, 5-door estate
Zetec (1.4 petrol, 1.6 petrol, 1.8 petrol, 2.0 petrol, 1.8 turbodiesel), 3/5-door hatchback, 5-door estate
Ghia (1.6 petrol, 1.8 petrol, 2.0 petrol, 1.8 turbodiesel), 5-door hatchback, 4-door saloon, 5-door estate.
ST170 (2.0 petrol), 3/5-door hatchback, 5-door estate
RS (2.0 turbo petrol), 3-door hatchback (In production from 2002-2004)


Body styles

3-door hatchback
5-door hatchback
4-door sedan (Not available in Japan, New Zealand and Italy)
4-door station wagon (Only available in Europe and Japan)


Performance versions

Ford Focus ST170

The ST170, which was launched in 2002, is the International version of the American Focus SVT. The car was only available in some markets outside of America.

Adapted from the Facelift Mk 1 Focus, the ST170 had the following cosmetic revisions: 17" Multi-Spoke Alloy Wheels; Alarm; Side Airbags; Optional Recaro leather seats; Optional 9006 Stereo system with Subwoofer; and Locally developed bodykit (Australia only). And the following technical revisions: High-flow aluminum cylinder head; Variable valve timing; Dual state intake manifold; Stainless steel exhaust system; Sports catalytic converter; Larger brake discs (300mm front, 280mm rear); GETRAG 6 speed manual gearbox; and Revised power steering pump.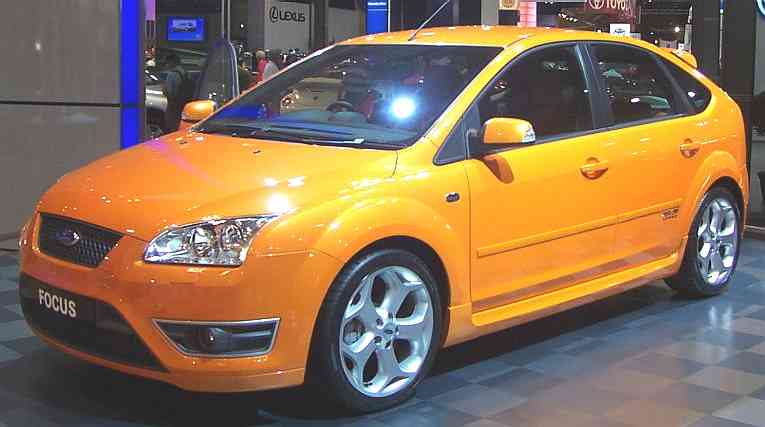 Ford Focus XR5 turbo


Ford Focus RS

In 2002 the more bespoke engineered and performance orientated RS badge made a return to a Ford product following the demise of the Escort RS 2000 in 1996. Using a turbocharged version of the 2.0 litre Zetec-E engine (fired into life via a unique starter button), badged Duratec-RS, the Focus RS produced a minimum 215 ps and 310 Nm of torque, although most cars came out of the factory producing more power.

The Focus RS was a far more bespoke car than the SVT/ST170 with seventy percent of the components being unique, revised or uprated from the standard Focus. Mechanically, most notably, the car incorporated a Quaife automatic torque biasing differential to improve traction from the front wheel drive setup. It was this differential that gave the car its largely undeserved reputation for extreme torque steer. The suspension is 25mm lower than the standard model with custom Sachs dampers. The steering used the same quicker ratio rack as the ST170 while the brakes used fixed calliper four piston Brembo units with 325mm discs up front and single piston callipers and 280mm discs at the back. Wheels were 18" alloys specially developed by OZ Racing.
The engine was heavily modified with forged aluminium pistons, forged connecting rods, hardened valve seats, sodium-filled exhaust valves and a stainless steel exhaust system. The forced induction system comprised a Garret turbocharger in conjunction with a water-cooled charge air cooler and an electric water pump. To transmit the higher torque was an AP Racing clutch. Styling wise, the car featured unique front and rear bumper assemblies required for the wider wheel arches which accommodated the 65mm wider front track. Internally the theme is blue and black with sections of blue leather trim on the door trim panels, the steering wheel and the Sparco seats which were trimmed in blue/black leather and Alcantara. The instruments have a blue background and in place of the coolant temperature gauge, the RS was equipped with a boost pressure indicator (up to 1,5 bar). The gear lever knob, handbrake lever and pedals were all custom made by Sparco.

The Ford Focus RS was manufactured on its own production line at Ford's Saarlouis plant in Germany. Production started on 2 October 2002 and ended on 11 November 2003 when the final vehicle, number 4501 of a limited worldwide production run of 4500, rolled off the line. The Focus RS was sold in 21 countries across Europe but by far the largest number, 2147, were sold in the Great Britain.[5] It is estimated that Ford lost £7000.00 on every car sold at its £19750.00 British price tag.

Performance - Ford Focus RS: 0-60 km/h: 3,1 s, 0-100 km/h: 6,4 s, 0-130 km/h: 10,1 s, 0-180 km/h: 19,6 s, Vmax.: 232 km/h, 40-100 km/h in 4th gear: 12,1 s, 80-140 km/h in 5th gear: 14,1 s.


Mk 2 (2004 - Present)



Second generation

Production

2004–present

Body style(s)

3- and 5-door hatchback
4-door sedan
5-door station wagon
2-door coupé cabriolet

Layout

FF layout

Platform

Ford C1 platform

Engine(s)

1.4 L I4 Zetec-SE
1.6 L I4 Zetec-SE
1.6 L I4 Zetec-SE Ti-VCT
1.6 L I4 Diesel TDCI
1.6 L I4 Diesel TDCI DPF
1.8 L I4 Duratec
1.8 L I4 Diesel TDCI
1.8 L I4 Duratec Flexi-fuel
2.0 L I4 Duratec
2.0 L I4 Diesel TDCI
2.5 L I5 Turbocharged T5

Wheelbase

2640 mm (104 in)

Length

Hatchback: 4340 mm (171 in)
Saloon: 4480 mm (176 in)
Estate: 4470 mm (176 in)
ST: 4360 mm (172 in)
Coupé cabriolet: 4510 mm (178 in)

Width

Coupé cabriolet: 1835 mm (72 in)
Saloon, hatchback and estate: 1840 mm (72 in)

Height

Hatchback: 1500 mm (59 in)
Saloon: 1495 mm (59 in)
Estate: 1500 mm (59 in)
Coupé cabriolet: 1455 mm (57 in)

Curb weight

1229kg to 1630kg

Related

Ford C-MAX
Ford Kuga
Mazda3
Mazda5
Volvo C30
Volvo S40
Volvo V50
The all-new Mk 2 Ford Focus was launched at the Paris Motor Show on September 23 2004 as a three and five-door hatchback and an estate, although the new car was previewed, in 4-door saloon form, as the 'Focus Concept' developed by Ford Europe at the Beijing Motor Show in mid-2004.


Design and engineering

The Mk 2, codenamed C307, uses the Ford C1 platform which is shared with the Volvo S40, V50 and C70, Mazda3 and Focus C-MAX. Ford calls this platform sharing programme "Global Shared Technologies".

The basic suspension design, which contributed much to the Mk 1's success, has been carried over largely unchanged from its predecessor which, along with a 10% stiffer bodyshell, offers even better handling and ride according to Ford. The same body styles as the Mk 1 Focus were offered, though the saloon did not appear until mid-2005.

The Focus Mk 2 is much larger than its predecessor with a 25 mm (1 in) increase in wheelbase, 168 mm (6.6 in) longer, 8 mm (0.3 in) taller and 138 mm (5.4 in) wider. As a result the interior and boot space has increased. New technologies include a KeyFree system, a solar-reflect windshield, adaptive front lighting, Bluetooth hands-free phones and voice control for audio, telephone and climate control systems.

It also features either a Durashift 6-speed manual, Durashift 4-speed automatic transmission or the all-new Durashift advanced manual transmission or just the standard manual.

Stylistically, the Mk 2's styling features the same design language found in the Mondeo and Fiesta. Although still recognisable as a Focus the new car uses styling features from the abandoned B-Proposal for the original Focus which were never reached production.

The interior and dashboard follows on from the Mk 2 Mondeo and is constructed from higher quality plastics than before.


Ford Focus 120 mph crash test
NB: This is an extreme test. No production car would fare well, hence this should not be held against the Ford motor company, nor does such a test diminish the quality of the Ford brand, but rather points to the absurdity of fast driving in unsafe conditions

Availability

The Focus Mk 2 is also built in South Africa for export to Australia and New Zealand. However shortly after launch, New Zealand surrendered its supply to satisfy Australia's high demand, and now receives vehicles from the German factory in Saarlouis. In 2006 the Mk 2 made its debut on the American continent, with its launch on the Mexican market, the only American market Ford currently offers the model. The Mk 1 Focus is still available in some other markets worldwide; Brazil and Chile being two examples.


Critical opinion

Dynamically, the Focus Mk 2 is held in high regard by the motoring press. Although they claim the latest generation Opel/Vauxhall/Holden Astra and Volkswagen Golf have much improved handling over their respective predecessors, they still were short of the all-round ability offered by the Mk 2 Focus. The Mk 2 Focus offers further improvements, including better handling and ride and, as with its predecessor, is regarded by critics as having the best chassis in its class. Although many journalists claim the rear-wheel drive BMW 1 Series offers marginally better handling, and the Volkswagen Golf a slightly better ride, they proclaim the Focus still offers the best handling/ride compromise, and is superior even over its Mazda and Volvo cousins who share the same platform and suspension.

Styling-wise, like the Mk 2 Mondeo and Mk 3 Fiesta the Focus has been criticised by the motoring press for what some perceive as a lack of flair, originality and boldness compared to its predecessor's New Edge design although many critics do say the new model looks more mature.

The interior design has not faced such harsh criticism with many journalists believing it represents a significant improvement through more sober 'German' styling and, more importantly, better quality plastics than the first generation design, although the general consensus from journalists is that the Focus' interior is still a notch down from the Mk 5 Volkswagen Golf.

Focus' sold in Australia are not available with side curtain SRS airbags (XR5 excluded). Meaning in terms of safety, the Focus sits behind many of its close rivals. The lack of side curtain SRS airbags is due to the fact that Australia receives the Focus from the factory in South Africa. Meaning the car is normally marked down in various car comparisons, despite being one of the best cars dynamically. However, as of August 2007 side curtain SRS airbags and Dynamic Stability Control will be available, when the model is facelifted.


Ford Focus

Safety

The new car has gained the best ever EuroNCAP ratings for its class (5 stars for adult protection, 4 of 5 for child protection and 2 of 5 for pedestrian protection), beating such contenders as the Renault Mégane and Volkswagen Golf, including full (16/16) marks for the front impact test.


Engines

The engine line up for the Mk 2 is a mixture of old and new. Revised versions of the 1.4 L and 1.6 L all aluminium Zetec-SE engines from the previous generation Focus were carried over, although the units were now renamed Duratec, with the addition of 1.6 L Duratec Ti-VCT engine with variable valve timing.

The 1.8 L Zetec petrol engine of the original was replaced with 1.8 L Duratec engine while the 2.0 L engine was replaced by the Mk 2 Mondeo's 2.0 L Duratec engine. It should be noted that Ford's 1.8 L and 2.0 L Duratec engines are heavily revised versions of the old 1.8 L and 2.0 L Zetec engines from the previous Focus and Mk I Mondeo and bear no relation to the 1.4 L and 1.6 L Duratec engines, the latter being revised versions of the Yamaha-developed Zetec-SE engines.

The PSA-developed Duratorq Diesel engine in 1.6 L 90 hp and 110 hp editions, Ford's own 'Lynx' Duratorq 1.8L 115 hp diesel carried over from the previous model and the PSA DW10 diesel in 2.0 L form rounds off the range in standard Focus guise (this is a different unit to the 'Puma' diesel in the Mondeo).

Petrol

1.4 L Duratec
1.6 L Duratec
1.6 L Duratec Ti-VCT
1.8 L Duratec-HE
2.0 L Duratec-HE
2.5 L Volvo B5254T3 5-cylinder
Diesel

1.6L (90 bhp and 110 bhp) Duratorq (PSA type)
1.8 L Duratorq (Ford "Lynx" type)
2.0 L Duratorq (PSA DW10)


Trim levels

The main trim levels of the pre-facelift Focus Mk 2 in the United Kingdom are listed below. For other countries, the range is either a cut down version of this list (e.g. for New Zealand) or it is almost completely different altogether (e.g. for South Africa)

Studio (Base model)

Style (adds alloy wheels, air-conditioning and a sports steering wheel)
Zetec Climate (adds Sport Suspension and various interior/exterior styling enhancements, heated windscreen and air conditioning)
Ghia (adds a great deal including alarm, auto-dimming rear-view mirror and only model to have Cruise Control as standard)
Titanium (adds Sony CD/MP3 player as standard, privacy glass and sports seats)
From September 2006, Ford revised the standard trim specifications slightly, to allow for the introduction of further options called X-Packs.


2008 Facelift

Ford unveiled a facelifted Mk2 Ford Focus at the Frankfurt Motor Show in September 2007, to go on sale in early 2008 in the hatchback, estate and saloon bodystyles, with the Coupé-Cabriolet and ST to follow in Spring 2008. Went on sale in the UK on 2nd Feb 2008. Changes include:

Cosmetically, the facelift brings the Focus in line with the Kinetic Design language seen on the 2007 Ford Mondeo, and 2006 Ford S-MAX and Ford Galaxy, whilst keeping with the general shape of the pre-facelift model. Every exterior panel (except the roof) underwent a reworking with the following key detail changes: trapezoidal grilles, swept back headlamps, bold wheel arches, newly shaped rear glass, a contoured tailgate and new tail lamps.

Greater use of soft-touch plastics in the interior.

Revised instrument binnacle and interior controls, now with red lighting.

New design centre console primarily for the top line Titanium trim and optional Zetec
Ford PowerShift transmission (similar to Volkswagen's DSG) added to range.

Introduction of a Ford Power Button.

Introduction of a 110PS version of the 2.0 Duratorq TDCi engine.

Revised trim range consisting of Studio, Style, ECOnetic, Zetec, Titanium and ST trims.

Prices are set to be similar (if not identical) to that of the pre-facelift Focus, as its lead at the top of the British car sales charts has quickly been cut by the Vauxhall Astra in the last couple of years.

Ford collaborated with dance floor superstar Alesha Dixon in January 2008 to create an exclusive special edition remix and video to celebrate the launch of the new Ford Focus.


Additional Variants

Focus ST

In 2005 Ford unveiled a hot hatch version of the Mk 2 Focus. Called Focus ST, and available in either three or five door hatchback variant, the car uses the same T5 engine from the Volvo S40/V50 T5 models, a turbocharged 2.5 L 5-cylinder engine producing 225 hp. The Ford Focus Mk 2 ST is also known as the XR5 Turbo in the Australian and New Zealand market, but is sold as a five door hatchback only. According to Top Gear a new version called ST260 will appear in 2008 with a 260 hp version of the same engine.


Ford Focus Coupé-Cabriolet

The Focus Coupé-Cabriolet was introduced at the Geneva Motor Show in February 2006 and went on sale in October 2006. Originally named the Vignale by designer Pininfarina, it was previewed at the 2005 Frankfurt Motor Show. It has a two-piece metal folding roof, and final assembly is handled by Pininfarina, making it an exotic in a mainstream marque. Ford plans to sell about 20,000 annually in Europe.

In February 2008, Ford revealed a new Focus Coupé-Cabriolet sporting the new 'Kinetic Design' front end of the generic Ford Focus. Notably however, unlike the generic Focus models, the side and rear body panels were not changed, and neither were the door mirrors upgraded to the new-style units, as on the rest of the new Focus models. Nor were bodyside mouldings removed, as with the rest of the Focus range. Some press outlets had expected such changes in line with the rest of the range.


Focus ECOnetic

Shown at the Frankfurt Motor Show in September 2007 as part of the facelifted range, the Focus ECOnetic is an emissions-friendly model, similar to Volkswagen's BlueMotion range, using a 109PS 1.6 Duratorq TDCi engine with a Diesel Particulate Filter (DPF). Aerodynamic features including low-resistance tyres contribute to 65mpg fuel consumption figure with average CO2 emissions of 115g/km.


Focus RS Mk 2

On December 17 2007 Ford of Europe confirmed that a Mk 2 Focus RS will be launched in 2009. The press release also notes that a concept version of the RS is due in mid-2008. Top Gear thinks that the car will probably have four-wheel drive and a twin-turbo version of the ST's 2.5-litre five-cylinder engine with about 300bhp, making it similar in performance to the Subaru Impreza STI and Mitsubishi Evo X.

Previous rumours and speculation about ths RS MK2 had included a picture of an apparent MK2 Focus RS on the front-cover of Autocar magazine, and several spy photos of a 300HP - 4wd Ford Focus testing at the Nürburgring in both the November 2006 and June 2007 editions of Autoexpress.

Some sources think that that car will be on sale in the spring of 2008, have 300bhp, 280lb ft, a simple all-wheel drive system (from a Volvo S60R) and cost around £28,000.


Mk III (20??-)

Reports have repeatedly surfaced that the third generation will debut in 2011 or 2012. This generation is to re-unite the International Ford Focus with the North American Ford Focus onto a common architecture.

On July 23, 2007, Australian Industry Minister Ian MacFarlane announced that the next generation Ford Focus would be built at Ford Australia's Broadmeadows manufacturing plant from 2011.


Motorsport

Marcus Grönholm with his Ford Focus RS WRC 07 at the 2007 Wales Rally GB.The first Focus World Rally Car made its debut in rallying and the World Rally Championship on the 1999 Monte Carlo Rally with Colin McRae and Simon Jean-Joseph at the wheels of the two cars, replacing, for the first time in a generation, the venerable Escort. It was immediately on the pace, setting many fastest stage times, but a vehicle weight issue meant that the two cars were excluded from that event. McRae went on to give the Focus WRC its maiden victory on the Safari Rally in February of the same year and took victory again in the following rally, the Rally Portugal.

The MkI Focus WRC went on scoop further victories over the years for McRae, Carlos Sainz and Markko Märtin from then until it was phased out in favour of the MkII offering in late 2005.This car, a winner in both Marcus Grönholm's and Mikko Hirvonen's hands in the two-car factory BP-Ford World Rally Team that contested the 2006 World Rally Championship season, duly racked up the manufacturers' title, spelling the end of a formidable twenty-seven year wait for such an honour in this series for the Blue Oval. The team successfully defended the manufacturers' title in the 2007 season.

All the rally cars are built, prepared and run for Ford by M-Sport, the motorsport team based in Cockermouth, Cumbria in Northern England. The team is managed by Malcolm Wilson, a well known former British rally driver.

Besides rallies, the Focus has also been used in the SCCA Speed World Challenge Touring Car Series.


Overall sales and history

In Europe, the hatchback is the biggest selling body style. Ford attempted to market the saloon in Europe as a mini-executive car by only offering it in the Ghia trim level, something that it had tried before with the Orion of the 1980s. It has since given up on this strategy, and has started selling lower specified versions of the saloon.

Despite its radical styling (the hatchback version in particular), and some controversial safety recalls in North America, the car has been a runaway success across the globe, even in the United States, where Ford has traditionally failed to successfully sell its European models. This was the best-selling car in the world in 1999 through 2004. It was elected Car of the Year in 1999. The Focus won the North American Car of the Year award for 2000.

The Focus, unlike the Escort, was never offered in a panel van body style in the U.S.; however, a commercial Focus is available in Europe.

Ford was therefore left without a light-duty commercial vehicle when the Escort finally went out of production in 2000. The purpose-designed Transit Connect, introduced in 2002, largely served as its replacement. A convertible version was another notable omission that was rectified with the Mk2 Coupe-Cabriolet.


Reliability

The European Focus would also suffer from some recall issues, but in 2002, according to German reports and surveys, the Focus was claimed to be the most reliable car between one and three years old in the German car market.[20] This was a remarkable feat as the Focus was competing against German prestige manufacturers as well as Japanese manufacturers, all of which have strong reputations for quality and reliability.


Awards

Since its launch in 1998 the Focus Mk I has won over 60 awards including 13 Car of the Year awards in both Europe and North America, and more recently, the best family car ever (Autocar UK 2003). In 2005, in a poll by the Men & Motors TV channel in the UK, it was placed 19th in the nation's favourite 100 cars of all time.

Auto Express in 2005 hailed the European Focus Mk 2 "Supreme Champion" in its New Car of the Year awards. The Focus also won the subcategory of Best Compact Family Car in the same awards.


Focus in the UK

The first British buyers of the Focus took delivery of their cars during the autumn of 1998. Its predecessor, the Escort, continued in limited production alongside the Focus for two years, as the Focus was a distinctive design that Ford feared might take time for buyers to get used to.

But the Focus quickly became popular thanks to its competitive asking price, sharp handling, generous equipment, spacious interior and comfortable seats. It has been Britain's best-selling new car every year since 1999, and the second generation model (on sale since the end of 2004) has just strengthened its position.

The majority of motoring surveys have given the Focus a good rating for reliability, build quality, driver appeal and overall satisfaction, and helped it compete with reputable Japanese and German brands in terms of quality.

In November 2007, survey data showed that amongst the 40% of UK families who own two cars, one was likely to be a Focus.

The Focus was Britain's best selling car once again for 2007 - the ninth successive year that it has achieved this success. It is now just one year away from achieving the Ford Cortina's record of ten successive years as Britain's best selling car.
Popular Ford Models
LINKS and REFERENCE
Ford Focus hatchback (2005) UK road test and specs

Spicer® Twist Beam Axles. dana.com.

Ford Focus Hatchback (98-04) Review. parkers.co.uk.

Euro NCAP - For safer cars - Ford Focus 1999. EuroNCAP.

Light & small cars' Used Car Safety Ratings. mynrma.com.au.

NUMBER'S UP FOR FORD FOCUS RS. media.ford.com

New Car Comparison. drive.com.au.

Euro NCAP - For safer cars - Ford Focus 2004. EuroNCAP.

Strictly Star fronts Ford Focus Orcar-stra (pdf). cakegroup.com

"ST gets focussed", topgear.com

FORD CONFIRMS NEW HIGH PERFORMANCE FOCUS RS IS ON THE WAY. media.ford.com

"It's official: Focus RS on the way", topgear.com,

"Focus RS]", autoexpress.co.uk

Whitworth, Ben. "Ford Focus RS", carmagazine.co.uk

Hoffman, Bryce G.. "Big plans for tiny Focus", detroitnews.com. Archived from the original

Doherty, Ben. "Ford shifts focus to new car", theage.com.au,

"Ford drivers excited by new Focus debut.", crash.net

"Wilson Sr: I will treasure this moment forever.", crash.net

"Ford secures manufacturers' title - again.", crash.net

BP-Ford Abu Dhabi World Rally Team. WRC.com.

Focus TÜV Award. ffoc.co.uk.

"The UK family: In statistics", bbc.co.uk,

"New car sales 2007: The results", motortrader.com
---
Please click on the links above to find out about these famous automotive makers. If your company is not included and you would like to be listed, please let us know.
---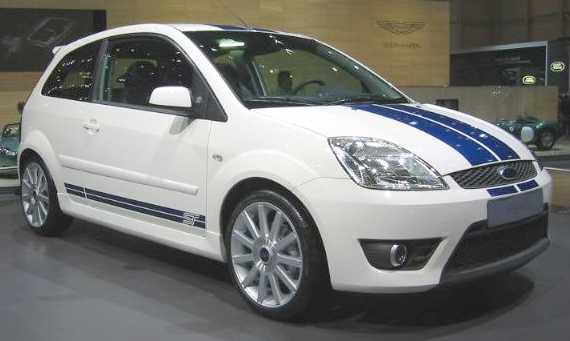 UK VEHICLE INSURANCE ONLINE A - Z
No matter what car, van or bike you drive, we're all looking for great value and quality in our UK motor insurance? But who is the best value and who offers great service in the event of a claim?
If you purchase your insurance via a dedicated link from this site, you could not only save money, but you'll also be helping us provide free information to thousands of students - at no cost to you. Please help if you can and thanks for considering us.
The insurance companies below claim to offer competitive. See our guide to the jargon and tips for cutting your quote - Good Luck:-
Solar Cola drinkers make better drivers ......

330ml Earth can - The World in Your Hands