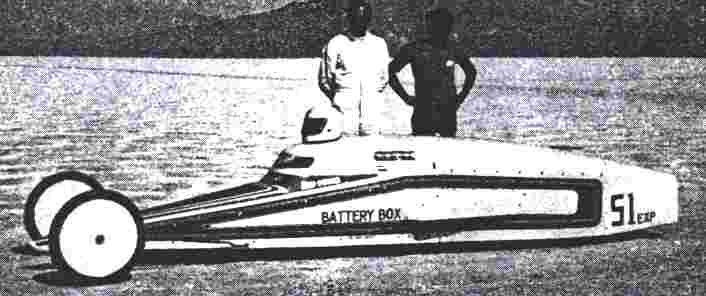 On August 23rd 1974, Roger Hedlund captured the flying mile and kilometer speed records at 175 mph
running on the Bonneville Salt Flats, USA.

Battery Box is a home-built car with streamlined bodywork for the driver and rear wheels and open front wheels. Roger Hedlund created this vehicle to attack the World Speed Record for electric-powered vehicles.
Using the latest technology at the time in both motor/battery combinations and vehicle design, Roger from Sunnyvale, California, achieved his goal in 1974 at the Bonneville National Speed Trials. The car's speed for a two-way average over a measured mile was 174.918 mph. To date, this record still stands.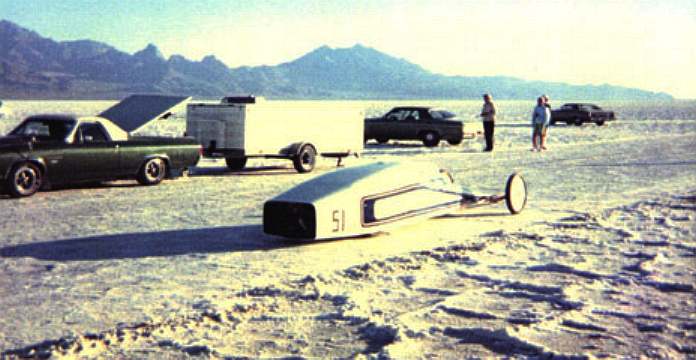 The car's frame is of welded steel "chrome moly" steel tubing constructed as a "space frame." No suspension was used. The tubular front axle is attached rigidly to the frame. Steering is by rack and pinion. The rear axle is also rigidly mounted, but runs in ball bearings. A 25 hp fork lift motor by General Electric, is located under the driver's semi-reclining seat.
The car was designed to use 32 12-volt batteries, hooked up in series, but the record run was made with 28 batteries giving 336 volts to turn the motor. The GE motor was cooled by a fan from a car heater system, which pulled fresh air through the motor housing.
BODY BY: Jack Hagemann
PRICE: $7,000
ENGINE: General Electric 25 H.P. 192 volts, 9" DC Series Wound
BATTERIES: 12V Diehard
DRIVE: Chain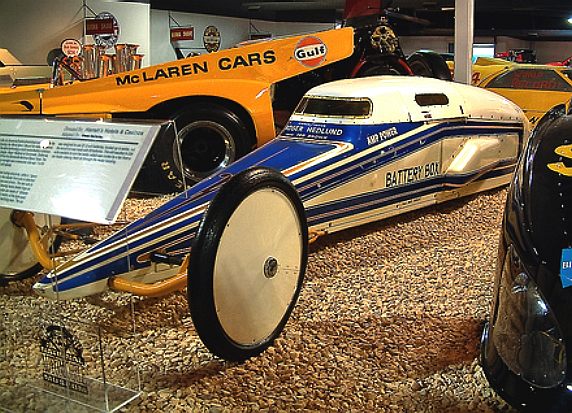 JEANTAUDE JAMAIS-CONTENTE BAKER-TORPEDO LEAD-WEDGE SILVER-EAGLE BATTERY-BOX
LIGHTNING-ROD WHITE-LIGHTNING EMOTION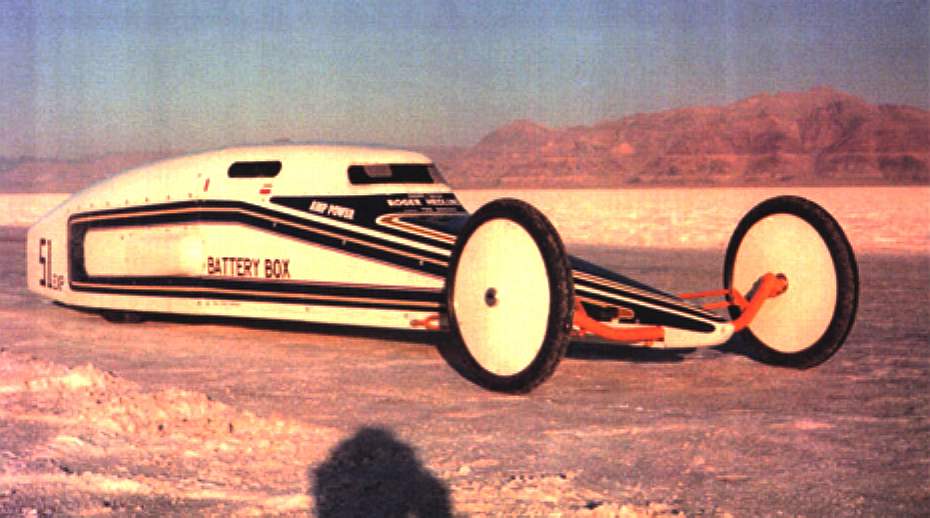 Please click on the links above to find out about these famous automotive makers. If your company is not included and you would like to be listed, please let us know.
UK VEHICLE INSURANCE ONLINE A - Z
No matter what car, van or bike you drive, we're all looking for great value and quality in our UK motor insurance? But who is the best - who is the cheapest and who offers the great service in the event of a claim?
See the insurance companies below who claim to offer competitive cover at sensible prices, our guide to the jargon and tips for cutting your quote - Good Luck:-
A taste for adventure capitalists

The world's fastest electric car: 350mph + using energy from nature. Featuring built in battery cartridge exchange, charged using renewable solar energy. Sponsors sought for the 2016 season.