The Primetime Electric Land Speed Team were aiming to break the Electric World Land Speed Record in the autumn of 2002. However, as with all land speed record projects, things rarely go to plan. Read on to see how this project developed leading to an attempt in June 2004.

ABB E=motion

This involved achieving speeds in the region of 300mph in a brand new vehicle. The venue has now changed, or rather is flexible. The car has been designed and engineered by Colin Fallows and is to be driven by Mark Newby, a trained pilot.
ABB drives and motors used to power loads in virtually all industry applications around the world, are providing the power conversion needed for the main drive system in a new challenge to the world electric land speed record. ABB's new ACS800 ac drive converts the 600Vdc output from four packs of lead-acid batteries in e=motion, a new electric car designed in Britain, for the two 50 hp (40kW) IP23 through-ventilated ac motors that power the car. ABB's system will enable e=motion to travel at over 300 mph, well in excess of the top speed of a Formula One car.
Powered by the dc batteries and controlled by the ACS800 ac drives that feature the company's exclusive Direct Torque Control (DTC) motor control algorithm, the two motors already have propelled the e=motion car to 146 mph during testing. This unofficially broke the 139 mph U.K.-record for the fastest speed traveled by an electric vehicle. The car will be moved to Tunisia in September and the vehicle's designers, Mark Newby and Colin Fallows, will attempt to set the new world electric land speed record. A U.S. team holds the current world record of 247 mph.

As well as a series of other British Land Speed Records, Colin and Mark's team, Primetime Jet Power, hold the outright British Land Speed Record of 300.3mph, having eclipsed Richard Noble's previous best of 258mph. This is very impressive stuff.

The team say they are confident of their chances of success. "We're using very latest battery technology," says Colin. "In addition, we're going to be using the lightest chassis of any car that's ever attempted the record and an innovative new drive system that has already been proven."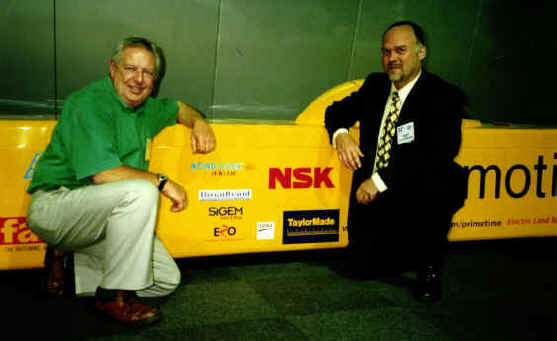 Colin Fallows and Ian Deavin
Back of an envelope

Fallows and Newby are experienced drag racers and hold the UK speed record for jet-powered cars. When they wanted to go electric they turned to ABB, an international power and automation company. "It started as a calculation on the back of an envelope and ended up as a monster spreadsheet," says Frank Griffith, a drives consultant engineer from ABB.
"There are very few unknowns in the technology we're using," says Griffith. "It's only the batteries that may deliver a surprise because they're made for starting cars by giving a very high current in a short time. We'll be asking them to give a medium current for a long time and we're not certain how it will drop over time."
Griffith calculated that a belt drive used in machine tools would be an efficient way to transmit power to the rear axle. A common inverter changes the direct current from the batteries into an alternating current for the two motors.
NEWS LINKS: Primetime project update Primetime Pan Verdeul, South Africa
Project Latest: Tunisia, Sahara Desert June 2004 E=motion Specifications