The Primetime Electric Land Speed Team set off from their base in Northamptonshire in early June 2004 to drive to the Jerid Salt Flats on the edge of the Sahara Desert, Southern Tunisia.
On Monday the 7th June, the team met up to survey the course, aiming to attempt to break the record on the 9th June. This proved to be a bitterly disappointing exercise where unusual weather had adversely affected the course.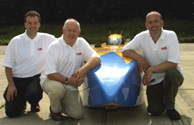 Power Electronics May 2003
E=motion requires a course some 11kms in length, whereas a survey revealed just over 6.5kms of good salt flat, the rest ridged and unstable. Chott el Jerid translates into 'Beach of Oasis'. The flats have a clay base over which lies a thin crust of salt just a few centimeters thick. This salt crust is composed of crystals of gypsum and halite. In this case the groundwater had been high allowing the crystals to grow upwards unevenly to form ridges similar to small waves, much like the sand at Pendine during adverse winds. Worse still, the salt crust had separated in places from the clay subsurface blistering the smooth flats with loose material. This combination is unsuitable for ABB e=motion to run.
ABB e=motion is powered by ABB motors and drives. The 32 foot (10m) long mustard yellow racing car is designed to hit speeds of more than 300 mph (483kph).
The car, whose main sponsor is the global electrical engineering company ABB, made the June 2004 record attempt at a special track provided by the Tunisian authorities at the Chott-el-Jerid salt flats near the southern town of Tozeur. ABB is billed as the Platinum Sponsor of the ABB e=motion car.

The car is the brainchild of Britons Colin Fallows and Mark Newby. "We are confident of being able to break the record," says Newby. The system delivered spectacular acceleration during a first test in the U.K. last year.

ABB e=motion easily reached 147 mph (237 kph) in just 1,000 yards (914 meters) - the longest distance available to the team in the U.K. That's faster in just over half a mile than the current 139 mph (224 kph) U.K. electric record holder could achieve with a two mile run-up.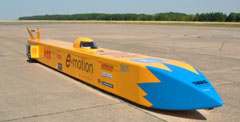 E=motion at Bruntingthorpe
"In fact, the only reason we had to stop the car was because we ran out of road!" says Newby. "With this sort of performance, we're convinced that our car will easily beat the existing world electric land speed record."
---
The following is a brief chronology of major events surrounding this world record attempt:-
October 2002
ABB and PrimeTime racing (a partnership between engineer Colin Fallows and magazine publisher Mark Newby), officially meet to discuss challenging the land speed record for an electric vehicle. The current FIA electric world land speed record stands at 245 mph, set by an American-based team.

November 2002
An ABB Drives Application team models electric vehicle performance and proposes a drive system capable of powering the car to 300mph. Seen below are ABB's Frank Griffith, Steve Malpass and John Schofield. Says Griffith, "We had to model and calculate likely performance based on a set of estimated conditions involving factors such as rolling resistance, drag and battery discharge...and had to make sure whatever we came up with was compact."
February 2003
ABB supplies the drive for ABB e=motion. The standard drive is part of ABB's industry-leading ACS800 AC drives family, introduced in summer 2002.
June 2003
After three years of design and building, ABB e=motion makes its first ever runs under power at Bruntingthorpe airfield in Leicestershire, UK. The car performed flawlessly, propeling to a speed of 106mph straight out of the box and up to 146mph during these initial runs. The amazing thing is that this performance was achieved on nowhere near full power from the ABB drive system!
Final tests prior to transit

July 2003
A media day is held at Bruntingthorpe to officially unveil the car. Participants included BBC Sky News, Central TV and various trade and technical press. Media members were in for a royal treat that day as ABB e=motion unofficially breaks the UK land speed record for an electric vehicle! A week later, ABB e=motion does an exclusive run for the BBC Six o'clock News.

January 2004
Southern Tunisia is officially selected as the site of the world record attempt. Planning begins for the British team to make its bid at Southern Tunisia's Chott-el-Jerid salt flats in June 2004!

May 14, 2004
ABB e=motion makes its final test run

May 18, 2004
ABB and the e=motion team host a bon voyage event at the Museum of Transport, Coventry, United Kingdom. Pictured below L-R are: driver Mark Newby, ABB UK drives and motors manager, Steve Ruddell, and designer/builder, Colin Fallows.

June 1, 2004
Colin, Mark and crew embark on the four-day journey to Tunisia
June 10, 2004
The team reluctantly abandon the attempt............... the search is on for a new venue.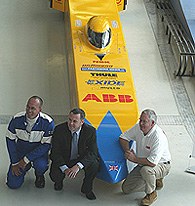 ABB e=motion Coventry