The Silver Eagle is a battery-powered electric vehicle that set 21 land speed records as: 14 National and seven International records, in August 1971 at the Bonneville Salt Flats where it reached a top speed of 152.598 mph.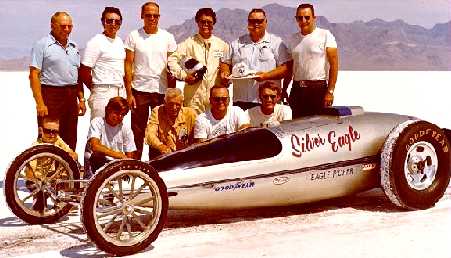 Silver Eagle and Crew - Photograph by David Petrali.
Standing, L to R: Les Daggett, Lou Lovelady, Roger Hedlund, Jack Reed, Frank Lipis, John Denning

Kneeling, L to R: Glen Denning, Randy Morris, Floyd Mealhouse, Fred Long, Darryl Goade
SPECIFICATIONS

Weight - Class 1

1,070 lbs - (Class 1 = less than 1,102 lbs)

Weight - Class 2

1,160 lbs - (Class 2 = more than 1,102 lbs)

Length

163.5 inches

Wheel Base

111 inches

Tires - Front

300 x 18

Tires - Rear

900 x 15

Ground Clearance

2.75 inches

Power Supply

180 rechargeable silver-zinc cells

Energy Content

40 Ampere hours per cell @ 350 Ampere rate

Cell Voltage

1.2 Volts under load, 1.385 Volts open circuit

Drive Motor

102 hp GE series wound DC electric motor

Rear Axle

Casale quick change (optional gear ratios)

Maximum Speed

152.598 mph
Electric Car in Speed Mark
Wendover, Utah (UPI) - The bullet-shaped Silver Eagle Friday set a world land speed record for electric cars of 146.437 miles per hour, using the same type batteries which powered the Apollo 15 Lunar Rover.

Jack Reed, 40, of Huntington Beach, Calif., guided the sleek racer, powered by 180 silver-zinc power cells, through the flying mile on the Salt Flats Raceway two times, setting the record plus a one-way record of 152.355 mph. Reed said the crew could have eclipsed the old mark of 134.45 mph by "considerably more. But bad track conditions forced us to make short approach runs."

Reed said the 183-inch long racer could only use the miles of track at the north end and only two miles at the south end before hitting the timers in the measured mile. The batteries, manufactured by Eagle-Picher Industires, Inc., Joplin, Mo., powered the racer to 20 other records in two different weight classes, depending on the configuration of the car.

From the Long Beach Press Telegram, Saturday, August 7, 1971
LINKS TO MORE SILVER EAGLE PHOTOS by DAVID PETRALI (24 - 104k)
Slowing on the Salt The Silver Eagle Crew Upper Body Shell Removed Cockpit View Instrument Panel Detail
Operating Instrument Panel Controls Joe Petrali and Jack Reed Ready For Another Run Rear Quarter Views A Silver-Zinc Cell
Instrument Panel Wiring Speed Controller Right Side Chassis Jack Reed and Les Daggett The Lunar Rover
RECORDS

Flying Mile

146.437 mph

Nat'l Class 2 and Unlimited Int'l Class 2

Flying Kilometer (Class 2)

146.147 mph

Nat'l Class 2 and Unlimited Int'l Class 2

Standing Kilometer (Class 1)

67.181 mph

Nat'l Class 1 and Unlimited Int'l Class 1

Standing Mile (Class 1)

81.205 mph

Nat'l Class 1 Int'l Unlimited

Standing One-Quarter Mile (Class 1)

53.332 mph

Nat'l Class 1 and Unlimited Int'l Class 1

Standing One-Quarter Mile (Class 2)

50.555 mph

Nat'l Class 2 Int'l Class 2

Standing Half-Kilometer (Class 1)

58.851 mph

Nat'l Class 1 and Unlimited Int'l Class 1

Standing Half-Kilometer (Class 2)

55.993 mph

Nat'l Class 2 Int'l Class 2
We are grateful to John Denning, Covington, Washington for pointing out inaccuracies on this page (now corrected). John was involved in the mechanical and electrical systems of the Silver Eagle and the Bonneville runs with the Eagle-Picher company. Nice one and thanks John. For more information, why not follow the links on this page to John's website:
http://www.nventure.com/rockyflats/eaglmain.htm

Electric Car 'Whispers' to Records
Bonneville Salt Flats - Electricity tied up gas for the leadership in world land speed records Friday. Refusing to be stuck off in a dark corner after the natural gas industry's Blue Flame set a land speed record last fall, the Silver Eagle, a battery-powered electric car, whispered to two records Friday in the flying mile and the kilometer.

Perfect Runs - With 40-year-old Jack Reed of Huntington Beach, Calif., piloting the 1,160 pound vehicle in two perfect runs through the measured mile, the car racked up speeds of 146.437 mph for the mile and 146.147 for the kilometer. The previous best mark for electric cars was set in 1968 by the "Lead Wedge" at 138.78 mph. The Wedge did not establish a kilometer mark. Reed flipped a series of eight switches Friday, each switch activating a bank of silver-zinc batteries. With each flip the sleek car built up speed entering the measured mile.

"No Sweat" - The batteries, manufactured by Eagle-Picher Industires, Inc., of Joplin, Mo., a prime contractor for the Apollo Space Program, performed flawlessly and the car recorded a 152.598 mph run in the first mile. "No sweat at all," Reed beamed as he vaulted out of his seat - a seat only three inches off the salt. "We were recording 7,000 rpm on the tachometer...it has to be over the record." Moments later, Joe Petrali, chief timer for the U.S. Auto Club, confirmed Reed's statement when he announced the 152.598 run. But the all important return trip had to be made.

Second Half - Reed went from north to south on his first run and all seemed okay as the coast driver passed the timing shack heading north for the second half of the record attempt. But at the end of the run, ambulance personnel, led by Emily Gillette of Tooele, were greeted by Reed's stunning remark, "that course nearly shook me to bits. I'm surprised the car is still in one piece. It was a much slower run." Apprehension abounded as Reed, his crew, project manager Darryl Goade and spectators waited for Petrali to average the speeds of the two runs. Petrali's announcement settled the entire bunch.

No More Noise? - Then, reflecting on the implications of the record shattering run: Will this mean electric cars for highways? No more noise? No more pollution? "I think in five years you will find limited use of the electric car in urban areas and most certainly in the heavy smog areas. Our biggest stumbling block is finding a substitute for silver in the silver-zinc combination battery," Goade went on. The battery used Friday was similar to those used in the Saturn rocket, in the ascent and descent stages of the Lunar Lander and the Lunar Rover in the Apollo 15 mission. A car you can't hear? A car that emits no exhaust? I saw it Friday and it went an average of 146.437 mph in a mile. Can a similar car which runs in the 40 - 70 mph range be far behind?
From the Salt Lake Tribune Sports, Saturday, August 7, 1971 by Dick Rosetta
Please click on the links above to find out about these famous automotive makers. If your company is not included and you would like to be listed, please let us know.
UK VEHICLE INSURANCE ONLINE A - Z
No matter what car, van or bike you drive, we're all looking for great value and quality in our UK motor insurance? But who is the best - who is the cheapest and who offers the great service in the event of a claim?
See the insurance companies below who claim to offer competitive cover at sensible prices, our guide to the jargon and tips for cutting your quote - Good Luck:-
A taste for adventure capitalists

The world's fastest electric car: 350mph + using energy from nature. Featuring built in battery cartridge exchange, charged using renewable solar energy. Sponsors sought for the 2016 season.