COMMENT: If Collin Fallows and his team have got their sums right, this looks to be the car to beat for 2004. Nelson Kruschandl will have his work cut out to field his car this year, however, he says: "Blue Max is just as powerful as E=motion, more stable and can sustain its power output for longer." With OSU also in the running with their Buckeye Bullet, this looks set to be an interesting year.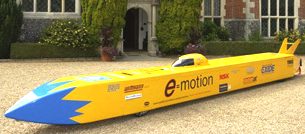 Primetime's E=motion electric LSR contender 2004
Post Date: 15 July 2003 - Bruntingthorpe, E=motion beats UK record on first test 2003
After three years of building, 'e=motion' finally made it it's first ever runs under power at Bruntingthorpe today. On it's very first testing pass, straight out of the box, she ran a marvelous 106mph. ABB performance guru's Steve Malpass and Frank T Griffith then dialed in more power (this first run used incredibly conservative settings) and the car was prepared for another run.
It was agreed to 'run her out' as far as we dare, bearing in mind that stopping is always a problem, especially on a relatively short track with a new and untested car that had yet to deploy its parachute. After just 1,000 yards Mark shut the car off as agreed. Colin studied the GPS. 146mph! Not bad eh? Especially when you consider that we used such a short distance under power, and that Bluebird, the current UK electric record holders with their much-vaunted "250mph" car went just 139mph after almost 2 miles under power! To say we are delighted is an understatement! And this performance was achieved on nowhere near full power according to ABB's Steve and Frank.
The car performed flawlessly with no faults, a good ride, good handling, and some stability under parachute braking. We also discovered that the Exide Technologies/CMP Batteries power packs delivered far better performance than advertised. We never dreamed that the car could do so well so quickly, and that is has is a credit to it's designer and constructor Colin, ABB, Exide Technologies/CMP Batteries,Transmission Developments and NSK Bearings in particular, as well as our many other sponsors.
The media liked it too, and we saw the car on page 2 of the Financial Times as well as being featured in a wide variety of other newspapers and magazines. The test runs were also broadcast extensively by SKY TV and ITN, and the BBC ran a special feature on 'e=motion' as part of their 6 O'Clock News the following week, presented by ace reporter Robert Hall.
Make no mistake - this car has the performance to smash the existing World Electric Land Speed Record, and so far all the data we have gathered ourselves from testing has proved our own calculations to be either spot on or conservative. Interestingly, two authoritative and completely independent bodies ran a variety of advanced computer simulations long before testing began and both their forecasts have already been bettered. One of these said that 'e=motion' will be good for 307mph, and the other reckoned 302mph. So our hopes of success when we stage the World Record Attempt are high.
Post Date: 22 May 2003 - Instant success with new drive and motor combo
Today marked a significant waypoint in our forthcoming attempt on the Electric World Land Speed Record! For the first time, we tested the new powertrain set-up in "e=motion" and are delighted to report that it all works fantastically!
Our three key powertrain partners Exide Technologies, ABB Ltd and Transmission Developments Ltd all had their performance forecasts proved to be 100% accurate during this first test session, which is a superb reflection on their professional skills in their respective areas of batteries, motors/drive and transmission.
With fully proportional throttle control determining the output produced by ABB's motors through their ACS 600 Drive unit, we had "e=motion" up on axle stands and running at the 304mph 6,000rpm motor speed with no problems at all. To a driver, the motors behave almost exactly the same as normal car with immediate and effective throttle control and feedback which will make life a great deal easier on the Record Attempt!
The transmission belts and pulleys supplied by Transmission Developments Ltd performed flawlessly despite not being under any load on the axle stands, and we also discovered that the Exide Technologies Maxima 800 Series Orbital cell batteries are in fact delivering more than we expected of them.
Soon we will begin testing "e=motion" out on the tarmac, and once this initial testing has proven the car in her natural environment we'll be unveiling her to the worlds media at a special Press Day.
In the interim the hunt continues for the last bit of funding needed to get us to Tunisia for the World Record Attempt, and the superb results we achieved yesterday augur very well for the desired 300mph we've been aiming for since we began the project in November 2000.
Post Date: 4 Feb 2004 - Verneuk Pan, Northern Cape June 2004
South African born LSR contender, Nelson Kruschandl, is considering running his Bluebird-Electric 3 LSR vehicle: "Blue Max" on the famous "Campbell track" in South Africa to commemorate the 75th anniversary of Malcolm Campbell's attempt and mark his return to the land of wonder . Nelson says he is awaiting details of the surface and other conditions of use from the organisers before making a decision. Nelson, a Brit, was born in S.A. when it was a British Colony. Interestingly, Nelson's ex racing partner, Don Wales, is rumored to be considering competing in memory of his grandfather. We understand Don has no car or backers as yet, nor have we any details of his proposal.

Blue Max BE3 electric LSR contender 2005
SPEEDRECORD S.A. Links:
Campbells 75th Anniversary | The Cars | The Team | The Drivers | The Venue | The Cost | Publicity
Email: witsend@xsinet.co.za
NEWS LINKS: Primetime project update UK Primetime Pan Verdeul, South Africa
HOME SITE INDEX CATAMARAN HULL SOLAR PANELS ELECTRIC MOTORS BATTERIES CREW EXPEDITION SPONSORS GOODIES