A vehicle powered by 52 lead-acid car batteries and using components from factory machinery will attempt to break the world land speed record for electric vehicles on Wednesday.
The "ABB e=motion" car will have to surpass the existing record of 396 km/h (245 mph), and the British Primetime team behind the car believes that 480 km/h (300 mph) could be achieved on further runs.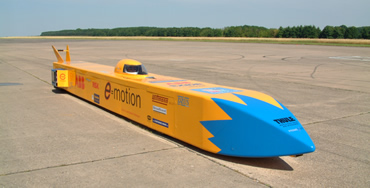 10 metres long, 1.6 tonnes, and 650 horsepower
The needle-shaped car is 10 metres long, but just 60 centimetres high and 75 cm wide. Thanks to the batteries, it weighs 1.6 tonnes. The car is propelled by a drive inverter and two spindle motors like ones used in industrial tools worldwide.
A parachute from an old Mirage jet plane will be deployed to brake the vehicle before mechanics replace the batteries with a fresh stack so that a return run in the opposite direction can be completed. The second run has to be completed within an hour of the first to meet the record requirements of the FiA, motor sport's governing body.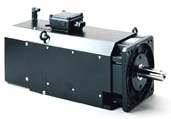 50HP Motors
Powered by battery, the ABB e=motion car combines off-the-shelf technology by ABB, Exide Technologies and Transmission Developments to create a vehicle worthy of more than just setting a new world land speed record. ABB e=motion is a shining example of how currently available technology can be used for innovative, pro-environment applications. The larger hope is that such vehicles will pave the way for wider adoption of electric cars, creating a cleaner, greener and quieter planet!

When ABB e=motion makes its 300mph bid, it will be powered by four packs of lead-acid batteries. The batteries produce 600V DC output, which is then converted by the ABB ACS800 Drive and supplied to the car's two motors. Click here for a diagram of the electrical drive system. It is planned to charge the batteries using solar power.


Exide Batteries

The high power-to-weight ratio of the motors, coupled with ABB's Direct Torque ControlTM technology, provides excellent control of motor torque. Full torque is available even at zero speed, enabling the car to achieve fast acceleration. This was a major design consideration because for the world record attempt, the car needs to reach its maximum speed within the permitted distance.

ABB e=motion designer Colin Fallows says, "Throughout the development of the car, we have called on ABB's expertise. The skills of the ABB engineering team are fantastic. Much of the car's superb performance is directly attributable to these people."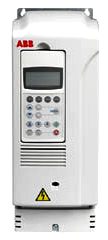 ABB's sponsorship of the car is another example of this company's environmental activities. In the Dow Jones Sustainability Index, ABB has consistently received honors for its international efforts in achieving a environmental protection.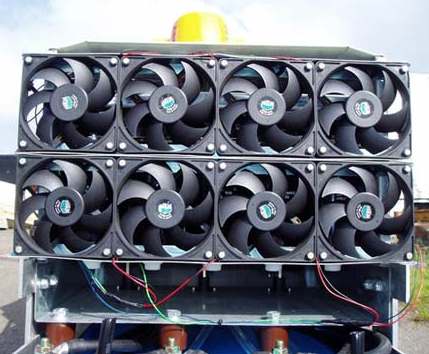 Cooling fans for drive motor
NEWS LINKS: Primetime project update Primetime Pan Verdeul, South Africa
Project Latest: Tunisia, Sahara Desert June 2004