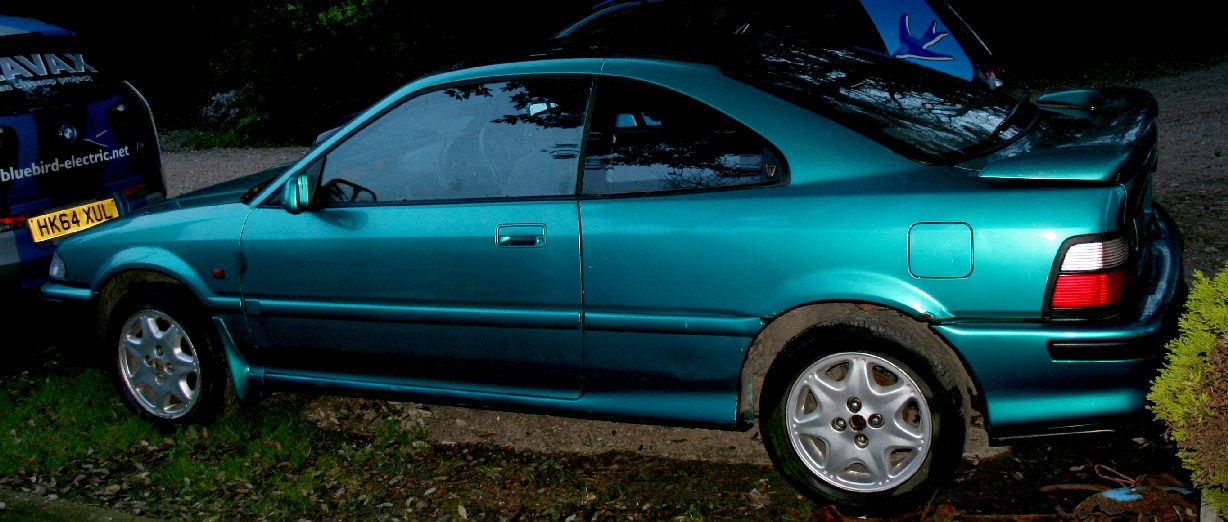 PRIVATE SALE ON GUMTREE APRIL 2017 - A very rare classic sports coupe from 1993 in Polynesian turquoise with glass removable targa top in fair condition and drives well. Why not drive an appreciating classic, instead of a new car that loses money as soon as you drive out of the showroom. It's a nippy little car that handles well. Official performance figures: 0-60 mph time of 9.5 seconds and a top speed of 120 mph (193 km/h). Regularly serviced even when not in use and has been for an Easter run (16-4-17). £900 ONO
MG Rover was the largest independent manufacturer of cars in the British motor industry. They came from the de-merger of the two historic marques of MG and Rover from BMW in 2000. They are based in Longbridge in Birmingham, on a site that has been a car factory since the Austin company was founded there in 1905. After a turbulent five year existence, in which the company struggled to make a profit and maintain its independence, it finally collapsed in the Spring of 2005. Sir Richard Branson has reportedly expressed interest in buying the remaining assets for reviving the marque and for entering the hybrid automobile market. Various Iranian and Chinese companies have also been linked with takeover deals which could see MG Rover production continue - possibly at the other side of the world.
The history of the Rover Company goes back to 1881 when the Coventry Sewing Machine Company was founded. From sewing machines, they graduated to manufacturing bicycles in 1869. The first Rover machine was a tricycle which appeared in 1884 and a year later the new safety bicycle appeared and the company then became known as JK Starley & Co Ltd.
John Starley's safety bicycle was the prototype of the modern pedal cycle and was developed to overcome the balancing problems of the common penny-farthing cycle.
Tricycles had been easier to control than the high and ungainly "ordinaries as the penny farthings had come to be known, but were not as maneuverable and were much more expensive.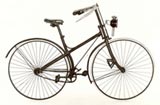 Starley's safety bicycle
John Starley's safety bicycle featured a rear wheel that was driven by a chain and gearing which would reduce the effort required by the rider and would enable the front wheel diameter to be dramatically reduced.
Once his safety bicycle had proved a success, Starley began experimenting with an electrically driven battery-powered tricycle. The batteries were placed in a wicker basket above and behind the rear axle with the electric motor fitted underneath. Unfortunately, it was not a success as the performance and range was pitiful and once the batteries had gone flat, the dead weight of the machine would have taxed even the strongest of riders.
Starley's safety bicycles caught on rapidly and the business went from strength to strength with rapidly rising sales which made John Starley a wealthy man.
In June 1896, Starley formed the Rover Cycle Co Ltd which operated from the New Meteor Works. In its first year of operation, the new company built 11000 cycles and returned a profit of 21,945 pounds. At about this time, an entrepreneur by the name of Harry Lawson had arrived in Coventry and taken over a disused cotton mill in order to manufacture his license-built Daintier motor car. Lawson was a man who was going places and, expanding by acquisition, tried to induce Starley to join forces with him. Starley would have no part of it, but it did get him thinking about engines and their possibilities.
Starley imported several Peugeot motorcycles from France in 1899 for observation and experimental work. This was a natural progression as by the end of the nineteenth century the motor car phenomenon was taking the world by storm and Britain already had motor cars being built by Daim]er, Wolseley, Lanchester and Riley. Rover's first project was to motorise a Rover pedal cycle, something that Triumph was already working on.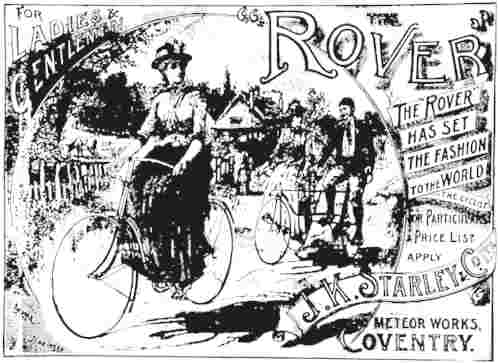 The Rover - Poster
John Starley died tragically early in October 1901 aged 46, while still the undisputed leader of Coventry's bicycle industry, his business now producing 15,000 machines a year. Harry Smith took over as Managing Director and made the decision to go motorised in 1902. The first public appearance of the 2% HP Rover motorcycle was made on 24th November 1902.
By now Britain's fledgling motorcar industry was starting to show signs of stability and Daimler was turning out good cars and making good money. On 16th December 1903 the Rover directors decided to start development of a light car. It would be designed by Edmund Lewis who had been acquired from Daimler who were the acknowledged motorcar experts. Rover's decision had been made just in time as by now Daimler and Riley in Coventry had been joined by Annstrong-Siddeley, Humber, Lea-Francis, Singer and Standard.
The arrival of peace brought about a hurried re-conversion from war-time to peace-time factory conditions.
There appeared to be an inexhaustible demand for new cars and Rover was happy to bring its 12' back into the market. Unfortunately War material expenditure had led to serious inflation and by November 1919 the Rover was selling for twice its 1914 price of 375 pounds. Every other British car maker was in the same position but imports were now much cheaper, particularly those from North America which became very popular.
To counter the American Invasion a price cutting war soon erupted, being kicked off by Morris, and this helped to keep the Rover production line moving.
Rover had had a good war and finished it with more Coventry based factories than they had started with, Helen St. becoming their newest acquisition. In 1920 they would break through the 1 million-pound turnover barrier for the first time. They now decided to go back into the small car market that had been abandoned since 1912.
The new Rover '8' was designed by Jack Sangster and would be built in a new factory in Tyseley, Birmingham. This factory had been built before the Great War and was used by the Government controlled Component Munitions Ltd to make fuses during the war. The new Rover '8' would be completed to rolling-chassis form at Tyseley and then delivered to Coventry for the bodies to be added.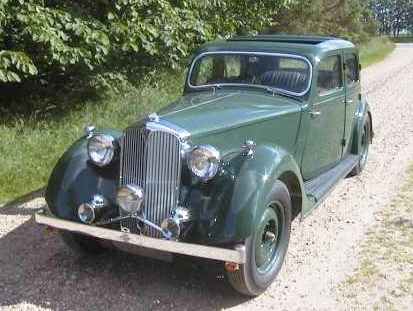 Rover P2
This Rover '8' was all new with a simple channel section chassis frame and an air-cooled 998 cc flat twin engine. The basic cylinder dimensions of 85 mm bore and 88mm stroke were those of the successful 3¼ HP Rover motorcycle. Valve gear also as on the motorcycle was at the side which because of the layout of the unit meant that the valves and camshaft were physically on top of the engine. The output of the little '8' was 14 HP and it was a sturdy little machine that could tackle virtually every hill on the public road, but it was no great performer.
This new car went into production early in 1920 after 400,000 pounds had been spent on tools and fixtures. For the next four years the '8' and the modernised 12' comprised Rover's entire range and this sensible concentration on two models paid off with sales peaking in 1924 at 6,749 with more than 5,000 sales going to the '8'. Rover had settled on a winning formula. The British motorist, hard hit by higher taxation and inflation, was ready to buy a cheap and simple car. Apart from Ford's now heavily taxed Model "T", there were very few competently built cars of this type available on the market.
Things were now looking up for Rover but there were dark clouds on the horizon, one of them having the name of Herbert Austin! Having made the biggest possible error in 1919 by deciding to make only one model, and the wrong model at that, he decided to build a new small car - the Austin "7". This was to create big problems for Rover. The first was that the Austin dealer network and the potential output of Austin "7" 's was far greater than that of Rover. Worse still was the fact that the Austin "7" was cheaper than almost every other car on the market.
Rover's problems were just starting and from 1924 the company was running at a loss. Each year it would get worse as the great depression started to take hold with Rover's losses finally piling up to the tune of more than 400,000 pounds.
Something had to be done about the company's multiplicity of dispersed factory buildings. The New Rover Cycle Co Ltd was closed down and for a short time the parent company took direct control of pedal cycle and motorcycle production. In 1924 however, two wheeler production ended altogether - more than 400,000 pedal cycles having been made since 1896, and more than 10,000 motorcycles in- the two periods of production which had begun in 1902/1903.
Two new Rover models were now released. The first was the '9' with a new four cylinder water cooled engine to replace the air cooled flat twin. This new car had a conventional overhead valve engine of 1074 cc with a bore and stroke of 60 mm by 95 mm. It produced 20 BHP at 3,000 RPM and was precisely what Rover needed at the time, and lasted in developed form in production until the middle of 1933.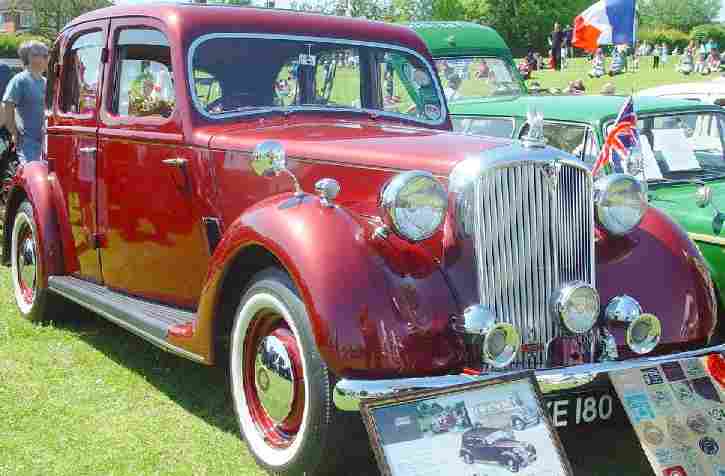 Rover P3
The other new Rover was the '14 / 45' a replacement for the long running '12'. Its designer was Peter Poppe who had been connected with the 'Bullnose' Morris and was a director of the firm White and Poppe'. Poppe had been working on a complex overhead camshaft four cylinder engine design since 1918, and it was this engine that went into the new '14 / 45'. The engine consisted of a four cylinder, three bearing design of 2,132 cc with a bore and stroke of 75 mm by 120 mm. The valves were inclined to each other at an included angle of 90 degrees, alongside and outside of the inlet valves. The inlets were directly operated via rockers while the exhausts were worked through pushrods and rockers.
Although this new car appeared to promise high performance it was unable to live up to expectations and for 1926 the engine was enlarged to 2,413 cc and the car became known as the '16 / 50'. These engines had been very expensive to produce and it is thought that Rover never made a profit on the '14 / 45' or '16 / 50' models built in the four years from 1924 to 1928, less than 2,000 cars being sold.
By 1927 the company s finances were in serious disarray, the loss recorded for 1926 I 27 being nearly 78,000 pounds, serious for a firm with a turnover of only 1 million pounds. Poppe had been striving to rescue both Rover and his own reputation and designed a simple straight six unit of 2,023 cc. This was launched towards the end of 1927 and was cheaper to build, simpler to service and no less powerful than the '14/45' and had the sweet running qualities of a six' that the '14 / 45' could never provide.
By 1928 Rover's financial situation had deteriorated still further and a shareholders meeting resulted in two shareholders being made directors. These men had no motor industry experience and Rover was still without guidance. It was obvious that an injection of some genuine industrial management talent would be required if Rover was to survive the depression. In one last desperate attempt in 1929 a new position of general manager was created. The man who was chosen to fill this position was Spencer Wilks, who with his brother Maurice went on not only to save The Rover Company, but to totally transform it as well.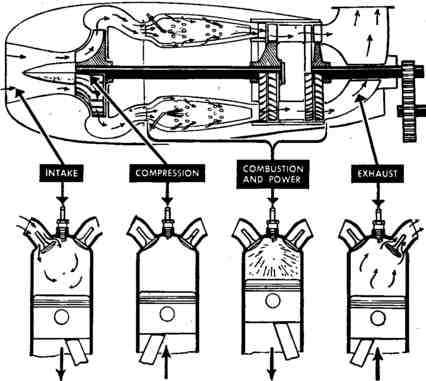 Gas turbine V internal combustion analogy
SPENCER WILKS and FRANK WHITTLE
Shortly after the start of the war, Spencer Wilks had been approached by government ministers and asked to give support to a radically new and very secret development - Frank Whittle's Gas Turbine 'Jet' Engine Project. The concept was totally new and an entirely different venture for Rover. This project was so top secret that the British Government, being terrified of security leaks, instructed Rover and all other people involved in the work to refer to Whittle's invention as a 'supercharger'.
Whittle's little company, 'Power Jets Ltd', was based in a foundry in Lutterworth, 16 miles from Coventry. They were the world's leaders in turbo-jet design, but the first Whittle-jet engine flight would not take place until 1941.
Power Jets at Lutterworth was purely an experimental workshop and the pilot-build plant at Whetstone, near Leicester would not be established until much later in the war. Parts for Whittle Jets were supplied mainly from The British Thomson Houston Company in Rugby, who built large industrial turbines, and from Joseph Lucas in Birmingham.
Rover's involvement was to develop a Whittle design to production stage, and would later begin manufacture of jet engines for the RAF. Glouster Aircraft was designing the first jet fighter, which later became known as the Meteor'. Rover was already associated with Glouster Aircraft as they were building Albemarle airframes for them.
Work started in early 1940 but before long there was serious personality clashes between Frank Whittle and Rover engineers. Although Rover was improving the initial design, Whittle could not accept that his designs in both detail and basic concept were being altered.
By November 1940 Rover's work was considered of vital importance and from that point onwards there was no doubt that improvement and proving of the Whittle machine was of great national importance. The German Luftwaffe's attempt at obliterating Coventry's industrial area on the night of 14th/15th November had reinforced the decision to implement dispersal of production with manufacture being transferred to Clitheroe and Barnoldswick. Bankfield Shed at Barnoldswick had been a serious player in the textile industry, but had been closed in the gloomy days of the 1930's textile trade depression. Later Barnoldswick would become even more famous in Rolls Royce hands and today, modern Rolls Royce engines such as the RB2ll, carry the designation 'RB' for Rolls Royce Barnoldswick.
Rover
The first development engines were virtually unchanged from Whittle's 'W2' design, but used Rover's expertise for the accessory drives. There was serious trouble from surging and the failure of turbine blades, and the 'W2' proved to be seriously underpowered.
Rover was then asked to go ahead with development around Whittle's 'W2B' design which meant that they would undertake considerable mechanical design of their own.
Misunderstandings and the difficult atmosphere between Whittle's firm 'Power Jets' and Rover deteriorated even further with Rover's development of the 'W2B'. Whittle himself became furious when the first Rover-built 'W2B's were running in the Lancashire factories in October 1941. This was due to the many design changes that Rover had made to his firm's original design layout for the 'W2B' Jet engine.
With the apparent success of the 'W2B', Rover were asked to plan for quantity production at Clitheroe and Barnoldswick, but Rover's engine designers had reached the conclusion that Whittle's WI' and W2' engines were aerodynamically inefficient because of the counter-flow arrangement of compressors, combustion canisters and turbines.
Due to this, Rover received permission to begin design of a new engine having a different layout concept, to be known as the 'B26'. This new project was top secret; so secret in fact that even Frank Whittle would not be informed about it. Rover's 'B26' would be a straight through design but would retain the best of the original centrifugal compressor layout. The prototype B26' ran for the first time in November 1942, and almost immediately showed a great improvement in thrust and reliability.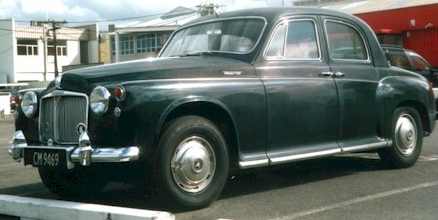 Rover P4
In August of 1942 one of the Whittle-type 'W2B's had been installed in the tail of a Wellington Bomber, and was test flown from the Rolls Royce flight test field at Hucknall, near Nottingham. At this stage more than 30 engines of this type, mainly developments of 'WB2's had been built and a government decision was about to be made on quantity production of gas turbine engines. The aircraft manufacturer Glouster was now ready to begin manufacture of their 'Meteor' fighter planes, and these would become the first 'Jet Fighter' aircraft.
Rolls Royce now started to take an interest in this new technology. Originally when first approached by the British Government, they had said they were far too busy to get involved in this new technology, and instead became committed to producing the 'Merlin' V-l2 aero engine. These legendary 'Merlin' engines would go on to become an essential part of Britain's air defence and would play a major role in the air war against the Luftwaffe, and the RAF's ultimate victory during the Battle of Britain.
Even though Rolls Royce were fully committed to the manufacture of piston engines, they could not help but be intrigued by Rover's gas turbine jet developments, and decided to take a serious interest once the test flights of the 'Wellington Bomber' had proved a success. They quickly announced that as a matter of policy they would now like to become involved in gas turbine engine development. With their obvious commitment to successful aero engine development this new policy had to be taken seriously by the British Government.
At the same time the Rover management, while acknowledging their continued success with the new technology gas turbine engines, did not wish to move on to continued development of aircraft engines on a permanent basis.
The solution was a masterly compromise which would see Rover hand over their gas turbine development work to Rolls Royce, receiving in return from Rolls Royce a large and vital tank engine contract. Rover took over the entire Rolls Royce 'Meteor' engine project which was a brilliantly advanced piston engine design.This consisted of a much modified but un-supercharged version of the V-12 'Merlin' aircraft engine, and would be produced for the latest heavy allied tanks.
This engine became the most powerful piston engine with which Rover has ever been associated, and developed something like 700 BHP, all very necessary when the incredible weight of the tank is taken into account. This engine was further developed and in Mark IV version, sprang to prominence in the world famous 'Centurion' tank. Later fuel injected M120 versions powered the bigger and more impressive 'Conqueror' tanks.
Later a development from the 'Meteor' was the 'Meteorite' engine range, which was essentially two thirds of a 'Meteor', being a V-8 while the 'Meteor' was a V-12. Meteorites were developed during the late 1940's and were built in both petrol and diesel engine forms for vehicles, for marine use and for use as stationary power units. The mighty 'Antar' tank transporter, built by Thornycroft, was powered by a 'Meteorite', and was often seen dragging 'Meteor' engined tanks around the world.
From the end of hostilities Rover's Acocks Green factory had been designated as the home of 'Fighting Vehicle Engine Research', and this association with the defence ministries carried on for 21 continuous years into 1964, the work always being centred at Acocks Green.
Rover's wartime activities were vast and although the gas turbine engine projects were a crucial development, it must be remembered that the aircraft construction work was vital to the defence of Britain. Hundreds of 'Radial' piston engines and 'Meteor's poured out of the 'Shadow Factories', and thousands of airframe parts were built in the damaged Helen Street works. Not to be forgotten are the army webbing contracts completed at Hinkley, the overhaul and repair of aircraft magnetos at Lutterworth, vehicle body manufacture, and the building of aero engine test stands at the London Seagrave Road service buildings.
By 1944 it became obvious that an end to the hostilities was in sight, and the company was able to look ahead towards car production once again. The question was which model and where would it be built? There were no new models on the drawing board and the Helen Street premises were still badly damaged. Rover's staff members were dispersed throughout several factories and the company was now a much larger concern than ever before.
Post war conditions would be vastly different from the 1930's and the big question now was just what kind of demand would there be for Rover's type of quality middle class and reliable cars? Spencer Wilks was not at all sure just what would await him in peacetime, but as usual, he was looking forward to the challenge.
POST WAR - PRODUCTION and VEHICLES
Towards the end of 1944 Rover Management started to concentrate more and more on future car production. It was imperative to get back into car production as quickly as possible, and to achieve this it would be necessary to resume production of the last pre-war models.
The latest modifications to this range of cars had only just started to be sold before the war had stopped production, so these cars would eventually become the new range of cars for 1946.
The Helen Street Works had been heavily bombed on two occasions during the war. It had been patched up to allow the majority of the plant to continue operating for war-time production, but it would take a great deal of time and work to enable it to return to full time car production. Rover had been offered first refusal on the purchase of the Solihull 'Number Two' Shadow Factory, if and when the British Government decided to vacate it. By the end of 1944 the decision had been made to centre future car production at Solihull, while the Helen Street plant would be patched up and sold.
The Company had applied for Government permission to resume post-war private car development and production, but had been refused. This decision was later reversed, and shortly after, the Solihull Factory became available. Rover very prudently took up the opportunity of purchasing nearly 200 acres of agricultural land surrounding the new site, a brilliant long-term move for which latter day management would have been eternally grateful.
For post-war production the allocations of steel were so low that the first permit allowed for only 500 10 HP cars, 500 12 HP cars, 100 six cylinder models and eight new development vehicles. To kick-off production a small 'pilot-line' was set up at the Clay Lane factory where a mere handful of four cylinder cars were built, the first post-war Rovers being two 10 HP saloons that were dispatched in December 1945. In the meantime work was proceeding at full speed converting Solihull from an aero engine plant to a car builders delight.
Supplies of sheet steel were now rationed according to a company's export potential and the British Government had stipulated a 'one model' policy from each car builder. This was in keeping with Rover's own policy of one model range, and with the exception of the prestigious 20 HP car, all of the 1940 model Rovers would soon be back in production.
The newly converted Solihull premises were officially opened by the President of the Board of Trade in February 1946, and shortly there-after, the 10, 12, 14 and 16 HP cars started rolling off the production line as six-light, four door saloons. Four-light sports saloons were soon back on offer for the 12, 14 and 16 HP cars, and later an open tourer 12 which was theoretically reserved for export.
These cars would quickly bring Rover back into car production, but what they really needed was a completely new car. The problem was the scarcity of sheet steel supplies that were available to the company and the need to get a new car into production as quickly as possible.
The Rover 'M-Type' had been in development from early 1945 with a prototype running during 1946. This was a little car having a tiny wheelbase of 77 inches, was 13 feet 4 inches long, and powered by a compact version of Rover's latest engine design. Its little 699 cc four-cylinder engine had a sloping head, inlet over exhaust valve gear, and put out 28 BHP at 5,000 rpm. The car had a platform type of chassis fabricated from light alloy pressings, a front suspension of coil springs, with the live rear axle also being suspended by coil springs, radius arms and Panhard rod.
The futuristic styling incorporated a full width nose with recessed headlamps, which would later be seen on the early P4 models. Three prototypes were built as little two-door coupes and were constructed almost entirely from light alloy pressed sheet steel. Open tourers were also planned, to be built later, once the coupe had proved a success. Initial production estimates were 5,000 M-types per year along side 15,000 P2's.
Although the M-type was a very serious project, it was unfortunately over taken by events. It was considered that Rover customers were not ready to accept a new car with radically modern styling. The British Government had placed pressure on all car companies to adopt a one-model' policy, and there was the need to build more vehicles with a greater export potential to ensure the continued supply of scarce sheet steel supplies. At this stage start-up of the Land Rover project had taken place, and this was considered to have a far greater export potential for the Rover Company. By the end of 1947 the M-type project had been cancelled, with only the three prototypes having been built, the last of which survived into the 1960's.

Once the post-war P2 models were in production serious design work was under way for their replacement. America had leaped ahead of Europe in ear design during the war and Rover needed to take advantage of the new technology available. They were looking to create a completely new ear that would take Rover forward into the 1960's.
THE ROVER P3
The P3 replaced the P2 models in February 1948 and were available in both four-light and six-light body styles. Two engine sizes were available; the four-cylinder 1595 cc '60' replacing the P2 12, while the six cylinder 2,103 cc '75' was a replacement for the P2 16. Visually both inside and out, the cars were the same as the P2 models they replaced. The use of plain door trim panels and leather seat facings, in place of the more expensive ribbed type cheapened the car, and not surprisingly, the P3 seats were not as comfortable as both the P1 and P2 models they superceded.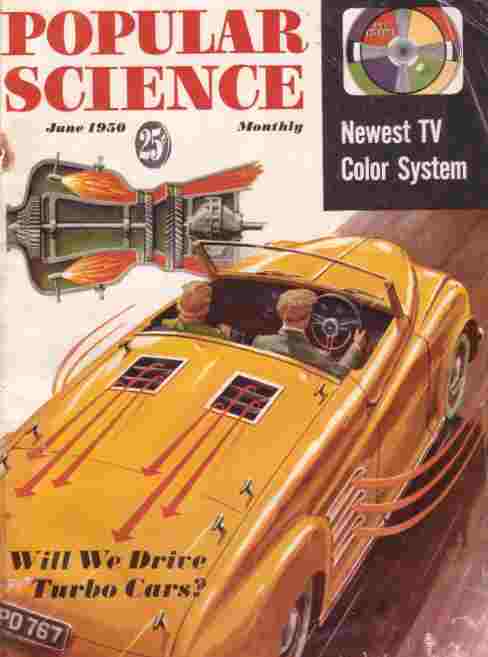 Popular Science
Development of the P4 continued alongside the new Land Rover and although the first plans had only been drawn up in 1946, the car rapidly started to take shape. While mechanically the new P4 was based loosely on P3, the new chassis had already shown up problems that needed to be addressed for the new car.
The P4 body started life as a clay model instead of a paneled mock-up, which was the traditional way that new Rover models had previously been conceived. One great advantage of this was that it became very easy to make body design alterations as required. The body interior was placed further forward in relation to the road wheels than ever before, so much so that the rear edge of the back door could be cut straight, and barely intruded on the rear wing pressings and did not have to fit around the wheel arch. This also avoided the necessity for the rear wheel arches to intrude upon the car's interior, giving the P4 a far greater amount of interior room than any previous Rover. It also had far more interior space than it's eventual replacement, the P6, in which interior room was sadly lacking even though the two cars had similar body dimensions. The British motoring regulations at the time still required the use of a passing light, and this was incorporated as part of the new grille, being mounted in the centre, which gave the car it's 'Cyclops' designation.
The new car was ready by September 1949, which had been a great achievement considering the amount of new development work that had been required. The P4 was received with mixed feelings by Rover customers, due to it's radically new modern design. Even so there were still plenty of customers for the very few cars that would be made available for the home market. Most cars were being built for export, this being a government directive in order to get the British economy moving again after the war. The price in Britain for the lucky few was 1106 pounds -exactly the same as had been asked for the obsolete P3 75.
With Pressed Steel supplying complete body shells, Rover geared up more towards quantity production. The first financial year - 1949/50 - saw only 3,563 P4's built which was a considerable drop on P3's final production year. The 1950/51 year saw 8,821 P4's built, but it wasn't until 1953/54 that the prewar record was finally broken, with 11,991 cars being produced.
For the first nine years of production the P4's would be the only private cars built by Rover, and they would be steadily improved and updated over their long production life. There were only two significant styling changes, with most of the body pressings being the same in 1964 as they had been back in 1949, when Pressed Steel had been given the original tooling order.
ROVER GAS TURBINE CAR - JUNE 1950
London, ENGLAND NORTH of London, the other day, they tested out a brand new kind of automobile. It had no pistons and no cylinders. It had no carburetor. It had no crankshaft.
It had no clutch pedal, distributor, valves, radiator, or transmission. It had none of those conventional pulsing exhaust noises. But it had performance.
It accelerated from a standing start to 60 miles an hour in 14 seconds. It streaked up to 90 miles an hour with no apparent effort, and easily could have bettered 100. If it tended to "creep" at a standstill, a light pressure on the brake pedal would hold it stationary. The car had practically no vibration, moving or standing still.

Outwardly, it looked like a standard British-produced open car with the rear seat blocked off to accommodate an extra-long turtleback. It did smell of kerosene- that lowly product of crude oil-and that was the tip-off.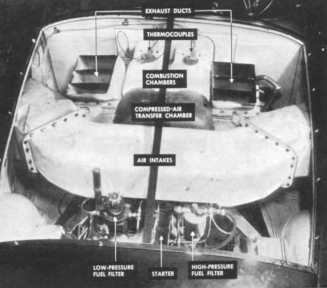 Engine is 36" long x 18" wide x 20" high with 5" Turbine weight 450lbs
By coincidence, at the same hour, almost 6,000 miles away in Seattle, Wash., a 10-ton truck was cruising the highways under the thrust of a kind of engine that was brand new to truck wranglers. The weight of the engine was less than a twelfth of that of a Diesel of comparable power, It occupied a, less than a tenth of the space that would have been taken up by a Diesel or gasoline engine and its accessories. It had only a tenth as many parts.
Sixty of these tiny blades are on perimeter of both compressor and power turbines of Rover engine. Made of "Nimonic" nickel alloy steel, they must withstand constant gas blast of 1,5000 F. Due to high speed, balance is big problem in turbines. Engine idles at 7,000 r.p.m., turns at 36,000 at car speed of 90 m.p.h.
The truck, too, had a faint kerosene odor. For the British automobile and the American truck had this in common: they were the world's first highway vehicles powered by gas turbines. They had engines that were close relatives of the engines that drive today's ultrafast fighter planes, some of the newest bombers, and that spectacular new British airliner, the Comet (PS, May '50, p. 98).
Contrary to newspaper accounts, this new automobile and new truck were not jet-propelled. They were not moved by a hot tailpipe blast. Instead, their turbines produced shaft power to drive the rear wheels.

Their turbines at full power whirred at an incredible speed for heat engines-from 36,000 to 40,000 revolutions a minute. In fact, that was three or four times as fast as current aircraft turbines.
The car and the truck represent the first basic change in automotive power plants since the invention of the internal combustion engine in the 19th Century. The car was designed and built by the Rover Company, Ltd., of Birmingham, England, as a "test bed" for road turbines (PS, Sept. '48, p.188). The truck was powered by an engine designed and built experimentally by the Boeing Airplane Co., of Seattle, maker of the Stratojet, the world's fastest bomber.
The Rover gas turbine is being developed for general use in the range of 100 to 2OO horse power.

It is suitable for marine and transport work where a reasonably light-weight compact unit is required, but where the low fuel consumption of a diesel is not necessary or is out-weighed by the ability to burn almost any type of fuel.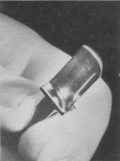 Gas turbine blade
Power Output

Although designed for 200 HP., the engines are at present rated at 100 HP, continuous rating and 150 HP. full power. The specific fuel consumption is about 1.6 lbs/BHP/hr. at 100 HP. and 1.2 lbs/BHP/hr. at full power.

The engines as used at present are not fitted with a heat exchanger, although provision is made for the use of a heat exchanger. Development of the heat exchanger is proceeding satisfactorily and it is hoped, when this is fitted, to bring the specific fuel consumption down to something like 0.8 lbs/BHP/hr. at full load.
Finally, sheer simplicity should make a turbo car's or turbo truck's maintenance costs considerably below those on a piston vehicle. Removing the Boeing turbine engine, dismantling- it, inspecting it, reassembling it, and putting it back in the chassis is a job for one man-in just six hours. He doesn't even need a chain hoist.
All this sounds too good to be true. There has to be a catch somewhere. Actually, there are a good many of them. The biggest drawback to the gas turbine for road vehicles is that it does its best at near-maximum r.p.m. It falls down in its power delivery at low speeds, or part-load, as the engineers say. And automobiles, trucks, and buses operate a lot more at part-load than they do at full load. The cure for this ailment may be a transmission, the same device that piston engines use to overcome their problem of low torque at low speeds.
Gas turbines are notorious for low fuel mileage. They develop a lot of heat but they waste too much of it. The Rover's engine, rated at 200 brake horsepower, gets around six miles to the gallon of kerosene. Using kerosene, the Boeing turbine, rated at 175 hp., is three and a half times more expensive to run than a Diesel.
There is a reason for that. It goes right back to that voracious appetite of a gas turbine for air. In a piston engine about 4,5000 F. is developed in a cylinder head at the instant of fuel explosion, the start of the power stroke. The engine metals can stand this only because the explosions are intermittent. Water jackets, air, and oil keep carrying away the heat.

In a gas turbine there is continuous burning of fuel at about 3,500 0 F. There must be a great extra volume of air to cool the gas down to .1,5000 before it is fed to the special-alloy turbines, so the metals can take it. That's where the loss occurs-most of the energy developed in burning the fuel to get gas volume and velocity to turn the power turbine is expended in turning the air compressor. The engine produces shaft-power as a sort of afterthought.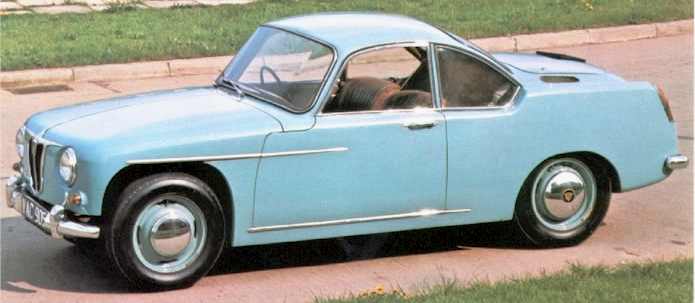 Rover T3 gas turbine prototype
The decision was finally made to develop a P5 model as a small car. But all that changed when Maurice Wilks realised that Jaguar were having great success in producing and selling their big and fast Mark VII, and that Alvis, Daimler and Armstrong Siddeley were not doing exceptionally well selling cars just that little bit more expensive than the P4. He was prepared to take a gamble that Rover could build a more luxurious car that would compete with Jaguar and steal customers from the likes of Alvis, Daimler and Armstrong Siddeley.

In order to do this P5 would need to be designed by someone with a specialist knowledge in the shaping of cars and the design of interiors. The company's styling office was now developed, and with it Rover's illustrious reputation for designing and producing modern and practical luxury cars would soon be established.

The decision to develop P5 as a larger and more luxurious car that would be aimed at a smaller market meant that it would now be a viable proposition and space could be provided in the existing Solihull factory. Once this decision had been made it was all go, and David Bache was now given the task of shaping the new P5 to Maurice Wilks' wishes.
P5 would now have to be bigger, faster, grander and more expensive than the '105's', which meant that a full 3 Litre engine would be required. The on again, off again V6 engine project still needed a great deal of development work, and as time was now of the essence, it was suspended yet again. In its place, and with very little time or tooling money to back him, Jack Swaine was asked to produce a 3 Litre engine from the old P4 design - and to do it quickly.
The P5 body quickly took shape, the car having a wheel base of 9 foot 2.8 inches which was actually half an inch shorter than on the P4. The car was also 4.5 inches wider and 3.8 inches lower than the P4. The back seat was set closer to the rear axle and the scuttle moved forward which gave an extra eight inches of room inside.
Wrap around front and rear screens were incorporated, with the swivelling quarter windows being dropped in favour of plastic wind deflectors at the top of each side window, as was the practise with the P1, P2 and P3 Rovers.
P5 was designed around a monocoque pressed steel body shell, but was extremely strong due to the addition of a box section chassis sub-frame running from the front of the car back to the front seat area. This sub-frame carried the suspension, steering, engine and gearbox mounts and was located and attached to the body via rubber mounts. The Wishbones and geometry of the front suspension were supplanted by laminated leaf torsion bars that were really long thin leaf springs arranged to twist rather than bend.
Development costs had skyrocketed since the launch of P4 which had taken a quarter of a million pounds to tool up. Development of P5 had taken close to one million pounds before a single car had been sold. With the launch of P5 in September 1958, Rover was now producing four P4 cars as well as the P5 and Land Rover.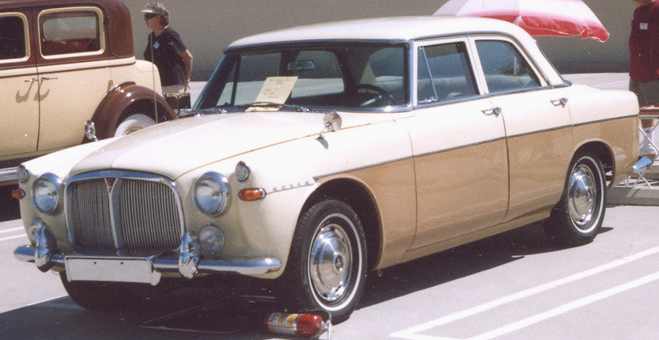 Rover P5
At its launch the P5 was released with an all drum braking system, but this was revised to Girling disc brakes on the front for the second year of production, also being standardised on the P4 80 and 100 models at the same time.
Production of P5 gradually increased and by the end of the 1959/60 year 7,460 cars had been sold compared to 9,670 P4's. The increasing sales justified the huge gamble that Maurice Wilks had taken in the mid 1950's that a bigger, more luxurious car was the way to go. In the event Rover picked up additional sales from people who were more likely to buy a Daimler or Armstrong Siddeley rather than a P4, so they really couldn't go wrong, and of course all the while the Land Rover sales were going ahead in leaps and bounds.
British Leyland
MG Rover are the heirs of the British Leyland Motor Corporation, which was formed in 1968 as the result of mergers between many British car firms. In 1975 British Leyland was effectively nationalized due to financial difficulties.
BL's new chairman Sir Michael Edwardes saw that the only way to make the company competitive again was to collaborate with the Japanese. In 1979, he began negotiations with Honda to co-develop new models and to share manufacturing facilities. The first product of this relationship was the Triumph Acclaim, and led to a long succession of Honda-influenced Rover badged models. Edwardes also implemented a ruthless programme of cutbacks and factory closures which saw the death of many of famous British marques. To reflect the resulting two-brand strategy, BL was renamed as the Austin Rover Group in 1982, and this was shortened in 1986 to simply the Rover Group.
FASTEST ROVER - TOMCAT 220 COUPE TURBO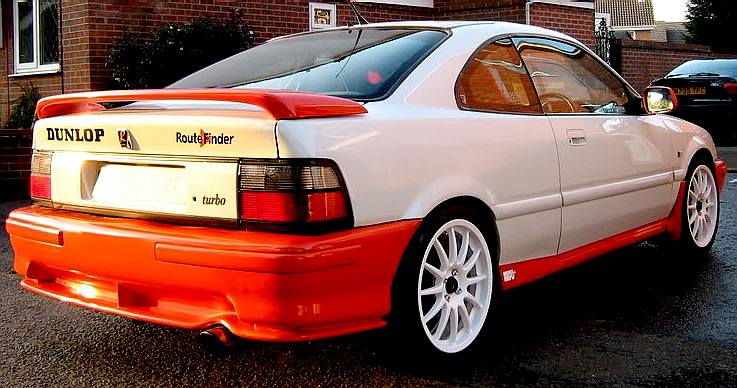 FASTEST ROVER - The 220 Coupé Turbo's performance came from the T-Series 2.0 litre 16-valve engine with turbo-charging producing 200 PS (147 kW; 197 bhp) at 6000 rpm and 174 lb·ft (236 N·m) The fastest ever production Rover achieved 149 mph (240 km/h) and a 0-60 mph time of only 6.3 seconds and 30-70 mph in 5.7 seconds in a 1992 Autocar test.
ECO ROVER - METRO
Rover took over production of the humble Metro, one of the original British city cars, that unfortunately, the Brits never developed such as to maintain market lead, or indeed, even remain in business. To remain competitive, there must be a proportion of investment in R&D in relation to production. In the United Kingdom, superb base products are sometimes milked to death. The basic floorpan was then and still does give grippy handling as based on the design genius of Sir Alec Issigonis and Dr Alex Moulton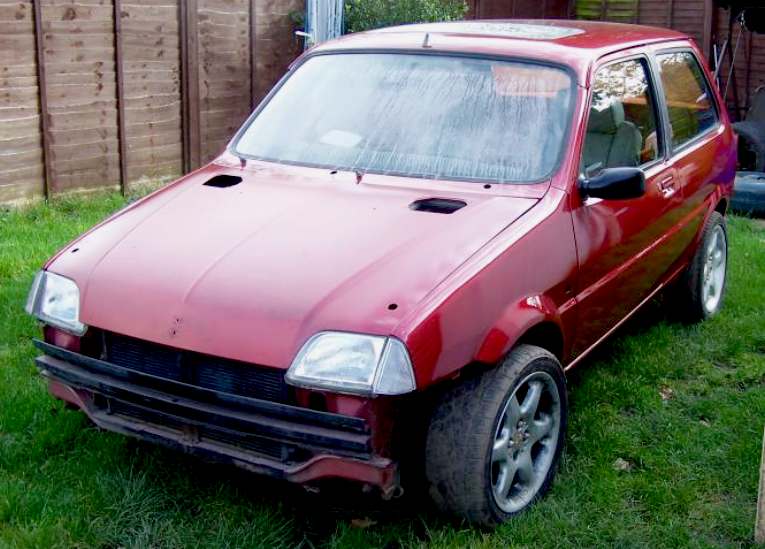 SPARES INDEX - ENGINE - LIGHTING - SCREENS - BODYWORK - ELECTRICS - SEATS
1986–2005 timeline
1986 Leyland Trucks subdivision sold to DAF; Split into two with the Van side became independent LDV in 1993, and the Truck side sold to Paccar of the USA.

1986 Leyland Bus floated off; bought by Volvo in 1988

1987 Unipart spare parts division sold off via management buyout

1988 Rover Group privatised; sold to British Aerospace

2000 Land Rover sold to Ford

2000 Mini retained by BMW, maintaining car production at the Cowley assembly plant.

2000 Remainder of company now independent as the MG Rover Group

2001 MG Rover bought Qvale of Italy

2005 Collaborative deal with Shanghai Automotive Industry Corporation (SAIC) collapses, forcing the company into administration, and eventual bankruptcy.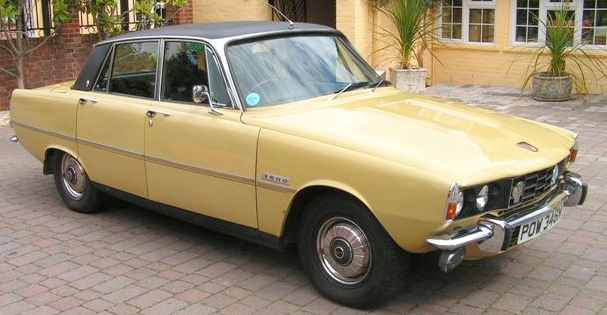 Rover P6
BRAND NAMES
Many car brands that were formerly the property of British Leyland have passed on to MG Rover. The brands of Alvis and Jaguar (including Daimler and Lanchester, as well as the American rights to Vanden Plas) were sold off by British Leyland before it became Rover Group, and Land Rover was sold to Ford in the BMW days.
These brands are owned by MG Rover:
1895 Wolseley

1905 Austin

1912 Morris

1913 Vanden Plas (outside the US & Canada)

1923 MG created by Morris

1952 Austin-Healey created by Austin

1987 Sterling created as a separate brand in the US by the Rover Group

1986 Qvale (date of first car - company was in existence longer)
These brands are owned by BMW:
1959 Mini originally used as a sub-brand on the Morris versions of the car (the Austin version was called the Austin Se7en). Made a brand in its own right by British Leyland in 1969

1898 Riley

1904 Rover (This is licensed to MG Rover)

1923 Triumph as a car brand - the motorcycle brand owned is by Triumph Motorcycles
These brands are owned by Ford:
1947 Jaguar

1921 Alvis

1892 Daimler

1898 Lanchester

1959 Vanden Plas (US & Canada Rights Only)

1947 Land Rover (Created by Rover)
Sale from BMW to Phoenix Consortium
When BMW sold off its interests, MG Rover was bought for a nominal £10 by a specially-assembled group of businessmen known as the Phoenix Consortium. The consortium was headed by ex-Rover Chief Executive John Towers.
The links with other companies developed since 2000 presumably draw on MG Rover's history. Qvale was once the primary US importer of MGs, a relationship that started back in 1947 [Forbes] (http://www.forbes.com/2001/06/20/0620mg.html). British Leyland had links with India going back to 1948, but Tata was associated with Daimler of Germany until 2001.
Potential deal with SAIC of China and its collapse
In June, 2004, it was learned that Shanghai Automotive Industry Corporation had signed a Joint Venture partnership to develop new models and technologies with MG Rover. This led to much speculation among the British media suggesting the Chinese company were poised to launch a takeover. Later that year, in November, news broke of an agreement between the two companies to create a joint venture company to produce up to a million cars a year, with the production shared between MG Rover's Longbridge site and locations in China. SAIC were to have a 70% stake in this company in return for a £1 billion investment, with MG Rover owning the remaining 30%. However, this agreement had to be ratified by the Chinese government, specifically its National Development and Reform Commission (NDRC).
The Commission was of the mind that if BMW could not make a success of Rover, then it would be hard for SAIC to do so. On December 8, 2004, Tata of India, which had cooperated over the export of the Tata Indica as the CityRover, threatened ceasing its agreement with MG Rover if the SAIC tie-up went ahead, according to the Indian press. Tata claimed the report was inaccurate two days later.
SAIC did purchase the technical rights to manufacture Rover's 25 and 75 models, and for the Powertrain business, for £67 million last year. It did not acquire the Rover name, which is still owned by BMW.
In January 2005, it was revealed that British Prime Minister Tony Blair had intervened to support the alliance between MG Rover and SAIC. MG Rover could not give a date on which the agreement would be finalized. Figures released by the company showed that the sale of Rover-branded cars fell in 2004 compared to 2003.
In April 2005 it was reported that the partnership deal with SAIC was in trouble because both SAIC and the British Government had discovered that MG Rover's finances were in a far more parlous condition than had previously been thought. On 7 April 2005 the company announced that it was suspending production because of parts' shortages.
Later in the day, it was was announced by Patricia Hewitt, the Secretary of State for Trade and Industry, that the company was being placed in receivership. Her statement was based on a conversation with MG Rover chairman, John Towers. It was later denied by MG Rover Group, although the company admitted that it had engaged PriceWaterhouseCoopers, the accountancy firm, to advise on its current financial situation. In the event, MG Rover placed itself in administration on 8 April 2005, a different status to receivership under British law.
On 8 April 2005, British Prime Minister Tony Blair and Gordon Brown, the Chancellor of the Exchequer, visited Longbridge and stated that there may be some hope for the future of the company, although not the original deal agreed with SAIC.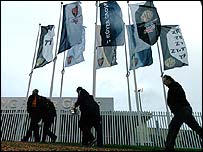 6 million jobs at stake

On 10 April 2005, MG Rover announced that they had received a 6.5 Million Pounds loan from the British Government:

The government says it has offered a £6.5m loan to prevent redundancies being made at car manufacturer MG Rover on Monday. Trade and Industry Secretary Patricia Hewitt said the funds had been agreed to avoid job losses "while efforts are made to keep the business together".

Six thousand jobs are at risk if the company's plant in Longbridge, Birmingham, closes down.

The move followed talks between Ms Hewitt, administrators and unions. She said the government had agreed to work with the administrator and unions to develop "with all reasonable speed" a realistic business proposition for Shanghai Automotive Industry Corp (SAIC) and other possible purchasers to consider.

'Wages and expenses'

The loan would allow wages and other expenses to be paid for a week, said a Department of Trade and Industry spokeswoman. There would then be a review in seven days.

It comes on the eve of a mass meeting of workers at the firm's Longbridge plant to hear of efforts being made to save their jobs. Ms Hewitt's statement was issued with Transport and General Workers' Union (TGWU) general secretary Tony Woodley and Derek Simpson, general secretary of Amicus.

Ms Hewitt said: "The government and unions said on Friday that we would do everything possible to sustain jobs and the future of manufacturing at Longbridge. "That is what tonight's decision shows we are doing." The DTI spokeswoman said Ms Hewitt would be prepared to fly to China with trade union leaders and that the invitation would be extended to members of opposition parties. Mr Woodley said earlier that he hoped a rescue deal with a Chinese car-maker could yet be reached.

'Fighting chance'

"In my view, it's the only hope for 6,000 workers, and that's why we don't give up, we don't move away from an opportunity that's as yet still there," he told BBC News 24. "The business logic is still strong, as long as the government now backs the efforts we're putting in with the administrator, and indeed they are doing that." He said government help would give MG Rover a "fighting chance" of survival.

MG Rover went into administration after rescue talks with SAIC failed on Thursday, throwing its entire future into doubt. Some of Rover's suppliers are already laying off staff, with hundreds laid off this weekend by engineering firms in the West Midlands and south Wales, despite a £40m support package for suppliers announced by the government.

'Deeply concerned'

On Sunday, Tory leader Michael Howard and Liberal Democrat leader Charles Kennedy both accused ministers of acting too slowly. Mr Howard told GMTV the prime minister and chancellor had a share of the blame for the crisis facing Rover.

The government would have been aware of the situation at Rover for at least a year, said Mr Howard, but had "got involved at far too late a stage". Mr Howard later visited Longbridge, where he spoke to a group of around eight MG Rover employees.

Afterwards he said he was "deeply concerned" at the situation at Longbridge and the possible consequences for workers there and elsewhere.

"If the government takes sensible measures to bring about such a deal, I will support those measures," he said. But he added it would be "very unfortunate" if uncertainty was prolonged or if workers were given false hopes which could not be achieved. Lib Dem leader Mr Kennedy told the BBC's Breakfast with Frost programme the government should have acted earlier by assessing and negotiating with the Chinese "much better".

The same week, SAIC denied it had ever made an offer to buy MG Rover and threatened to sue anyone who attempted to make the 25 and 75 models.

LINKS:
---
Please click on the links above to find out about these famous automotive makers. If your company is not included and you would like to be listed, please let us know.
UK VEHICLE INSURANCE ONLINE A - Z
No matter what car, van or bike you drive, we're all looking for great value and quality in our UK motor insurance? But who is the best - who is the cheapest and who offers the great service in the event of a claim?
See the insurance companies below who claim to offer competitive cover at sensible prices, our guide to the jargon and tips for cutting your quote - Good Luck:-
A taste for adventure capitalists

The blue bird legend continues with the BE3, a racing car inspired by the designs of Reid Railton and the exploits of Sir Malcolm Campbell. Probably the world's fastest electric car: 350mph + using energy from nature.