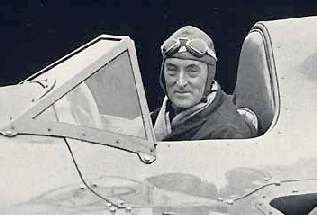 Sir Malcolm Campbell
Malcolm Campbell was a shareholder in Brooklands and very active in the running of the track, designing the Campbell road racing circuit within the confines of the site, which was used from its opening on 1st may 1937 to the outbreak of war. Throughout this period he was very active in all classes of racing at Brooklands driving a 1˝ litre Talbot, several Bugattis and the ex-Benoist straight eight supercharged G.P. Delage which was at the height of its fame in 1928 after numerous 1927 Grand Prix victories by its sister cars. In this car he dominated the 1928 200 Mile Race on 21st July, winning by 12 mins. 12 secs. at an average speed of 78.34 m.p.h.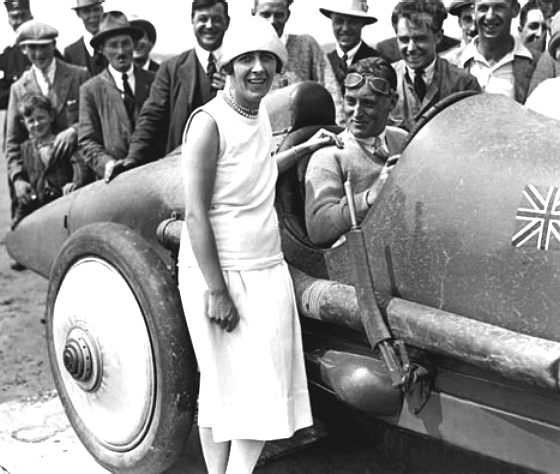 For American auto racing, the Depression was a bleak period of little money and few races. But followers of the sport had something else to hold their attention - the continuing quest for the world land speed record. Some great names in American racing had held the record - Barney Oldfield, Ralph DePalma, Tommy Milton, even Henry Ford. But one man, an Englishman named Malcolm Campbell, seemed to capture the imagination of the entire world. It may have been the fact that he broke the record on nine occasions between 1924 and 1935, but more likely it was his later cars, all exotic and streamlined, and all named "Bluebird," that somehow provided both excitement and hope for the future in a world turned upside down by the economy and the long slow path toward another disastrous war.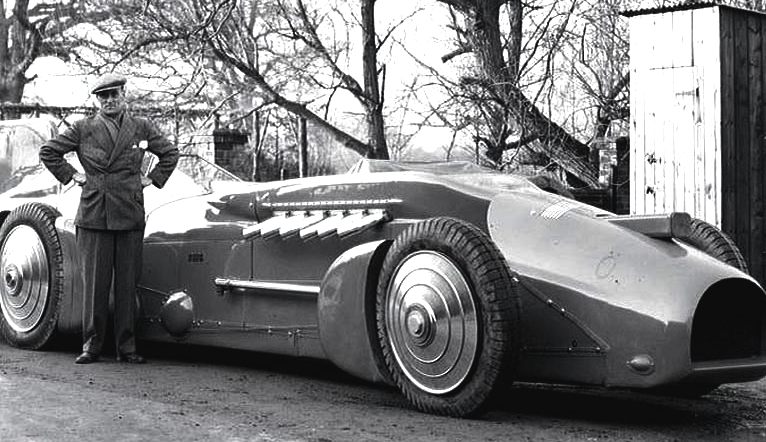 Malcolm Campbell and the Railton Blue Bird with Napier engine: 25ft and 3.75 tons
Sir Malcolm Campbell broke the speed record another nine times in various "Bluebird" cars powered by both Napier and Rolls Royce engines. These records were as follows :
25th September 1924 (Pendine Sands) 146.16 mph
21st July 1925 (Pendine Sands) - 150.766mph
4th February 1927 (Pendine Sands) - 174.88mph,
12th February 1928 (Daytona Beach, Florida) - 206.95mph,
5th February 1931 (Daytona Beach) - 246.09mph,
24th February 1932 (Daytona Beach) - 253.96mph,
22nd February 1933 (Daytona Beach) - 272.46mph,
7th March 1935 (Daytona Beach) - 276.71,
3rd September 1935 (Bonneville Salt Flats, Utah) - 301.12mph.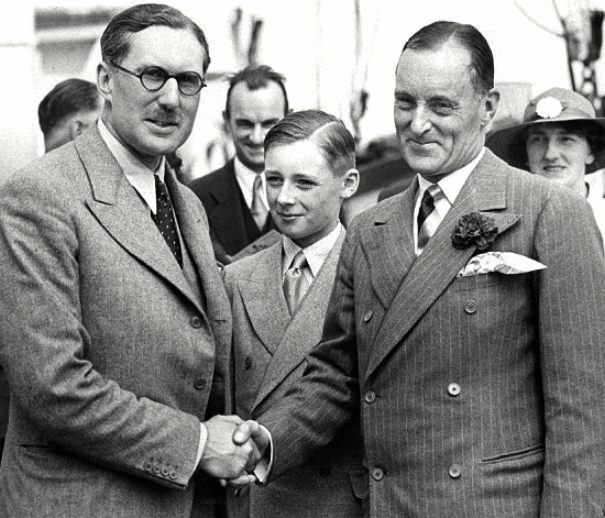 Malcolm Campbell shakes the hand of a prominent sponsor
Sir Malcolm died after a long illness in 1949 and was succeeded by his son Donald who continued the record breaking tradition, breaking 400 m.p.h. in the turbine powered Bluebird CN7 now on loan in Lord Montagu's National Motor Museum at Beaulieu.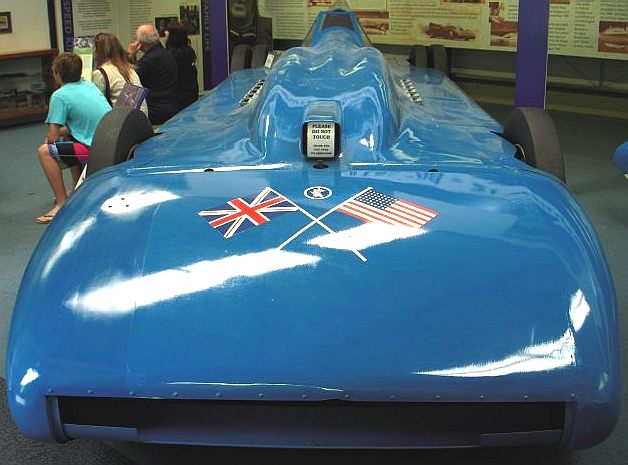 The 27 foot long 4.75 ton Daytona Blue Bird with Rolls Royce engine
THE FUTURE
Any form of electric vehicle is better than petrol or diesel, but an electric vehicle that can refuel in a few minutes will obviously have much more customer appeal than an EV that has to wait 30 minutes or even hours to charge up.
Battery technology is improving daily. A car with the new generation of battery cartridge exchange built in and the ability to load its own cartridge, will encourage energy companies to build service forecourts.
The Blueplanet BE3 LSR Team would be pleased to advise any energy company interested in this technology and of course any vehicle manufacturer who might be considering whether or not to include a future proof system into their next generation of road cars.
Art: Bluebird paintings - Bonneville Salt Flats and Pendine Sands
REID RAILTON
Reid Antony Railton was the son of a Manchester stockbroker. Reid was born in Chorley, Alderley Edge, Cheshire and was Christened on 13 August 1895 at the local parish church. He was educated at Rugby School and Manchester University. He joined Leyland Motors in 1917 where he worked with J.G. Parry-Thomas on the Leyland Eight luxury car. He left in 1922 to set up the Arab Motor Company where he was chief designer. Only about twelve cars were built, of which two low-chassis cars survive. One is in the Isle of Man and the other one (Chassis number 6, engine number 10, registration UW 2) is now in Austria having been rebuilt and rebodied by David Barker in the early 1990s.

In 1927, on the death of his friend Parry-Thomas, Railton closed the Arab factory and moved to Brooklands working for Thomson & Taylor becoming their Technical Director with responsibility for John Cobb's 1933 Napier Railton car which took the Outer Circuit record in 1933 and Sir Malcolm Campbell's Bluebird Land Speed Record cars of 1931 to 1935. His greatest achievements were probably designing the Railton Mobil Special car with which John Cobb set the Land Speed Record at 394.7 mph (635.2 km/h) in 1947 and designing the E.R.A. racing cars built in 1933-1934 at Thompson & Taylors at Brooklands. He also tuned the Hudson chassis used on the Railton car, named after him.

As well as cars he designed high speed boats including the jet-powered Crusader in which John Cobb was killed in 1952 while travelling in excess of 200 mph (322 km/h) attempting to break the Water Speed Record.

In 1939 he moved to California to work for the Hall-Scott Motor Company. He died in Berkeley, California, in 1977 at the age of 82.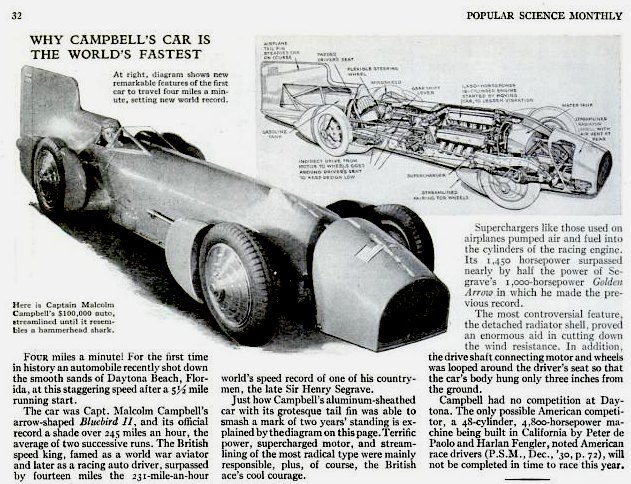 Popular Science magazine article on the Napier Lion engined monster car
REID'S CARS
Campbell-Napier-Railton Blue Bird
Campbell-Railton Blue Bird
Leyland Eight
Napier-Railton
Railton Mobil Special
Reid Railton and John Cobb with Crusader model and Reid as a young man.
CAMPBELL-NAPIER-RAILTON BLUE BIRD
After Henry Segrave's Golden Arrow, clearly a more powerful engine was required for Blue Bird, with a chassis and transmission to handle it. A supercharged Napier Lion VIID was used, with over three times the power of the previous Blue Bird and a large premium over Golden Arrow's un-supercharged 900 hp (670 kW) Lion VIIA. This was not the first use of supercharging for Land Speed Record cars, but was the first combining supercharging with the large displacement aero engines that had previously been relied upon for their gross output. Golden Arrow's innovative vertical aerodynamic stabilising fin was also used, a first for Campbell.

Campbell's nemesis, Segrave, was killed in an attempt on the water speed record while Campbell was scouting for new record courses in South Africa. On his return, Campbell set off for Daytona with the new Blue Bird, concerned at American challenges to the record. Segrave had, after all, at least been British. On 5 February 1931 he pushed the record to 246 mph (396 km/h), to great popular acclaim. On his return he learned he was to be knighted as Sir Malcolm Campbell. A year later he returned and pushed through to 251 mph (404 km/h). This record stood for another year, until he himself broke it with his next car, the next Rolls-Royce-engined 1933 Blue Bird.
A Hudson-Railton saloon (1937) and Sir Malcolm's Bentley at a museum in Cumbria
CAMPBELL-RAILTON BLUE BIRD (ROLLS ROYCE)
His previous Campbell-Napier-Railton Blue Bird of 1931 was rebuilt significantly. The overall layout and the simple twin deep chassis rails remained, but little else. The bodywork remained similar, with the narrow body, the tombstone radiator grille and the semi-spatted wheels, but the mechanics were new. Most significantly, a larger, heavier and considerably more powerful Rolls-Royce R V12 engine replaced the old Napier Lion, again with supercharger. This required two prominent "knuckles" atop the bodywork, to cover the V12 engine's camboxes.

1933

Blue Bird's first run was back at Daytona, setting a record of 272 miles per hour (438 km/h) on 22 February 1933. Campbell now had a car with all the power that he could want, but no way to use all of it. Wheelspin was a problem, losing perhaps 50 miles per hour (80 km/h) from the top speed. Drag from the air needed to be reduced and grip on the sand increased.

1935

Visually the car was quite different. The bodywork was now rectangular in cross section and spanned the full width over the wheels. Although actually higher, this increased width gave the impression of a much lower and sleeker car, accentuated by the long stabilising tailfin and the purposeful raised ridges over the engine camboxes. This Blue Bird was clearly a design of the Modernist '30s, not the brute heroism of the '20s.

Mechanically the changes to the car had focussed on improving the traction, rather than increasing the already generous power. Double wheels and tyres were fitted to the rear axle, to improve grip. The final drive was also split into separate drives to each side. This reduced the load on each drive, allowed the driver position to be lowered, but required the wheelbase to be shortened asymmetrically on one side by 1˝"(37 mm). Airbrakes were fitted, actuated by a large air cylinder. For extra streamlining the radiator air intake could be closed by a movable flap, for a brief period during the record itself.

Blue Bird made its first record runs back on Daytona Beach in early 1935. On 7 March 1935 Campbell improved his record to 276.82 mph (445.5 kph), but the unevenness of the sand caused a loss of grip and he knew the car was capable of more.

The faster car needed a bigger and smoother arena, and this led to the Bonneville Salt Flats of Utah. This time the young Donald Campbell accompanied his father. On 3 September 1935, the 300 mph barrier fell by a bare mile-per-hour, crowning Sir Malcolm Campbell's record-breaking career.

THE MALCOLM CAMPBELL HERITAGE TRUST (MCHT)
You can see from the scans of what appears to be a 'Declaration of Trust' dated the 16th of October 2001, that the original Trustees of the MCHT were:
1. Peter John Hulme, New Barn, Tokens Farm, Loxwood, West Sussex.
2. Malcolm Brian Hulme, 17 Norman Avenue, Twickenham, Middlesex.
3. Donald Charles Wales, 11 Weston Avenue, Addlestone, Surrey, KT15 1UW.
4. Georgina Campbell, Birkby Grange Farm, Carr Lane, Thorner, Leeds, LS14 3HG.
5. Jean Dorothy Wales, Orchard Lodge, Oakhurst Lane, Loxwood, West Sussex.
For more information of this Trust, click on the document extract above.
LINKS & REFERENCE
Campbell-Napier-Railton_Blue_Bird
http://en.wikipedia.org/wiki/Reid_Railton
http://en.wikipedia.org/wiki/Campbell-Napier-Railton_Blue_Bird
http://en.wikipedia.org/wiki/Campbell-Railton_Blue_Bird
Blue Bird 1933". Bluebird team racing.
"1933 Blue Bird". Brooklands photo archive.
"1933 Blue Bird from the rear". Brooklands photo archive.
"Blue Bird, 1933". many period photos
"Running at Brooklands". Brooklands photo archive.
"On the banking at Brooklands". Brooklands photo archive.
"Engine and chassis in the workshops, bodywork removed. Note the airbrake actuating cylinder.". Brooklands photo archive.
"Bluebird 1935". Bluebird team racing.
"Cockpit, showing the double wheels and also the airbrake flaps". Brooklands photo archive.
"Blue Bird, 1935". Racing Campbells.
"Blue Bird at Daytona, 1935". many period photos
"Bluebird at Bonneville, 1935". many period photos

Vehicle design inspired by Reid Railton and Sir Malcolm Campbell's spectacular record runs at Daytona Beach, the BE3 is probably the world's fastest electric car: 350mph + using energy from nature featuring patent built in battery cartridge exchange refueling. The name Bluebird™ and flying blue bird legend are registered trademarks concerning battery cartridge exchange recharging.
Aintree

Autódromo Internacional Nelson Piquet

Autódromo José Carlos Pace (Brazil)

Barcelona-Catalunya, Circuit de

Bathurst (Australia)

Bremgarten Circuit

Donington Park

Fuji Speedway

Knockhill

Korea International Circuit

Laguna Seca (CA, USA)

Mallory Park

Nurburgring [Nordschleife] (Germany)

Oulton Park

Santa Pod Raceway

Sebring International Raceway

Spa Francorchamps (Belgium)

Suzuka Circuit

Thruxton

Zandvoort, Circuit Park

Zeltweg (Austria - Red Bull)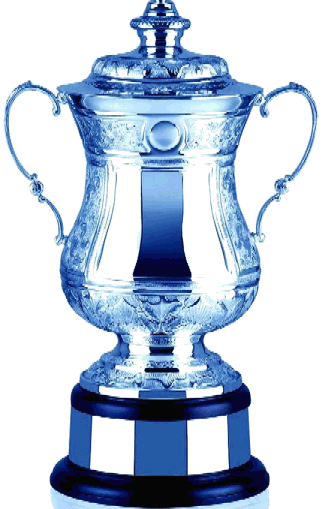 The Bluebird World Cup Trophy challenge