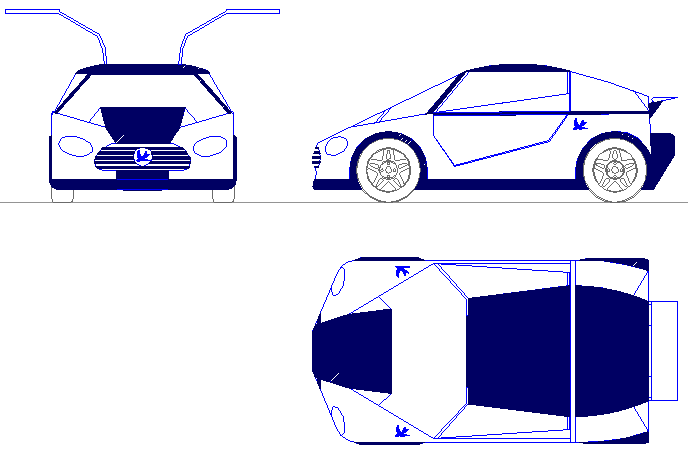 The Ecostar DC50 prototype above incorporates the patent Bluebird™ instant energy transfer system from Bluebird Marine Systems (BMS) - allowing EV recharging in around 60 seconds, using a roll-on, roll-off, or 'RORO' method. This car is derived from reliable Austin-Rover running gear and previously held the world record for fastest charging by cartridges using built in loaders. As of 2014 Bluebird Marine Systems Ltd have taken on the development of a road car - not to be confused with the Blueplanet BE3 LSR project, which is an unrelated project. There are though some similarities in the cartridge technology used and for that reason both projects are licensed to use BMS trademarks.
The move from petrol and diesel cars to pure clean electric motoring need not be fraught with anxiety, if we all cooperate to plan for a sustainable future.
One possible solution that we would invite you to evaluate is a low cost service forecourt designed around a universal energy (which can be battery or fuel cell) cartridge format, that is designed to cater for most popular vehicles with the minimum of mechanical alteration, so making disruptive technology less disruptive.
COOPERATION
This involves motor manufacturers working with energy supply companies and battery suppliers. Cooperation also requires that governments do what they can to bring about the political will to change, perhaps with incentives for those collaborating on creating an economically viable infrastructure.
Motor manufacturers who are interested in exploring the possibilities for this technology should contact Bluebird Marine Systems (BMS) Ltd. BMS are environmental consultants. They develop technology for stakeholding associates. They will be pleased to advise if a particular floorpan of any production vehicle may be adapted easily to use the Bluebird™ universal cartridge refueling system. BMS are also keen to hear from energy (including oil) companies who may be considering investing in operations to supply energy to increasing numbers of EVs (including hybrids) and wish to use their existing capacity efficiently to plan a future network, or consider other transitional study.
PATENT
Although BMS are not publishing the details of their performance technology, it is worth reading the preamble to their improvement patent for an overview of the potential for this technology.
Bluebird™ equipped EVs are largely self-sufficient when it comes to exchanging energy cartridges, becuase they have a built in loading mechanism and do not need service forecourts - save only to make recharging even more convenient. This is the kind of flexibility of design that we hope will kickstart the build of service stations.
The vehicle shown on this page is smaller than an original Mini. If this car can fit in a 20-30 Kw/hr cartridge, almost any city car can. If a city car can use this system, larger sedans and recreational vehicles will have no trouble at all fitting in a 50-80 Kw/hr cartridge system.
CONCEPT CARS
When planning your next concept, or show car, why not build in cartridge exchange to experience the potential first hand.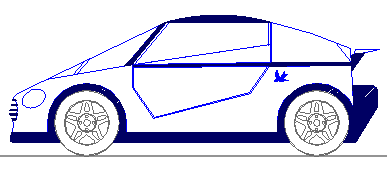 +44 (0) 1323 831727 +44 (0) 7842 607865
Bluebird Marine Systems Ltd
Intelligent Battery Support System

THE BLUE BIRDS OF HAPPINESS
BLUEPLANET BE3 (LSR PROJECT)
Inevitably, a high performance system should be fitted into a high performance car. Even if only to be sure it is possible. BMS have thus licensed their system for use by a new racing team for 2015/16.
The Blueplanet BE3 was designed to incorporate cartridge exchange, but the long, low curves were inspired by the engineering genius of Reid Railton and the exploits of Sir Malcolm Campbell. The BE3 features the Bluebird™ battery cartridge recharging system in a modified format. The driver sits at the rear dragster fashion, the battery cartridge is in the front all the way to the nose cone. Check out the battery cartridge exchange sequence by clicking here, and bear in mind that this is not how road cars exchange their cartridges. The road car system is roll on roll off. Hence, far quicker and more suitable for circuit racing pit stops, such as for Formula E.