Imagine ambling around the country roads on a perfect Spring day. You are in a classic open-top British sports car. The warm sunshine is on your face and the scent of the spring blossoms is in the air. The silky smooth 3 litre V8 burbles contentedly as you slow for the sweeping left hander and then crisply barks as you feed it a little and hasten along your merry way. Music to your ears! Share the dream and take a closer look at a Triumph Stag..........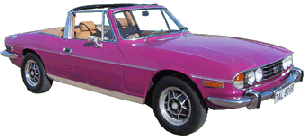 A restored Triumph Stag in purple
A highly desirable collectable classic vehicle in original blue finish. Very sporty performance and style. Convertible to hard or soft top - for summer style and comes complete with matching hard-top which simply clips in place for snug winter motoring.
Fed up losing money on every car you buy? Why not consider this practical classic as an investment. Classic cars appreciate!
The bodywork and chassis are in exceptional condition. The interior needs tidying and the doors restoring. We have reconditioned the engine block and cylinder heads. You can see the rebuild stages for yourself using the link below
Valued at between £11 -12,000 fully restored, we are now open to bids with the fully reconditioned engine installed as seen on the rebuild page. As some of you already know the car is now running again the engine having been refitted mid September. The restoration continues and we now deciding what color to repaint her, to bring her back to A1 condition. Should she stay her original Blue - or should she have a makeover?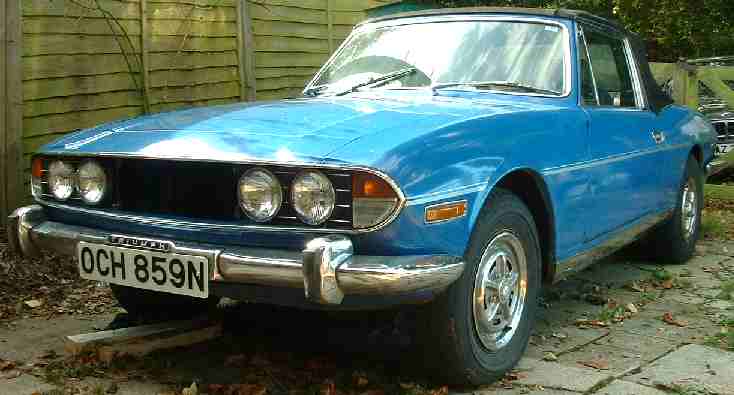 Engine refitted and sporting her soft-top
JOIN THE TRIUMPH STAG OWNERS CLUB
The Stag Owners Club was formed in November 1979 and currently has about 5,500 members in 32 countries. Many events are held at both local and national level, which include concours competitions, treasure hunts, social meetings, weekend breaks and fun days. In addition there are continental trips and an annual European Meeting.
The Club arranges special insurance schemes offering competitive premium to members over 25. A valuation scheme is also available to members. An active accessories section is in operation, selling a range of goods including top-quality clothing with Club logos, books, umbrellas, models, etc. An annual National Day is our premier event held in different locations around the UK every year.
The Club has a company dedicated to the remanufacture of tooling to provide spare parts for the car - every member holds one share in this company.
For Club joining Details contact:
Peter Robinson, The Old Rectory, Aslacton, Norfolk NR15 2JN
Tel: 01379 677735 Fax: 01379 677363 stag@compuserve.com