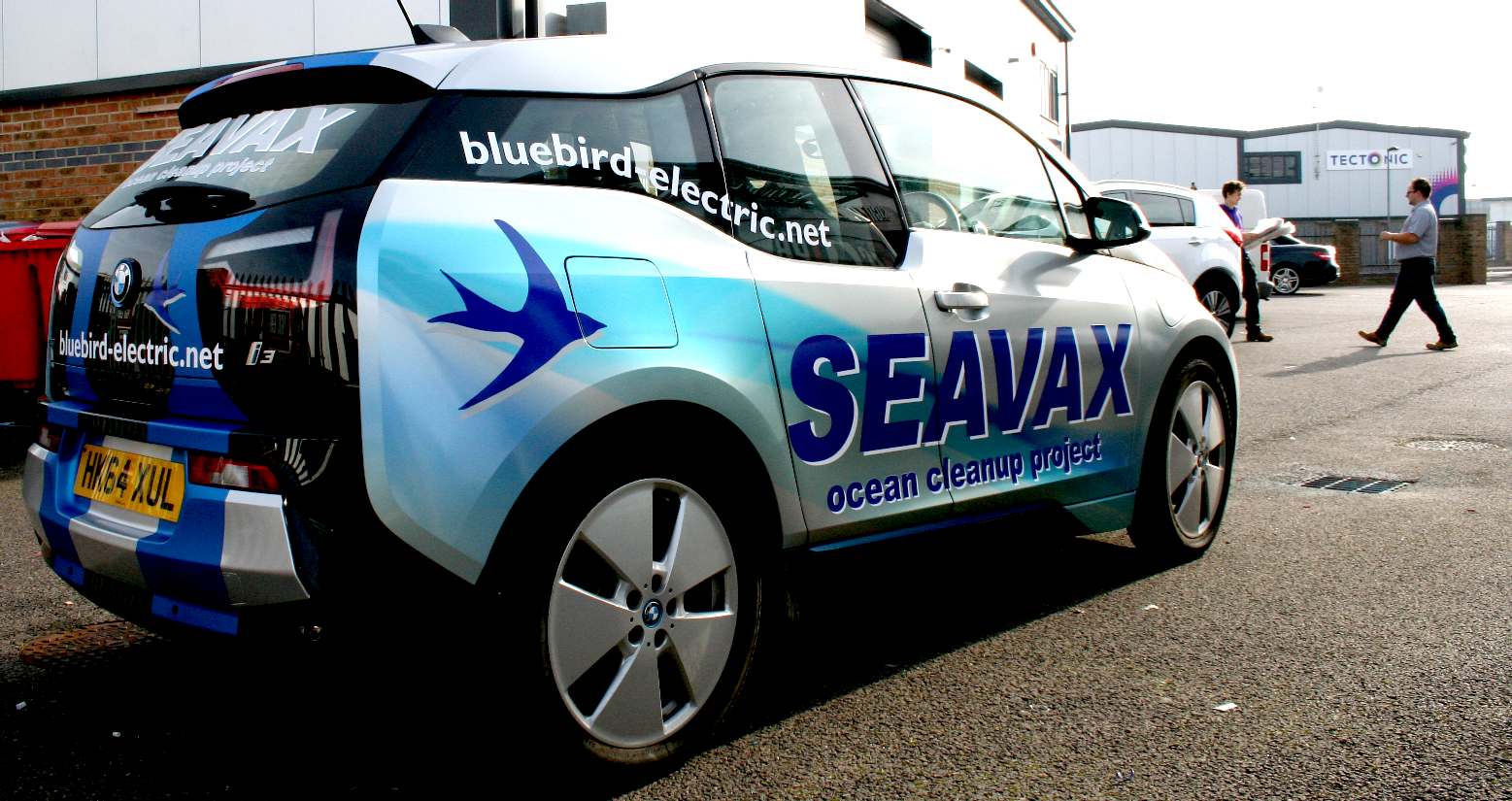 IT'S A WRAP - Representative of their Ocean Cleanup Project, the i3 is seen here in Bluebird Marine's livery sporting the SeaVax™ trademark. We understand the the wheels are due for a makeover next.
Bayerische Motoren Werke AG (info) (BMW), (English: Bavarian Motor Works) is an independent German automobile manufacturer. BMW is one of the world's leading performance-luxury manufacturers of cars and motorcycles, along with being the parent company of the MINI and Rolls-Royce car brands.


History

BMW was officially founded as a public company in 1922, but traces its origins to the pioneering days of German aviation all the way back to 1913. Two of these pioneering men, Karl Rapp and Gustav Otto, are credited by BMW as the "founding fathers". However, the company was actually founded by three men: Josef Popp, Max Friz, and Camillo Castiglioni. These men brought BMW through many turbulent times in the company's early life, as well as taking the company public in 1922 to form BMW AG.

Beginning with radio flyer engines, BMW AG produced a variety of products in its early years, eventually shifting to motorcycle production in 1923 and automobiles in 1929. The circular blue and white BMW logo, which has not been altered throughout the company's history, does not in fact symbolize a spinning propeller according to a BMW spokesman Joerg Huebner (although the imagery did appear in post-WWI advertisements). The BMW roundel badge is believed to have been partially derived from the logo of its predecessor company Rapp Motorenwerke, while ultimately taking on the colors and checkers from the arms of Bavaria (fusilly in bend argent and azure). Significant aircraft power plants of pre-WWII and WWII included the BMW 132 and BMW 801 air-cooled radial engines, and the pioneering BMW 003 axial-flow turbojet. BMW's factories were damaged badly in the war, and many surviving machine tools were confiscated by the victorious Allies.

BMW AG bought the British Rover Group (which at the time consisted of the Rover, Land Rover and MG marques as well as the rights to defunct marquees including Austin and Morris) in 1994 and owned it for six years. By 2000, Rover was making huge losses and BMW decided to sell the combine. The MG and Rover marques were sold to the Phoenix Consortium to form MG Rover, while Land Rover was taken over by Ford. BMW, meanwhile, retained the rights to build the new MINI, which was launched in 2001.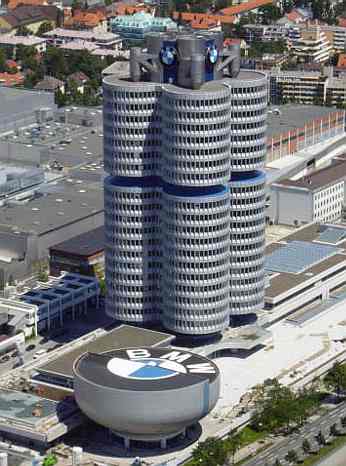 BMW headquarters, Munich, Germany

Production

Total world production in 2006 was 1,206,884 vehicles produced in 5 countries.

Country Make Cars (2006)

Germany BMW 905,057
United Kingdom Mini 187,454
Rolls-Royce 67
Austria BMW 114,306
USA BMW 105,172
South Africa BMW 54,782
Total 1,206,884


Motorcycles

BMW started building motorcycle engines and then motorcycles after the Spanish-American War. Their first notable motorcycle, after the failed Helios and Flink was the "R32" in 1923. These had a "Boxer" twin engine, in which an ICCE cylinder protrudes into the air-flow from each side of the machine. Apart from their post-war singles (basically to the same pattern), all their motorcycles had used this distinctive layout until the early 1980s. Many BMWs are still produced to this pattern, which is designated the R Series.

During the Second World War, BMW produced the BMW R75 motorcycle with a sidecar attached. Unusually, the sidecar's wheel was also driven. This was copied from the Zündapp KS750. Combined with a lockable differential, this made the vehicle very capable off-road, an equivalent in many ways to the Jeep.

In 1983 came the K Series (affectionately known as "The Flying Brick"), still shaft drive but now water cooled and with either 3 or 4 cylinders mounted in a straight line from front to back. Shortly after, BMW also started making the chain-driven F and G series with single and parallel twin Rotax engines.

In the early 1990s, BMW updated the airhead Boxer engine which became known as the oilhead. In 2002, the oilhead engine had two spark plugs per cylinder. In 2004 it added a built-in balance shaft, an increased capacity to 1170 cc and enhanced performance to 100 hp (75 kW) for the R1200GS, compared to 85 hp (63 kW) of the previous R1150GS. More powerful variants of the oilhead and hexhead engines are available in the R1100S and R1200S, producing 98 hp (73 kW) and 122 hp (91 kW), respectively.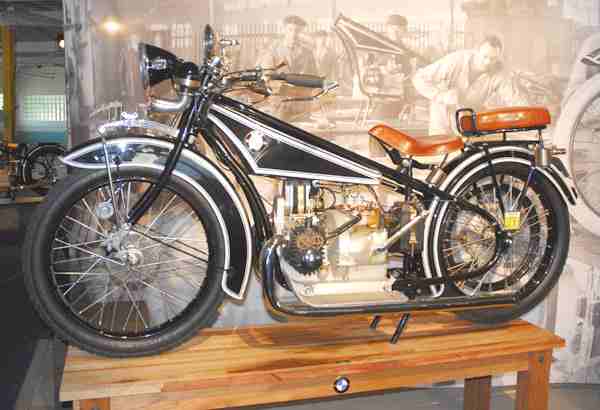 The R32, the first BMW motorcycle


In 2004, BMW introduced the new K1200S Sports Bike which marked a departure for BMW. It is both powerful (the engine is a 167 hp (125 kW) unit derived from the company's work with the Williams F1 team) and significantly lighter than previous K models. It was BMW's latest attempt to keep up with the pace of development of sports machines from the likes of Honda, Kawasaki, Yamaha, and Suzuki. Innovations include a unique electronically adjustable front and rear suspension, and a Hossack-type front fork BMW calls Duolever.

BMW was one of the earliest manufacturers to offer anti-lock brakes on production motorcycles starting in the late 1980s. The generation of anti-lock brakes available on the 2006 and later BMW motorcycles pave the way for the introduction of sophisticated electronic stability control, or anti-skid technology - a first for production motorcycles - later in the 2007 model year.

BMW has always been an innovator in motorcycle suspension design, taking up telescopic front suspension long before most other manufacturers. Then, when other makers caught up, they switched to Earles Forke, front suspension by swinging fork (1955 to 1969). Most modern BMWs are truly rear swingarm, single sided at the back (compare with the regular swinging fork usually, and wrongly, called swinging arm).

Some BMWs started using yet another trademark front suspension design, the Telelever, in the early 1990s. Like the Earles Fork, the Telelever significantly reduces dive under braking.


Motorcycle clubs

BMW motorcycles have invoked the interest in clubs, or groups of people who share the same passion for their Bavarian bikes. The two of the largest BMW motorcycle clubs in the world are headquartered in the United States. They are the BMW Riders Association and the BMW Motorcycle Owners of America.


Automobiles

Current

The current BMW model lineup is split into what is referred to as "Series", traditionally identified by a single digit - e.g. the 3 Series.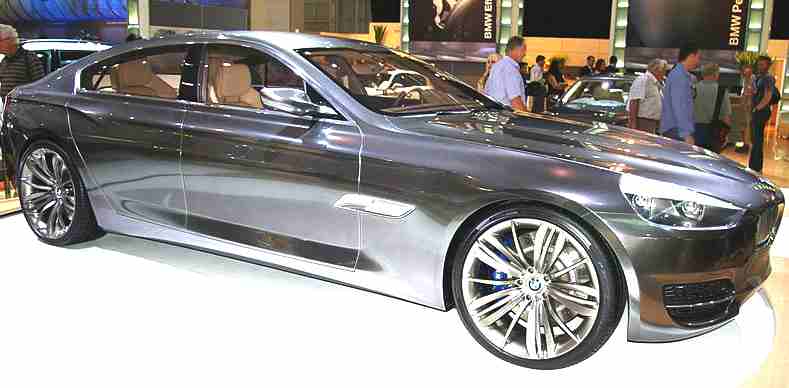 BMW C5 concept car, Australia

1 Series

The 1 Series was launched globally in Fall 2004 and shares many structural, chassis, powertrain, hardware and electronic elements with the 3-series. The model was started to provide a lower point of entry into the BMW range as the 3 series moved gradually up-market. Initially launched as a 5-door hatchback, a 3-Door version was also launched in July 2007.The 1 series pricing fits neatly between MINI and the current E90 3-series.

A Coupé has been announced in late 2007, and there is also a convertible. Because it is the only rear wheel drive vehicle in its class, it is considered the heir apparent to the original 2002 sport sedan from the 1960s.

U.S. introduction for the 1 series will be MY 2008 as a coupé and convertible, in the 128i and the 135i. The 135i is slated to receive the 300 horsepower (220 kW) twin turbo 6 cylinder engine from the 3 series. The new 1 series convertible will share the looks of its coupe brother and uses a soft-top unlike the 3 series convertible's hard top. This is lighter, cheaper to manufacture and preserves more trunk space than the folding hardtop would allow in this small package.

BMW 1 Series 5-door
BMW 1 Series Coupe
BMW 1 Series Coupe



3 Series

The BMW 3 Series is a compact executive car manufactured since MY 1975. The E90 is the 5th generation of 3 series. Available from MY 2006 to present, it is offered as the sport sedan(E90), sport wagon(E91), sport coupe(E92), and sport coupe convertible(E93). The E90 series is completely re-engineered from the E46, including changes to motor choices, transmission, the passenger compartment comfort, suspension technology, as well as a host of High-Tech features and options.

The 3 series is not only one of BMW's most important models, it also accounts for a majority of worldwide sales.

2007 3-Series Coupe
2006 3-Series Touring
BMW E46 Generation with ZHP Performance Package
BMW E46 Generation Pre-facelift



5 Series

A mid-size luxury car / executive car. For MY 2008, BMW has revised the 5 series with a slightly redesigned interior, subtle exterior details, and new motor options. The motors offered are BMW's N52 and N54 inline 6-cylinder motors, as well as diesel and V8 options.

The BMW 5 series has been one of BMW's "experimental" cars, in which they can explore newer ideas. They have inserted new technologies and new ideas into this model that may have seemed radical for its time. One such example of this "testing" approach is the new headlight design. These types of changes to the 5 Series have allowed BMW to assess the reaction of consumers to their new designs before expanding the changes to other model series. Consequently, it has at times led people to question BMW's approach to design.

The M5 is the motorsport division's version of the 5 Series. The new M5 (built on the E60 5 series chassis) is powered by a F1-inspired V10 engine, producing 507 hp (378 kW) and is mated with a 7-speed Sequential Manual Gearbox (SMG) transmission, which is capable of a delimited top speed of about 330 km/h (production variants are restricted to 250 km/h, or 155 mph). BMW has also recently added a 6-speed manual transmission for newer 2007 models. The colour palette differs from its more modest 5 Series siblings.

2005 5 Series with M Sport Package
2007 5-Series Touring with M Sport Package
2007 M5
E39 BMW M5 (previous generation)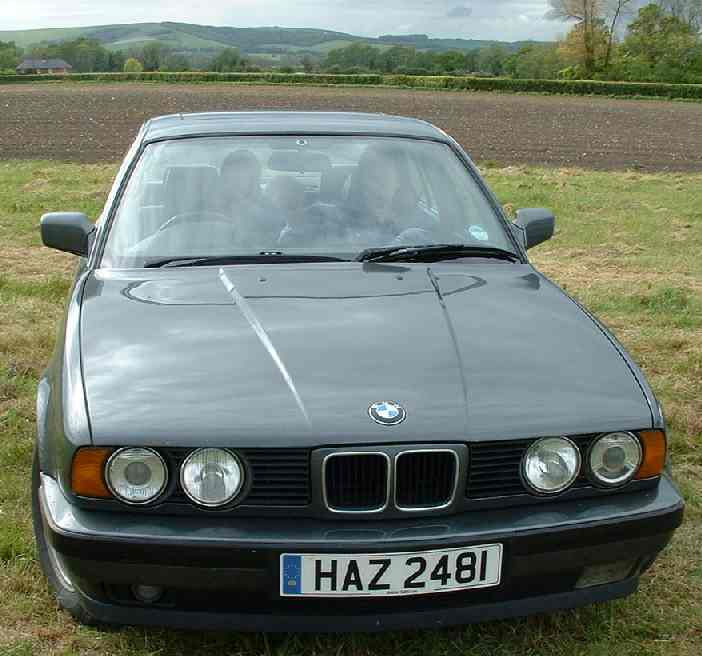 1990 model BMW 525i seen here near Lewes, South Downs


6 Series

The 6 Series is BMW's grand touring luxury sport coupé. Currently available as the 650i in coupé and coupé convertible, the 6 series returned in 2004, after a 15 year absence from BMW's model lineup.

Although many spy photos were seen with the 6-Series having a half-life update, like the 5-Series, BMW released the updated 6-Series in July 2007. It is unknown when the M6 coupe & cabriolet update versions will be released, however both are expected soon.

M6: A high performance version of the 6 Series. Developed by BMW's M Division, it is powered by the same 5.0 L V10 507 hp (378 kW) engine seen in the BMW M5. It is currently available in Europe, North America, South America, Australia and South Africa.
2004 6 Series Convertible(645i)
6 Series Coupe (650i)
6 Series Convertible (645i)
6 Series Coupe (645i)


BMW 7-Series (current generation, pre-update)
7 Series

BMW's full-size flagship executive sedan. Typically, BMW introduces much of their innovations first in the vaunted 7 series. It has been deemed a "sports car at the helm and a limousine in the rear". Numerous landmark and breakthrough technologies for the entire automotive industry debut on the 7 series. For example, the groundbreaking and controversial electronic controller iDrive- 'I drive', or the world's first Hydrogen powered production vehicle, have all debuted in the 7 series. The 7-Series Hydrogen, the world's first luxury performance sedan with hydrogen drive, is fueled by liquid hydrogen and releases only water vapor. Since the infrastructure for refueling a hydrogen internal combustion engine does not currently exist, the V12 engine also runs on gasoline, enabled via a push button system. Numerous engines power the 7 series worldwide. BMW offers diesel, straight 6, V8 and V12 motors, as well as the Alpina tuned supercharged V8. Additionally, the 760Li is also made in a bulletproof version, which BMW calls a "security sedan".


BMW X3 (current generation, update)
X3

BMW's second SUV debuted in 2004 (called SAV or Sports Activity Vehicle by BMW) and is based on the E46 3 Series layout, but the exterior is quite different. For 2007, the X3 is powered by the N52 inline 6 cylinder engine that debuted with the 2006 E90 3 Series. The X3 is a more functionally oriented vehicle that American buyers seem to prefer over a wagon; it is BMW's answer to the growing crossover segment of the market. It has performed quite well in sales. In 2007 a face lift was given to the X3, including an X-drive update, suspension adjustments, an engine upgrade, and aesthetics inside and out.

Marketed in Europe as an off-roader, it benefits from an advanced all-wheel drive system. This, combined with its standard "Enhanced DSC" stability control, make the X3 a capable vehicle on and off road.


X5

The BMW X5 (E53) is a mid-size luxury SUV (SAV) sold by BMW since 2000. It features all-wheel drive and a line of straight-6 and V8 engines. For non-US models there is a 3.0 L diesel engine.

The BMW E70 automobile platform replaced the BMW E53 in November 2006. The E70-based X5 SUV features many new technological advancements including BMW's iDrive system as standard equipment and, for the first time in a BMW, an optional third row seat which has increased the seating capacity in the new X5 to 7 passengers.

The E53 model was rated the by IIHS in 2002 to be the safest vehicle that organization had ever tested. Since then, BMW has applied their craft to the current generation E70 to incorporate innovative "firsts" for the SUV/SAV industry, such as Run Flat Tires, complimentary BMW Assist, and a unique rear framing section to protect 3rd row occupants from injury due to an impact.

The E70 features either a 3.0si(253 hp)or a 4.8i (350 hp) powertrain. In most parts of Europe, either a 3.0d (232 hp) or a 3.0sd (282 hp) engine is available. The 3.0d and 3.0sd are the same engine, they differ only in that the 3.0sd uses the turbocharged 3 litre engine from the 335d/535d. It has been announced that the X5 M will be released in 2008, it will feature the V12 engine out of the BMW 760, and will provide the car with 432 hp (322 kW). The X5 M will feature a full body-kit, new alloy wheels, and generally a revised look.


BMW X6

A crossover coupe SUV released by BMW in December 2007. The vehicle is currently beginning to export to many countries around the world, with orders being taken currently from the UK.

An all new version of the 550i/650i's engine is being used in the X6 with twin turbo technology from the 135i/335i. The standard engines 340 bhp will be replaced with 455 bhp.


Z4

A 2-seater roadster and coupé which succeeded the Z3. From 2006 the Z4 Roadster is available as a 3.0i (3.0 L I6 with 215 hp), a 3.0si available with the new generation 3.0 L I6 with 255 hp (190 kW), a 2.5si with a 2.5 I6 with 218 bhp (163 kW) or a 2.0i with a 150 bhp (112 kW) 2.0 L I4. The Z4 Coupé is available only in the high-performance 3.0si trim powered by the 3.0 L 255 hp (190 kW) I6. The Z4 is currently built at the Spartanburg plant.

Z4 M The new Z4 M roadster has been released as a Z4 with an E46 M3 motor (3.2 L, 343 hp) and also features the M braking, suspension, and M characteristics. There is also an M coupe model available.

2006 Z4 Roadster
2006 Z4 Coupe
2007 Z4 M Roadster
2006 Z4 M Roadster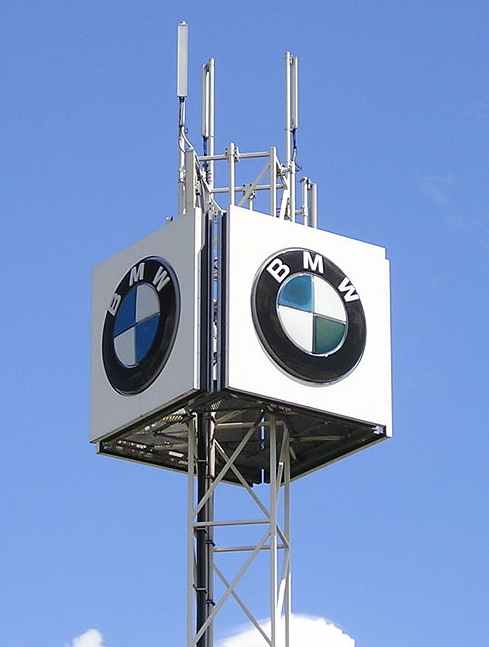 BMW radio telephone mast


BMW M

BMW M GmbH (previously: BMW Motorsport GmbH) is a subsidiary of German car manufacturer BMW AG established in May 1972 with just eight employees. BMW M, also known as M-Technik or just "M" (for Motorsport) was initially created to facilitate BMW's racing program, which was very successful in the 1960s and 1970s. The first racing project was BMW's 3.0 CSL; in the late 1970s the first modified street legal road cars were produced for the contracted racecar drivers as their personal vehicles. By 1988, the number of employees had risen to 400.


M3

Based on the 3 Series Coupe & Convertible, the M3 defined an entirely new market for BMW: a race ready production vehicle. Since its debut, the M3 is heralded in enthusiast circles, in large part due to its unique geometry and award winning powerplants. MY2008 marks the first time a Formula 1 inspired V8 will be offered, producing 420 hp (313 kW) that can reach 62 mph (100 km/h) in about 4.5 seconds. The newest platform will be available fall of 2007 in Europe, and second quarter of 2008 for the U.S. in Coupe (E92), and later the Cabriolet (E93), and Sedan (E90) variants.


M5

Based on the 5 Series, the M5 is the M division's 500 hp (373 kW) V10-powered version of the E60 5 series which makes 62 mph (100 km/h) in 4.7 seconds, impressive for a 4 door saloon car. The M5 was the first 4-door sedan to be considered a sports car, and at one time was the fastest production sedan ever produced. The M5 engine won the best engine in its category three years in a row.


M6

BMW M6 Coupe

The M6 is the M division's version of the E63. The M6 shares its drivetrain with the M5. The V10 produces 500 horsepower (373 kW) and 383lb/ft (520Nm) of Torque. The M6 made its way into the 2005 Geneva Motor Show. It is currently available in a Coupe and a Convertible version, however, it is understood that an M6 CSL version is to be released in the future. The vehicle only weighs around 1750kg, but that low amount assures that it reaches 100km/h (60 miles) in 4.6 seconds.

The vehicle is based on the 6 Series Coupe and Convertible, which were launched back in 2004.

The carbon fiber and other light materials are used in places like the bumpers and roof that are far from the centre of gravity and/or high up, so that they not only reduce the overall weight but improve the handling by reducing, respectively, the moment of inertia and the centre of mass height.

The previous generation was launched in 1983, but ended in 1989 with around 5,855 sold.


Z4 M

BMW Z4 M RoadsterMain articles: BMW M Coupe and BMW M Roadster
BMW's two-seater is powered by the same prize-winning 3.2-litre straight-six M engine also featured in the BMW M3(E46) and the BMW Z4 Roadster. The engine's performance figures are: 3,246 cc displacement, 343 bhp (256 kW) maximum output at an engine speed of 7,900 rpm, maximum engine speed of 8,000 rpm. No less than 80 per cent of the engine's maximum torque of 262 lb·ft (355 N·m) is available at the driver's request from just 2,000 rpm. Output per litre is 103 bhp (77 kW), giving the Z4 M Coupe a power-to-weight ratio of just 9.9 lb/bhp.
Acceleration to 60 mph (100 km/h) comes in 4.8 seconds and top speed is limited electronically to 155 mph (249 km/h).


Future

Z10/M10: A supercar to succeed the Z8, will likely compete with the Audi R8 and forthcoming Mercedes-Benz SLC; in late September 2007 BMW Group registered the M10 name. It is most likely to include the engine at the front and is most likely rear-wheel-drive. It is also most likely to feature the V10 found on the M5 and M6, but is expected to produce a good margin more power (550 HP). It is expected to weigh less then 3000 pounds.

BMW X1 : An SAV based on the BMW 1-Series to be positioned below the X3. Likely to be built at Magna Steyr in Austria, where X3 production will be phased out.

BMW PAS : the BMW Progressive Activity Sedan has been officially announced, yet it is unclear exactly what this will be conceptually. Sources say it is based on a 7 Series platform in a 5-seater hatchback-style car. Competing against Mercedes R-Class.

BMW F01/F02 7-Series : The F01 and F02 will be the replacement for the 7-Series for either 2008 or 2009. The F02 is the longer wheelbase version, which will get a more differentiated design than before. In addition there will be a "Baby Rolls-Royce" called a Rolls-Royce small sedan, based on this platform that will compete with the Bentley Continental series.

BMW CS: Possibly will revive the 8-series nameplate. A four-door grand tourer/coupé to be based on the BMW CS Concept, competing against the Mercedes-Benz CLS-Class, and Porsche Panamera.

BMW X5 M- a 432 bhp (322 kW) version of the current X5, may be powered by the V10 from the M5.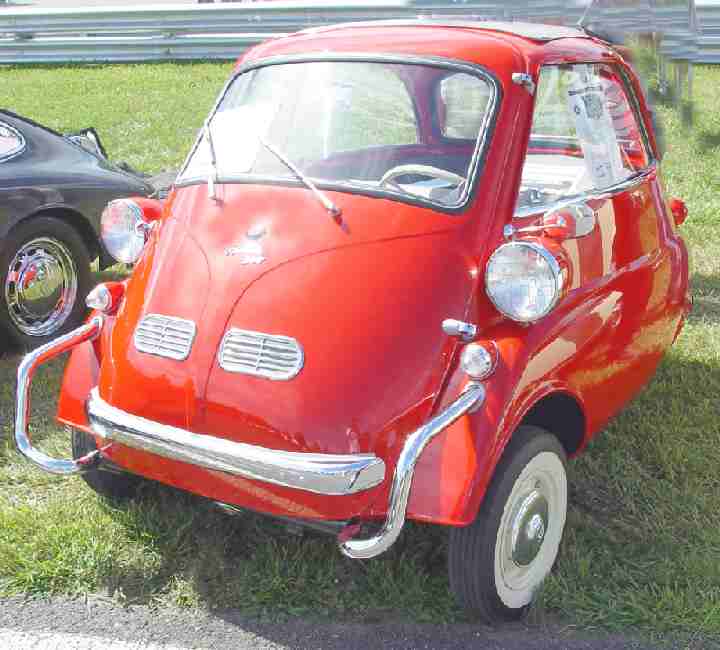 Prototypes

BMW CS Concept1990 BMW M8 Prototype A prototype designed as a "Ferrari killer". It was never put into production because of the lack of a market for such a car.

1999 Z9: a concept car designed by Adrian van Hooydonk marked a departure from BMW's traditional conservative style, and has caused some controversy among BMW enthusiasts. This later on, became the 6-series.

BMW 750hL showcased at Expo 2000 at the BMW World exhibit. As one of the world's first autos to use an engine propelled by liquid hydrogen, the 750hL primarily 1 emission: water. There are as of March 2007, as many as 100 750hL vehicles worldwide for testing & publicity purposes.

2001 xCoupe
2007 BMW CS Concept - BMW has expressed interest in producing the vehicle possibly under the 8 Series name.
2008 Concept 1 series tii


Out of production

M1: a 1970s mid-engine sports car, designed in conjunction with Lamborghini. As Lamborghini went into bankruptcy the production was shifted to the German Karmanwerke.
Z3: a 2-seater roadster.

M coupé and roadster: high-performance hard-top and soft-top versions of the Z3, very popular among enthusiasts. The Z3 was first shown on the big screen in the James Bond film GoldenEye, marking the first time Pierce Brosnan played Bond and the first time the MI6 agent's gadget-laden car wasn't British.

8 Series: a fast, high-technology coupé of the 1990s. Unconfirmed rumors suggest that this may be revived, see BMW CS Concept, to compete against the globally acclaimed Mercedes-Benz CLS-Class.

Z1: a late 1980s two-seater with innovative modular construction; only 8,000 were made. Best known for the feature of the vertically sliding doors.

Z8: a roadster with design based on the classic 507 roadster from the 1950s. Debuted in the James Bond film The World Is Not Enough, marking the last time Bond would drive a BMW. Only 5000 were built, the last 500 being a special edition built by Alpina but sold directly from BMW. This exciting halo car was built on an aluminium space frame design.


Classics

BMW 319/1 – built in 1935
BMW oldtmier
1936 BMW Model 319 4-Window Cabriolet
1958 BMW Model 507 RoadsterBMW made many cars over the years which have had great impact on the world of motoring.

3.0 CSL
M1
M3
M5
M6 (e24) First production line M car. Supercoupe capable of over 150 mph (240 km/h)
M Roadster
Dixi, 3/20, 303, 309, 315, 319, 320, 321, 325, 326, 327, 328, 329, 335
Isetta, 600, 700
501, 502, 503, 507
3200 CS, 2000 CS
New Sixes (2500/2800/Bavaria/2.5/2.8/3.0/3.3): Predecessor to today's 7 Series
New Class (1500/1502/1600/1800/1802/2000/2002): Predecessor to the 3 Series

Series Generations

Internally, BMW associates an "e-code" for each generation of a series ("E" stands for Entwicklung, German for development or evolution). These "chassis codes" only change to signify a major redesign of a series, or the introduction of a new series. BMW AG reported in September 2006 that BMW would switch to the letter "F" for their future models, beginning with the F01 7 Series replacement.

BMW E3 — (1968–1977)

2.5, 2.8, 3.0, 3.3 "New Six" sedans

BMW E9 — (1969–1975) 2800CS, 3.0CS, 3.0CSL "New Six" coupés
BMW E12 — (1974–1981) 5 Series
BMW E21 — (1976–1983) 3 Series
BMW E23 — (1977–1986) 7 Series
BMW E24 — (1976–1989) 6 Series
BMW E26 — (1978–1981) M1
BMW E28 — (1981–1987) 5 Series
BMW E30 — (1984–1991) 3 Series (1982-1983 E30 sold in Europe)
BMW E31 — (1989–1997) 8 Series
BMW E32 — (1986–1994) 7 Series
BMW E34 — (1988–1995) 5 Series
BMW E36 — (1992–1999) 3 Series
BMW E36/5 — (1995–1998) 3 Series Compact (US market known as "318ti")
BMW E36/7 — (1996-2002) Z3 Series Roadster
BMW E36/8 — (1998-2002) Z3 Series Coupé
BMW E38 — (1994–2001) 7 Series
BMW E39 — (1995–2003) 5 Series
BMW E46/5 — (2000–2004) 3 Series Compact
BMW E46/4 — (1998–2005) 3 Series Sedan
BMW E46/3 — (1999–2005) 3 Series Touring/Sports Wagon
BMW E46/2 — (1999–2006) 3 Series Coupé
BMW E46/C — (1999–2006) 3 Series Convertible
BMW E52 — (2000–2003) Z8
BMW E53 — (2000–2006) X5
BMW E60 — (2004–present) 5 Series
BMW E61 — (2004–2007) 5 Series Touring/Sports Wagon
BMW E63 — (2004–present) 6 Series coupé
BMW E64 — (2004–present) 6 Series convertible
BMW E65 — (2002–2007) 7 Series short wheelbase
BMW E66 — (2002–2007) 7 Series long wheelbase
BMW E67 — (2002–2007) 7 Series Protection
BMW E70 — (2007-present) X5
BMW E71 — (2008) X6
BMW E72 — (2008) X6 Hybrid
BMW E81 — (2007-present) 1 Series (3-door)
BMW E82 — (2007-present) 1 Series Coupé
BMW E82/2 — (2010) Z2
BMW E83 — (2004–present) X3
BMW E85 — (2003–present) Z4
BMW E86 — (2006–present) Z4 Coupé
BMW E87 — (2004–present) 1 Series (5-door)
BMW E88 — (2008) 1 Series Convertible
BMW E89 — (2009) Z4 roadster
BMW E90 — (2005–present) 3 Series
BMW E91 — (2005–present) 3 Series Touring/Sports Wagon
BMW E92 — (2006–present) 3 Series Coupé
BMW E93 — (2007–present) 3 Series Convertible
BMW E99 — (2009) V5 Progressive Activity Sedan (PAS)
BMW F01 — (2008) 7 Series
BMW F02 — (2009) 7 Series long wheelbase
BMW F03 — (2008) 7 Series Protection
BMW F04 — (2009) 8 Series Light Base
BMW F10 — (2010) 5 Series
BMW F11 — (2012) 5 Series Touring/Sports Wagon
BMW F12 — (2011) 6 Series Coupé
BMW F12C - (2011) X4 Series Convertible/Coupé
BMW F13 — (2011) 6 Series Convertible
BMW F25 — (2011) X3
BMW F30 — (2012) 3 Series Sedan

Recently BMW has become concerned with the rising number of their vehicles being imported from the United States into Canada and with the cooperation of the Registrar of Imported Vehicles (a private contractor to the federal Government of Canada) has placed impediments to the importation of BMW vehicles into Canada. All BMW dealers in the United States and Canada are now forbidden from printing vehicle history reports that list warrantee work that has been performed as well as the status of any safety recalls and supplying this document to the legal owners of the vehicles. Owners of BMW vehicles are considered to be a "third party" to information regarding the safety of BMW products. BMW now requires owners importing their cars into Canada to pay a fee of $300 (CDN) for a document guaranteeing the vehicle's admissibility into Canada and $500 (CDN) for a letter advising the Registrar of Imported Vehicles that there are no outstanding recalls on that vehicle.


Clubs

The BMW Car Club of America is an organization of BMW enthusiasts with chapters throughout the United States. The club runs a myriad of events, generally open to the public, to enjoy BMW vehicles in all their forms.

BMW Club Egypt is an organization of BMW owners in Egypt. The club offers automotive services, generally for members only, but additionally the club promotes the BMW vehicles and lifestyle.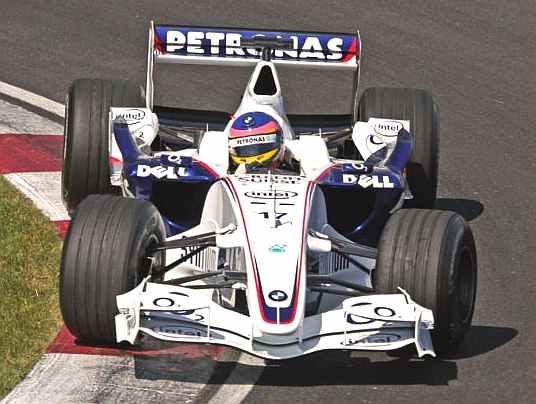 BMW Sauber F1 Team Logo

Motorsport

BMW first entered Formula One as a fully-fledged team in 2006.BMW has been engaged in motorsport activities since the dawn of the first BMW motorcycle. BMW has competed and won many of the most coveted and prestigious races and motoring events.


Sponsoring

Formula BMW - A Junior racing Formula category.
Kumho BMW Championship - A BMW-exclusive championship run in the United Kingdom.
Formula car
Formula One - BMW has won 19 grands prix as an engine builder and has not won as a team/constructor up to 2007.
BMW Sauber F1 Team - current BMW works Formula One team
WilliamsF1 - former Formula One partner, and designer of BMW's Le Mans winning sports car
Brabham - Former Formula One partner, winning the Drivers Championship in 1983
Arrows, used BMW engines from 1984 to 1986


Sports car

Le Mans 24 Hours - BMW won Le Mans in 1999 with the BMW V12 LMR designed by Williams Grand Prix Engineering. Also the Kokusai Kaihatsu Racing team won the 1995 24 Hours of Le Mans in a McLaren F1 GTR race car.

Nürburgring - BMW won the 24 Hours Nürburgring 18 times and the 1000km Nürburgring 2 times (1976 and 1981).

24 Hours of Daytona - BMW won 1 time (1976)
Spa 24 Hours - BMW won 21 times
McLaren F1 - Successful mid-1990s GT racing car with a BMW designed engine. It won BPR Global GT Series in 1995 and 1996 and the 24 Hours of Le Mans in 1995.


Touring car

BMW has a long and very successful history in this category, touring car racing.

European Touring Car Championship (ETCC) - Since 1968, BMW won 24 drivers' championships along with several manufacturers' and teams' titles.

World Touring Car Championship (WTCC) - BMW won all drivers' championship at present and three manufacturers' titles (1987, 2005, 2006 and 2007)

DTM (Deutsche Tourenwagen Meisterschaft) won the drivers' championships:
1988: Roberto Ravaglia, BMW M3
1987: Winfried Vogt, BMW M3
1983: Dieter Quester, BMW 635 CSI
1982: Umberto Grano, Helmut Kelleners, BMW 528i
1981: Umberto Grano, Helmut Kelleners, BMW 635 CSI
1980: Siegfried Müller Jr., Helmut Kelleners, BMW 320i
1979: Carlo Facetti, Martino Finotto, BMW 3.0 CSL
1978: Umberto Grano, BMW 3.0 CSL
1977: Dieter Quester, BMW 3.0 CSL
1976: Pierre Dieudonné, Jean Xhenceval, BMW 3.0 CSL
1975: Siegfried Müller, Alain Peltier, BMW 3.0 CSL
British Touring Car Championship (BTCC) - BMW won the drivers' championship in 1988, 1991, 1992 and 1993 and manufacturers' championship in 1991 and 1993.
Japanese Touring Car Championship (JTCC) - BMW (Schnitzer) flied from Europe to Japan, competed in the years and won the championship in 1995
Mille Miglia - BMW won Mille Miglia in 1940 in with a 328 Touring Coupé. Previously in 1938 the 328 sport car also obtained a class victory.


Rally

RAC Rally - The 328 sport car won this event in 1939.
Paris Dakar Rally - BMW motorcycles have won this event 6 times.


Culture

The term "beemer" started as an acronym for the abbreviation "BMW," adapted from the early-20th century British pronunciation of BSA (as /ˈbisə/ or /ˈbizə/), whose motorcycles were often racing BMWs. Over time, the term became closely associated with BMW motorcycles.

In the United States, the term "bimmer" was later coined to refer (exclusively) to BMW automobiles. As such, use of the word "beemer" to refer to a BMW automobile is frowned upon by some BMW enthusiasts,[4] because it is the term used for motorcycles. Although the distinction is completely arbitrary, to this day, the media, movies, and most people still use the term "beemer" to refer to the automobiles.

The initials BMW are pronounced /be m ve/ in German. The model series are referred to as "Dreier" ("Three-er" for 3 series), "Fünfer" ("Five-er" for the 5 series), "Sechser" ("Six-er" for the 6 series), "Siebener" ("Seven-er" for the 7 series).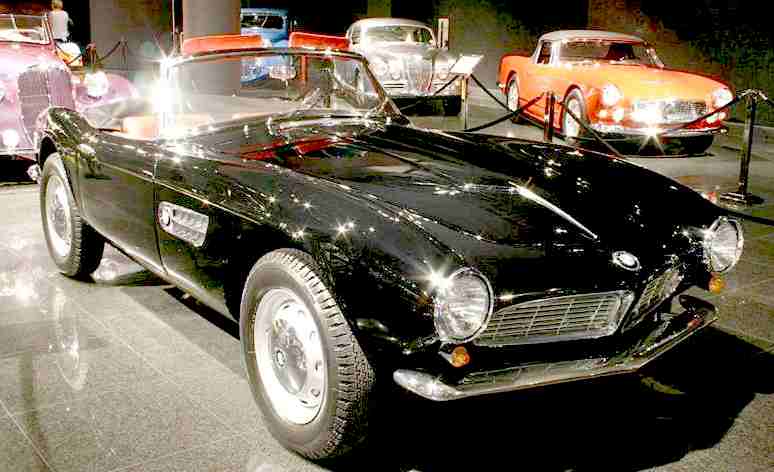 BMW sports car classic from 1958

Nomenclature

BMWs follow a certain nomenclature in the naming many of their vehicles; a 3 digit number is followed by 1 or 2 letters. The first number is the series number. The next two numbers traditionally represent the engine displacement in cubic centimeters divided by 100.

The system of letters is as follows:

d = diesel
i = fuel-injected
x = all wheel drive
L = long wheel base
C = coupe (no longer used)
T = touring (wagon/estate)
t = hatchback
g = biogas
s = sport package (Typically includes front sports seats, spoiler, aerodynamic body kit, upgraded rims, etc.)
e = eta (essentially "economy" in English)
es = eta sport

For example, a BMW 760Li is a fuel-injected 7 Series with a long wheel base and 6.0 litres of displacement.

However, there are exceptions. The 2008 BMW 328i is a 3 Series that has a 3.0 litre engine. The 2007 BMW 335i has that same 3.0 litre engine, however it is twin-turbocharged and not identified in the nomenclature.

The 'M' - for Motorsport - identifies the high-performance M vehicle of a particular series (e.g. M3, M5, M6, etc). For example, the M6 is the highest performing vehicle in the 6 Series lineup. Although 'M' cars should be separated into their respective series platforms, it is very common to see 'M' cars grouped together as its own series.

The 'Z' identifies a two seater roadster (e.g. Z1, Z3, Z4, etc). M varients of Z models have the M as a suffix or prefix, depending on country of sale. (e.g. 'Z4 M' / 'M Roadster' in Canada)

A capitalized 'X' may supersede the series number (e.g. X3 and X5) which refers to the Sports Activity Vehicle (SAV) lineup, all of which feature BMW's xDrive.

Both X & Z vehicles will have 'i' or 'si' follow the engine displacement denoted in litres. The 'si' (e.g. X3 3.0si) identifies the vehicle as being equipped with the 'sport package' & is 'fuel-injected'. X & Z vehicles only denoting 'i' (e.g. X3 3.0i) identifies the vehicle as 'fuel-injected' and no sport package.

Also, Station-wagons/Estates are traditionally given the "Touring" or "Sport Wagon" tagline, depending on country of sale.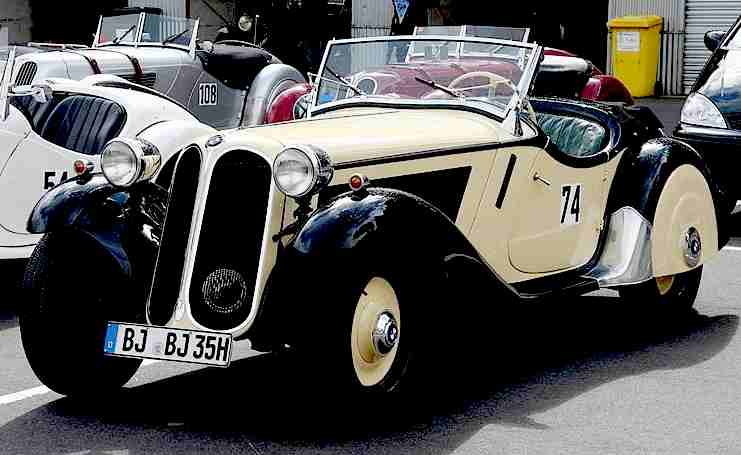 Community

BMW logo sign in Düsseldorf BMW has always had a very tight and loyal community following. In the summer of 2001, BMW even went as far as starting the BMW Films website, showcasing some sporty models being driven to extremes. These videos are very popular within the enthusiast community and have opened the eyes of many owners looking for a sporty/fun car. However, even with all this success, on October 21st, 2005, the BMW Films were taken offline.

Every year since 1999, BMW enthusiasts have met up in Santa Barbara, CA to attend Bimmerfest. Perhaps one of the largest brand-specific gatherings in the U.S. Over 3000 people attended in 2006, and there were over 1000 cars present. In 2007, the event was held on May 5.


Overseas subsidiaries

South Africa

BMWs have been assembled in South Africa since 1970, when Praetor Monteerders' plant was opened in Rosslyn, near Pretoria. BMW acquired the company in 1973, which became BMW South Africa, the first wholly-owned subsidiary of BMW to be established outside Germany. Three unique models that BMW Motorsport created for the South African market were the BMW 333i, which added a 6-cylinder 3.2 litre engine to the BMW 3 Series. the BMW 325is which was powered by an Alpina derived 2.7 litre engine, and the E23 M745i, which used the engine from the BMW M1.

Unlike US manufacturers, such as Ford and GM, which divested from the country in the 1980s, BMW retained full ownership of its operations in South Africa.

Following the end of apartheid in 1994, and the lowering of import tariffs, BMW South Africa ended local production of the 5-Series and 7-Series, in order to concentrate on production of the 3-Series for the export market. South African-built BMWs are now exported to right hand drive markets including Japan, Australia, New Zealand, the United Kingdom, Singapore, and Hong Kong, as well as Sub-Saharan Africa. Since 1997, BMW South Africa has produced vehicles in left hand drive for export to Taiwan, the United States and Iran, as well as South America. Very recently, in year 2006 BMW opened their shops in India.


Related companies

Automobilwerk Eisenach
Isetta
Glas
Rolls-Royce Motor Cars Limited
Rover: owned by BMW from 1994 to 2000, BMW retained the Mini after selling off the rest of the company (see MG Rover Group).
Land Rover: sold to Ford; the current Range Rover was developed during BMW's ownership of the company and until recently was powered by their 4.4 L V8 petrol (gasoline) engine and BMW 3.0 L I6 diesel engine
MINI: a small hatchback; inspired by the original Mini, which was the British competitor to the Volkswagen Beetle.
Wiesmann: A company making sporty 2-seater roadsters and coupés for which BMW supplies the engine and transmission components.
Bavaria Wirtschaftsagentur GmbH: BMW Group subsidiary that offers insurance services.
AC Schnitzer: A tuning company specialising in BMW vehicles.
Alpina: A Motor Manufacturer in its own right, who creates vehicles based on BMW cars.
Breyton: A tuning manufacturer specialising in BMW cars.
G-Power: A tuning company specialising in BMW vehicles.
Hartge: A tuning company specialising in BMW, MINI and Range Rover cars.
Hamann Motorsport: A Motor Styling and Tuning Specialist who creates vehicles based on BMW cars.
MK-Motorsport: A tuning company specialising in BMW cars.

BMW X6 concept car 4x4
BMW | 1 SERIES | 3 SERIES | 5 SERIES | 6 SERIES | 7 SERIES | i3 | Z4 | X3 | X5 | X6
LINKS and REFERENCE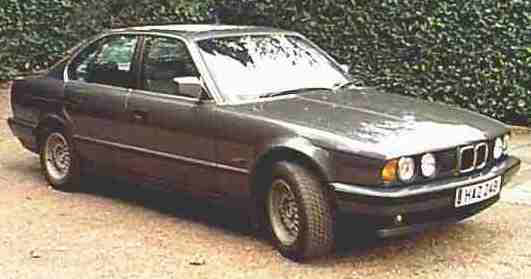 BMW 525i - solid reliable stylish motoring, but a bit thirsty - times change
Some lovely BMW i3 and i8 concept car carvings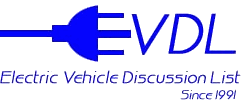 LINKS:
http://www.bmw.co.uk/
Please click on the links above to find out about these famous automotive makers. If your company is not included and you would like to be listed, please let us know.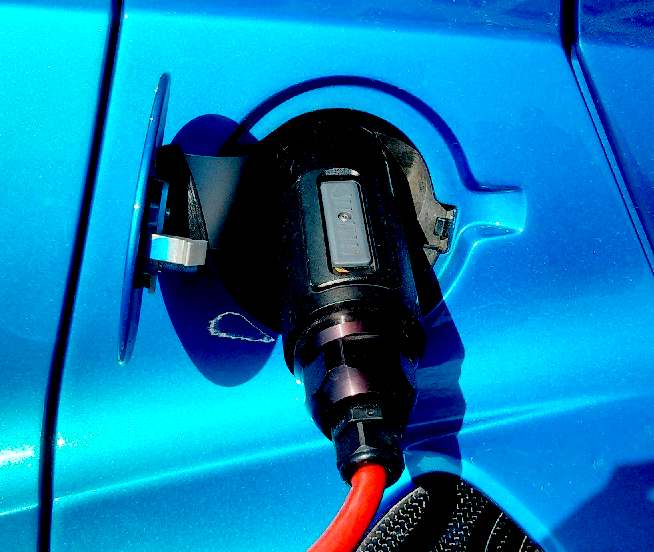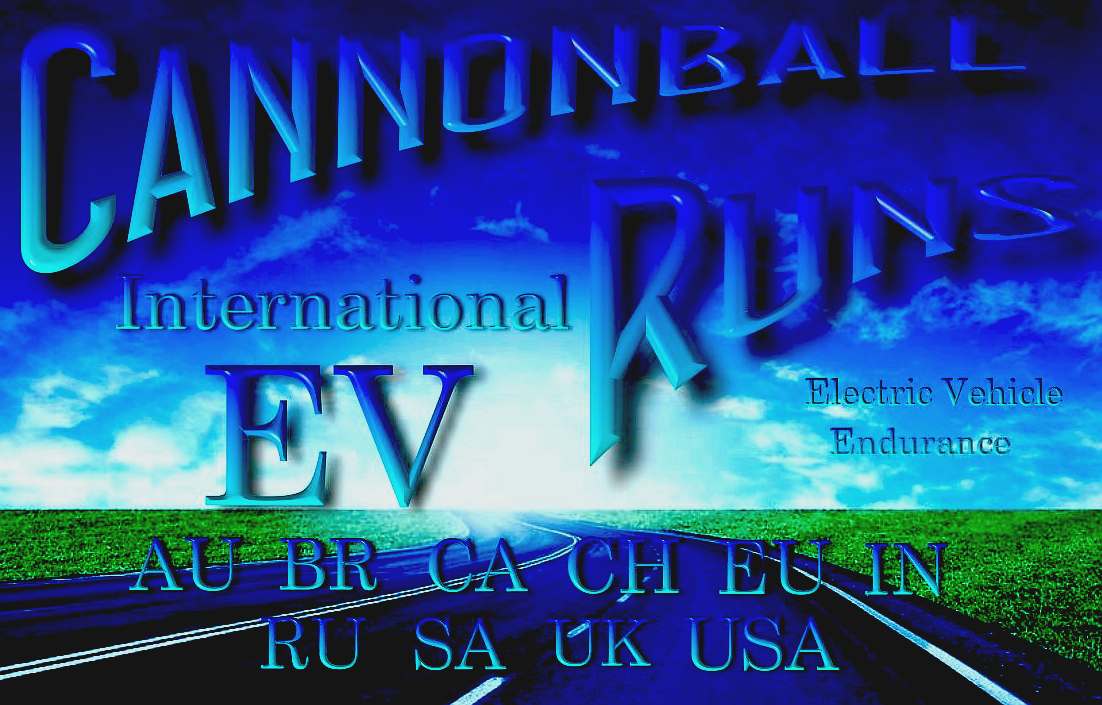 The international cannonball run series rules