Toyota Motor Corporation ( Toyota Jidōsha Kabushiki-gaisha), or Toyota is a Japanese multinational corporation. For the first quarter of 2007, together with its half-owned subsidiary Daihatsu, the company reported as the world's largest automaker. It is the world's third largest auto company by sales revenue with $179 billion and the world's eighth largest company by revenue. It also provides financial services through its division Toyota Financial Services and also creates robots besides automobiles. With high health care costs for U.S manufacturers, Toyota is the world's most profitable automaker with net income of $11 billion in 2006. The company is part of Toyota Group and is its largest company. Toyota owns and operates Toyota, Lexus, Scion, and parts of Daihatsu brands, divisions and companies. Toyota, in the year 2006, had large enough profits to buy out almost any large motor company including GMC.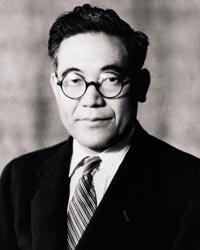 Toyota founder - Kiichiro Toyoda
The company was founded in 1937 by Kiichiro Toyoda as a spin-off from his father's company Toyota Industries to create automobiles. It created, first as a department of Toyota Industries, its first product Type A engine in 1934 and its first passenger car in 1936. It is headquartered in Toyota, Aichi, Japan.
Toyota together with its half owned subsidiary Daihatsu had the top sales for the first quarter of 2007 selling 2.35 million vehicles. Toyota plans to produce 9.4 million vehicles in 2007.
Founding and earlier history
The Toyota Motor Corporation was founded in September 1933 when Toyoda Automatic Loom created a new division devoted to the production of automobiles under the direction of the founder's son, Kiichiro Toyoda. Soon thereafter, the division produced its first Type A Engine in 1934, which was used in the first Model A1 passenger car in May 1935 and the G1 truck in August 1935. Production of the Model AA passenger car started in 1936. Early vehicles bear a striking resemblance to the Dodge Power Wagon and Chevrolet, with some parts actually interchanging with their American originals. The company was founded in 1933 by Kiichiro Toyoda as an offshoot of Toyoda Automatic Loom Company, under the encouragement of the Japanese government, which needed domestic vehicle production partly due to the worldwide money shortage and partly due to the war with China.
Although the Toyota Group is best known today for its cars, it is still in the textile business and still makes automatic looms, which are now fully computerized, and electric sewing machines which are available worldwide.
Toyota Motor Co. was established as an independent company in 1937. Although the founding family name is Toyoda, the company name was changed in order to signify the separation of the founders' work life from home life, to simplify the pronunciation, and to give the company a happy beginning. Toyota is considered luckier than Toyoda in Japan, where eight is regarded as a lucky number, and eight is the number of strokes it takes to write Toyota in Katakana. In Chinese, the company and its vehicles are still referred to by the equivalent characters, with Chinese reading. Both transliterations are correct.
During the Pacific War (World War II) the company was dedicated to truck production for the Imperial Japanese Army. Because of severe shortages in Japan, military trucks were kept as simple as possible. For example, the trucks had only one headlight on the center of the hood. The war ended shortly before a scheduled Allied bombing run on the Toyota factories in Aichi.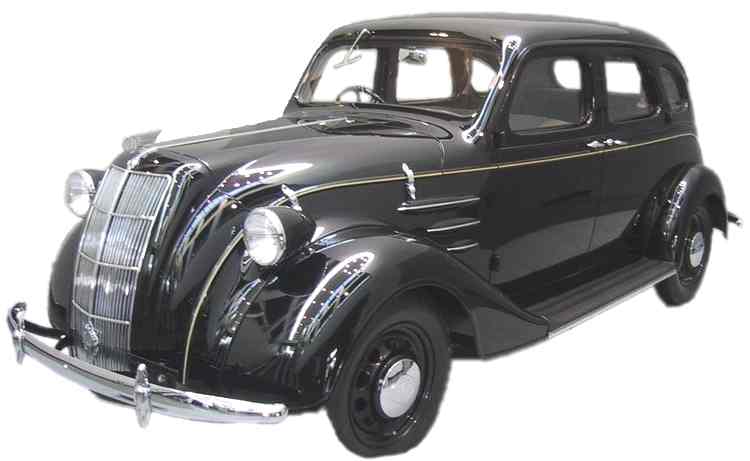 Replica of the Toyota Model AA, the first production model of Toyota in 1936
After the war, commercial passenger car production started in 1947 with the model SA. The quality and production principles on which Toyota is based originated in an education program from the United States Army in the postwar era. In 1950 a separate sales company, Toyota Motor Sales Co., was established (which lasted until July 1982). In April 1956 the Toyopet dealer chain was established. The following year, the Toyota Crown became the first Japanese car to be exported to the United States and Toyota's American and Brazilian divisions, Toyota Motor Sales Inc. and Toyota do Brazil S.A., were also established. Toyota began to expand in the 1960s with a new research and development facility, a presence in Thailand was established, the 10 millionth model was produced, a Deming Prize and partnerships with Hino Motors and Daihatsu were also established. By the end of the decade, Toyota had established a worldwide presence, as the company had exported its one-millionth unit.
Later history and management
The company was awarded its first Japanese Quality Control Award at the start 1970s and began participating in a wide variety of Motorsports. Due to the 1973 oil crisis consumers in the lucrative U.S. market began turning to small cars with better fuel economy. American car manufacturers had considered small economy cars to be an "entry level" product, and their small vehicles were not made to a high level of quality in order to keep the price low. Japanese customers, however, had a long-standing tradition of demanding small fuel-efficient cars that were manufactured to a high level of quality. Because of this, companies like Toyota, Honda, and Nissan established a strong and growing presence in North America in the 1970s.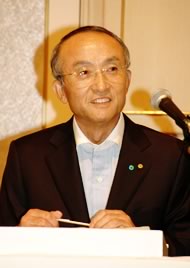 Toyota president and CEO Katsuaki Watanabe
In 1982, the Toyota Motor Company and Toyota Motor Sales merged into one company, the Toyota Motor Corporation. Two years later, Toyota joined NUMMI, the New United Motor Manufacturing, Inc. Toyota then started to establish new brands at the end of the 1980s, with the launch of their luxury division Lexus in 1989.
In the 1990s Toyota began to branch out from producing mostly compact cars by adding many larger and more luxurious vehicles to its lineup, including a full sized pickup, the T100 (and later the Toyota Tundra), several lines of SUVs, a sport version of the Camry, known as the Camry Solara, and the Scion brand, a group of several affordable, yet sporty, automobiles targeted specifically to young adults. Toyota also began production of the world's best selling hybrid car, the Toyota Prius, in 1997.
With a major presence with Europe, due to the success of Toyota Team Europe, the corporation decided to set up TMME, Toyota Motor Europe Marketing & Engineering, to help market vehicles in the continent. Two years later, Toyota set up a base in the United Kingdom, TMUK, as the company's cars had become very popular among British drivers. Bases in Indiana, Virginia and Tianjin were also set up. In 1999, the company decided to list itself on the New York and London Stock Exchange.
In 2001, Toyota's Toyo Trust and Banking merged to form the UFJ, United Financials of Japan, which was accused of corruption by the Japan's government for making bad loans to alleged Yakuza crime syndicates with executives accused of blocking Financial Service Agency inspections. The UFJ was listed among Fortune Magazine's largest money-losing corporations in the world, with Toyota's chairman serving as a director. At the time, the UFJ was one of the largest shareholders of Toyota. As a result of Japan's banking crisis, the UFJ was merged again to become Mitsubishi UFJ Financial Group. It has since merged to form the Mitsubishi UFJ Finanical Group.
In 2002, Toyota managed to enter a Formula One works team and establish joint ventures with French motoring companies Citroën and Peugeot, a year after Toyota started producing cars in France.
On December 7, 2004, a U.S. press release was issued stating that Toyota would be offering Sirius Satellite Radios. However, as late as Jan. 27, 2007, Sirius Satellite Radio and XM Satellite radio kits were not available for Toyota factory radios. While the press release enumerated nine models, only limited availability existed at the dealer level in the U.S. Major Lexus dealerships have been offering satellite radio kits for Lexus vehicles since 2005, in addition to factory-equipped satellite radio models.
In 2007, Toyota released an update of its full size truck, the Toyota Tundra, produced in two American factories, one in Texas and one in Indiana, and "Motor Trend" named the 2007 Toyota Camry "Car of the Year" for 2007. It also began the construction of a new factory to build the Toyota Highlander in Mississippi.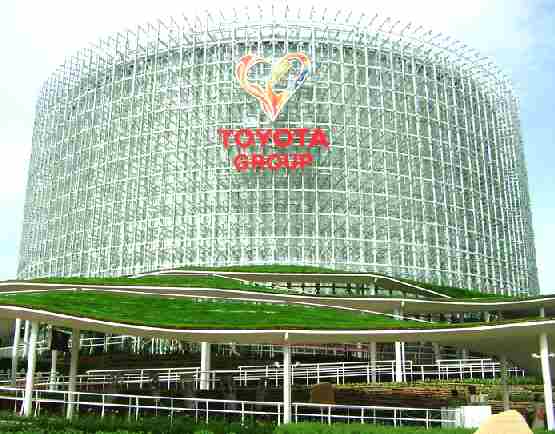 Toyota Pavilion at the Expo in Aichi
Toyota at present day
The headquarters of Toyota are located in Toyota, Aichi, Japan. Its subsidiary, Toyota Financial Services sells financing and participates in other lines of business. Toyota brands include Scion and Lexus and the corporation is part of the Toyota Group. Toyota also owns majority stakes in Daihatsu and Hino, and 8.7% of Fuji Heavy Industries, which manufactures Subaru vehicles. They also acquired 5.9% of Isuzu Motors Ltd. on November 7, 2006 and will be introducing Isuzu diesel technology into their products.
Toyota has introduced new technologies including the first hybrid gas-electric vehicle, Advanced Parking Guidance System (automatic parking), a four-speed electronically controlled automatic with buttons for power and economy shifting, and an eight-speed automatic transmission. Toyota, and Toyota-produced Lexus and Scion automobiles, consistently rank at the top in certain quality and reliability surveys, primarily J.D. Power and Consumer Reports.
In 2005, Toyota, combined with its half-owned subsidiary Daihatsu Motor Company, produced 8.54 million vehicles, about 500,000 fewer than the number produced by GM that year. Toyota has a large market share in the United States, but a small market share in Europe. Its also sells vehicles in Africa and is a market leader in Australia. Due to its Daihatsu subsidiary it has significant market shares in several fast-growing Southeast Asian countries.
In the Fortune Global 500, Toyota Motor is the 8th largest company in the world. Since the recession of 2001, it has gained market share in the United States. Toyota's market share struggles in Europe where its Lexus brand has three tenths of one percent market share.
In the first three months of 2007, Toyota together with its half-owned subsidiary Daihatsu reported number one sales of 2.348 million units. Toyota's brand sales had risen 9.2% largely on demand for Corolla and Camry sedans. The difference in performance was largely attributed to surging demand for fuel-efficient vehicles. In November 2006, Toyota Motor Manufacturing Texas added a facility in San Antonio. Toyota has experienced quality problems and was reprimanded by the government in Japan for its recall practices.

Toyota logo
Worldwide presence
Toyota has factories all over the world, manufacturing or assembling vehicles for local markets, including the Corolla. Toyota has manufacturing or assembly plants in Japan, Australia, Canada, Indonesia, Poland, South Africa, Turkey, the United Kingdom, the United States, France, Brazil, and more recently Pakistan, India, Argentina, Czech Republic, Mexico, Malaysia, Thailand, China, Vietnam, Venezuela, and the Philippines.
The first Toyota built outside of Japan was a Land Cruiser FJ-251, built in São Paulo, Brazil in May 1959.
Toyota invests a great amount of research into cleaner-burning vehicles such as the Toyota Prius, based on technology such as the Hybrid Synergy Drive. In 2002, Toyota successfully road-tested a new version of the RAV4 which ran on a Hydrogen fuel cell. Scientific American called the company its Business Leader of the Year in 2003 for commercializing an affordable hybrid car.
Toyota Motor North America
Toyota has large presence in the United States with five major assembly plants in Huntsville, Alabama, Georgetown, Kentucky, Princeton, Indiana, San Antonio, Texas and Buffalo, West Virginia and its North American headquarters in New York and/or California. North America is a major automobile market for Toyota. In these assembly plants Toyota Camry and the 2007 Toyota Tundra among others are manufactured. It uses number of catchphrases and/or slogan in its American TV commercials such as It's time to move forward, Smart way to keep moving forward, or Moving forward. Toyota and its brand Lexus vehicles consistently rank well in terms of performance and quality in North American automobile magazines, awards and tests.
Products and brands
Toyota
The first Toyota brand was the eponymous Toyota, which remains the best selling of Toyota's brands. Sales of Toyota branded vehicles have given Toyota Motor Corporation a 45% domestic market share in Japan, higher than any other manufacturer. In North America, Toyota has achieved success with a full lineup of cars, trucks, SUVs, and other vehicles. In particular, the Toyota Camry has been America's best-selling car for the past five years, and is assembled in Kentucky; the Toyota Corolla has been the second best-selling car for 2006. These vehicles have helped drive sales of the Toyota brand in the United States. Total U.S. sales reached 2,220,090 units in 2006, making the brand third overall in U.S. sales for the first time in history.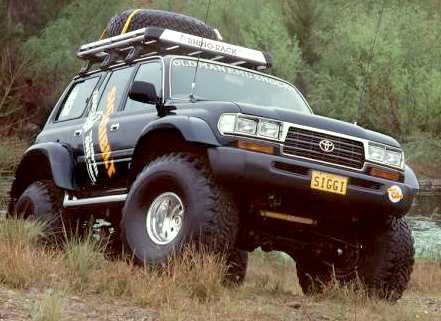 Toyota Land Cruiser in the bush
Lexus
Lexus is Toyota's brand name for its luxury vehicle division. In 1989, Lexus was launched in the U.S., the culmination of a clandestine seven year initiative to build world-class luxury vehicles. Initially introduced with two vehicles, the LS flagship and the ES sedan, Lexus' full lineup now includes models ranging from the convertible SC to luxury SUVs such as the best selling RX series. Lexus also produces hybrid vehicles featuring Lexus Hybrid Drive. Lexus is now sold in over forty countries worldwide; the division launched in Europe and Oceania in 1990, and became the first Japanese luxury marque to launch in Japan in 2005. Today, Lexus is the best-selling luxury marque in the U.S., with over 21% luxury market and 1.9% total market share. Lexus has 0.3% total market share in Europe, with recent high growth rates, and is a sales leader in several Asian markets. Globally, Lexus is the fourth largest luxury marque by volume.
Since its debut, Lexus has developed a reputation for reliability and quality customer service. Consumer ratings firm J.D. Power and Associates has named Lexus the most reliable automotive brand for twelve consecutive years. Consumer Reports in 2006 also named Lexus the most reliable brand in its survey of over one million vehicles, and Lexus customers frequently give their dealerships high ratings for customer service. Although Lexus' financial results are not publicly reported, analysts suggest that the Lexus Division is the most profitable business unit of the Toyota Motor Corporation. In 2005, Lexus was organizationally separated from Toyota, gaining its own board of directors and dedicated design, engineering, and manufacturing centers.
Scion
Scion is a United States, Guam, and Puerto Rico-only division of Toyota founded in 2003. In 2003, Toyota brought two of its popular cars from Japan (including the bB) to America, and created a new badge, called Scion, meaning a descendant or heir. The xA (known in Japan as the Toyota ist) and xB (known in Japan as the Toyota bB) are powered by a 1.5L DOHC I4 engine. A third model, the Scion tC, was introduced in 2004 and uses a 2.4 liter engine; it was designed for the North American market as a Toyota Celica replacement, using the four-cylinder engine and transmissions from the Toyota Camry, and the basic platform of the European Toyota Avensis.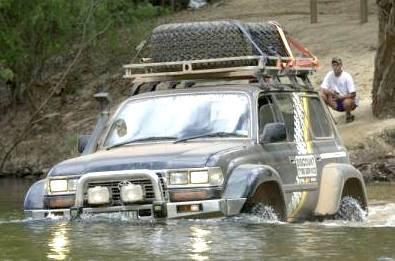 Toyota Land Cruiser crossing deep river
Current Toyota models
Toyota Brand
4Runner (mid-size SUV)

Allion (lower mid-size sedan)

Alphard (full-size MPV)

Aurion (full-size sedan)

Auris (compact car)

Avalon (full-size sedan)

Avensis (mid-size sedan and wagon)

Aygo (city car)

Caldina (mid-size wagon)

Camry (upper mid-size sedan)

Century (full-size upper luxury sedan)

Coaster (mini bus)

Corolla/Altis (compact car)

Crown (full-size luxury sedan)

Dyna (commercial light truck)

Estima/Tarago/Previa (minivan)

FJ Cruiser (compact 4x4)

Hiace (commuter and commercial van)

Highlander (mid-size crossover SUV)

Hilux/Tacoma (mid-size pickup)

Ipsum (mid-size MPV)

Isis (Large MPV)

Land Cruiser (full-size 4x4)

Mark X (mid-size sporty sedan)

Matrix (compact crossover wagon)

Prius (hatchback - hybrid flagship)

Probox (small wagon)

Progres (mid-size luxury sedan)

RAV4 (compact crossover SUV)

Sequoia (full-size SUV)

Sienna (minivan, N. America)

Sienta (compact MPV)

Solara (Camry-based coupé)

Soluna/Vios (subcompact car, S.E. Asia)

Tundra (full-size pickup, N. America)

Wish (compact MPV)

Yaris (subcompact car)
IMV Vehicle Lineup (mainly for S.E. Asia
Fortuner (mid-size SUV)

Hilux (mid-size pickup)

Innova (minivan)

Avanza (mini MPV)
Lexus brand
IS (compact luxury sedan)

ES (mid-size luxury sedan)

GS (mid-size luxury sedan)

LS (full-size luxury sedan)

SC (personal luxury coupé convertible)

GX (mid-size luxury SUV)

LX (full-size luxury SUV)

RX (mid-size luxury crossover)
Scion brand
Historic models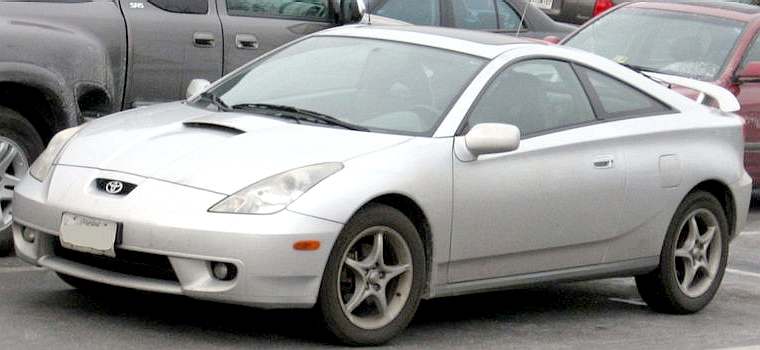 Toyota Celica GT 2002 model
Toyota Brand
2000GT (1965-1970)

Celica (October 1970 - April 2006 in Japan, 1971-2005 for export)

Starlet (1973-1999)

Corona and Carina (succeeded by Premio, Allion, Avensis)

Mark II (succeeded by Mark X), Chaser and Cresta

Cressida (succeeded by Avalon)

Echo (2000-2005) (now called Yaris in the U.S.)

Supra

Toyota Town Ace/Lite Ace (passenger van models are succeeded by Noah / Voxy)

Paseo / Cynos (1991-1998)

Toyota Tercel (1978-1999)

Toyota MR2

Revo/Kijang/Unser/Z-Ace (succeeded by Innova, marketed as Kijang Innova in Indonesia)

Qualis
Hybrid technology
The Prius has become the top selling hybrid car in America. Toyota now has three hybrid vehicles in its lineup (Prius, Highlander, & Camry). The popular minivan Toyota Sienna is supposed to join the hybrid lineup by 2010, and by 2030 Toyota plans to have its entire lineup of cars, trucks, and SUVs to have a Hybrid Synergy Drive option.
Lexus also has their own hybrid lineup, consisting of the GS 450h, RX 400h, and soon in 2007, the LS 600h L.
Guiding Principles at Toyota
1. Honor the language and spirit of the law of every nation and undertake open and fair corporate activities to be a good corporate citizen of the world.
2. Respect the culture and customs of every nation and contribute to economic and social development through corporate activities in the communities.
3. Dedicate ourselves to providing clean and safe products and to enhancing the quality of life everywhere through all our activities.
4. Create and develop advanced technologies and provide outstanding products and services that fulfill the needs of customers worldwide.
5. Foster a corporate culture that enhances individual creativity and teamwork value, while honoring mutual trust and respect between labor and management.
6. Pursue growth in harmony with the global community through innovative management.
7. Work with business partners in research and creation to achieve stable, long-term growth and mutual benefits, while keeping ourselves open to new partnerships.
Toyota in motorsport
Rallying
Toyota's presence in Motorsport can be traced by to the early 1970s, when Swedish driver, Ove Andersson drove for Toyota during the RAC Rally of Great Britain. During the winter of 1972, Andersson formed Andersson Motorsport in his native country and began running a Rallying program for Toyota. The move turned out to be an impractical one and three years after establishing his team, Andersson moved its base from Sweden to Brussels in Belgium. From there the team was renamed, Toyota Team Europe.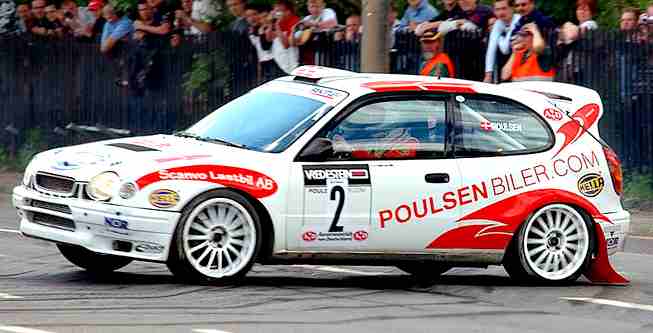 Despite Toyota's exit from rallying in 1999, the company's cars, namely the Celica and Corolla (pictured), are still a popular choice among rally drivers
Toyota's first win in motorsport came at the 1975 1000 Lakes Rally of Finland, when Hannu Mikkola and his co-driver, Atso Aho, won the event in a Toyota Corolla. Three years later, the team moved to a new base in Cologne, in western Germany. It wasn't until the 1980s when Toyota began to gain notable success, especially in the African rallies, where Bjorn Waldegaard and Juha Kankkunen were usually top of the time sheets. The team then set-up its all purpose Motorsport facility in Cologne three years later, which is still used today.
In 1990, Carlos Sainz gave Toyota its first ever Championship win in a Four-wheel drive Toyota Celica and repeated the feat 2 years later. In 1993, Toyota bought the team from Andersson and named it Toyota Motorsport GmbH, in the same year Juha Kankkunen won the WRC title and Toyota won the Constructors' Championship, becoming the first Japanese Manufacturer to do so. This success was repeated a year earlier, but this time it was Frenchman Didier Auriol who was responsible.
1995 proved to be a difficult year for Toyota, as the team were caught using illegal turbo chargers and were given a 12-month ban by the FIA. The company returned to rallying in 1996, but its competition, notably Mitsubishi and Subaru, had a clearer advantage over their cars.
1997 would prove to be another uncompetitive year for Toyota, with the team still behind its fellow Japanese manufacturers, Subaru and Mitsubishi, and the Carlos Sainz the highest place Toyota driver in the Drivers' Championship in third place, 11 points behind champion Tommi Mäkinen. Sainz came within 1 point of the 1998 title, when his Corolla suffered an engine failure on the final stage of the final rally in Great Britain, while Toyota were within 6 points of the Constructors' Championship, many people place the blame on Toyota's choice to run Belgian Freddy Loix as one of the team's points scoring drivers at the Rally of Spain instead of regular driver Didier Auriol, because Auriol managed to win the event ahead of second-placed Loix.
Toyota decided to quit running in the WRC at the end of the 1999 season, quoting that "all that can be achieved has been achieved". The team managed to secure the Manufacturers' title in their last season, 18 points ahead of their nearest rival Subaru, while Didier Auriol came within 10 points of the Drivers' title.
Toyota were replaced the following season by Peugeot, who went onto win the Manufacturers' title in succession from 2000-2002.
In March 2007, Toyota debuted its Super 2000 Corolla rally car, which will compete in the Australian Rally Championship.
Champ Car
Toyota raced in CART from 1996 to 2002. Its early years in the series were marked by struggles. Toyota-powered cars, campaigned by the All-American Racers and PPI Motorsports teams, languished at the back of the grid, slow and unreliable. Toyota didn't even lead a lap until Alex Barron led 12 laps at the Vancouver street circuit in September 1998.
Toyota started seeing its fortunes improve in 1999 as Scott Pruett took pole position at the final race of the season at the California Speedway. The next year, Juan Pablo Montoya gave Toyota its first-ever CART win at the Milwaukee Mile, the first of 5 races won by Toyota-powered cars that year. Toyota-powered cars won six races in 2001. In 2002, Toyota's final year in the championship, it turned things around completely from its bleak debut. Toyota won the Manufacturer's championship, 10 races, and Cristiano Da Matta rode Toyota power to the driver's championship, with Bruno Junqueira, also Toyota-powered car, finished second.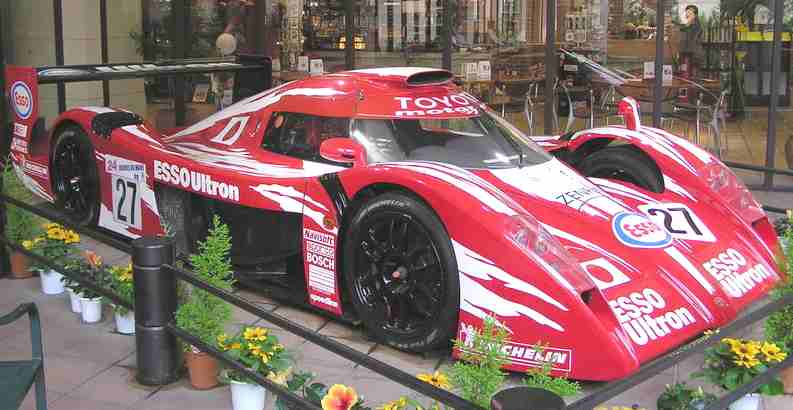 Toyota GT-One raced in 1998 and 1999 24 hours of Le Mans
Ex-Formula One drivers: Thierry Boutsen, Martin Brundle and Ukyo Katayama
drove the GT-One in both events
Le Mans
Toyota started recruiting staff for their Le Mans efforts in 1997, with an aim to start a Formula One team. Toyota's efforts for a Le Mans car was the Toyota GT-One, which was driven by ex-Formula One drivers: Martin Brundle; Thierry Boutsen and Ukyo Katayama. The 3.6 litre twin-turbo GT-Ones were beaten in 1998 and 1999 but came close to victory, breaking down late in the race. The GT-One held the lap record for the Sarthe Circuit up until 2006 however.
Indy Racing League
Toyota moved to the Indy Racing League in 2003 and provided factory support to former CART teams Penske Racing and Chip Ganassi Racing as well as other teams. They were one of the top engines in their first year, winning the Indianapolis 500 with Gil de Ferran and the championship with Scott Dixon. However, 2004 and 2005 were not so kind and wins were few and far between. Following the 2005 season, the Penske and Ganassi teams announced they would switch engines to Honda, leaving Toyota with no championship contenders. As a result of this and their intent to re-allocate resources for NASCAR, Toyota announced they would leave the series during the off-season.
NASCAR
Toyota races the Toyota Tundra in the NASCAR Craftsman Truck Series and the Toyota Camry in the NASCAR Nextel Cup Series. Toyota will support three teams in the Nextel Cup Series and Busch Series with the Camry at the start of the 2007 season. There are 3 teams with 8 cars total:
Michael Waltrip Racing
Michael Waltrip - #55 NAPA Camry

Dale Jarrett - #44 UPS Camry

David Reutimann - #00 Burger King/Dominos Camry
Bill Davis Racing
Dave Blaney - #22 Caterpillar Camry

Jeremy Mayfield - #36 360 OTC Camry

Mike Skinner - #23 Camry (R&D Car)
Brian Vickers - #83 Red Bull Camry

A.J. Allmendinger - #84 Red Bull Camry
Toyota EV at Nurburgring
Formula One (F1)
In 2002 Toyota started racing in Formula One with Toyota Team Europe, based in Cologne, Germany. Despite a huge investment, the team's performances have been considered average by fans and pundits alike.
In 2004, designer Mike Gascoyne was hired to help turn things around (as he had done previously at Jordan Grand Prix and Renault F1). However, due to a lack of results and a difference in opinion with the management about how the team should progress he was released from his contact early midway through the 2006 season; by 2005 the team had advanced from the midfield to infrequently challenging for the top positions. Jarno Trulli achieved two second places and one third place in the first five races of the season, helping the team to retain second position in the Constructors Championship for several races before finishing 4th in the constructors championship. Jarno Trulli and Ralf Schumacher are the team's current drivers.
For 2007, Toyota will also be supplying engines to the Williams team.
Toyota economy
Toyota core segment in the market
Hybrids are viewed by some automakers as a core segment of the future vehicle market .
TRD
Toyota Racing Development was brought about to help develop true high performance racing parts for many Toyota vehicles. TRD has often had much success with their aftermarket tuning parts, as well as designing technology for vehicles used in all forms of racing.
Shareholders
Toyota is publicly traded on the Tokyo Stock Exchange under number 7203 (first section). Also on NYSE under NYSE: TM.
Holdings
Toyota reports on its consolidated financial statements 540 consolidated subsidiaries and 226 affiliates.
Toyota Motor North America (100% - 2004)

Toyota Tsusho - Trading company for the Toyota Group

Toyota Canada Inc. owned via Toyota Motor North America

Daihatsu Motor Company (51.2% - March 31, 2006)

Hino Motors (50.1% - March 31, 2006)

DENSO (24.74% - September 30, 2006)

Toyota Industries (23.51% - March 31, 2006)

Aisin Seiki Co. (23.0% - September 30, 2006)

Fuji Heavy Industries (8.69% - September 30, 2006)

Isuzu Motors (5.9% - November 10, 2006)
Accounting Ratios
+ Toyota Motor Corporation Accounting Ratios

Fiscal Year

2006

2005

2004

2003

2002

Fiscal Year End Date

3/31/06

3/31/05

3/31/04

3/31/03

3/31/02

Receivables Turnover

3.6

3.7

3.8

2.5

2.5

Receivables - Number of Days

93.8

93.3

114.2

139.0

129.6

Inventory Turnover

10.7

11.6

11.8

10.9

11.1

Inventory - Number of Days

33.5

31.2

30.5

33.1

32.3

Gross Property, Plant & Equipment Turnover

1.3

1.3

1.3

1.2

1.1

Net Property, Plant & Equipment Turnover

3.0

3.2

3.2

2.9

2.8

Depreciation, Depletion & Amortization -

% of Gross Property, Plant & Equipment

7.6%

7.1%

7.3%

6.3%

6.1%

Depreciation, Depletion & Amortization -

Year to Year Change (Japanese Yen)

21,346.5

2,780.9

11,827.0

4,802.7

5,385.5

Depreciation, Depletion & Amortization -

Year to Year % Change

21.4%

2.9%

13.9%

6.0%

7.2%
The Toyota Production System
Toyota has long been recognized as an industry leader in manufacturing and production. Three stories of its origin have been found, one that they studied Piggly-Wiggly's just-in-time distribution system, one that they followed the writings of W. Edwards Deming, and one that they were given the principles from an Army training program (see above reference). Regardless of the origin, the principles, described in Jeffrey Liker's the Toyota Way, are as follows:
1. Base your management decisions on a long-term philosophy, even at the expense of short-term goals
2. Create continuous process flow to bring problems to surface
3. Use "pull" systems to avoid overproduction
4. Level out the workload
5. Build a culture of stopping to fix problems, to get quality right the first time
6. Standardized tasks are the foundation for continuous improvement and employee empowerment
7. Use visual control so no problems are hidden
8. Use only reliable, thoroughly tested technology that serves your people and processes
9. Grow leaders who thoroughly understand the work, live the philosophy, and teach it to others
10. Develop exceptional people and teams who follow your company's philosophy
11. Respect your extended network of partners and suppliers by challenging them and helping them improve
12. Go and see for yourself to thoroughly understand the situation (genchi genbutsu)
13. Make decisions slowly by consensus, thoroughly considering all options; implement decisions rapidly
14. Become a learning organization through relentless reflection and continuous improvement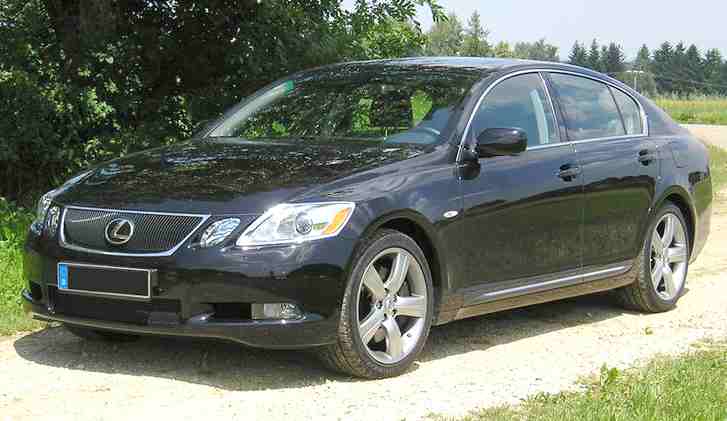 Toyota Lexus luxury executive saloon 2006
Toyota philosophy
In Toyota philosophy, zeronise consists in reducing pollution, traffic deaths and road congestion. Imagine what an electric Toyota would be like to own, if it had battery cartridges that could be exchanged universally at service stations? That might encourage potential EV customers to overcome their range anxiety. Sales may be even higher if transitional arrangements are made. That is to say a pure battery electric vehicle with an optional IC generator, as per patent description GB2253379.
Non-automotive activities
Higher education
Toyota established the Toyota Technological Institute in 1981, as Sakichi Toyoda had planned to establish a university as soon as he and Toyota became successful. Toyota Technological Institute founded the Toyota Technological Institute at Chicago in 2003.
Robotics
Toyota has been developing multitask robots destined for elderly care, manufacturing, and entertainment.
Finance
Toyota Financial Services Corporation provides financing to Toyota customers.
EV racing - Pau, Grand Prix Electrique 2011
A bit of a pile up, but great fun clean racing
LINKS and REFERENCE
Visit esure.com for cheaper car and bike insurance
If you purchase your insurance via a dedicated link from this site, you could not only save money, but you'll also be helping us provide free information to thousands of students - at no cost to you. Please help if you can and thanks for considering us.

---
Please click on the links above to find out about these famous automotive makers. If your company is not included and you would like to be listed, please let us know.
UK VEHICLE INSURANCE ONLINE A - Z
No matter what car, van or bike you drive, we're all looking for great value and quality in our UK motor insurance? But who is the best - who is the cheapest and who offers the great service in the event of a claim?
See the insurance companies below who claim to offer competitive cover at sensible prices, our guide to the jargon and tips for cutting your quote - Good Luck:-
A taste for adventure capitalists

The world's fastest electric car: 350mph + using energy from nature