The Toyota RAV4 (pronounced "rav-four") is a compact crossover SUV built and marketed by the Toyota Motor Corporation. The name "RAV4" is an acronym for "Recreational Active Vehicle, four-wheel drive". The car was introduced in Japan and Europe in 1994 and sales began in North America in 1996 to cater to consumers wanting a vehicle that had most of the benefits of SUVs, such as increased cargo room, higher visibility, and the option of full-time four-wheel drive, along with the maneuverability and fuel economy of a smaller car. The early success of the RAV4 paved the way for other compact SUVs such as the Honda CR-V, Mitsubishi Outlander, the Ford Escape/Mazda Tribute, and the Subaru Forester. Its name stands for "Recreational Activity Vehicle, 4-wheel drive," although not all RAV4s have four wheel drive, which is optional in some countries. In most countries, the RAV4 is the only compact SUV from Toyota. In other markets, it is the crossover counterpart of the FJ Cruiser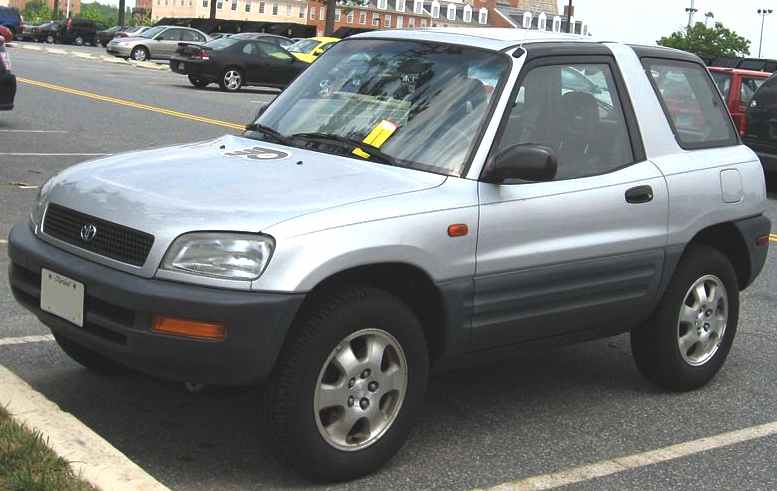 Toyota RAV4 2 door 1997 model 4x4

First generation (1994–2000)

Also called Toyota RAV4 EV
Production 1994–2000 (Gas-powered RAV4)
1997-2003 (EV)

1996-1997 Toyota RAV4 2-door hardtopThe RAV4 was originally based on the Corolla platform, and was offered in both two and four-door versions. In the US, a 2.0 L I4 engine producing 120 hp was offered. Both Front wheel drive and Four-wheel drive were available, and the RAV4 could be had with either a five-speed manual or four-speed automatic transmission. In 1998, the RAV4 was slightly restyled on the front and rear fascias, and a soft-top two-door was made available exclusively in the US market. Horsepower was increased slightly to 127. In 1999, the two-door hardtop was dropped from the American lineup, leaving the 4-door and soft-top models.

1998-2000 Toyota RAV4 2-door ConvertibleOne interesting version, the RAV4 EV, was an all-electric 'zero-emission' model offered for sale in low quantities in California. These models came with a 60,000-mile battery warranty, and the vehicles still command high prices on the used-car market. One sold in 2006 on eBay for over US$50,000.

A significant criticism of the gasoline-powered first generation RAV4s, often called '4.1s', was that they were underpowered, and had relatively poor fuel economy via their 3SFE engines that were designed for earlier Camrys and 1987-1989 Toyota Celica GT, 1990-1993 S-R and Z-R, as well as 1994-1999 SS-I. Later generations of RAV4s, the so-called '4.2s' and '4.3s', have addressed this concern. Like most other Toyotas, all RAV4s have earned the reputation of high reliability, and have enjoyed high resale values.
Second generation (2001–2005)

The second generation RAV4 was offered in a single trim level and still came with front or all-wheel drive. It continued on the Corolla platform. Although the RAV4 was available as a two-door in Europe and Asia, the American model was now only available in a four-door configuration. A 2.0 L I4 engine producing 148 hp was the only engine available. Some RAV4s came with anti-lock braking system, electronic stability control, air conditioning, a height-adjustable driver's seat, cruise control, a six-speaker CD stereo and power windows, mirrors and seats. A sport package added a mesh grille, hood scoop, color-keyed door handles, a roof rack, silver sport pedals, heated mirrors, gray-painted bumpers and fender flares, and sport fabric seats. Other options included alloy wheels, heated seats, a sunroof and keyless entry. 16-inch wheels were standard; larger tires were available on all wheel drive models.

In 2004, the RAV4 was slightly restyled, and a 2.4 L I4 engine producing 161 hp replaced the 2.0 L (Except most European models) engine as standard equipment. Steering wheel-mounted audio controls were made standard. The second generation RAV4 has proved extremely popular in Australia, where it became the best-selling SUV in the country in 2001. The Australian RAV4 were offered as base Edge and upmarket Cruiser. In 2004, it was the best-selling compact SUV.
Third generation (2006–present)


Production

2006–present

Assembly

Tahara, Aichi, Japan
Nagakusa, Obu, Aichi, Japan
Woodstock, Ontario, Canada (from 2008)

Body style(s)

4-door SUV

Engine(s)

2.0 L I4
2.2 L diesel I4
2.4 L I4
3.5 L V6

Transmission(s)

5-speed manual
4-speed automatic
5-speed automatic

Wheelbase

SWB: 2560 mm (100.8 in)
LWB: 2660 mm (104.7 in)

Length

LWB: 4600 mm (181.1 in)
SWB: 4395 mm (173 in)

Width

SWB: 1815 mm (71.5 in)
LWB: 1815 mm (71.5 in)
LWB Sport: 73.0 in (1854 mm)

Height

LWB: 1685 mm (66.3 in)
LWB Sport & Limited: 68.7 in (1745 mm)
LWB Australia: 1695 mm (66.7 in)
SWB: 1720 mm (67.7 in)

Fuel capacity

60 L (15.9 US gal)

Related

Toyota Corolla
Toyota Matrix/Pontiac Vibe
Toyota Vanguard
The Toyota RAV4 was completely redesigned for the 2006 model year, on an all-new platform. It still has the 2AZ-FE 2.4 L four-cylinder engine, which now produces 166 hp, up five from the previous year. The North American RAV4 is also fitted with the 2GR-FE 3.5 L V6 engine. The Australian RAV4, currently fitted with only the 2.4L four-cylinder engine, will also be introduced with the 2GR-FE V6 engine towards the end of 2007. The new RAV4 topped Toyota SUV sales in the United States for the first time. It is also the first generation of RAV4 to be offered in regular (for Asian and European markets) and extended (for American and Australian markets) versions.

The extended-length RAV4 is larger by 21% in interior volume from the last generation and now has an available third-row seat for two small children (US and Canada only). The RAV4 can still be had in either two-wheel-drive or four-wheel-drive in the United States; however, most countries, including Canada, only sell the four-wheel-drive version.

JDM models are X, G, and Sport. The X and G can be ordered with either front-drive or 4WD. The Sport model with over fender is 4WD only. In Australia, the RAV4 is sold in base CV, mid-range Cruiser, and top of the line Cruiser L trim levels. The extended-length RAV4 is sold in Japan as the Toyota Vanguard.

Currently, the RAV4 is produced in two locations in Japan: Toyota's Tahara, Aichi assembly plant, and under contract by Toyota Industries in its Nagakusa, Obu, Aichi plant. However, when Toyota's Woodstock, Ontario, Canada assembly plant comes online in 2008, models sold in North America will be assembled exclusively there (effective May 2009).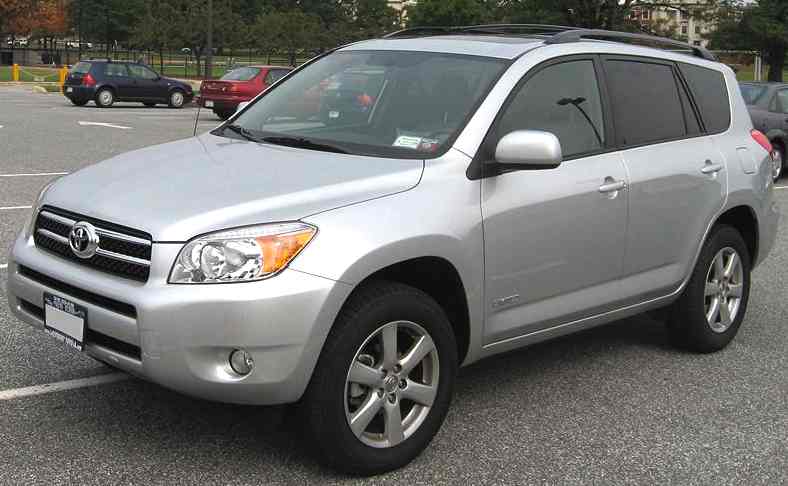 Toyota RAV 4 Limited 2006 model 4x4 car
LINKS and REFERENCE
---
Please click on the links above to find out about these famous automotive makers. If your company is not included and you would like to be listed, please let us know.
---
UK VEHICLE INSURANCE ONLINE A - Z
No matter what car, van or bike you drive, we're all looking for great value and quality in our UK motor insurance? But who is the best value and who offers great service in the event of a claim?
If you purchase your insurance via a dedicated link from this site, you could not only save money, but you'll also be helping us provide free information to thousands of engineering students - at no cost to you. Please help if you can and thanks for considering us.
The insurance companies below claim to offer competitive service. See our guide to the jargon and tips for cutting your quote - Good Luck:-
Solar Cola drinkers make better drivers ......

330ml Earth can - The World in Your Hands