The Toyota Prius is a hybrid electric automobile developed and manufactured by the Toyota Motor Corporation. The Prius first went on sale in Japan in 1997, making it the first mass-produced hybrid vehicle. It was subsequently introduced worldwide in 2001.

According to the United States Environmental Protection Agency, the 2008 Prius is the most fuel efficient car sold in the U.S. According to the UK Department for Transport, the Prius is tied with the diesel MINI Cooper D as the second least CO2-emitting vehicle behind the Volkswagen Polo 1.4 TDI.

The Prius has won several awards from magazines, engineering groups, and consumer groups.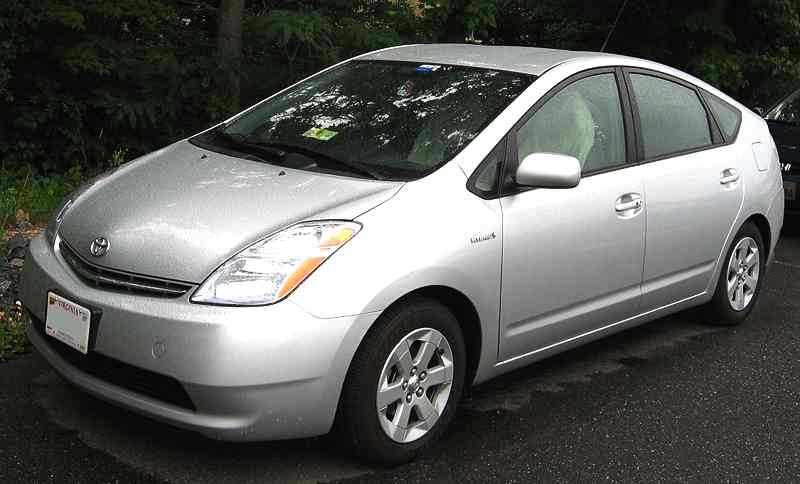 Toyota Prius hybrid car
History

In 1994, Toyota executive Takeshi Uchiyamada was given the task of creating a new car which would be both fuel efficient and environmentally friendly. The engineering team quickly settled on a hybrid engine design, but many technical and engineering problems had to be solved within the three years that the team was given to bring the car to the Japanese market, a goal they barely achieved as the first Prius went on sale in December 1997. A main problem was the longevity of the battery, which needed to be between 7 to 10 years. The solution the engineers came up with was to keep the battery pack between 60% and 40% charged, proving to be the "sweet spot" for extending the battery life to roughly that of the other car components.

The car was a modest success in Japan and after gathering several years of test data from the Japanese early adopters, the company felt it was safe to put it on sale in the U.S. market. Sales were small at first (though the waiting list was six months for the first few years in the U.S.) but picked up substantially with a complete redesign in 2004. The Prius is considered to be a successful car for Toyota from both technical and marketing perspectives. The break-even date is uncertain, but according to the head of the Prius team, the company initially lost money on the Prius.

The word prius is a Latin word meaning "to go before." A Toyota spokesman stated that "Toyota chose this name because the Prius vehicle is the predecessor of cars to come."


Design

Technology

The Prius is a combined hybrid (sometimes referred to as series-parallel), a vehicle that can be propelled by gasoline and/or electric power. Components of the system include:

Regenerative braking, using motor-generators which converts kinetic energy of motion into electrical energy that is stored in the traction battery and reduces wear and tear on the brake pads;

A 1NZ-FXE internal combustion engine (ICE) using the more efficient Atkinson cycle instead of the more common Otto cycle. The gasoline engine normally shuts off during traffic stops and the accessories (including the air conditioning) are powered by the battery pack. The engine is used both to propel the vehicle and to recharge the batteries. Because of the availability of extra power from the electric motors for rapid acceleration the engine is sized smaller than usual for increased fuel efficiency and lowered emissions with acceptable acceleration;

Two electric motor/generators: MG1 and MG2. MG1, reversible and up to 10,000 rpm, starts the engine and provides counter torque for the Continuously Variable Transmission (CVT). MG2 provides 50 kW (67 hp) between 1,200 to 1,540 rpm and 400 N·m (295 ft·lbf) torque between 0 to 1,200 rpm, contributing to performance and economy. These motor-generators are used as generators when used for regenerative braking, and as motors are capable of starting the vehicle (and gas engine if needed) and low speed (<~30 mph) travel;

A Hybrid Synergy Drive (HSD) unit that combines a planetary gearset that behaves like a Continuously Variable Transmission (CVT) called the Power Split Device[10] to increase efficiency. The computer controlled HSD transaxle adjusts and blends the amount of power from the gasoline engine and electric motor-generator(s) as needed by the front drive wheels and rechargeable batteries;

A Sealed 38 module nickel metal hydride (NiMH) battery pack providing 273.6 volts, 6.5Ah capacity and weighing 53.3 kg (118 lb) is supplied by Japan's Panasonic. They are normally charged to 40-60% of maximum capacity to prolong battery life as well as provide a reserve for regenerative braking;

Wind resistance is reduced by a drag coefficient of 0.26 (0.29 for 2000 model) with a Kammback design to reduce air resistance. Lower rolling-resistance tires are used to reduce road friction;

A Vacuum flask for storing hot coolant when the vehicle is powered off for reuse so as to reduce warm-up time (US market);

An EV mode (or Stealth Mode) that allows drivers to operate on electric power only under low-power conditions for a limited duration of time (Europe and Asian markets, aftermarket in the US). Advocates for the blind warn that the Prius is so quiet it could be hazardous to blind pedestrians and others accustomed to engine noise to warn of a nearby vehicle;

Vehicle weight is reduced by using a flexible resin gasoline tank and the use of aluminum instead of steel for the engine bay hood and hatchback for weight reduction;

THS inverter unit (from NHW11)The computer program used in the Prius shuts off the engine when the car is stopped, is reversing, or is descending hills, thereby dramatically decreasing fuel consumption in city driving . The HSD's on-board computer program determines when and how to use the engine, motor, or both to power the car and recharge the battery so as to maximize efficiency. Typically, a gasoline engine runs inefficiently at half-throttle, creating a choking condition called pumping loss, a major reason for the inefficiency of gasoline engines compared to diesels. The Prius minimizes pumping loss by using a high torque range as much as possible with the throttle fully open. Drive-by-wire throttle control technology and Toyota's Hybrid Synergy Drive (a torque combiner, electric drive, and computer control) are essential to this engine control. In addition to the immediate benefit of reducing fuel consumption and emissions, stopping the gasoline engine also improves the performance of the catalytic converter, as the exhaust gases from an idling engine tend to cool the catalyst below its optimal temperature.


Consumption monitor on the 2005 Toyota Prius MFD, displaying fuel consumption for highway driving, in the previous 30 minutes, as well as the average fuel consumption for 59 miles (95 km) since last gas fill-up.

Energy Monitor on the 2005 Prius Multi-Function Display (MFD), showing energy flow to/from the engine, battery, and from the regenerative braking, as well as battery charge level.Typical gasoline/diesel engine vehicles consume fuel when the vehicle is stopped and idling--common in city driving. The Prius typically shuts down the gasoline engine and runs solely off the battery pack at low speeds and when stopped. A non-hybrid car also gets worse fuel consumption in city driving because its engine is constantly used to accelerate the car to driving speed and then this energy is lost to friction brakes during stop-and-go driving.
The Prius captures some of this energy by using regenerative braking to charge its battery pack while slowing down with its motor-generators in generator mode. For acceptable acceleration the IC engine on the "standard" car typically is much larger than needed for constant speed travel. By using both a gasoline engine and electric motors for acceleration the Prius engine can be down sized to a more efficient size and still give acceptable, even modest acceleration. This means the greatest advantages of a hybrid are mainly in city driving, though factors including driving style, air conditioning use, and short trips may offset some of this advantage. The frequent starting and stopping of the Prius engine does not cause noticeable additional wear and tear or emission problems because the electric drive motors have enough power to quickly spin the engine to optimal rpm (around 1,000) before fuel is admitted and ignition is applied.


Energy screen on the 2003 PriusFor any car, aerodynamic losses, which vary roughly as the velocity squared due to air drag are much greater on the highway than in low speed city driving. The Prius hybrid has less of an advantage in higher speed open road driving, typical of intercity driving. Nevertheless, the Prius still obtains improved fuel consumption under these circumstances since it can use a smaller and more efficient engine than would otherwise be required. The electric motor(s), powered by the battery pack, can provide the extra peak power needed for acceleration, passing and limited hill climbing. The lower weight, cross sectional area and lowest drag coefficient of a production car in the U.S. market (since the cancellation of the Honda Insight) make the Prius a reasonably efficient highway traveler, getting 45 mpg–U.S. (5.23 L/100 km / 54 mpg–imp) on the highway according to the U.S. EPA.

The environmental impact of the car's batteries has been questioned. To encourage battery recycling, dealers are paid a $200 fee for return of the car's batteries. Toyota has laboratory reports that some Prius battery packs have lasted the equivalent of 180,000 miles (290,000 km) As the cars start to age, early reports have shown that in at least some cases the batteries can last in excess of 250,000 miles (400,000 km) Individual battery longevity will vary depending upon the treatment and use history of the battery pack. A degraded battery pack will reduce performance and fuel economy, but not leave the car inoperable.


Fuel consumption

The Prius is marketed as a fuel efficient car. In the United States, Environmental Protection Agency (EPA) test results must be posted on new vehicle windows in the U.S. and are the only mileage figures that can be advertised. Similar to other vehicles, Consumer Reports viewed the initial estimate as flawed and issued their own assessment[18] giving a real-world mileage of 44 mpg–U.S. (5.35 L/100 km / 52.8 mpg–imp) for the Prius instead of 55 mpg–U.S. (4.28 L/100 km / 66.1 mpg–imp) (51 highway, 60 city). EPA testing procedures for all vehicles were revised in 2007. According to the EPA's revised estimates, the combined mileage for the 2008 Prius is 46 mpg–U.S. (5.11 L/100 km / 55.2 mpg–imp),[20] making it the most efficient car of 2008. As with all vehicles, these numbers are only estimates for the average driver. Individual situations will vary based on length of commute, average speed while driving, number of hard stops and starts, tire pressure, outside temperature and other factors. Worst case scenario is a short commute (less than 5 miles (8.0 km)), fast acceleration and stops, tires below the minimum recommended pressure of 35 psi front/33 psi rear, and extreme cold conditions.


Models
Feature

Model code

NHW10

NHW11

NHW20

Body style

4 Door
Sedan

4 Door
Sedan

5 Door
Hatchback

First sales

1997

2000

2003

Battery

Modules

40

38

28

Cells per module

6

6

6

Total cells

240

228

168

Volts per cell

1.2

1.2

1.2

Total volts (nominal)

288

273.6

201.6

Capacity amp hours

6.0

6.5

6.5

Capacity Watt hours

1728

1778.4

1310.4

Weight kg

57

50

45

Petrol Engine

Power kW

43

52

57

Max rpm

4000

4500

5000

Electric Motor

Operating Voltage

288

273

500

Power kW

30

33

50

Combined

Power kW

?

73

82


1997-2000 Prius (model NHW10)

The first Prius, model NHW10, went on sale in December 1997. The car was a compact sedan using a modified Vitz platform and engine. It was sold only in Japan, though they have been imported privately to the United Kingdom, Australia, and New Zealand.


2001-2003 Prius (model NHW11)

The 2001-2003 Prius for the United States market was powered by a 1.5-liter 4 cylinder[23] gasoline engine, a permanent magnet AC electric motor, and a 274-volt nickel-metal hydride (Ni-MH) battery pack. The gasoline engine developed 70 hp (52 kW) and 82 ft·lbf (111 N·m) of torque. The electric motor generated a maximum of 44 hp (33 kW) and 258 ft·lbf (350 N·m) of torque. Japanese versions were less powerful.

The engine and motor power was increased over the previous model. Options were limited to a CD player and floor mats. Beginning with the 2002 model year, front side air bags, cruise control, and a navigation system were added as optional equipment. Air conditioning and a continuously variable transmission were standard equipment. Use of the air conditioner required the gasoline engine to be running.

In the United States, the NHW11 was the first Prius to be sold. The Prius was marketed between the smaller Echo and the larger Corolla. The published retail price of the car was US$19,995. The California Air Resources Board (CARB) classified the car as a Super Ultra Low Emission Vehicle (SULEV). European sales began in September 2000. The official launch of the Prius in Australia occurred in 2001 after the Sydney Motor Show.


2004-2007 Prius (model NHW20)

The Prius is completely redesigned into a mid-size liftback which is between the Corolla and the Camry in size. The new model is 6 inches (150 mm) longer than the previous version. Its more aerodynamic body resulted in a drag coefficient of 0.26.

The new Hybrid Synergy Drive (HSD) uses an all-electric compressor for cooling. Combined with a smaller and lighter NiMH battery, the NHW20 is more powerful and more efficient than the NHW11. Air conditioning is now operated independently of the gasoline/petrol engine, an industry first. The distance that the car is capable of driving on electric power only has increased slightly to several miles. In the U.S., the battery pack of the 2004 Prius is warranted for 160,000 km (100,000 miles) or 8 years, although Toyota has stated that they expect it to last 15 years. The warranty is extended to 240,000 km (150,000 miles) or 10 years[36] for Prius in California, and in the seven Northeastern states that have adopted the stricter California emission control standards.


Taxi in Vancouver, British Columbia, CanadaIt is classified as a SULEV (Super Ultra Low Emissions Vehicle and is certified by California Air Resources Board as an Advanced Technology Partial Zero Emission Vehicle (AT-PZEV).

NHTSA (United States) crash testing of the 2004 Prius yielded a five star driver and four star passenger rating in the frontal collision test (out of five stars). Side crash results were four out of five stars for both front and rear seats. The car scored four out of five stars in rollover testing.



Traffic Warden car in Örebro, Sweden.In 2004

Among the Prius' options are Toyota's implementation of an Advanced key (the feature can be user-deactivated) and Bluetooth for hands-free calling. Automated parallel and reverse parking is available in Japan and Europe.

Production of the Prius for the China market began in December 2005 by Sichuan FAW Toyota Motor, a joint venture with First Automobile Works. The Prius has been used for police duties and in other emergency fleets.

The 2006 model introduced some minor cosmetic changes, such as a higher-resolution liquid crystal display and a rear-view camera, as well as new optional features such as advanced airbags and an upgraded audio system with an auxiliary input. The 2007 Prius adds advanced and side-curtain airbags standard on all models. A Touring Edition was introduced that includes an elongated larger rear spoiler as well as larger, sharper-pointed 7-spoke 16" alloy wheels with plastic hub cap cover to protect it from scratches when parking against the curb. The Touring Edition also comes with a firmer European style tuned suspension, standard high-intensity-discharge (HID) headlights and integrated (non-HID) fog lights.


Hydrogen Prius

Hydrogen powered Prius cars have been developed. Ten were delivered in November 2007 to Vistorka, a consortium of companies in Iceland.


Future of the Prius

Toyota CEO Katsuaki Watanabe said in a February 16, 2007 interview that Toyota was "aiming at reducing, by half, both size and cost of the third-generation hybrid system." However, plans to replace NiMH batteries with lithium-ion batteries have since been cancelled or delayed. Lithium-ion batteries have a higher energy capacity-to-weight ratio, but cost more and operate at higher temperatures, raising safety concerns.

It has been mentioned that a future Prius will receive an upgrade of the petrol (gasoline) engine from 1.5 litres to 1.8 litres. A plug-in hybrid version of the Prius will allow for lower fuel consumption with a bigger engine. It has also been suggested that a range of different sized models are planned, (referred to by engineers as the Prius A, B and C), rather than a single model. The first of these new models is expected in 2009. This new hybrid may carry the Lexus brand. Toyota spokesman said that future Prius research "...is broad-reaching and being carried out from various angles."

Toyota is road testing prototype plug-in hybrid vehicles (called Toyota Plug-in HV).


Government and corporate incentives

Government incentives

A number of governments have incentives that are intended to encourage hybrid car sales. In Belgium, the national government offers reductions in the purchase price of up to 15% for buying cars that have lower CO2 exhaust.

The federal government in Canada offers to those who buy or lease hybrid cars a rebate. Some provincial governments also offer incentives such as in British Columbia, Manitoba,, Quebec, Ontario, and Prince Edward Island.

In the United Kingdom, incentives are mostly parking related. Parking incentives exists in Richmond upon Thames (south west London), Westminster (Central London) for resident parking permits, Winchester (now discontinued), Manchester, and Brighton has similar plans. Drivers in London can register for an exemption from the £8 daily congestion charge. Some of the incentives in the United Kingdom have been criticized in the press given that non-hybrid cars, some of which have better fuel economy, are not afforded the same incentives.

In the United States, the national government offers a tax credit to purchasers until a certain number of cars has been sold by a manufacturer. This has ranged from US$787 to $3,150, which expired in 2007 for hybrids sold by Toyota. State governments, including Colorado, Connecticut, Illinois are some U.S. states which offer tax incentives. Hybrid engine automobiles are exempt from high-occupancy vehicle lane restrictions in some U.S. states, California (currently until January 1, 2011, Los Angeles and San Jose, California had exempted hybrid cars from paying for street parking.

In the Netherlands the government has lowerd the tax for class A cars,the Prius is a class A car, to 14%. The tax of all other class cars have been raised from 22 to 25%. By this lowering only in the month January already more than 1800 cars has been sold. The importer has already indicated that he can no longer meet the demand for the year 2008.


Corporate Incentives

Several U.S. companies offer employees incentives. Bank of America will reimburse $3000 on the purchase of new hybrid vehicles to full- and part-time associates working more than 20 hours per week. Google, software company Hyperion Solutions, and organic food and drink producer Clif Bar & Co offer employees a $5000 credit toward their purchase of a certain hybrid vehicles including the Prius. Integrated Archive Systems, a Palo Alto IT company, offers a $10,000 subsidy toward the purchase of hybrid vehicles to full-time employees employed more than one year. Clothing companies Timberland and Patagonia, law firm DLA Piper, non-profit American Jewish Committee, software publisher Topics Entertainment, and research firm ABR, Inc. are among companies offering eligible employees significant discounts on certain hybrid vehicles including the Prius.

Travelers Companies, a large insurance company, offers hybrid owners a 10% discount on auto insurance in most states. The Farmers Insurance Group offers a similar discount of up to 10% in most states.


Controversies

Lifetime energy cost

A 2006 study by CNW Marketing Research, Inc. calculated the overall energy cost of a Prius at US$3.25 per mile and a Chevrolet Tahoe SUV at US$2.94 per mile. It concluded that 2005 hybrids cost "significantly more in overall energy costs than conventional Internal Combustion Engine (ICE) vehicles."[84] David Friedman of the Union of Concerned Scientists commented that the study "has been completely contradicted by studies from MIT, Argonne National Laboratory, and Carnegie Mellon's Lifecycle Assessment Group." An article on the Better World Club website[86] investigates the source of the statement "a Hummer is more energy efficient over its lifetime than a Prius", which it characterizes as an urban legend. It suggests that the source may be the CNW "Dust to dust" study, or follow-up articles by James L. Martin or Chris Demorro, and goes on to challenge some of the assumptions made in the study. A critique of the 2007 version of the CNW report by the Pacific Institute concluded that "closer inspection suggests that the report's conclusions rely on faulty methods of analysis, untenable assumptions, selective use and presentation of data, and a complete lack of peer review. Even the most cursory look reveals serious biases and flaws."

In any case, even CNW Marketing has recognized the market has changed. Their 2007 update[88] for 2006 model year vehicles (see spreadsheet) now lists the Prius as 25% less expensive per mile than the Yukon, 28% less expensive than a Hummer H1 and 30% less expensive than a Sequoia. The update however does not include any of the details present in the 2005 report, so it is not certain if their previous assumptions of 109,000 miles (175,000 km) for a Prius lifetime versus 380,000 miles (610,000 km) or more for the lifetime of a large SUV are still being used, or if came from improved economies of scale.


Name

Prius is a not a verb but a Latin comparative adjective or adverb, the neuter nominative singular form of the adjective whose corresponding masculine and feminine nominative singular forms are prior, with meanings "ahead, in front, leading; previous, earlier, preceding, prior; former; basic;". Some enthusiasts enjoy using Prii as the plural, which would be correct if prius were a regular second declension Latin noun. The actual Latin plural of the adjective is priora (is slightly in error here). All of these forms are nominative case and there are several other forms for the other cases. As for the plural of Prius in English, Toyota has said that it is simply Prius and also that owners are welcome to use whatever they like.


Political symbolism

The large number of Prius-owning progressive celebrities in 2002 prompted the Washington Post to dub hybrids "Hollywood's latest politically correct status symbol." While conservative "Prius Patriots" were also cited in 2005, the vehicle carries an image as being a car for politically liberal environmentalists. A 2007 San Francisco Chronicle article said "Prius Progressives" were becoming an archetype, quoting conservative U.S. pundit Rush Limbaugh opining that "these liberals think they're ahead of the game on these things, and they're just suckers."

Many conservatives promote use of the Toyota Prius. For example, Jim Road from What Would Jesus Drive? encourages people to drive hybrid cars because of the damage that large SUVs can do to others. Driving an SUV, it is claimed, expressed an attitude not consistent with the teachings of Jesus. One could also say that conservatives that promote fiscal responsibility drive the Prius because of its economic benefits; however, the car is built in Japan so driving a Prius would conflict with the beliefs of protectionist or nationalist Americans, especially since domestic manufacturers such as General Motors and Ford Motor Company now offer mild hybrid vehicles of their own.

Former CIA chief R. James Woolsey, Jr. drives a Prius because of its low petrol consumption. Woolsey claims that money that pays for imports of petrol help fund terrorism and states hostile to the United States. Ben Oliver writes the following: "By rights, Woolsey ought to drive a big, bad Hummer. Instead, he drives a Prius, and he says that if you live in a country dependent on imported oil, it's your patriotic duty to do the same. His argument is simple: It's a bad thing for transport to depend on oil when the great majority of that oil lies in volatile parts of the world whose governments are hostile to the West. Moreover, he argues that, by making the Middle East so wealthy, we're indirectly subsidizing terror. For Woolsey, the cash register at your local gas station is a collection box for al-Qaeda. 'We're paying for both sides in this war, and that's not a good long-term strategy,' he says. 'I have a bumper sticker on the back of my Prius that reads, "Bin Laden hates this car."


Fashion over function

The Prius's shape makes it one of the most streamlined production vehicles of any size. So, it is a highly functional shape, despite the controversy over aesthetics.

In spite of the efficiency of the Prius's shape, in 2004, industry analyst Art Spinella of CNW Marketing Research (CNWMR), whose skepticism towards hybrids is well known (see Lifetime energy cost) said "the Prius was a fashion statement", attributing its success over the Honda Civic Hybrid, which has a nearly identical appearance to its non-hybrid versions, to its distinctive styling, which lets "other people know the driver is driving a hybrid vehicle". However, this does not explain the lack of success for the even more distinctive Honda Insight. Also, the Prius is considered the only "full hybrid" production vehicle. This allows very high fuel economy in a full sized sedan having a larger interior space than the Honda Insight or Civic Hybrid. These factors likely play a role in customer appeal and sales figures.

The The New York Times in July 2007 published an article using data from CNW Marketing Research that found that just 36% of Prius buyers cited fuel economy as a prime motivator, while 57% said their main reason was that "it makes a statement about me." Shortly afterwards Washington Post columnist Robert Samuelson coined the term "Prius politics" to describe a situation where the driver's desire to "show off" is a stronger motivator than the desire to curb greenhouse gas emissions. However, no matter whether the driver is seeking social status or not, the fuel efficiency is nonetheless improved, and so the greenhouse gas emissions are indisputably reduced. As with all types of vehicles, from sports cars to SUVs, performance is a key selling point for prospective buyers.


Quietness

The Wall Street Journal reported in February 2007 on concerns that quiet cars like the Prius may pose a safety risk to those who rely on engine noise to sense the presence or location of moving vehicles. Blind pedestrians are a primary concern, and the National Federation of the Blind advocates audio emitters on hybrid vehicles, but increased risks may also affect sighted pedestrians or bicyclists who are accustomed to audio cues from vehicles. In July 2007, a spokesperson for Toyota said the company is aware of the issue and is studying options.


CO2 claims

In the UK, the Advertising Standards Authority, an independent body charged with policing the rules of the advertising industry, ruled that a television advert for the Toyota Prius should not be broadcast again in the same form, having breached rules concerning misleading advertising. The advert claimed the Prius "emits up to one tonne less CO2 per year," while on-screen text included: "1 tonne of CO2 less than an equivalent family vehicle with a diesel engine. Average calculated on 20,000 km a year." Points of contention were the vehicles chosen for comparison, whether "up to one tonne less" adequately communicated that reductions could be lower, and whether the distance used was appropriate: 20,000 km per year is around a U.S. car's average annual driving distance, while a UK car's is 13,440 km.


Traction control failure

Consumer Affairs in the United states issued a warning in January 2008 that; " The Prius traction control system can fail to operate properly on a snowy road", and that the "TRAC system is still inadequate on slippery inclines." A representative for Toyota named Bill Kwon stated in 2007 that the traction control system in the Prius could impact performance in snow conditions.


Sales

Toyota announced on June 7, 2007 that it had sold 1 million hybrid vehicles globally, and that of those 757,600 were Priuses. Nearly 345,000 of the first 1 million hybird cars made by Toyota were sold in Japan.

U.S. sales of the Prius began in August 2000. By 2001 sales there totaled 15,556, and by 2002 had reached 20,119. In 2004 sales there were 53,991, and doubled in 2005 to 107,897, about 60% of the world total of 180,000. By 2006-06-07 266,212 Priuses had been sold in the U.S., and accounted for 40% of the hybrid market there in 2006. As of November 2007 Toyota has sold 510,325 Prius in the US since its initial launch in 2000. Prius gas-electric hybrid mid-size sedan reported sales of 14,212 units for a best-ever December and best-ever year-end sales of 181,221 units, up 68.9 percent over 2006.


Aftermarket products

EV mode

When the vehicle is turned-on with the "start" button, it is ready to drive immediately with the electric motor, while electric pumps warm the engine with previously saved hot engine coolant, before the internal combustion engine is started. The delay between starting the car and starting the internal combustion engine is approximately seven seconds. The Asian and European versions of this vehicle provide a button labeled "EV" that maintains Electric Vehicle mode after start up, under most low-load driving conditions. The North American model does not have the "EV" button, although the "EV" mode is still supported internally by the Prius Hybrid Vehicle management computer. The PRIUS+ Project offers conversion instructions for do-it-yourselfers who wish to enable the button. Toyota has now received government approval to run on public roads for tests. Researchers at the Advanced Power and Energy Program at the University of California, Irvine and the Institute of Transportation Studies at the University of California, Berkeley will begin testing two specially made Prii and analyze driver behavior, study air quality and energy use. However, electric-only driving range remains limited to around seven miles (eleven kilometers) per charge in all-electric mode at up to 100 kilometers per hour (62 miles per hour). No date has been set for public release of EV mode, and it will not be available to the public until a great deal of additional research has been done.


Plug-in

Plug-in hybrids use a larger battery pack that is recharged from external sources in order to further reduce gas/petrol consumption. The batteries in a production PHEV will be built to handle deeper discharge cycles without loss of lifespan such as those in the Toyota RAV4 EV. Operation of the vehicle will be very similar to a normal hybrid, except that the electric operation will be more prevalent. In the case of a Prius PHEV, on the highway, the gasoline (petrol) engine will operate as before, leaving the car with the same ability to accelerate and use freeways. Current converted Priuses also operate in a high speed blended mode which can reduce but not eliminate gasoline/petrol consumption on the freeway. When driving in slower conditions or with light loads, the batteries will be used first in a charge-depleting mode, allowing moderate commutes at low speeds (particularly under 41 mph/65 km/h) to be driven entirely on electricity. Once the batteries have been sufficiently discharged the car will automatically revert back to the charge-sustaining mode of the current stock Prius.

Evolving from the button project, The California Cars Initiative (CalCars) converted a Prius in 2004, adding larger batteries and found out how to safely charge the batteries without affecting the hybrid system. Private companies EDrive Systems in the USA and Amberjac Projects in the UK announced plans to sell conversion kits in 2006 (pushed back to 2007).[citation needed] The most recent versions use a new, patented advanced safe-format Lithium Battery from Valence Technology called Saphion. Using the advanced batteries pushes the final price to an estimated $12,000 US. The energy density and far more efficient utilization of these batteries provide around 20x the available power of the standard NiMH battery pack but at only double the weight. Tests show it capable of achieving >30 miles (50 km) in all electric mode at speeds below 34 mph (55 km/h). The internal combustion engine starts only at higher speeds or when extra acceleration is needed. Fuel economy is improved to 100 mpg–U.S. (2.35 L/100 km / 120.1 mpg–imp) - 500 mpg–U.S. (0.47 L/100 km / 600.5 mpg–imp) depending on driving conditions. City driving may be possible without using the ICE at all, eliminating the use of almost all liquid fuel in exchange for electrical energy.

PriusPlus is a similar project evolving from CalCars, using lead-acid batteries and a do-it-yourself kit. This conversion gives a car that has 100 mpg–U.S. (2.35 L/100 km / 120.1 mpg–imp) under normal driving conditions. All-electric mode can be used for 10-12 miles in street driving. In January 2007 issue of IEEE Spectrum, CalCars lead technical engineer, Ron Gremban, notes that drivers installing the CalCars Prius+ kit shouldn't expect a 'positive financial payback.' The kit adds 135 kg (300 lb) to the car's weight, and increases efficiency. The lead-acid battery pack performance is reduced in cold weather, has a limited life of about 400 deep discharges, and must be recharged within a day to maintain this lifespan. The hope is, by the time the batteries need replacing, a better option will be on the market at a comparable price.

Hymotion is a Canadian company (recently purchased by A123systems, an advanced battery company) planning on selling a kit incorporating Lithium-Ion batteries with similar characteristics as EDrive Systems. It is currently undergoing fleet testing, and is planned for sale for 2008.


Solar prius

Company adds rooftop solar cells to hybrid cars

Awards

1997–98 Car of the Year Japan
2003 Scientific American names Toyota Motor Corporation as "Business Leader of the Year" ("Scientific American 50"; December, 2003) for its singular accomplishment in the commercialization of affordable hybrid cars.
Motor Trend Car of the Year 2004
Car and Driver magazine's Ten Best list for 2004.
North American Car of the Year award for 2004. Nominated in 2001.
International Engine of the Year for 2004.
"Best Engineered Vehicle for 2004" by SAE's Automotive Engineering International magazine.
2005 European Car of the Year (406 points, ahead of Citroën C4 with 267 points and Ford Focus II with 228).
2006 EnerGuide Award (Midsize)
2006 Intellichoice Best Overall Value of the Year, Midsize
2007 Intellichoice Best in Class Winner :Best Retained Value, Lowest Fuel, Lowest Operating Costs, Lowest Ownership Costs
Swiss government named Toyota Prius the world's greenest car in a draft study of over 6,000 cars.
Production

2004–present

Assembly

Tsusumi, Japan

Class

Midsize car

Body style(s)

5-door hatchback

Engine(s)

Toyota Hybrid System II
Gasoline: 1.5 L DOHC I4 VVT-i
57 kW (76 hp) @ 5000 rpm
115 N·m (85 ft·lbf) @ 4200 rpm
Electric: 500
50 kW (67 hp) @ 1200 rpm
400 N·m (295 ft·lbf) @ 0 rpm
AT-PZEV
Net power: 110 hp (82 kW)

Transmission(s)

1-speed planetary gear

Wheelbase

2700 mm (106.3 in)

Length

4450 mm (175.33 in)

Width

1725 mm (67.97 in)

Height

1490 mm (58.71 in)

Curb weight

1325 kg (2921 lb)
LINKS and REFERENCE
---
Please click on the links above to find out about these famous automotive makers. If your company is not included and you would like to be listed, please let us know.
---
UK VEHICLE INSURANCE ONLINE A - Z
No matter what car, van or bike you drive, we're all looking for great value and quality in our UK motor insurance? But who is the best value and who offers great service in the event of a claim?
If you purchase your insurance via a dedicated link from this site, you could not only save money, but you'll also be helping us provide free information to thousands of engineering students - at no cost to you. Please help if you can and thanks for considering us.
The insurance companies below claim to offer competitive service. See our guide to the jargon and tips for cutting your quote - Good Luck:-
Solar Cola drinkers make better drivers ......

330ml Earth can - The World in Your Hands