CONTROLS
Most solar racing cars are single seaters with very few amenities for the driver. A few cars also carry a passenger. Drivers and passengers can look forward to uncomfortable seats, cramped seating positions and high cockpit temperatures, in return for which they get the excitement of driving the car of the future and of course help make automotive history.
Solar cars do have some of the equipment normally found in conventional cars, such as indicators (turn signals), brake pedal and lights, accelerator pedal, rear view mirrors, fresh air ventilation, and sometimes even cruise control. Most solar cars teams use a variety of methods to feed water to the drivers. The driver also gets a two way communication radio used to keep in contact with his team and support vehicles.
Drivers and passengers are protected with five point safety harnesses and helmets. Besides driving the car, the driver's most important function is to monitor the car's systems and watch for potential problems. In a small minority of cars, the passenger monitors the vehicle systems. Solar cars are fitted with gauges similar to a conventional car that display the information received from the vehicle systems.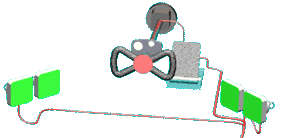 The support team similar to a pit crew in Grand Prix, IndyCar or NASCAR racing. The support crew works from a variety of support vehicles (usually two) that lead and chase the solar car. The support team is responsible for keeping the car running, determining strategy, and providing weather and route information to the driver.
---
Please click on the links above to find out about these famous automotive makers. If your company is not included and you would like to be listed, please let us know.
UK VEHICLE INSURANCE ONLINE A - Z
A taste for adventure capitalists

SMARTCHARGER - Potentially the world's fastest electric car: 400mph using energy from nature. Featuring built in battery swapping system, charged using renewable solar energy. A project in waiting in PR terms.