A solar car, if it is to offer any sensible performance must be light in weight and relatively low powered, or in other words extremely efficient. One race solar cars do not represent a practical means of transportation. They have limited seating (usually one, sometimes two people), they have very little cargo capacity, and they can only be driven during the day. They do, however, offer an excellent opportunity to develop future technologies that can be applied to practical applications such as the Solar Buggy project featured here.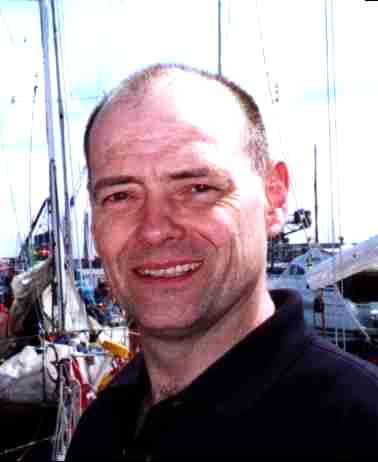 NELSON - is an electric car innovator who advocates passing skills to the next generation of engineers and encouraging creativity. Modern car design is largely generated on computers without drawings. Where in the real world, marking out and cutting is required, as in drawing full size. CAD-CAM obviates that need, such that fabrication experience goes out the window. But that also puts up the cost of creativity and prevents home concepts, one-offs and backyard specials, granted that with computer design it is possible to manufacture almost anything, enter 3D printing machines that are now affordable.
While the concept behind a solar vehicle is fairly simple, a great deal of work, time, and money goes into developing a high caliber solar car in order to maximize the limited power offered by the sun.
Building a solar car is a very ambitious goal, but one that is achievable through hard work and determination. One of the first things to do is to organize a group of people interested in building a car. Next, plan a specific timetable of aims. Then perhaps, work out how much money will you need to build your solar car. This of course depends on the parts used, and it's easy to specify the best, but more realistic to use what is available from the shop shelves.
If the least expensive parts are used, the total cost of a solar car need not be more that about £5,000 ($10,000). Unfortunately, this sum will not include traveling costs to, and sustenance during any competition. You will probably need a group of fundraisers who are willing to spend the year making presentations to businesses and speaking to individuals at their home. You will also need to assess what materials and tools you need and get several people focused on building the car itself. It may be a difficult road the first year, but the things you learn along, including the business of attracting sponsors, will stand you in good stead for a lifetime!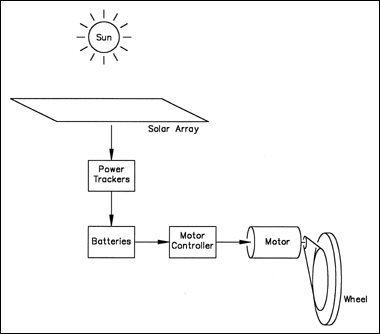 Electrical components of a Solar Car
I hope from these pages that you may learn more about solar cars and how they work. A solar car is made up of many components that have been integrated together so that they work as a single system. I have broken the components of my Solar Buggy down into nine logical primary systems for ease of reference.
Basically, solar cars are powered by the sun's energy. There are now many inexpensive toys demonstrating the principle. The main component of any car is its frame. However, in a solar car the most important component is its solar array, which collect and converts the sun's energy into usable electrical energy. The solar cells collect a portion of the sun's energy and stores it into the batteries of the solar car. Before that happens, power trackers converts the energy collected from the solar array to the proper system voltage, so that the batteries and the motor can use it. After the energy is stored in the batteries, it is available for use by the motor & motor controller to drive the car. The motor controller adjusts the amount of energy that flows to the motor to correspond to the throttle. The motor uses that energy to drive the wheels.
Hence, a solar car is an electric vehicle that receives its energy for traction, from the Sun rays directly by means of photovoltaic cells, with a battery as a load leveling device. The vehicle doesn't charge its batteries from the normal civil or industrial (generated) distribution network, like other battery powered cars, but from a clean and renewable source of energy. Fuel cells can replace or supplement batteries.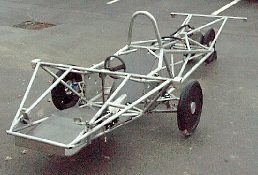 The Spirit of Aklahoma's framework
A solar powered car use a mix of technologies that can be extremely sophisticated. When we talk of a top performance car we mean that the car uses experimental materials. When we talk of an average performance car, we mean that the vehicle uses a sophisticated technology but commercial.
In designing my Solar Buggy, I has chosen to use only commercially available materials and components for practical purposes. The idea is to produce a performance car at sensible prices. A car that might one day be seen every day on the roads. Rather than an outright competition vehicles that use experimental materials at around 100 times the cost of commercial parts. I have set a limit of £300 for the chassis, £1,000 for the motor and controller, £800 for the solar panels, £300 for the batteries and £200 for the bodyworks. This gives a total of £2,600. It sounds a lot, but in fact we must not include the build labour and workshop costs, for it would probably double this figure. I have also omitted the design and development costs from this project.
Pricipia team's tubular chassis
The primary challenge in developing an effective solar car chassis is to maximize the strength and safety, but minimize the weight. Every extra pound requires more energy to move down the road. This means that teams must strive to minimize weight and a key area is the chassis. However, safety is a primary concern and the chassis must meet stringent strength and safety requirements. Generally, there are three types of chassis used in solar cars:
space frame

semi-monocoque or carbon beam

monocoque
A space frame uses a welded or bonded tube structure to support the loads and the body. The body is a lightweight, non-load bearing, composite shell that is attached to the chassis separately. The semi-monocoque or carbon beam chassis uses composite beams and bulkheads to support the loads and is integrated into a non-load bearing composite belly pan. The top sections of the car are often separate body pieces that are attached to the belly pan. A monocoque chassis uses the body structure to support the loads. All three types of chassis can produce strong lightweight vehicles. Many solar cars use a combination of the chassis categories mentioned above. The image above is an example of a semi-monocoque chassis with an integrated space frame used to protect the driver.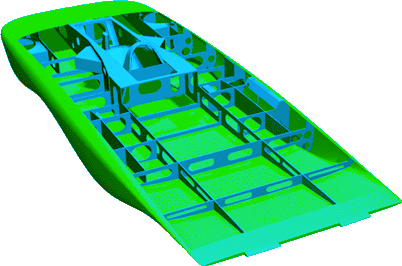 It may be necessary to define composite materials since the use of composites is extensive in solar cars. A composite material is the combination of a filler material sandwiched between layers of a structural material. Carbon fiber, Graphite, Kevlar and fiberglass are common composite structural materials. Honeycomb and foam are common composite filler materials. These materials are bonded together using epoxy resins and in the cases of Kevlar and carbon fiber, can obtain impressive strengths (equal to steel) but remain very lightweight.
SUMMARY: A solar car must have: efficient photovoltaic cells, an aerodynamic form, use light and efficient batteries, a high performance motor, adequate controls (electronics, and reliable mechanicals. On the average, a racing solar car, with its pilot on board (80kg) and with light batteries, should weigh between 250 - 300kg.
A very neat alloy chassis from Iowa State University
The frames shown above are made from alloy tubes welded together, whereas, many racing solar cars are made of carbon fibre and honeycomb sheets formed into a monocoque molding, or maybe using other exotic materials such as graphite, similar to that shown below. There are good and bad points for each method of fabrication. While the composite will be lighter, it is usually more fragile and harder to mount suspension to. It is also much more expensive. Alloy frames require skilled welders, while steel may be welded by amateurs using MIG machines at very little cost. Of course steel frames are heavier.
Monocoque (French for "single shell") or unibody is a construction technique that uses the external skin of an object to support some or most of the load on the structure. This is as opposed to using an internal framework (or truss) that is then covered with a non-load-bearing skin. Monocoque construction was first widely used in aircraft, starting in the 1930s, and is the predominant automobile construction technology today as sheet steel pressings, whereas formula one cars are carbon fibre one piece moldings.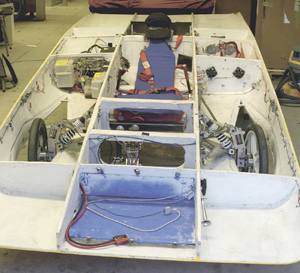 Fast solar powered car - Youtube
Please click on the links above to find out about these famous automotive makers. If your company is not included and you would like to be listed, please let us know.

SMARTCHARGER - Potentially the world's fastest electric car: 400mph using energy from nature. Featuring built in battery swapping system, charged using renewable solar energy. A project in waiting in PR terms.