JCB DIESELMAX SETS NEW RECORD 350 mph - 23 August 2006
JCB DIESELMAX LSR PROJECT
The JCB Dieselmax is a diesel-engined 'Streamliner' car designed for the purpose of breaking the land speed record for a diesel-engined vehicle. The chassis was designed and built by Coventry-based engineering company Visioneering, with engine and gearbox development by Ricardo Consulting Engineers. During the 2006 Bonneville Speed Week and subsequent FIA record runs, the car was driven by Wing Commander Andy Green, a serving RAF Officer who previously broke the absolute land speed record in the ThrustSSC.
The car itself is powered by specially-tuned versions of the production JCB444 powerplant, developing up to 750bhp each (over 5 times the power output of the production version) and featuring 4 cylinders and 5 litres of displacement, accompanied by twin compound turbochargers and twin compound intercoolers. As the size of the car prohibited meaningful Wind Tunnel testing, the streamlined shape of the car was refined entirely though the use of computational fluid dynamics, which has enabled the car to obtain a very low coefficient of drag of only 0.174 and a CdA value (drag coefficient x frontal area) of only 0.153 m². The fully-laden weight of the vehicle, including fuel, oil, ice, water coolant and the driver, is only slightly less than 2,700kg.
The car began shakedown testing on July 20th 2006 on the runway at RAF Wittering, with the team slowly ramping up the speed to prove the chassis and engines, eventually acheiving a speed of over 200mph on July 30th. On August 13th, after several days spent re-assembling and re-testing the car at Wendover, the Dieselmax made its first official run on the Bonneville Salt as part of Speed Week, eventually attaining an average speed of 317mph to take the SCTA-BNI event record for an 'AA/DS' Diesel Streamliner.
On 22nd August 2006, the JCB Dieselmax car broke the official FIA diesel engine land speed record, attaining a speed of 328.767mph (529km/h). 24 hours later, the JCB Dieselmax car broke its own record, achieving a speed of 350.092mph (563.418km/h) on 23rd August 2006. Before the JCB Dieselmax records, the diesel land speed record was 236mph (380km/h), set in August 1973.
In a live interview from Utah on BBC News 24, Andy Green said that the car was not running at its full potential, due to problems finding suitable tyres and that this speed was achieved while the car was still in fifth gear (the car has six).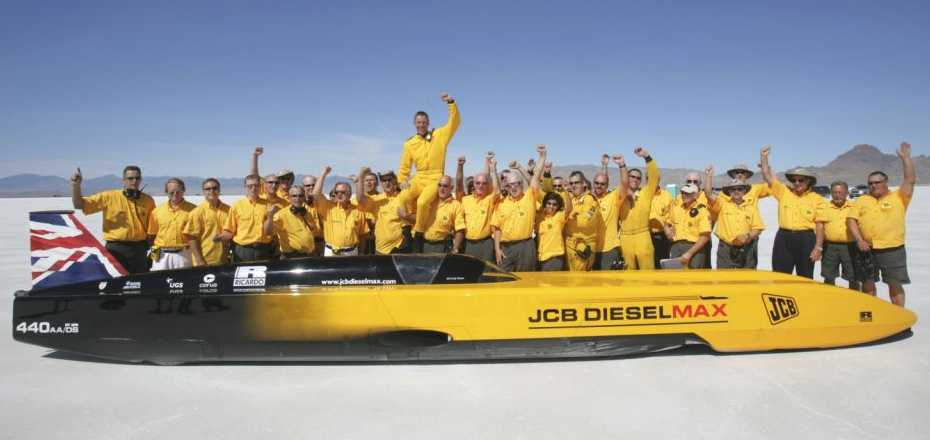 JCB Dieselmax record car and team - Bonneville salt flats
SPECIFICATIONS

Model

JCB Dieselmax

Engine

Twin 5000cc turbocharged JCB444, four cylinders

Power

2 x 750bhp @3800rpm

Torque

1105 lb ft @ 2000rpm

Transmission

Two six-speed manual gearboxes

Fuel capacity

9 litres

Speed

300mph+

Brakes

Carbon brakes plus driver-activated engine braking and two parachutes

Tyres

23x15 Goodyear

Drag coefficient

0.174Cd
---
LINKS
JCB DIESELMAX PRESS OFFICE
Amanda Gadeselli
T: +44 (0)20 7384 8701
E: amanda.gadeselli@fingal.co.uk
Peter Panarisi
T: +44 (0)20 7384 8720
E: peter.panarisi@fingal.co.uk
North America
Brendan Prebo
T: +1 313 6831155
E: bprebo@asgren.com
JCB WORLD COMMUNICATIONS
Daniel Ward
T: +44 (0)1889 59 3602
E: daniel.ward@jcb.com
HOME | NEWS | CAR | TEAM | IMAGES | DIARY | JCB | BROADCASTERS
http://driving.timesonline.co.uk/article/0,,22750-2319057,00.html
JCB today unveiled the JCB DIESELMAX vehicle with which it aims to break the world ... Ricardo will continue to support the JCB DIESELMAX project up to and ...

As the finishing touches were being put to the JCB DIESELMAX speed record contender – which Andy Green will begin testing in the UK next week – the ...

JCB dieselmax team breaks 200mph barrier news story in Cars - Pocket-lint.co.uk.

UK motoring, motoring news, reviewed cars, road tests and launches updated daily.

The JCB diesel record attempt car described in the June 2006 edition of Eureka has exceeded 200mph on tests, close to the current 235.756mph world record.
JCB today unveiled the JCB DIESELMAX vehicle with which it aims to break the ... Ricardo will continue to support the JCB DIESELMAX project up to and ... ...

For the initial shakedown, the JCB Dieselmax ran without its sleek yellow ... JCB Dieselmax, the spectacular streamliner with which the British digger maker ...

The 200mph barrier has been broken by the JCB Dieselmax in UK testing for an attempt on ... The 750BHP engines of the JCB Dieselmax have been developed in ...

The JCB Dieselmax, a 9m-long streamliner powered by two highly tuned examples of the JCB444 diesel engine that has powered all kinds of JCB machinery since ...

Driving a purpose designed streamliner car – the JCB Dieselmax - Andy is hoping to achieve speeds of over 300 (483 km) miles per hour in the vehicle to ...

MORE TECH SPECS
THE Diesel Max is more than 27ft long and weighs 2.7 tons.
POWER: Two 750bhp turbo-charged JCB diesel engines at the front and back driven through two six-speed gearboxes. A radiator would have meant too much drag, so the cooling system is designed around a 44 gallon water-and-ice tank.
TYRES: 23x15 racing tyres – aeroplane tyres were tested but their performance was deemed too unpredictable.
BRAKES: It has a dual circuit, triple-braking system – oh, and parachutes.
STEERING: Conventional rack-and-pinion system to the front wheels but no power assistance.
TOP SPEED: 300mph plus.
ECONOMY: Don't ask.

A - Z DIRECTORY of MOTOR MANUFACTURERS
---
UK VEHICLE INSURANCE ONLINE A - Z
No matter what car, van or bike you drive, we're all looking for great value and quality in our UK motor insurance? But who is the best - who is the cheapest and who offers the great service in the event of a claim?
See the insurance companies below who claim to offer competitive cover at sensible prices, our guide to the jargon and tips for cutting your quote - Good Luck:-
JCB DIESELMAX LSR PROJECT
---
Solar Cola drinkers make better drivers ......