Squadron Leader Andy Green (born 1962), a British RAF pilot, is the current holder of the land speed record and the first person to break the sound barrier on land. On September 25, 1997 in ThrustSSC he beat the previous record in Black Rock Desert, USA, reaching a speed of 714.144 mph (1149.30 km/h). On October 15, he reached 763.035 mph (1227.99 km/h), the first supersonic record (Mach 1.016).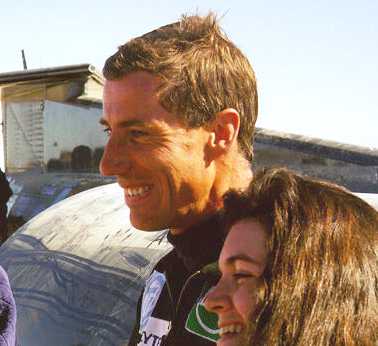 Andy Green
The first ever (and only) supersonic World Land Speed Record of 763.035mph was set on 15th October 1997 by Andy Green in ThrustSSC, on the Black Rock Desert, Nevada. The speed of sound was exceeded on land by Andy Green and ThrustSSC for the first time in history on 13th October 1997.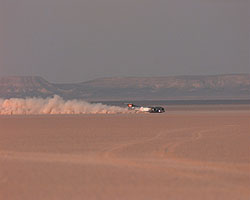 Thrust SSC at speed on Jafr Desert, Jordan
The ThrustSSC team returned to the UK having achieved their objective. At about the same time the Spirit of America team left the Black Rock Desert with the weather closing in.
ThrustSSC has reached a highest speed through the measured mile to date of 766mph with runs completed. Spirit of America has reached 636mph with runs planned to continue in the future.
Spirit of America reached a peak speed of 675mph on the Black Rock Desert, Nevada, before crashing during October 1996's record attempt.
Thrust SSC is the most powerful, most extraordinary car ever to be designed to attack the Land Speed Record, and as the SSC (Super Sonic Car) in the name indicates, it is also one of the first with genuine potential to breach the Sound Barrier.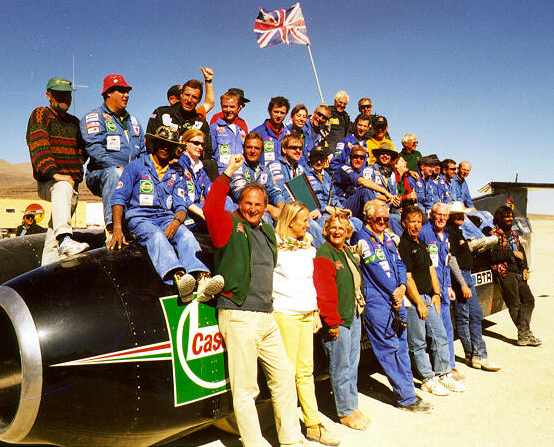 Thrust SSC team members
Where Thrust 2 used a 17,000 pound thrust Rolls-Royce Avon 302 engine from a Lightning fighter, Thrust SSC is the first car to use two turbojets. These were initially Rolls-Royce Spey 202s from the Phantom fighter, each producing 20,000 pounds of thrust. Richard Noble has acquired two of them, but also has two even more powerful 205 units (25,000lb of thrust) for use when ThrustSSC has proved itself in transonic testing. Thrust SSC thus has the power of 1000 Ford Escorts, or 145 Formula One cars...
It weighs 10 tonnes, and performance estimates confirm it will accelerate from standstill to 100mph (161kph) in four seconds or 0-600mph (1000kph) in 16 seconds. Within five miles (8 km) it will then reach its maximum speed of 850 mph within half a minute.

Overall Design Engines Rear-Wheel Steering Cockpit Parachute Braking System
Wheels 2, Stones 0 - The impact between the solid aluminium wheels on desert stone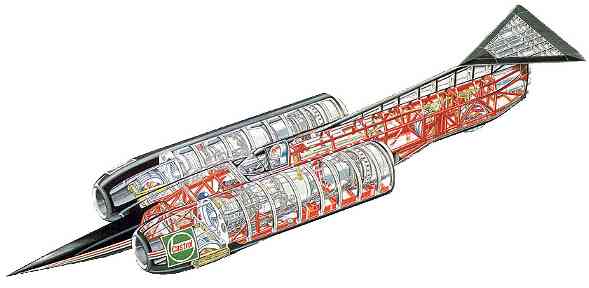 Cutaway drawing of Thrust SSC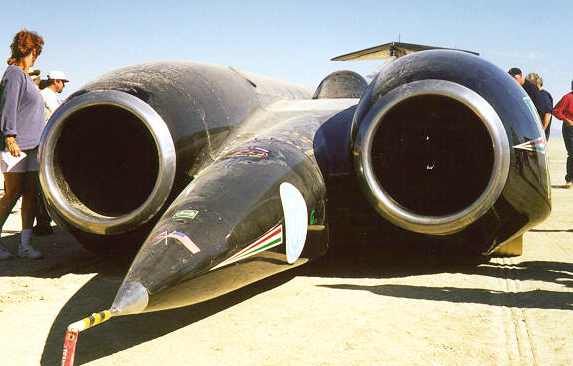 Contacting ThrustSSC Site Contents The Media The Story The Technology
Thrust and iT Site Updates Shop Mach 1 Club
JCB DIESELMAX LSR PROJECT
---
A taste for adventure capitalists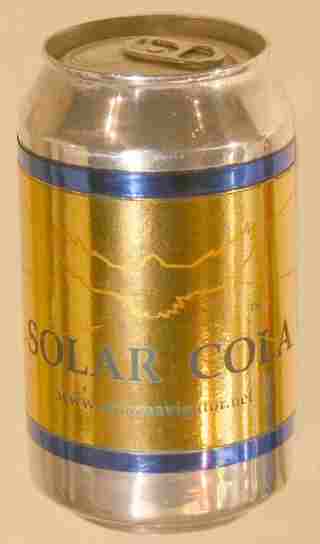 Solar Cola - a healthier alternative