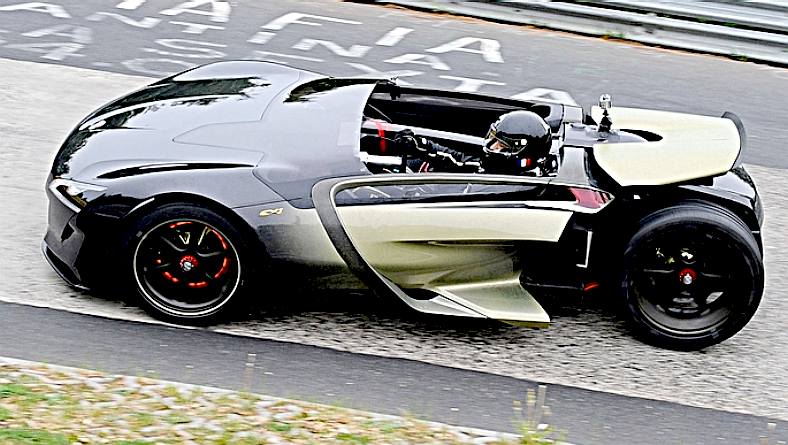 The Peugeot EX1 Concept is an electric vehicle made by Peugeot, presented at the 2010 Paris Motor Show. It has two engines that provide 250 kW (340 hp) and 480 Nm of torque.
Peugeot is a major French car brand, part of PSA Peugeot CitroŽn, the second largest carmaker based in Europe.

The family business that precedes the current Peugeot company was founded in 1810, and manufactured coffee mills and bicycles. On 20 November 1858, Emile Peugeot applied for the lion trademark. Armand Peugeot built the concern's first car, an unreliable steam tricycle, in collaboration with Leon Serpollet in 1889; this was followed in 1890 by an internal combustion car with a Panhard-Daimler engine.

Due to family discord, Armand Peugeot in 1896 founded the Sociťtť des Automobiles Peugeot. The Peugeot company and family is originally from Sochaux, France. Peugeot retains a large manufacturing plant and Peugeot Museum there. It also sponsors the Sochaux football club, founded in 1928 by a member of the Peugeot family.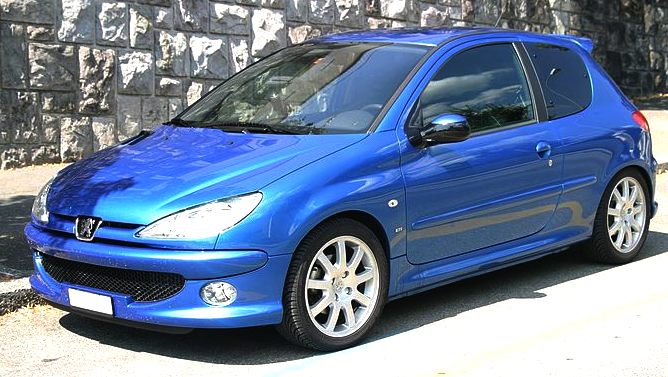 The Peugeot 206 - a hot hatchback a decade ago, now just another also ran petrol polluter
2000 ONWARDS

On 18 April 2006, PSA Peugeot CitroŽn announced the closure of the Ryton manufacturing facility in Coventry, England. This announcement resulted in the loss of 2,300 jobs as well as about 5,000 jobs in the supply chain. The plant produced its last Peugeot 206 on 12 December 2006 and finally closed down in January 2007.
Peugeot is a long way off from its ambitious target of selling 4 million units annually by the end of the decade. In 2008 its sales stayed below the 2 million mark. The folks from Mr Tune informed the Speedace team that Peugeot sedans gained increasing popularity in Australia during the late 2000s. However, this popularity in Australia quickly tapered off and new Peugeot sedans remain a rare purchase for new car buyers. In mid 2009, 'adverse market and industry conditions' were blamed for falls in sales and operating losses. Christian Streiff was replaced by Philippe Varin (CEO) and Jean-Pierre Ploue (Head Design) was transferred from his post at Citroen. In 2009, Peugeot returned to the Canadian Market with the scooter brand only.


PEUGEOT 107

However, Peugeot still plans on developing new models to compete in segments where it currently does not compete. Collin claimed that the French automaker competed in 72% of market segments in 2007, but he wanted to get that figure up to 90%. Despite Peugeot's sportscar racing program, the company is not prepared to build a pure sportscar any more hardcore than the upcoming RC Z sports-coupe. It is also pursuing government funding to develop a diesel-hybrid drivetrain, which might be key to its expansion.

By 2010 Peugeot planned on pursuing new markets, mainly in China, Russia and South America and in 2011 decided to re-enter the Indian market after 14 years with a new factory at Sanand, Gujarat, India.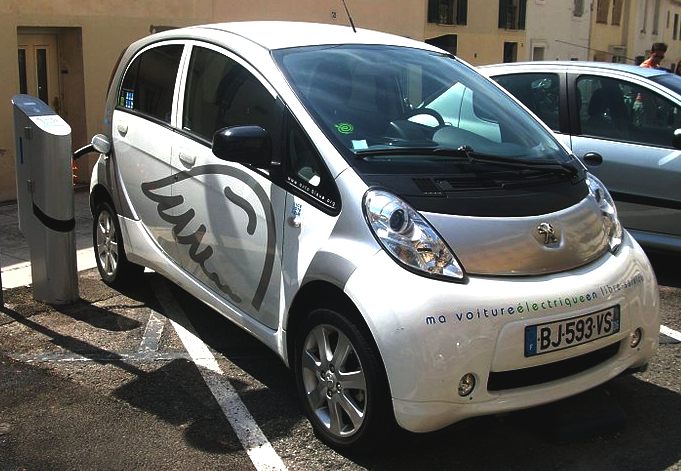 ELECTRIC & HYBRID

Peugeot presented a new concept hybrid electric sports sedan at the 2008 Paris Motor Show called the Peugeot RC HYmotion4. Similar to the drivetrain model used in the upcoming Chevrolet Volt, the RC concept promises the ability to run solely off electric power for extended periods, with a hybrid electric powertrain filling in the gaps when extra range is needed The RC HYmotion4 includes a 70 kW electric motor at the front wheels. The Peugeot Prologue HYmotion4 was also shown at the 2008 Paris show and is in many ways the opposite of the RC HYmotion4 concept. The Prologue puts the internal combustion engine up front and runs on diesel instead of gasoline with the electric motor going at the back.

The Peugeot BB1 is an electric concept car with in-wheel motors in its rear wheels first shown in September 2009 at the Frankfurt Motor Show.

In 2010 Peugeot started selling the electric Peugeot iOn, a rebadged and revised version of the Mitsubishi i-MiEV.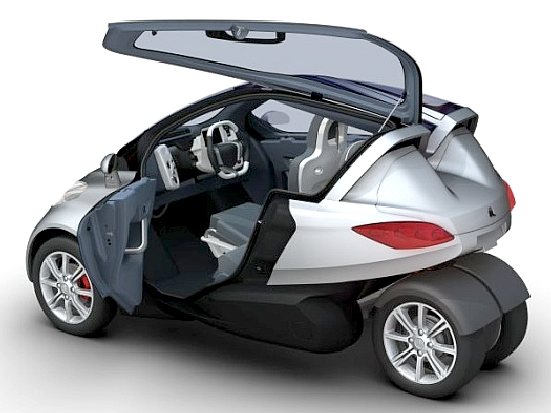 i-MiEV

The Mitsubishi i-MiEV (MiEV is an acronym for Mitsubishi innovative Electric Vehicle) is a five-door hatchback electric car produced by Mitsubishi Motors, and is the electric version of the Mitsubishi i. The i-MiEV is also sold in Europe rebadged by PSA Peugeot CitroŽn (PSA) as the Peugeot iOn and CitroŽn C-Zero.

The i-MiEV was launched for fleet customers in Japan in July 2009, and on April 1, 2010, for the wider public. International sales to Asia, Australia and Europe started in 2010, with further markers in 2011 including Central and South America. Fleet and retail customer deliveries in the U.S. and Canada began in December 2011. The American-only version, called "i", is larger than the Japanese version and has several additional features.

According to the manufacturer, the i-MiEV all-electric range is 160 kilometres (100 mi) on the Japanese test cycle. The range for the 2012 model year American version is 62 miles (100 km) on the United States Environmental Protection Agency's (US EPA) cycle. In November 2011 the Mitsubishi i ranked first in EPAís 2012 Annual Fuel Economy Guide, and became the most fuel efficient EPA certified vehicle in the U.S. for all fuels ever, until it was surpassed by the Honda Fit EV in June 2012.

As of October 2012, more than 20,000 i-MiEV family vehicles have been sold worldwide. Europe is the leading market, with 4,645 CitroŽn C-Zeros, 4,555 Peugeot iOns and 3,584 Mitsubishi i MiEVs sold through October 2012, followed by the Japanese market with 6,907 i-MiEVs sold through October 2012. The top selling countries in Europe are France, with 3,898 units of the i-MiEV family sold, Norway, with 2,891 units, and Germany, with 1,831 units sold through October 2012.
LINKS
http://en.wikipedia.org/wiki/Peugeot_EX1_Concept
http://en.wikipedia.org/wiki/Peugeot
http://www.peugeot.com/en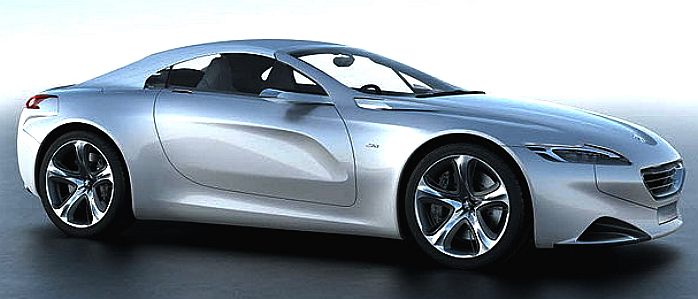 Please click on the links above to find out about these famous automotive makers. If your company is not included and you would like to be listed, please let us know.
Car, van or or bike, we're all looking for great value and service in our UK motor insurance? But who offers the best value and who offers great service in the event of a claim?
The insurance companies below claim to offer competitive. See our guide to the jargon and tips for cutting your quote - Good Luck:-
UK VEHICLE INSURANCE ONLINE A - Z
No matter what car, van or bike you drive, we're all looking for great value and quality in our UK motor insurance? But who is the best - who is the cheapest and who offers the great service in the event of a claim?
See the insurance companies below who claim to offer competitive cover at sensible prices, our guide to the jargon and tips for cutting your quote - Good Luck:-

Vehicle design inspired by Reid Railton and Sir Malcolm Campbell's spectacular record runs at Daytona Beach, the BE3 is probably the world's fastest electric car: 350mph + using energy from nature featuring patent built in battery cartridge exchange refueling. The name Bluebirdô and flying blue bird logo are registered trademarks concerning battery cartridge exchange recharging.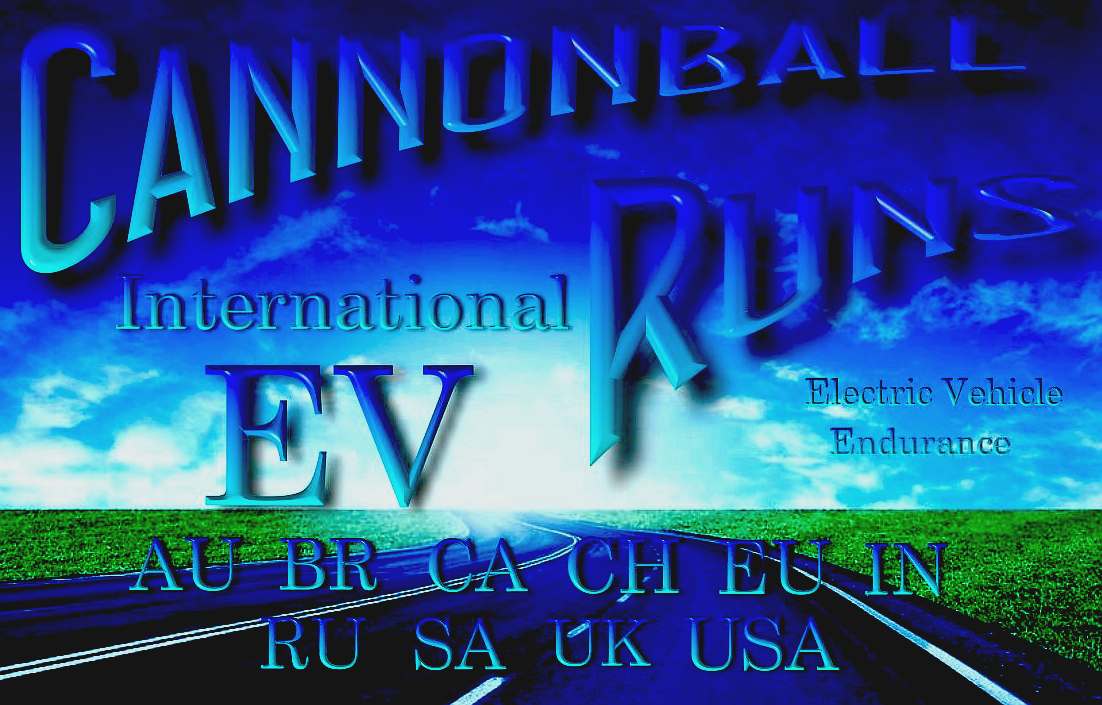 The international cannonball run series rule book above and the Bluebird World Cup Trophy below