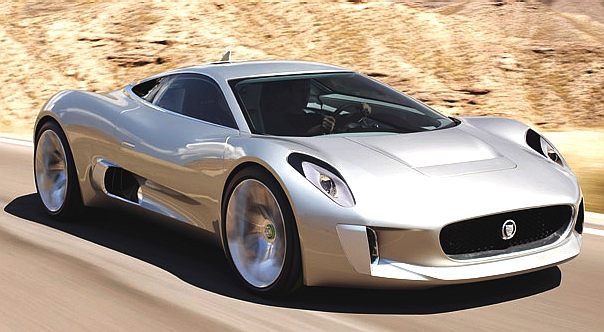 THE SWALLOW SIDECAR COMPANY
William Lyons didn't exactly burst into the automotive world like other designers; he arrived by motorcycle.
In 1922, at the age of 21, William Lyons changed from a customer of Bill Walmsley's Swallow motorcycle sidecar to a business partner. They formed the Swallow Sidecar Company in Blackpool, England. Their stylish, distinctive aluminum sidecars proved popular.
This was William Lyons tirst venture as an automotive designer.
In 1927, Lyons crafted a sporty two-seater body for the small, inexpensive but homely Austin Seven. The Swallow Sidecar and Coachbuilding Company was born. The following year saw the addition of the Austin Seven Swallow Saloon and the company moved to Coventry where most of the British automobile industry was based.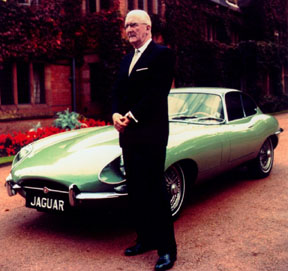 Sir William Lyons 1901-1985
Lyons introduced three new bodies at the 1929 London Motor Show -- the Fiat Tipo 509A, the Swift Ten and the Standard Big Nine. In 1930, they outfitted the two-seater Wolseley Hornet. In 1931, they built a body for the four-seater Wolseley and their largest body to date on a Standard with an Enfield chassis and six-cylinder engine. In 1932, they did the very sporty body for the Hornet Special.
Smart styling cues borrowed from more expensive marques, aluminum panels over wooden frames, bright paint schemes and affordable prices typified cars outfitted with Swallow coachwork. These motorcars are known collectively by Jaguar enthusiasts as the Swallow cars. Sidecar was dropped from the company name at this time, though they continued to manufacture sidecars until that operation was sold after World War II.
Lyons now had the car manufacturing bug while his partner preferred the hand assembly of the cottage industry approach. With the experience of being at least a partial automobile manufacturer, Lyons yearned for his own marque but was realistic enough to realize that he didn't have the intensive talent of a full manufacturer. Regardless, he moved ahead with the SS1 and SS11 cars at the 1931 Olympia show.
The first car shows the total resolve of the man in spite of overwhelming odds. He solved the lack of capital equipment by subcontracting the engine and chassis to the Standard Co. The press labeled the car as the hit of the show and William Lyons' automotive career was launched.
In 1933 the name of the company was changed to SS Cars Ltd. with Lyons becoming managing director. He bought his partner out in 1936.
THE FIRST JAGUARS
In 1934, Harry Weslake, regarded as one of the industry's top engine experts, joined the company. His new cylinder head with OHV valve arrangement was quite reliable.
The name Jaguar was used for the first time in 1935. Also in 1935, William Heynes joined the company as chief engineer.
The firm's production included limousines, convertibles, and sports cars fitted with 1.5-litre, 2.5-litre, and 3.5-litre engines. The most notable vehicle of the period was the 3.5-litre SS 100 model. This was the fastest and most famous pre-war Jaguar, with speeds of 100 mph and acceleration from rest to 60 mph in about 10.5 seconds. The engine had a compression ratio of 17.5:1. Racing successes in the Marne Grand Prix of Reims, the Villa Real International event, the Alpine Rally, The Monte Carlo Rally, and the RAC Rally made this one of the most famous Jaguar cars.
During WWII, production shifted to the war effort, of course. After the war, the company's name was changed to Jaguar Cars Ltd. and production resumed. The first Jaguars were produced with the option of left-side driving controls!
JAGUAR XK.
In 1946, in addition to updating the older models, Lyons developed a new sports car, the XK 120, which was inspired by the BMW 328 model and fitted with a six-cylinder x 2 OHC engine with a capacity of 3442 cc.
On September 30, 1948, as William Lyons introduced his all new Mk V sedan and drophead, he stated that a new sports car was coming, The car, called the XK-120 launched the company into the modern age and became an instant classic the moment it was unveiled, The car featured a six-cylinder DOHC engine of 3+ liter capacity making it one of the fastest cars of its era. The Lyons touch was there in the all-enveloping coachwork covering that marvelous engine. The magic worked again and sales dramatically increased.
In 1948 at the Earls Court Motor Show, Jaguar introduced the fastest motorcar to date, the XK 120 Roadster with an alleged top speed of 120 mph, superb roadholding and styling plus a smooth ride.
In 1951 The XK 120 Fixed Head Coupe was introduced at the Geneva Motor Show. This touring car was better trimmed with a veneer dashboard, and wind-up door windows. In 1953 the XK 120 Drophead Coupe was introduced with a fully-trimmed convertible hood. The XK 120 proved to be a super competition car.
In 1954 the XK 140 included rack-and-pinion steering, larger bumpers, extra chrome, a cast grill, and 190 hp. The XK 140 also had room for very small children behind the seat.
A major highlight of Lyons' career came in 1956 when Queen Elizabeth, a loyal Jaguar customer, took a tour of the Coventry plant and knighted him with the title, Sir William. There were some, both at Jaguar and in the press that found him less approachable from this time on.
A devastating fire swept through part of the factory in 1956. There are many sad photographs of burnt out XKSSs and Mark 1s being scrapped in the days that followed. But another amazing thing was happening as well. Whereas a lesser company might have faltered at this time, Jaguar got right back to the business of cleaning up and making automobiles again. The positive publicity from the determination of its workers in the light of this disaster impressed people everywhere and helped Jaguar sell even more cars.
In 1957, the Jaguar XK 150 came in with a low roar because the XK design was looking slightly outdated. This excellent car, however, was produced until 1961.
The market needed an even fresher approach. During the 1960s, Lyons acquired additional businesses, including Daimler, Guy and Coventry Climax, which gave the Jaguar Group one of the finest engineering teams and quality product ranges in the world. During the late 1960s, Lyons agreed to merge Jaguar Group with British Motor Corporation. The two later merged with Leyland to form British Leyland Motor Corporation with Jaguar Cars Ltd., operating autonomously.
The following anecdote from the Jaguar Scrapbook highlights Lyons' reputation for thriftiness:
On one occasion Lyons was visiting the Piccadilly showroom when he was approached by the Sales Manager.
'Excuse me, Sir William. The carpets in the showroom are becoming very worn, and threadbare in places. May I order new carpets?'
'Certainly not', replied Lyons, 'there is plenty of wear left in those' That was the end of the conversation. On a subsequent visit a month or two later, however, Lyons happened to look down and noticed - new carpet! The unfortunate fellow was summoned.
'I thought I told you not to replace the carpet. I thought I told you that the existing ones were perfectly satisfactory. When I give an order, I expect it to be obeyed . . .'
Lyons carried on in this vein until the fellow managed to interrupt long enough to explain that they weren't new carpets.
'What I have done, Sir William is to turn them round. Half of each strip was under the show cabinets at the side of the room, and therefore not worn. So now that I have reversed them the worn area is under the cabinets.'
Lyons was silent for a few moments, as he looked around him. The young man held his breath. 'Remarkable,' muttered Lyons. 'Remarkable.' There was another pause. 'Right, my man. I want you at Wappenbury Hall (Lyons mansion), nine o'clock on Monday morning. You can do the same thing for me at home.''
JAGUAR MK.
In the mid-fifties Jaguar had reached a point in its history of selling only luxury and sports vehicles. The company also sold a great deal of its production in foreign markets.
This put Jaguar in a precarious position because:
A recession could crush the market for luxury and sports vehicles.

A foreign government could close its market to Jaguar for no real reason.
Jaguar needed to cement a stronger position by producing a car that could be sold at home and to a larger market. Thus, the Jaguar MK I was introduced at the 1955 Motor Show.
The vehicle was designed to fill their product gap and to appeal to the home market. This Jaguar was of monococoque construction which in itself was new for the company.
The Jaguar MK II evolved as an instant success with a much larger glass area and a redesigned dash. Leather seats were fitted as standard until 1967 when leather became optional to keep the base cost down. Another Jaguar classic, its fog/spot lights, also became optional at this time.
Several other Jaguar variations were produced to fill a market gap between the 3.8S and the large MK X Jaguar. In 1960 Daimler was bought by Jaguar.
THE E TYPE
William Lyons next blockbuster was simply called the E Type. He had done it again. The design of the E Type was refreshingly new, but this time he incorporated the company's racing experience in the suspension and powertrain. The car was a rocket and unarguably one of the most beautiful sports cars of all time. The style was so simple, so fluid that it seemed to move while standing still, It was the third time that his design for a sports car was a styling breakthrough.
In 1966 Sir William Lyons stepped down as Managing Director of the Jaguar Group, but he remained Chairman and Chief Executive. Grice and England became joint managing directors. On July 11, 1966, Jaguar Cars Ltd. and the British Motor Corporation Ltd. announced they would merge. Also by the mid-60s, hind-sight could see that Jaguar was beginning to make too many models.
Sir William always had the final say in any production detail, but, what may come as a surprise to some was that prior to any launch, Lyons always had the prototype delivered to Wappenbury Hall so he could get a final opinion from his wife, Greta.
Katherine and her 1989 Jaguar XJS
Recent Jaguar History
In 1968 a merger with Leyland formed the largest British car complex.
While his sports cars created international fame, the company sold far more sedans. The sporty, luxurious sedans were the bread and butter of the company while the sports cars were the fun part. All his cars offered outstanding value, power, handling, and luxurious styling, Sir William Lyons was truly the all-encompassing designer.
50 years after forming Swallow Sidecar Company on his 21st birthday Sir William retired. His retirement was followed by a period of confusion and confusing changes at Jaguar. Whole departments, such as sales and service, disappeared into BL power. Lyons remained chairman and chief executive until 1972. he was succeeded by "Lofty" England, but he continued to influence and advise his former colleagues in his role as president.
The Ryder report, partially published in 1975, made it clear that Jaguar would not continue as an entity. Leyland Cars was formed and the brand new Jaguar XJ-S was thrown in with BL's other Earls Courts motor show offerings.
There was no single head man at Jaguar and the winter of 1979-1980 saw Percy Plant as nominal chairman of Jaguar. Plant was mainly known for his skill at closing factories. Morale among workers dropped to a low point in April of 1980 when a strike over grading and pay provoked Sir Michael Edwarde's ultimatum "return to work or lose your jobs."
Jaguar needed a boost as never before. It also needed a full-time chairman. Enter Jaguar's new full-time chief executive John Egan in April of 1980. He came from parts directorship of Massey Ferguson Construction and Machinery Division. He was 40 years old, the "new blood" Jaguar so desperately needed. Egan's first quote was, "One cannot have better ground to build on."
He definitely brought an air of optimism and new life to Jaguar that was soon reflected in production and morale. By 1985 it was clear that Jaguar was stable once more and that Jaguar people do not give up!
Sir William Lyons passed away in 1985. He left behind a lasting legacy. Many will remember him for being a shrewd businessman or an autocratic boss that called everyone by their sir name. Others will remember him for his thriftiness and still others for his personal attention to detail. But mostly we remember him for his unique sense of design and style and the subtle way he included a little of character into every car he built.
Jaguar Classics Produced from 1935 - 1975
| | | | |
| --- | --- | --- | --- |
| Jaguar Type | Production: Years | Length: Inches | Weight: Pounds |
| SS Jaguar 100 | 1935-1940 | | |
| Jaguar Mark IV | 1945-1948 | 173-186 | 2970-3670 |
| Jaguar Mark V | 1948-1951 | 187 | 3700-3860 |
| Jaguar XK 120 | 1948-1954 | 174 | 2855-3080 |
| Jaguar VII/VIIM | 1950-1957 | 196.5 | 3865 |
| Jaguar C-Type | 1951-1953 | 157 | 2075 |
| Jaguar XK 140 | 1954-1957 | 176 | 3135-3250 |
| Jaguar 150 | 1957-1961 | 177 | 3220-3520 |
| Jaguar Mark II | 1960-1969 | 181 | 3200-3360 |
| Jaguar E-Type (XKE) | 1961-1971 | 175-184.5 | 2690-3100 |
| Jaguar Mark X | 1961-1965 | 202 | 4175 |
| Jaguar S-Type/420 | 1963-1969 | 187 | 3585-3700 |
| Jaguar Mark X & 420G | 1965-1970 | 202 | 4300 |
| Jaguar XJ6/XJ12 | 1969-1973 | 189.5 | 3885-3950 |
| Jaguar E-Type Series III V-12 | 1971-1975 | 184.4-189.6 | 3380-3450 |
| Jaguar XJ6/XJ12 Series II | 1973-1979 | 194.8 | 3950-4300 |
| Jaguar XJC | 1975-1978 | 195 | 4195 |
09 JAN 01 JAGUAR NEWS

Jaguar Unveils New F1 Challenger
The car that will carry Jaguar's Formula One hopes when the new Grand Prix season starts was unveiled in Coventry today.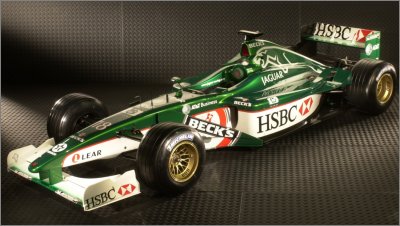 THE JAGUAR R2
The Jaguar R2 was launched at Jaguar's design and engineering centre at Whitley amid optimism that the team can push for a better season than last year.
Speaking at the launch, Jaguar Racing CEO and Team Principal Bobby Rahal said:
"We have experienced a challenging first year in the sport but implemented changes that we feel are necessary to deliver our objectives.

"Our aim this year is to achieve respectability and to continue to put in place the building blocks that we believe will deliver success in the long term.

"We are unswerving in our ultimate goal which remains to challenge for World Championship honours."
This year Eddie Irvine will race alongside 25-year old Brazilian Luciano Burti who graduates from his previous position as Jaguar Racing development driver during 2000.
05 JAN 02 JAGUAR NEWS
Jaguar Tops 100,000
For the first time in its 80 year history Jaguar has sold over 100,000 cars in a year.
Jaguar's Managing Director Mike Beasley announced the company's fourth successive year of record sales when he unveiled the new Jaguar S-Type range at the Los Angeles Motor Show on Thursday.
"During a very competitive year for premium car sales, and in an increasingly uncertain economic environment, I am delighted to announce yet another sales record for Jaguar," said Mike Beasley.

"During 2001 we sold 100,770 cars in our markets around the world. The new X-Type has been a major factor in our sales success. Over 30,000 X-Types have been sold since its mid year launch and the sales rate accelerated as the new car became available in our markets around the world during the second half of the year."
In Jaguar's biggest global market, the United States, the company sold a record 44,532 cars during 2001. Sales in the United Kingdom totalled 22,120 cars, another new sales record for Jaguar and an increase of 47 per cent over 2000. Record sales were also achieved in continental Europe and other overseas markets.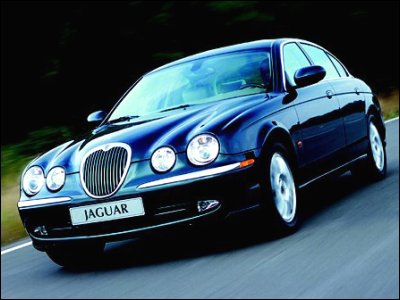 JAGUAR S-TYPE 4.2 SE
In the UK Jaguar has sold just under 10,000 X-Types since its launch in May last year. Initially available with 2.5 litre and 3 litre engine variants, the X-Type has rapidly established a presence in those sectors of the compact premium saloon market in which it competes. In the UK, for example, the X-Type takes 65 per cent of its market segment and in Italy the car has 60 per cent of its segment.
Other Jaguar Models:
Jaguar S Type

Jaguar X Type

Jaguar XJ

Jaguar XK
Please click on the links above to find out about these famous automotive makers. If your company is not included and you would like to be listed, please let us know.
UK VEHICLE INSURANCE ONLINE A - Z
No matter what car, van or bike you drive, we're all looking for great value and quality in our UK motor insurance? But who is the best - who is the cheapest and who offers the great service in the event of a claim?
See the insurance companies below who claim to offer competitive cover at sensible prices, our guide to the jargon and tips for cutting your quote - Good Luck:-

The world's fastest electric car: 350mph + using energy from nature. Featuring built in battery cartridge exchange, charged using renewable solar energy. Sponsors sought for the 2016 season.