SUMMARY

September 1975 XJ-S 5.3 V12 Coupe launched. October 1978 Manual option abandoned, so XJ-S automatic only. July 1981 XJ-S HE introduced with more power, economy, wood and leather interior trim, chrome bumpers and 'starfish'-design alloy wheels. October 1983 XJ-S 3.6 six-cylinder coupe and cabriolet launched with five-speed manual gearbox. July 1985 XJ-SC HE cabriolet launched. February 1987 Four-speed automatic offered on 3.6. March 1988 V12 full convertible launched. Anti-lock brakes fitted. November 1988 V12 got digital ignition and could run on unleaded. High-performance XJR-S 5.3 launched. March 1989 XJ-S 3.6 made to run on unleaded. October 1989 New XJR-S launched with 6.0-litre 318 bhp engine. September 1990 Catalytic converter standard. May 1991 XJS range revised with new rear windows, wings, lights and instruments. A 4.0-litre engine replaced 3.6. September 1991 Even more power - 338 bhp - for the XJR-S. February 1992 XJS 4.0 convertible launched, with stronger floor and a standard driver's airbag. August 1993 Body face-lifted, with moulded bumpers. A 6.0 V12 replaced 5.3. June 1994 New 4.0 engine introduced. May 1995 XJS 4.0 Celebration launched, with special wheels, mirrors, steering wheel and coachlines. April 1996 XJS discontinued.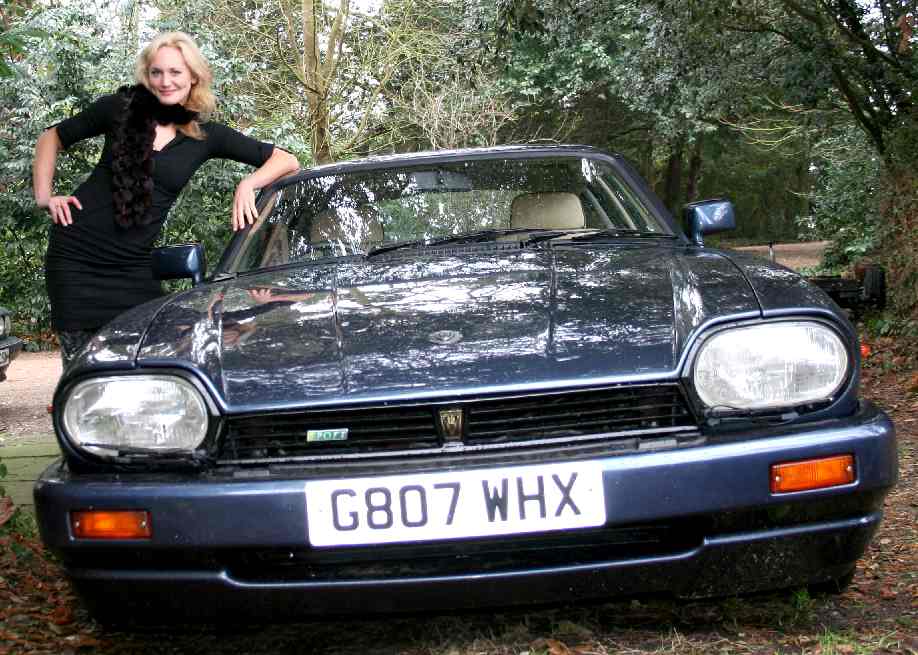 Katherine Hudson, Lime Park in 2006 with her 1989 Jaguar XJRS (now sold)
Owning an XJS is to experience luxury driving, with a sophisticated style that appeals to many men and women alike. Katherine Hudson (pictured above) took delivery of her XJS Christmas 2006. She is a young entrepreneur operating her own tent hire and event management business at the top end of the UK market, catering for special parties, weddings and prestigious corporate events, such as for the Solar Navigator Autonomous Trophy.
HISTORY
The Jaguar XJ-S (later the XJS) is a luxury grand tourer produced by the British automaker Jaguar Cars. The XJ-S replaced the legendary Jaguar E-Type (or XK-E) in September 1975, and was based on the XJ saloon. It had been developed as the XK-F, though it was very different in character from its predecessor. Although it never had quite the same sporting image, the XJ-S was a competent grand tourer and, in fact, more aerodynamic than the E-type. The last XJS was produced on April 4, 1996, with the XK8 taking its place.
1976
The first XJ-S appeared in 1975 as a 1976 model. Power came from the V12 version with a choice of a manual or automatic transmission (but the manual was soon dropped). The XJ-S was one of only three V-12 automobiles at the time, the other two coming from Italy, with the Lamborghini and the Ferrari. Both of which the XJ-S could hold its own with. It could reach 60 mph (100 km/h) in 7.5 seconds and accelerate to 150 mph (240 km/h). The Group 44 racing team built a successful Trans Am race car based on the XJ-S, and the car won the series' 1977 manufacturers' championship cup.
Jaguar's timing was not good: the car was launched in the wake of the first fuel crisis and the market for a 5.3-litre V12 grand tourer was very small. The styling was also the subject of much criticism, including the "flying buttresses" behind the windows.
Jaguar did seize promotional opportunities with the television series The New Avengers and Return of the Saint. The New Avengers featured Mike Gambit (Gareth Hunt) who drove an XJ-S. Reliability issues meant that two XJ-S's were used. Return of the Saint saw Simon Templar (played by Ian Ogilvy) driving an early XJ-S with the number plate 'ST 1'. Miniature versions were made by Corgi and proved popular. A decade and a half before, Jaguar had turned down the producers of the earlier Saint series when approached about the E-type. An XJ was also driven by Robert McCall (Edward Woodward) in The Equalizer.
Responding to criticisms that the XJ-S was not a worthy E-type successor, Pininfarina revealed a sporty show car in 1979 based on XJ-S mechanicals. The car never went into production.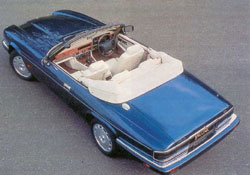 The 1980s
The 1981 XJ-S received the new High-Efficiency engine for much better economy. The XJ-S was also now the fastest automatic-transmission car in the world at 155 mph. In 1982, the new V12 XJ-S won first and second at the Tourist Trophy race at Silverstone. In 1983 a new cabriolet version débuted with a new 3.6-litre Jaguar AJ6 engine, the XJ-SC. In the XJ-SC, the rear jump seats were eliminated making it only a 2-seat car. The XJ-SC was not a full convertable but had a non-removable center targa-type structure and fixed cant rails above the doors. The rear quarter windows remained as well. With the introduction of the AJ6 engine in the XJS chassis came the availability of a 5-speed manual transmission for the 6 cylinder cars. This model with a Getrag manual transmission was not imported by Jaguar into the United states until 1994 (and then only in extremely limited numbers).
A limited number of earlier 5-speed AJ6 cars did enter the US as grey market personal imports however. A V12 XJ-SC did not emerge until 1985. The two-seat XJ-SC targa-type model was replaced with a two-seat full convertible in 1988. Prior to that there was a special full convertable version called a Hess & Eisenhardt XJS offered through dealers starting in 1986. The Hess & Eisenhardt coachbuilding firm was located in Ohio and built approximately 2100 of these cars under contract from Jaguar before the official Jaguar built XJS convertible appeared in 1988 to be offered as a 1989 model. The Hess & Eisenhardt convertible differed from the later Jaguar convertible XJS as it's unpadded top folded down deeper into the body structure of the car resulting in a cleaner rear profile when the roof was lowered. The later Jaguar full convertible had a heavier padded top that did not fold into as small of a bundle when in the lowered position.
In 1985, XJS drivers John Goss and Armin Hahne won the James Hardie Bathurst 1000 motor race in Australia.
In 1988 and 1989, a special XJR-S version of the V12 5.3 litre car was produced by TWR to celebrate Jaguar's win at Le Mans. A numbered limited edition of 100 of these cars were made for European sale only. This car had a distinctive TWR-fitted body kit, special alloy wheels and suspension and handling improvements. Between 1988 and 1989 a total of 350 XJR-s cars were produced with the 5.3 liter engine. After September 1989 the change was made to a special 6.0L engine with a Zytec engine management system. This was different from the standard 6.0 liter engine used in the late XJS models
Jaguar did consider a luxury Daimler version, without the flying buttresses, but this vehicle was not put into production.
Throughout the XJ-S's life, British company Lynx sold a high-quality four-seat full convertible conversion. Lynx also produced approximately 75 hand-built two-door estate/shooting brake/station wagon versions of the XJS marketed under the 'Lynx Eventer'. The Eventer was a very elegant model, which succeeded in the overall design because it removed the 'flying butresses,' incorporating them into the estate design. Jaguar were urged to market their own version but never did. Most Eventers are believed to still exist although build quality, especially on the early versions, was at best variable. Lynx have in the past supplied a new roof section (at a price!) due to poor build on early versions. If buying second-hand, use a magnet to check for plastic filler.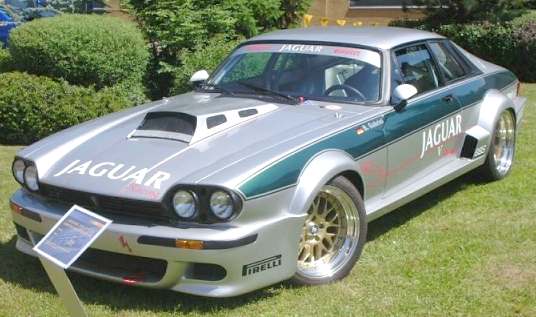 Jaguar XJS racing car
1991-1996
The car was re-engineered in 1991 and renamed XJS, with a convertible waiting one year. The rear windows were enlarged, though the flying buttresses stayed, as designer Geoff Lawson argued that they were part of the car's character. The car got a new 4-litre version of the AJ6, and the V12 was upped to 6 litres in 1993. At the same time the car benefited from a revision to the rear brakes, they were now fitted with outboard rear disc brakes, instead of the more complicated inboard items on previous models. These changes begin the "face-lift" for the aging xjs. A 2+2 convertible was also introduced, as was a customized insignia line. In 1994 the car received an updated more aerodynamic bumper fascia front and rear completing the face-lift. 1994 also marks the only year the 5 speed manual transmission xjs was imported to the United States. Exact production figures are unknown, though it is likely there are fewer than 10. 1995, substantial revisions were made to the 4-litre AJ6 engine. The new design was designated the AJ16 to reflect the major differences between it and the original AJ6.
Production of the car came to an end in 1996, with the introduction of the XK8.
XJS Figures

Engine

Speed
(mph)

0 to 60 mph

Overall mpg

3.6

134

7.8 s

20

4.0

141

7.5 s

19

V12 5.3

147

6.9 s

16

V12 6.0

161

6.6 s

15
Performance grand tourer Introduced 1986

Models Coupe, cabriolet, convertible

Price band £500-£15,000

For: Fuss-free performance. Very comfortable and practical. Good handling.

Against: Running costs can be steep, especially for sick cats. Only a two-seater - rear passengers are squeezed. V12 very thirsty.


The XJS is one of the last of the grand touring cars built for effortless long-distance travel, with a welcome turn of very high speed. It is a large car and handles very well. The boot is a decent size, but there's a severe shortage of rear passenger space. For two, though, the XJS is fabulously comfortable, the wonderful seats making up for the slightly cramped feel of the cabin. It's not as outdated as you might imagine, and running costs are containable provided you have it serviced by a specialist. The styling may not be to everyone's taste, but it's unmistakably a Jaguar. Recently the XJS has enjoyed a surge of popularity as buyers realise what great value for money a tidy second-hand model represents.
BUYING and SELLING

The XJS is a model that just kept on getting better. Every model after the 1991 restyle is excellent, especially in 4.0-litre guise. If you can afford the fuel bills, then a V12 is fine, but the high-performance XJR-S is phenomenal value for money. If you must have a V12, make sure it's an HE model from the '80s or a 6.0 from the '90s. And if it's a convertible you're after, make sure it's post-1992, as they had extra underfloor strength which made the already solid structure feel even more taut. A driver's airbag was standardised in that year, too. The original Cabriolet with roll-over bar is very good value, as most buyers prefer the full convertible.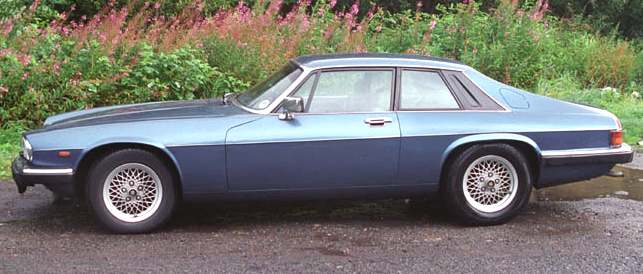 Jaguar XJS side view

XJSs to Avoid

The original XJ-S series built up to 1980 had a thirsty and complicated V12 engine that can run only on leaded fuel, so additives will have to be bought. Most cars from this era have been neglected and will require a lot of work. Never consider an XJ-S that needs restoration: the work will cost you more than the car will ever be worth. Pre-'84 examples can rust and will be unreliable unless regularly serviced and looked after. Demand for '90s models is strong, but any XJ-S from the '70s or '80s should be valued with caution: the market for expensive, fuel-thirsty, mass-produced cars is tiny, and there are simply too many XJ-S models in circulation at the moment.


Buying the best XJS

History is vital, however old or young the car. Although build quality has improved dramatically over the years, regular maintenance is essential to keep an XJS in good condition. Non-specialist back-street car dealers and auctions are probably the riskiest places to buy an XJS. Try and buy from a private seller who's a member of a Jaguar club and has every bill since day one. Late XJS models, complete with warranty, can still be found on Jaguar dealers' forecourts, but prices are going to be higher. Better to aim for a good one-owner example from a specialist or prestige car dealer - they will offer more realistic pricing, plus the safety net of a warranty. Expert help is essential when buying an XJS, as they can be problematic. Older models may have rust on the door bottoms, sills, below the rear bumper and around the rear window. Also, the air-conditioning can break, the V12 engines overheat, and the power-steering pumps leak, amongst many other ailments.
Other Jaguar Models:
Jaguar S Type

Jaguar X Type

Jaguar XJ

Jaguar XK
Links
---
---
UK VEHICLE INSURANCE ONLINE A - Z
Car, van or or bike, we're all looking for great value and service in our UK motor insurance? But who offers the best value and who offers great service in the event of a claim?
If you purchase your insurance via a dedicated link from this site, you could not only save money, but you'll also be helping us provide free information to thousands of students - at no cost to yourself. Please help if you can and thanks for considering us.
The insurance companies below claim to offer competitive. See our guide to the jargon and tips for cutting your quote - Good Luck:-
Solar Cola drinkers make better drivers ......

330ml Earth can - The World in Your Hands