Camille Jenatzy set a new world land speed record of 68.8 mph in December of 1899 in this streamlined car weighing in at 1,450Kg. The 100 kph barrier had been broken along with the Compte Chasseloup-Labatt's original land speed record set near Paris, France of 39.24 mph (63.13 kph).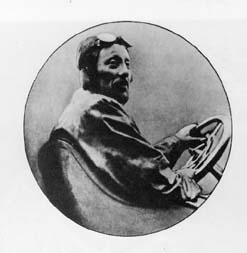 Janetzy, one of the early record holders
Camille Jenatzy (1868 - 1913) was a Belgian race car driver. Jenatzy is known for breaking the land speed record three times. On January 17, 1899 in Achères, France he achieved a speed of 66.66 km/h (41.42 MPH) over 1 kilometer, driving a CGA Dogcart. That same day the record was broken by Gaston de Chasseloup-Laubat, but ten days later on January 27 he achieved a speed of 80.35 km/h (49.93 MPH). This record was again broken by Chasseloup-Laubat, but Jenatzy set his third and final land speed record on April 29, reaching 105.88 km/h (65.79 MPH) in the CITA No 25 La Jamais Contente. This was the first record over 100 km/h. See also, Andrew Riker's Electric Torpedo of 1901.
La Jamais Contente
He also won the 1903 Gordon Bennet Cup race in Athy, Ireland, driving a Mercedes. Jenatzy died in 1913 in a hunting accident. He went behind a bush and made animal noises as a prank on his friends who were hunting with him. It worked too well, they heard the noise and shot because they thought there was an animal there. When they realised it was Jenatzy they tried to rush him to hospital but he died on the way. This fulfilled his own prophesy that he would die in a Mercedes.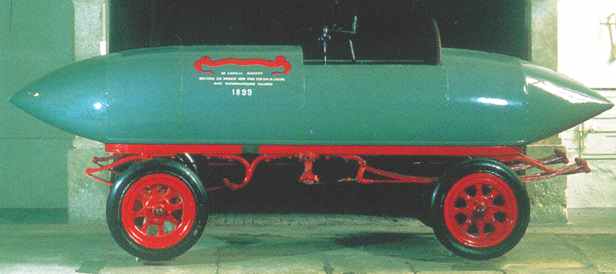 La Jamais Contente (replica)
Please click on the links above to find out about these famous automotive makers. If your company is not included and you would like to be listed, please let us know.
UK VEHICLE INSURANCE ONLINE A - Z
No matter what car, van or bike you drive, we're all looking for great value and quality in our UK motor insurance? But who is the best - who is the cheapest and who offers the great service in the event of a claim?
See the insurance companies below who claim to offer competitive cover at sensible prices, our guide to the jargon and tips for cutting your quote - Good Luck:-
A taste for adventure capitalists

The world's fastest electric car: 350mph + using energy from nature. Featuring built in battery cartridge exchange, charged using renewable solar energy. Sponsors sought for the 2016 season.