This is an absolutely amazing vehicle. Nelson bought her for £10 many years ago for spares without an engine from an old friend, Shaun, who now owns a trend-setting Bar in Eastbourne, Sussex, called 'Blue'. She was parked outside for a few years, then Nelson sold the front wheels to a previous owner, also a friend (Soggy) for £10. So the donor car was free. Then rather than break her, he decided it would be fun to complete the Baha conversion Shaun started. That was in 1987. A fiber-glass kit cost £200 and a set of Wellers £100. A Karman Ghia engine was sourced from his local dismantlers, Ripleys (thanks Obe), who usually come to the rescue with hard to find bits. Then came an adjustable front beam and some engine tuning goodies: high lift cam, melling oil pump, Webbers, etc, etc.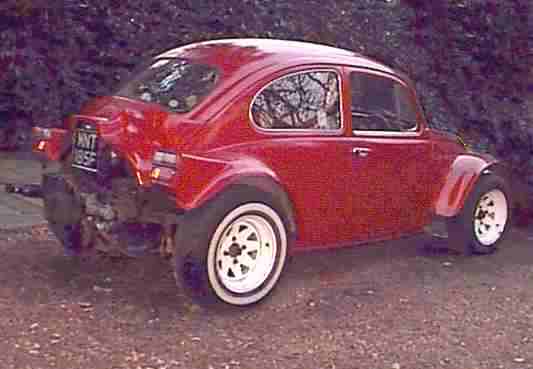 THE CONVERTED 1972 BEETLE
The standard Volkswagen Beetle is very reliable but doesn't handle at all and is sluggish. To cure this Nelson moved the battery ahead of the front axle and lowered the front end for better weight distribution. Wide rims and BF Goodrich tyres increased the track and cornering adhesion. 275's X 15 on back and 225's X 15 up front. Overall vehicle mass is reduced by this conversion. 1600 barrels and pistons and a lightened flywheel really improved the acceleration and the motor breaths better at the high end so top end is better. She is still fun to drive, reliable and legally displays historic black plates. The best thing is she is still running and better than when she rolled off the production line in Germany in the 70's.
BAJA LINKS
Baja Benny's Page - read about the transformation of a 1969 bug into a full-fledged Baja Bug. With pictures.
Baja Bug Web Site, The - building Baja Bugs from the ground up.
Baja Bugs [Insanity, Inc.] - photograph galleries.
Baja Page, The - VW sedan modified for off-road use, with writings and features on race, show, and real Bajas, and Baja buses.
Bajas in Action - tech tips, before and after photographs, as well as shots of Baja Bugs in off-roading action.
Bo's Baja - the story of one VW's transformation into a Baja Bug.
Bryon's Baja Page - looks at the process of building a Baja.
Bugly's Page - adventures of a '67 VW Baja Bug that is Corvair powered.
Bugman's Aircooled VW Page - pictures, articles, message board, and information on the webmaster's Baja project.
Flegs Baja Bug Page - with jump, action, and stuck photographs, as well as information and links.
FrankenBug: My 69 Baja - the story of how one man found his Baja Bug.
Green Baja - the story of a Volkswagen that called out to its owner to be transformed into something bigger and better.
Jay's Baja Page - photographs, links, and the story of the build up of a '73 Baja Bug.
Jeff's Baja Project - pictures and writings about the transformation of a '68 VW Beetle.
Justin's Baja Bug Page - with a photo gallery, technical information, and more.
Koo's Baja Bug - features pictures, news, and a forum.
My Baja Bug Buildup Page - budgeting, a brake job, an accident, and other incidents in the conversion of a '67 VW Beetle.
Paul's Baja Bug - Oregon Bajas, technical information, and a section dedicated to a '61 Baja.
Real German SUVs - dedicated to Lulu Belle, a yellow '64 Baja Bug.
Volkswagen Baja Beetles and More - with a journal of restoration progress, as well as photographs.
Yellow Baja and Dune Buggy Historical Society (YBDB) - dedicated to the preservation of the history of highway-legal VW-powered vehicles used off-road.
---
Please click on the links above to find out about these famous automotive makers. If your company is not included and you would like to be listed, please let us know.
UK VEHICLE INSURANCE ONLINE A - Z
No matter what car, van or bike you drive, we're all looking for great value and quality in our UK motor insurance? But who is the best - who is the cheapest and who offers the great service in the event of a claim?
See the insurance companies below who claim to offer competitive cover at sensible prices, our guide to the jargon and tips for cutting your quote - Good Luck:-
A taste for adventure capitalists

The world's fastest electric car: 350mph + using energy from nature. Featuring built in battery cartridge exchange, charged using renewable solar energy.