Yamaha Motor Company Limited (Yamaha Hatsudōki Kabushiki-gaisha TYO: 7272), is a Japanese motorized vehicle-producing company (whose HQ is at 2500 Shingai, Iwata, Shizuoka), which is part of the Yamaha Corporation.
After expanding Yamaha Corporation into the world's biggest piano maker, Yamaha CEO Genichi Kawakami took Yamaha into the field of motorized vehicles on July 1, 1955. The company's intensive research into metal alloys for use in acoustic pianos had given Yamaha a broad understanding of the making of lightweight, yet sturdy and reliable metal structures. This knowledge was easily applied to the making of metal frames and motor parts for motorcycles. Yamaha Motor is the world's second largest producer of motorcycles. It also produces many other motorized vehicles such as all-terrain vehicles, boats, snowmobiles, outboard motors, and personal watercraft.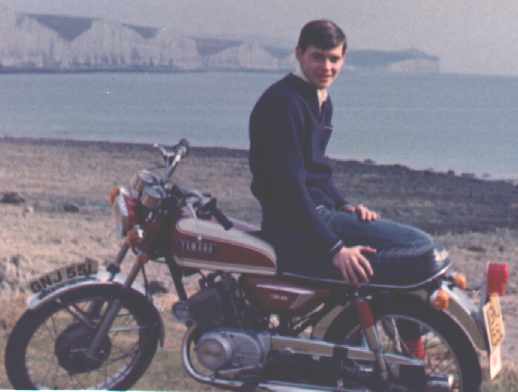 Seaford Head - Nelson & his Yamaha 125
Nelson's first motorised transport, the Yamaha 125cc AS3. A beautiful little engine could spin up to 9,000 rpm with no worries. The AS3 had a top speed of 85 mph (92 downhill) it was a lot of fun to learn to ride on and develop your road sense in relative safety and get you to college of time.


Yamaha Motor Co. is now a separate corporation, no longer a direct subsidiary of the Yamaha Corporation. They still share the same name and the trademark tuning fork logo, however with a small difference in the logotype of their name. The "M" in YaMaha is different - while the Motor Co's M extends all the way down to the baseline, the M of Yamaha Corp. is cropped in the lower middle part. Still, a close tie is kept between the two sister organizations. An example is a Yamaha manufacture plant in Indonesia, which both produce vital engine parts for motorcycles, and all hardware for Yamaha Drums and several of their entry-line drum kits.

In 2000, Toyota and Yamaha Corporation made a capital alliance where Toyota paid Yamaha Corporation 10.5 billion yen for a 5 per cent share in Yamaha Motor Company while Yamaha and Yamaha Motor each bought 500,000 shares of Toyota stock in return.


Racing Heritage

Yamaha has a long racing heritage where it has had its machines and team win many different competitions in many different areas, for example both road and off road racing, also Yamaha has had great success with riders such as Bob Hannah, Heikki Mikkola, Kenny Roberts, Chad Reed, Stefan Merriman and the latest, Valentino Rossi. Yamaha is known to those who are older in age as the designer of the modern motocross bike, as they were the first to build a production mono-shock motocross bike and one of the first to have a water-cooled motocross production bike (1981, but 1977 in works bikes).


Motorcycle models

Yamaha has made an extensive number of two- and four-stroke scooters, on-road and off-road motorcycles. The Yamaha XS 650, introduced in 1970, was such an overwhelming success that it crippled the British monopoly of vertical twin motorcycles.


Electrical vehicles

Motorcycles

Yamaha Alba
Yamaha Frog
Yamaha Libero
Yamaha Gladiator
Yamaha Mest
Yamaha Eccy
Yamaha Passol
Yamaha EC-02
Yamaha Passol-L

Mopeds

Yamaha PAS (Nickel metal hydride battery)
PAS Lithium (Lithium ion battery)
PAS Business (Ni-Cd battery)
Yamaha YQ50 Aerox R
Yamaha Jog
Yamaha Jog R
Yamaha Neo's
Yamaha BW'S
Yamaha FS1 (Yamaha FS1E)
Yamaha Lagend
Yamaha DT50


All-Terrain Vehicles

BW80 / 200 / 350
YFZ450
Raptor 80 / 350 / 660 / 700
Blaster 200
Banshee 350
Warrior 350
Bruin 350
Grizzly 600 / 660
Big Bear 400
Wolverine 350 / 450
Tri-Z 250


Snowmobiles

Yamaha has recently claimed a 100% four-stroke snowmobile line-up, making them the only snowmobile manufacturer to do so. In Canada though, there are still three models that Yamaha manufactures that are still 2 stroke. They are the Bravo, VK 540 and the Venture XL. Yamaha had introduced four-strokes to their line-up in 2003 and the line-up became four-stroke based for model year 2005. Many say that Yamaha has proven snowmobiles can be clean, efficient, and reliable all while maintaining strong performance. The RX-1 released in 2003 was the first performance-oriented four-stroke snowmobile to ever hit the market. It was not, however, the first modern four-stroke snowmobile produced. That honor belongs to Arctic Cat for their Yellowstone Special, released in 2000, which was designed as a rental sled that could meet Yellowstone National Park's stringent emission requirement. However, the Yamaha received much criticism for its weight disadvantage when compared to similar two-strokes, despite its excellent fuel economy and low-range torque.
Yamaha is now on the cutting edge of four-stroke technology with the introducing of their 80FI engine which is equipped on the Phazer and Venture Lite models. This engine has one of the highest specific output of any four-stroke in production, with 160 HP/L, Yamaha achieves this even without the use of a forced induction system. Yamaha is also a key player in the "four-stroke wars", which are a series of advertisements from opponent Ski-Doo who claim their 2-tec and power-tek equipped two-strokes are still cleaner and more efficient than four-strokes, while Yamaha still claims the four-strokes are cleaner. Yamaha also broke a multi-year absence from sno-cross in the winter of 2006-07 with their introduction of a factory race team headed by former Arctic Cat racer Robbie Malinoski.


Current Line-up

Apex
Attack
Nytro
FX Nytro
Phazer (4th Generation)
RS Rage
RS Vector
RS Venture
VK Professional


Outboard Motors

4 stroke series
4 stroke jet drive series
2 stroke V6
2 stroke portable / mid range


Kart Engines

WR series 4 stroke

WR250FK


YZ series 2 stroke

YZ125K
YZ85K


KT series 2 stroke

KT100SD
KT100SC
KT100SEC
KT100SP
KT100J
KT100AX
KT100A2


Other Vehicles

Yamaha has also built engines for other manufacturers' vehicles, most notably the V-6 and V-8 engine for the Ford Taurus SHO. The Volvo XC90 uses a larger version of the same Yamaha V-8 engine. They also built Formula One racing engines from the late 1980s to the mid 1990s, with little on track success. In 1991, Yamaha developed its F1 engined supercar called the OX99-11 where two drivers sit in tandem in front of the engine, but the project was canned due to the world recession and lack of interest.

Yamaha also tunes engines for other manufacturers, Toyota being one of them. Yamaha logos are, for instance, found on the Toyota S engines.

Yamaha developed a prototype for a two-seater sports car with help of Albrecht Goertz. While the Yamaha/Nissan partnership never progressed beyond the prototype stage, Toyota took up the design and released the Toyota 2000GT.

Yamaha is also one of the big 4 companies in the Personal water craft market.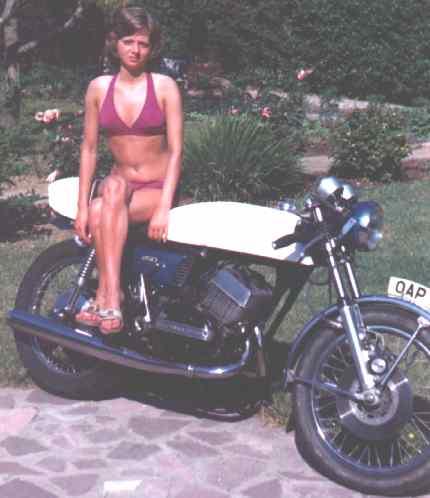 Nelson's Yamaha RD 250 with clip-ons, racing seat and tank
The motorcycle above was Nelson's second machine - the Yamaha RD 250. A very capable bike, fast acceleration (wheelies) and good for a ton. Many sporting enthusiasts followed the racing successes of Yarno Sarinnen (the Flying Finn) then bought the road going version of the water-cooled TZ250. Later, Nelson fitted a full fairing for even more street cred.
One late winter evening, this fairing saved the intrepid biker from a soaking. Heavy rain had caused a minor flood at Alfriston in Sussex. I say minor, but in fact the water level was above the exhaust pipes, which as you can see in the picture above is about 230 - 290 millimeters or 9 - 11 inches. Hey, anyone remember imperial? Nelson used the twisty country lanes home to Seaford at speeds which would mean points, had he not been very careful to watch road conditions for safe passage. (By this we mean safety for other road users. Don't ride dangerously. By all means enjoy a safe blast, but ride considerately.)
Traversing Alfriston (famous for King Alfred burning the cakes) high street, he leant into the first tight right hander straight into a pond. Quickly, straightening up, he managed to glide the Yamaha through the 50 yards of water, touching down in the middle and revving, so as to keep the water from entering the exhaust pipes. What fun. If he hadn't been late for dinner, he'd have had another go.
LINKS and REFERENCE
Visit esure.com for cheaper car and bike insurance
If you purchase your insurance via a dedicated link from this site, you could not only save money, but you'll also be helping us provide free information to thousands of students - at no cost to you. Please help if you can and thanks for considering us.

---
Please click on the links above to find out about these famous automotive makers. If your company is not included and you would like to be listed, please let us know.
UK VEHICLE INSURANCE ONLINE A - Z
No matter what car, van or bike you drive, we're all looking for great value and quality in our UK motor insurance? But who is the best - who is the cheapest and who offers the great service in the event of a claim?
See the insurance companies below who claim to offer competitive cover at sensible prices, our guide to the jargon and tips for cutting your quote - Good Luck:-
A taste for adventure capitalists

The world's fastest solar powered electric car: 350mph + batteries charged
using energy from nature