The Jaguar E-type or XK-E is an automobile manufactured by Jaguar Cars between 1961 and 1974. The E-type revolutionised sports car design, with performance, handling and looks ahead of its time. It was priced below competing models, helping it to achieve high sales for a high performance car. In excess of 70,000 E-types were sold over 14 years. In 2004, Sports Car International named this car number one on the list of Top Sports Cars of the 1960s.
Overview
The E-type was initially designed and shown to the public as a grand tourer in two-seater coupé form (FHC or Fixed Head Coupe) and as convertible (OTS or Open Two Seater). The 2+2 version with a lengthened wheelbase was released several years later.
The model was made in 3 distinct versions generally referred to as "Series 1", "Series 2" and "Series 3". A transitional series between Series 1 and Series 2 is known unofficially as "Series 1½".
In addition, several limited-edition variants were produced:
The "'Lightweight' E-Type" which was apparently intended as a sort of follow-up to the D-type. Jaguar planned to produce 18 units but ultimately only a dozen were reportedly built. Of those, one is known to have been destroyed and two others have been converted to coupé form. These are exceedingly rare and sought after by collectors.

The "Low Drag Coupé" was a one-off technical exercise which was ultimately sold to a Jaguar racing driver. It is presently believed to be part of the private collection of the current Viscount Cowdray.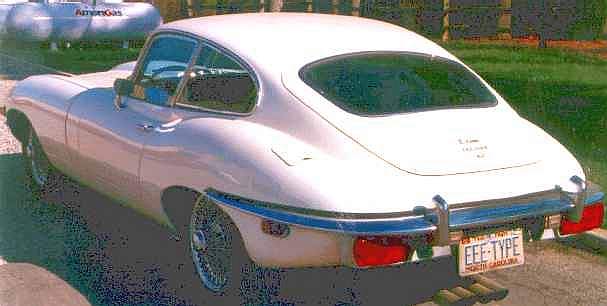 Series 1 (1961-1968)
The Series 1 was introduced in March 1961, using the triple SU carburetted 3.8 litre 6-cylinder Jaguar XK6 engine from the XK150S. The first 500 cars built had flat floors and external hood latches. These cars are rare and more valuable. After that, the floors were dished to provide more leg room and the twin hood latches moved inside the car. The 3.8 litre engine was increased to 4.2 litres in late 1964.
All E-Types feature a fully-independent suspension for improved ride and handling, and power-assisted disc brakes on all four wheels, features that were uncommon for cars from that era.
The Series 1 can be recognised by the following features:
Glass covered headlights (up to 1967).

Small "mouth" opening at the front.

Signal lights and taillights above bumpers.

Exhaust tips are under the license plate in the rear.
3.8 litre cars have leather-upholstered bucket seats, an aluminum-trimmed center instrument panel and console (changed to vinyl and leather in 1963), and a 4-speed gearbox that lacks synchromesh for 1st gear ("Moss box"). 4.2 litre cars have more comfortable seats, improved brakes and electrical systems, and an all-synchromesh 4-speed gearbox. 4.2 litre cars also have a badge on the boot (trunk) proclaiming "Jaguar 4.2 Litre E-type" (3.8 cars have a simple "Jaguar" badge).
A 2+2 version of the coupé was added in 1966. The 2+2 offered the option of an automatic transmission. The body is slightly longer and the roof angles are different. The roadster remained a strict two-seater.
There was a transitional series of cars built in 1967-68, unofficially called "Series 1½", which are externally similar to Series 1 cars. The new features were open headlights, different switches, and some de-tuning (with a downgrade of twin Zenith-Stromberg carbs, from the original triple SU carbs) for US models. Some Series 1½ cars also have twin cooling fans and adjustable seat backs. Series 2 features were gradually introduced into the Series 1, creating the unofficial Series 1½ cars, but always with the Series 1 body style.

Series 2 (1969-1971)
Open headlights without glass covers (Earlier cars had problems with misting, despite gaskets), a wrap-around rear bumper, re-positioned and larger front indicators and taillights below the bumpers, better cooling aided by an enlarged "mouth" and twin electric fans, and uprated brakes are hallmarks of Series 2 cars. De-tuned in US, but still with triple SUs in the UK, the engine is easily identified visually by the change from smooth polished cam covers to a more industrial 'ribbed' appearance. Late Series 1½ cars also had ribbed cam covers. The interior and dashboard were also redesigned, with flick switches being substituted for rocker switches that met U.S health and safety regulations. The dashboard switches also lost their symmetrical layout. New seats were fitted, which purists claim lacked the style of the originals but were certainly more comfortable. Air conditioning and power steering were available as factory options. It was available in FHC, OTS, and 2+2 versions.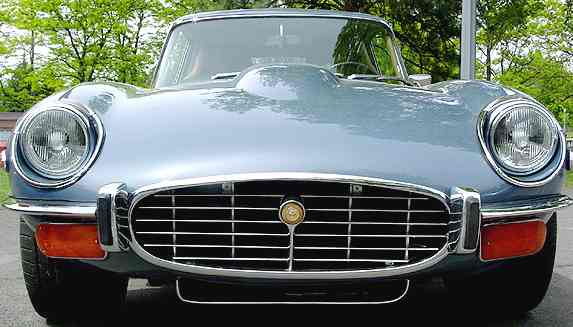 Series 3 (1971-1974)
A new 5.3 L 12-cylinder Jaguar V12 engine was introduced, with uprated brakes and standard power steering. The short wheelbase FHC body style was discontinued and the V-12 was available only as a convertible and 2+2 coupe. The convertible used the longer-wheelbase 2+2 floorpan. It is easily identifiable by the aggressive, slatted front grill in place of the mouth of earlier cars, flared wheel arches and a badge on the rear that proclaims it to be a V12. There were also a very limited number of 4.2 litre six cylinder Series 3 E-Types built. These were featured in the initial sales literature. It is believed these are the rarest of all E-types if indeed any remain.
Low Drag Coupé (1962)
Shortly after the introduction of the E-type, Jaguar management wanted to investigate the possibility of building a car more in the spirit of the D-type racer from which elements of the E-type's styling and design were derived. The first car was built to test the concept. It was designed exclusively as a coupé since aerodynamicist Malcolm Sayer understood that a closed-top car is easier to make light and aerodynamic - unlike previous Jaguar racers which were exclusively build as open-top cars. Unlike the production E-types which used steel bodies, the LDC used lightweight (but more expensive and difficult to produce) aluminium. The chassis remained steel. It used a tuned version of Jaguars 3.8 litre engine with an experimental cylinder-head design they had tested in Le Mans racers.
The vehicle was complete in summer of 1962 but was sold a year later to Jaguar racing driver Dick Protheroe who raced it extensively and eventually sold it. Since then it has passed through the hands of several collectors on both sides of the Atlantic and now is believed to reside in the private collection of the current Viscount Cowdray.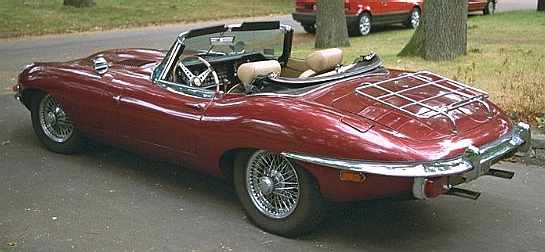 Lightweight E-type (1963-1964)
In some ways, this was an evolution of the Low Drag Coupé. It made extensive use of aluminum alloy in the body panels and other components. However, with at least one exception, it remained an open-top car in the spirit of the D-type to which this car is a more direct successor than the production E-type which is more of a GT than a sports car. The cars used a tuned version of the production 3.8 litre Jaguar engine with 300 bhp output rather than the 265 bhp produced by the "ordinary" version. At least one car is known to have been fitted with fuel-injection.
The cars were entered in various races but did not earn any victories in Le Mans or Sebring like their illustrious predecessors.
Other Jaguar Models:
Jaguar S Type

Jaguar X Type

Jaguar XJ

Jaguar XK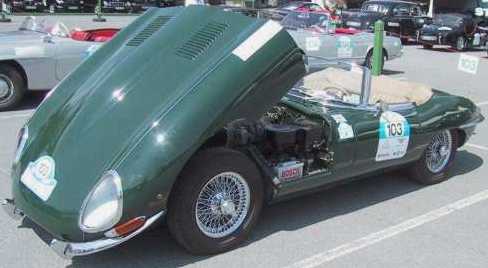 Links
Please click on the links above to find out about these famous automotive makers. If your company is not included and you would like to be listed, please let us know.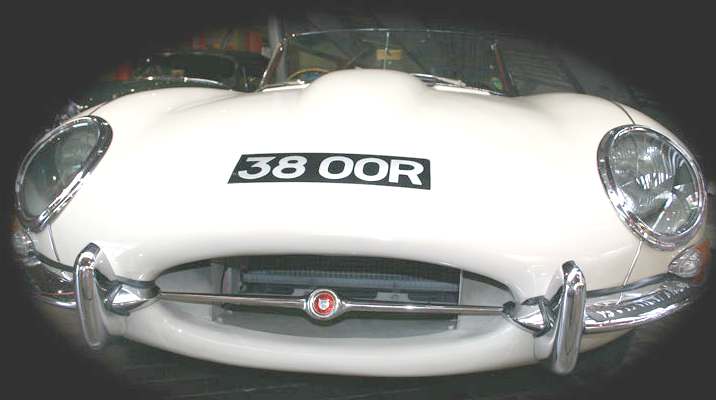 UK VEHICLE INSURANCE ONLINE A - Z
No matter what car, van or bike you drive, we're all looking for great value and quality in our UK motor insurance? But who is the best - who is the cheapest and who offers the great service in the event of a claim?
See the insurance companies below who claim to offer competitive cover at sensible prices, our guide to the jargon and tips for cutting your quote - Good Luck:-
A taste for adventure capitalists

The world's fastest electric car: 350mph + using energy from nature. Featuring built in battery cartridge exchange, charged using renewable solar energy. Sponsors sought for the 2016 season.