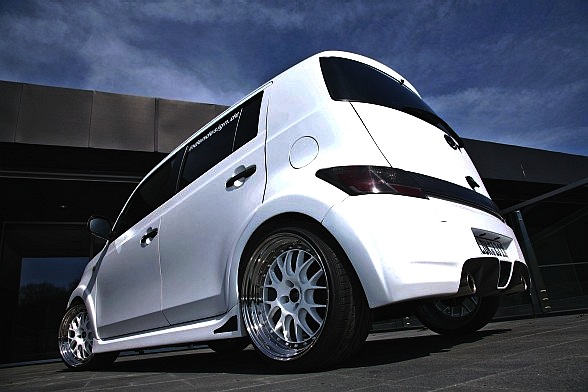 Daihatsu Motor Co., Ltd. (ダイハツ工業株式会社) is the oldest Japanese manufacturer of cars, known mostly for its smaller models and off-road vehicles. Many of its models are also known as kei jidōsha (or kei cars) in Japan. Its headquarters are located in Ikeda, Osaka Prefecture.

The name "Daihatsu" is a combination of the first kanji for Ōsaka (大) and the first of the word "engine manufacture" (発動機製造, hatsudōki seizō?). In the new combination the reading of the "大" is changed from "ō" to "dai", giving "dai hatsu."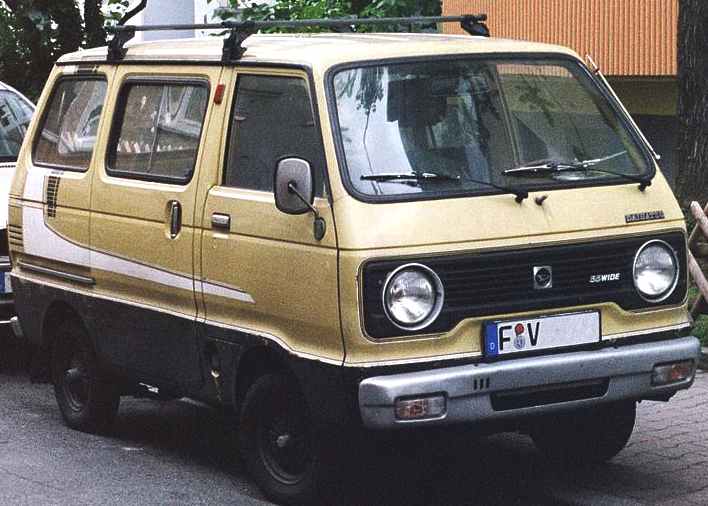 Daihatsu Hijet 55


Daihatsu was formed in 1951 as successor organisation to Hatsudoki and, by the 1960s, had started exporting cars to Europe, although it did not enjoy any major sales success until well into the 1980s.

Since February 1992 in North America, it has been common for Toyota to distribute Daihatsu models.

In January 2011, Daihatsu announced it would pull out of Europe by 2013, citing the persistently strong yen which makes it difficult to turn a profit from its export business. Daihatsu's sales in Europe had plummeted from 58,000 in 2007 before the financial crisis, to 12,000 in 2011.

An affiliate company spun out in 1966, Daihatsu Diesel Motor Manufacturing Company produces marine engines and diesel generators.

EV Program
Daihatsu has had a long running development program for electric vehicles, beginning with the production of "pavilion cars" for the 1970 Osaka World Expo and continuing with the production of golf carts and vehicles for institutional use, such as the DBC-1. An electric version of the company's Fellow Max kei car also followed, the beginning of a series of prototypes. The 1973 oil crisis provided further impetus and at the 20th Tokyo Motor Show (1973) Daihatsu displayed a 550 W electric trike (TR-503E) as well as the BCX-III electric car prototype. Daihatsu showed more prototypes through the 1970s, for instance at the 1979 Sydney Motor Show, and then joined the Japanese Electric Vehicle Association's PREET program (Public Rent an Electric Towncar) with an electric version of the Max Cuore keicar. The program allowed registered users access to the cars with a magnetized card and charged according to mileage used.

The current hybrid vehicle technology is called Daihatsu Mild Hybrid System, and is mainly used in the Atrai/Hijet Hybrid-IV.
Hybrid Hijet
In 2002, Daihatsu debuted the Hijet Cargo Hybrid concept, a hybrid van, in Japan using a 660 cc engine. The car is based on the existing non-hybrid Hijet Cargo. Daihatsu calls it a mild hybrid design. Its design (called Daihatsu Mild Hybrid System or DMHS based on Toyota hybrid technology) is quite different from many existing hybrid design where as the gas and electric powered components assembled as one unit. The electric motor sits between the gasoline powered engine and the transmission unit. The car is 30% more fuel efficient than its gas-powered counterpart.

The hybrid minicars (called FEV - Ultra Fuel Economy - and Atrai Hybrid-IV) made its debut in 2002 as a concept minicar. Its production was announced in October 2004 but as of May 2006 had not been released.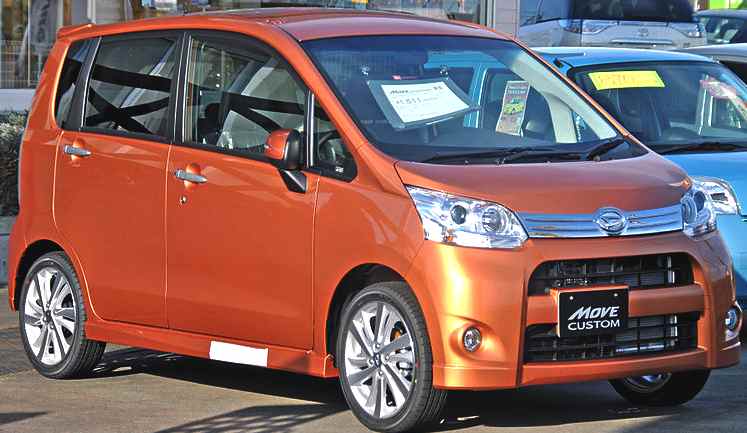 Daihatsu Move, custom model
ZX40ST Electric Truck
The most powerful "fleet" electric utility truck on the market debuted at FedFleet '07 in Orlando in the summer of 2007. The truck is governed to a maximum speed of 25 miles (40 km) an hour and travels 50–60 miles per charge. Like the ZX40S Advanced Design, this truck also uses an advanced three phase, brushless, AC induction motor, which comes standard with regenerative braking and optional air conditioning. MSRP $18,400.

ZX40
The Miles Electric Vehicles ZX40 is a subcompact electric car built by FAW Tianjin (Tianjin-Qingyuan Electric Vehicle Co), a subsidiary of the First Automobile Works in Tianjin, China. The car is a licensed version of the Japanese Daihatsu Move minicompact and is sold in China as the Xinfu ("Happy Messenger"). Miles takes a vehicle without a drivetrain and adds the motor components.

It is powered by a single 48-volt electric motor, which produces 4.2 kW (5.6 hp) and uses a 150-amp-hour battery pack. The car uses an on-board charger that charges through a standard 110-volt 20-amp outlet. An empty battery fully charges in six hours, but only two to three hours are needed to charge it fully if the car is less than 80% empty. The ZX40 can travel up to 64 km (40 mi) at speeds limited to 40 km/h (25 mph). It is a 2- or 4-seat car and is DOT-approved for street use.

The ZX40 has been discontinued for the 2008 model year, in favor of the more powerful ZX40S and AC Motor-powered ZX40S Advanced Design.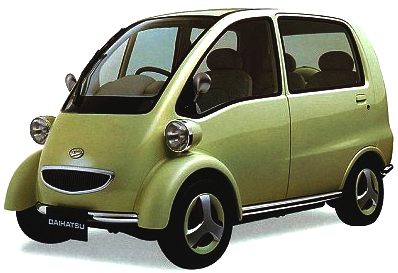 Daihatsu Midget

ZX40S
The ZX40S was designed to accelerate faster than the ZX40. It is powered by a 72-volt system instead of a 48-volt system, which extends its range to 50–60 miles (80–96 km). To comply with federal law, the ZX40S is also electronically speed-limited to 25 mph (40 km/h) like the ZX40 (except in Washington State and Minnesota where electric vehicles which meet federal safety standards are allowed to operate up to 35 mph (56 km/h) as Medium Speed Electric Vehicles).

The ZX40 and ZX40S are classified as "low-speed vehicles", meaning they have fewer regulations to comply with. Such vehicles must include standard lighting and seatbelts, but do not require passive restraints, typically airbags in higher-speed vehicles. The vehicles should not exceed 25 mph (40 km/h) on streets with posted speed limits of 35 mph (56 km/h) or less. These vehicles also fall under the Washington State speed exemption cited above and may be operated up to 35 mph (56 km/h). MSRP $19,499 USD.

ZX40S Advanced Design
This vehicle uses the same body as the two above models, but uses an AC induction motor that offers greater power and torque, extended lifetime, and regenerative braking.
The Future
Okay, so electric motoring is great. Now just imagine that you own a Daihatsu EV and it is equipped with a universal battery cartridge so that you can pull into any service forecourt and refuel instantly. One day that will be possible, and who knows it may be Daihatsu that is one of the first to agree to develop a car with such a system.
Battery cartridge exchange has already been incorporated in several vehicles, and service forecourts designed in principle, but a cheap and practical version of this technology fitted into a production vehicle is still awaited.

Daihatsu Mira conversion
LINKS:
Any form of electric vehicle is better than petrol or diesel, but an electric vehicle that can refuel in a few minutes will obviously have much more customer appeal than an EV that has to wait 30 minutes or even hours to charge up.
Battery technology is improving daily. A car with the new generation of battery cartridge exchange built in and the ability to load its own cartridge, will encourage energy companies to build service forecourts.
The Blueplanet Ecostar (BE3) LSR Team would be pleased to advise any energy company interested in this technology and of course any vehicle manufacturer who might be considering whether or not to include a future proof system into their next generation of road cars.
---
Please click on the links above to find out about these famous automotive makers. If your company is not included and you would like to be listed, please let us know.
UK VEHICLE INSURANCE ONLINE A - Z
No matter what car, van or bike you drive, we're all looking for great value and quality in our UK motor insurance? But who is the best - who is the cheapest and who offers the great service in the event of a claim?
See the insurance companies below who claim to offer competitive cover at sensible prices, our guide to the jargon and tips for cutting your quote - Good Luck:-
A taste for adventure capitalists

The world's fastest electric car: 350mph + using energy from nature. Featuring built in battery cartridge exchange, charged using renewable solar energy. Sponsors sought for the 2016 season.