Austin-Healey was a brand of sports car. The marque was established through a joint venture arrangement set up in 1952 between Leonard Lord of the Austin division of the British Motor Corporation and Donald Healey, a renowned automotive engineer and designer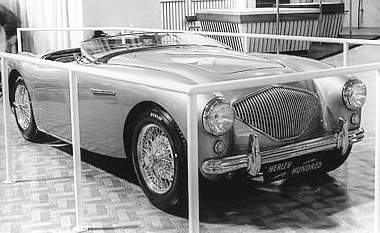 Austin Healey H100 Earls Court 1952
Donald Healey ran a small works company, producing only a small number of cars. Healey showed a car at the Earls Court motor show in 1952 called the 100. On seeing this car the general public's enthusiasm for the car, Austin thought fit to produce the car at Longbridge. This car later went on to be known as the Austin-Healey 100. This was the original 'big Healey' with a 2.6 litre four-cylinder engine.

In 1958 the Sprite was released, the much-loved "Frog-Eyed-Sprite", have enthusiasts spread around the globe. The headlights were originally intended to be retractable, but due to the costs involved the idea was shelved, and they were just bolted to the bonnet! A good job too, I think. The public sure liked the car, because the company sold almost 40,000.

A more powerful version of the big Healey launched in 1959, the Austin-Healey 3000. In 1972 Austin-Healey ceased building cars, However Healey's name lived on with the Jensen-Healey, and Sprite parts were still to be used in the MG Midget.

Although Austin-Healeys were built in Great Britain, they were designed to appeal to Americans-in fact, Austin-Healey exported 89 percent of their cars to the United States. Among these automobiles, the 100 and 3000 Series-or "Big Healeys"-produced from 1953 through 1968 were the fastest and most glamorous.
Today, a properly restored model can fetch anywhere from $20,000 to $30,000 at auction, while a healthy aftermarket serves Austin-Healey enthusiasts who can find a ready supply of project cars in the $5,000 to $10,000 range.

The body of the MkII 3000 was built by Jensen. Austin-Healey produced cars until 1972 when the 20-year agreement between Healey and Austin came to an end. Donald Healey left the company in 1968 when the British Motor Corporation (Austin had merged with Morris in 1952 to form BMC) was taken over by British Leyland.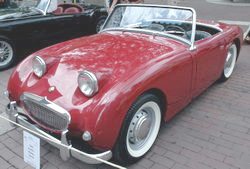 Austin-Healey Frogeye Sprite
COMPANY CHRONOLOGY
| | |
| --- | --- |
| 1952 | The birth of a legend! Sensational launch of the Healey 100 at the Earls Court Motor Show. Austin's Leonard Lord concludes manufacturing agreement with Donald Healey. The car is re-named the Austin Healey 100 type BN1. |
1953

While Austin's Longbridge factory is being prepared for production of the Austin Healey 100, work begins at Healey's Cape Works, Warwick, building the first BN1 models for motor shows in New York, Los Angeles and Frankfurt. A fourth car is prepared for a sales promotion tour of the U.S.
The Austin Healey 100 wins the Grand Premium Award at Miami's World Fair and is acclaimed the International Motor Show Car of 1953 at New York.
A standard production car is taken to Utah Salt Flats and records an average 103.94 mph in a 5000 kilometre endurance run.
By the summer, production at Longbridge tops 100 cars per week.

1954

Donald Healey achieves almost 193 mph over a flying kilometre in a 224 bhp supercharged streamlined 100, while Carroll Shelby goes on to break sixteen U.S. and international speed records at averages of nearly 160 mph.
Record and race achievements result in the development of the famous 100S model, the `S' standing for Sebring. Only 50 cars are made.

1955

Production of the BN2 model commences in August but is not launched until the Motor Show in October. Changes include a new gearbox.
During the period January 1953 to August 1955, approximately 10,000 BN1s are sold.

1956

Production of the 100 BN2 ceases in August, after just one year in which 4600 had been made. Total production of Austin Healey 100 models is 14,600 in a little over three years.
Less than 10 per cent are made right-hand drive and only 3.5 per cent are 'home market' cars, making original UK registered models very rare indeed.
Production of 100/6 models begins in August of this year.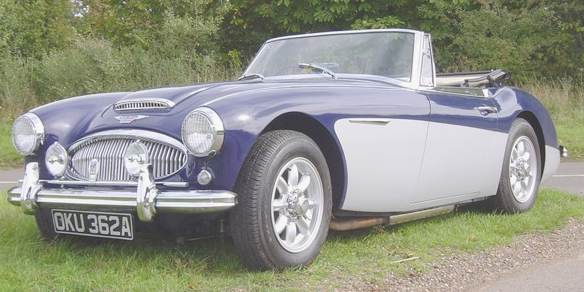 A nice example with non-standard wheels
DONALD HEALEY
Donald Mitchell Healey (3 July 1898 – 13 January 1988) was a noted British rally driver, automobile engineer, and speed record holder.
Born in Perranporth, Cornwall, Healey became interested in all things mechanical at an early age, most particularly aircraft. After leaving school he joined Sopwith Aviation Company from where he volunteered for the Royal Flying Corps (RFC) and earned his "wings" in 1916. During the First World War, he served on anti-Zeppelin patrols and also as a flying instructor.
Shot down by British anti-aircraft fire on one of the first night bomber missions of the war, he was invalided out of the RFC at the age of 18. He returned to Cornwall and took a correspondence course in automobile engineering. After the war, he opened a garage in Perranporth.
In 1931, Donald Healey won the Monte Carlo Rally driving an Invicta. He gained a reputation as a consultant engineer and designer and was appointed General Manager of the Triumph Motor Company in 1931. He went on to create the renowned Southern Cross and Dolomite 8 models.
During the Second World War, Healey was in charge of developing an aircraft carburettor for the Ministry of Supply and also worked with Humber on armoured cars. In 1945, he formed the Donald Healey Motor Company Ltd, based in an old RAF hangar at Warwick. The company developed the Austin-Healey and Austin-Healey Sprite motor cars in licensing arrangement with British Motor Corporation in 1952 and 1959.
When BMC was taken over by British Leyland in 1966, Donald Healey became chairman of Jensen Cars and was made a CBE. Donald Healey died at the age of 89. In 1996, he was inducted into the International Motorsports Hall of Fame.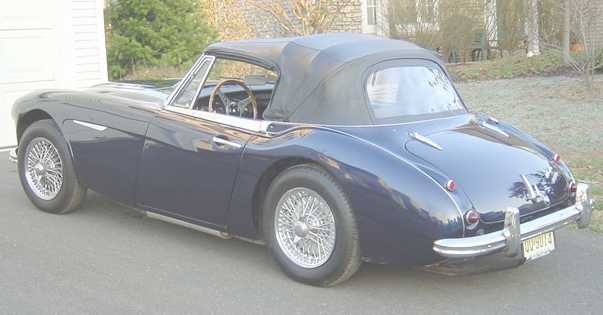 Austin Healey with soft top
MODELS BUILT
There were many production models of 'Big' Healeys
Austin-Healey 100

1953 - 1955 BN1 Austin Healey 100

1955 Austin Healey 100S (Extremely limited production of aluminium bodied race-prepared cars)

1955 - 1956 BN2 Austin Healey 100M (Limited production high performance)

1956 - 1957 BN2 Austin Healey 100-4

1956 - 1957 BN4 Austin Healey 100-6 (2+2 seats)

1957 - 1959 BN4 Austin Healey 100-6 Change to 1 3/4" SU Carbs (2+2 seats)

1958 - 1959 BN6 Austin Healey 100-6 6 Cylinder motor (2 seat)
Austin-Healey 3000

1959 - 1961 BN7 Mark I (2 seat), BT7 Mark I (2+2 seats)

1961 - 1962 BN7 Mark II (2 seat), BT7 Mark II (2+2 seats), BJ7 Mark II (2 seat)

1962 - 1964 BJ7 Mark II (roll-up windows)

1964 - 1967 BJ8 Mark III

Austin Healey Sprite

1958 - 1960 AN5 Mark I 'Bugeye - US' 'Frogeye - UK'

After the Bugeye, the AH Sprite was a badge engineered twin to the MG Midget (hence the term 'Spridget'). The MG was aimed slightly upmarket.

1961 - 1964 AN6 - AN7 Mark II

1964 - 1966 AN8 Mark III (roll-up windows)

1966 - 1969 AN9 Mark IV

1969 - 1971 AN10 Mark V (UK Only)

Austin-Healey 3000
POINTS OF INTEREST
In 1953 a special streamlined Austin-Healey set several land speed records at the Bonneville Salt Flats in Utah, USA.
The first car for Mattel's 'Barbie' Doll was an Austin Healey (pink with teal interior).
COMPETITION UK 2005
Healey Sport is the motor sport centre of the Austin Healey Club UK and coordinates the classic racing, rallying, sprint and hill climbing in the UK and Internationally. The major events organised include:
The Sprint and Hill Climb Challenge The 2005 challenge was a thirteen race series (sponsored by Rawles Motorsport and MPH Restorations) and was won overall by Pat Cooper in his much modified 100/6.
The series kicked off at Loton Park on Easter Monday (28th March) with a fantastic hill climb up through the deer park at Sir Michael Leighton's country home. The sprints were held at venues such as Goodwood, Curborough, Cornbury, Three Sisters and Anglesey and the hill climbs were held at Prescott, Shelsley Walsh, Harewood, Wiscombe Park and Gurston Down. Each venue challenged the Healey driver's skills and abilities. This series is open to any Healey driver with some or no motor sport experience and a car that is road standard or fully modified; half the races were handicapped to take into account the different abilities of the driver and their cars, so everyone had an opportunity to win a race. Although competitive, there is a strong sense of camaraderie amongst the thirty or so drivers who regularly compete. For more details click here (or click on 'Sprint and Hill Climb' on the starting grid above). The provisional 2006 calendar of events is now available by clicking on the 'Events' tab.
The UK Race Series The 2005 UK Race series (sponsored by Rawles Motorsport) was won by Drew Cameron in a Class D Speedwell Sprite.
The series included nine rounds between April and October at the UK's top venues, including Brands Hatch, Mallory Park, Donington Park and Oulton Park. This one make series is open to any Healey driver who wants to take part in full circuit racing, be it with a road standard or modified Big Healey or Sprite. For more details click here (or click on 'UK Racing' on the starting grid above). The 2006 calendar of events will be available on the site shortly.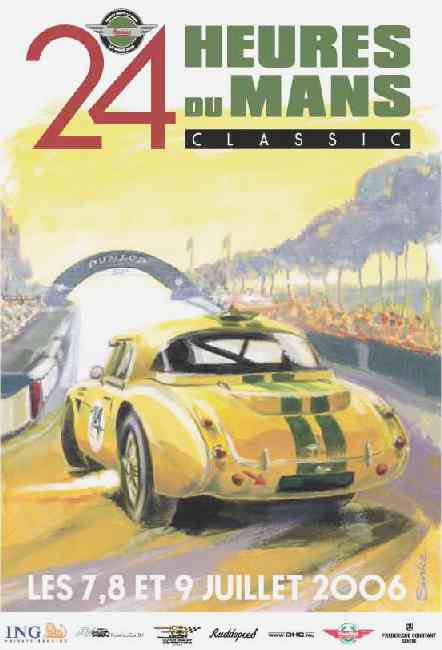 COMPETITION INTERNATIONAL - 24 Heures du Mans Classic
The Le Mans 24 Hour Classic event is taking place on 7th, 8th and 9th July 2006.
Dutch Healey Competitions (DHC are the competitions arm of the Austin Healey Club NL) have entered a big Healey that will be driven by Rinus and Jaap Sinke and Hans Van der Kerkhof. DHC have also organised a travel and events package for the event which includes: entry to the circuit, one lap of the track in your Healey, hospitality tent with food and drinks, rally shield and polo shirts. To find out more about the package, go to their website www.dhc.nu and click on the Le Mans 2006 tab.
UK entrants to the Le Mans Classic include Mike Thorne in his Healey 100 and Hugo Holland-Bosworth and David Grace in their 3000's. Chris Clarkson may well be driving the ex John Chatham car DD 300 for its new owners. It is understood that no further entries are being accepted for the event.
The Third Historic Motorsport Show - HealeySport took a stand at the Third International Historic Motorsport Show on the three days from Friday 24th to Sunday 26th February 2006 at the Stoneleigh Showground near Coventry.
Many Healey owners were attracted to the stand, partly to take a look at Mike Thorne's very smartly turned out 2005 Class winning Healey 100 (pictured right) but also to discuss how to take part in the Race or Sprint and Hill Climb series. As a result we anticipate seeing a few new faces next year.
Austin Healey clubs located worldwide. If you club is not listed, use the link at the bottom of the list to send us your club url or email address - all for classic British Austin Healeys.
OWNERS CLUBS:
United States
Austin-Healey Club USA (Publisher of Austin Healey Magazine)
Austin-Healey Club of America (Publisher of Healey Marque)
Austin Healey Sports and Touring Club
Austin-Healey Site - Big Healeys
Midwest Chapter of the AHCA
Northeast Region Chapter of the AHCA
Rocky Mountain Austin Healey Club
Team Thicko (Racing)
Frogeye Vintage Racing (Bill & Sue Carroll)
British Sports Cars Alaska (AK) EMail - No web site
Golden Gate Austin-Healey Club (CA)
Austin Healey Club of San Diego (CA)
Capital Area Chapter of the AHCA (DC)
Atlanta Chapter of the AHCA (GA)
Northern Indiana Chapter of the AHCA (IN)
Bluegrass Club (KY)
Minnesota Austin Healey Club (MN)
Carolinas Chapter of the AHCA (NC)
Flatwater Austin Healey Club Lincoln (NE)
Northeast Ohio Chapter of the AHCA (OH)
North Texas Austin Healey Club (TX)
Team Healey Texas (Racing) (TX)
Cascade Chapter of the AHCA (WA)
Canada
Austin-Healey Owners Association of British Columbia
Southern Ontario Austin Healey Club
United Kingdom
Austin Healey Club of Great Britain Northern Centre
Austin Healey Club UK Midlands Centre
SOL Healey pages (Roger Garnett)
World Wide Austin Healeys
PO Box 319
Tunbridge Wells
TN2 9DD UK
dave@wwah.org
Tel:- 0044 (0)1892-783135
Germany
Austin Healey & MG Stammtisch Hamburg Germany
Netherlands
Japan
MORE USEFUL LINKS:
http://britishmm.co.uk/history.asp?id=82
'The Times Online' Driving section
automobile-portal.com, links to all things car-related
Heritage Motor Centre, Gaydon (inc Heritage Certificates)
Classic Car Restoration Courses at Further Education Colleges in England, Scotland and Wales
Leaded Petrol Finder from Bayford Thrust
British Automobile Racing Club (BARC)
BMRC (Austin Healey section)
Classic-Car-World is a unique Internet portal for the Classic Car enthusiast
All about spark plugs, from Century Performance Center
Some useful tips on cooling systems from Stewart Components
Healey Toy Factory, as featured in Revcounter May 2001
The John Loftus 'Virtual Healey' project
The MGA with an Attitude (tech help for common components) NEW!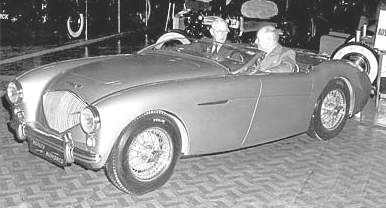 The H100 Donald Healey and Leonard Lord- Earls Court 1952
Please click on the links above to find out about these famous automotive makers. If your company is not included and you would like to be listed, please let us know.
UK VEHICLE INSURANCE ONLINE A - Z
No matter what car, van or bike you drive, we're all looking for great value and quality in our UK motor insurance? But who is the best - who is the cheapest and who offers the great service in the event of a claim?
See the insurance companies below who claim to offer competitive cover at sensible prices, our guide to the jargon and tips for cutting your quote - Good Luck:-
A taste for adventure capitalists

The world's fastest electric car: 350mph + using energy from nature. Featuring built in battery cartridge exchange, charged using renewable solar energy. Sponsors sought for the 2016 season.