The Vauxhall Corsa has long been one of Britain's best-sellers. It is affordable and boasts low running costs. It is also practical for general ease of ownership. It's always appealed to a wide variety of buyers, from rental firms to driving schools, from family buyers to pensioners to teenagers... just about everyone and anyone.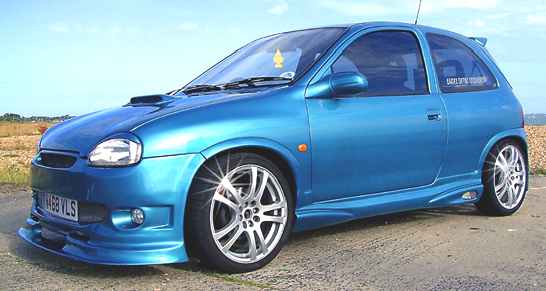 Vauxhall Corsa sporting a body kit
In fact Charley, one of the Kismet Girls drives a Corsa. This car whizzes her from London to her Sussex recording studios in good time, with sensible fuel prices.
The new models bring the range up to date without straying from that tradition. It's larger all round, and it looks like a sportier, smaller Astra: modern, smart and even quite striking. Though it shares much of its underpinnings with Fiat's latest Grande Punto (the legacy of the failed GM-Fiat industrial alliance), it is quite different, with a more solid, substantial feel and a quieter, more comfortable ride.
Models on offer from launch (autumn 2006) have 1.0-, 1.2- and 1.4-litre petrol engines, or 1.3-litre (75bhp or 90bhp) diesels, with a 1.7 CDTi (125bhp) following later in the year. Three- and five-door bodystyles are available, and five trim levels: Expression, Life, Club, sporty SXI and with-everything Design. A hot-hatch VXR model follows in spring 2007, and more accessible warmed-up versions (to rival Seat's Ibiza FR, Ford's Fiesta ST150 etc) come later that year.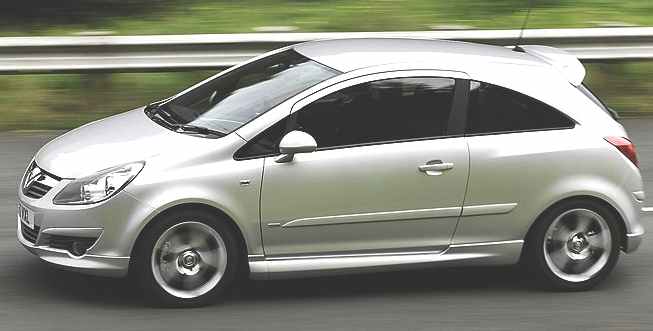 Vauxhall Corsa D
Running Costs
It'd be difficult to undercut the Corsa on this score, at least comparing like-for-like cars: it's great value to buy new and there's a healthy demand for secondhand Corsas.
The 1.0 is suitably miserly, giving 50.4mpg and emitting a low-tax 134g/km of carbon dioxide; the 1.2 and 1.4, thanks to Vauxhall/Opel's new Twinport fuel intake technology, deliver 48.7mpg/139 g/km and 47.9mpg/142g/km respectively.
And the diesels? 61.4mpg/124 g/km from both the 75bhp and 90bhp 1.3 CDTis, and 58.8mpg/130 g/km from the 1.7 CDTi.
Good news on the insurance front, too: the 1.0 is classed in Group 1E (T2), with most 1.2 versions in 2E and lower-spec 1.4s and 1.3 diesels in 3E; the quickest SXi models are only 6E.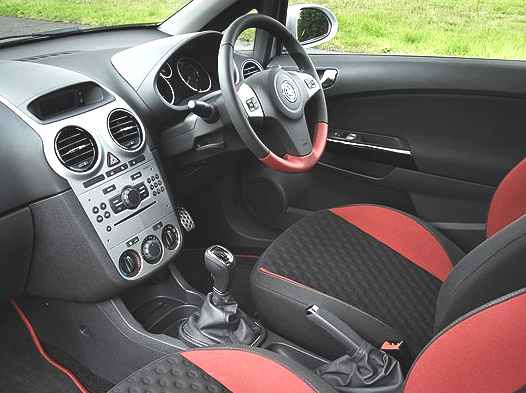 Vauxhall Corsa SRi interior
Reliability
The Corsa has always been pretty reliable for such a mass-market model, and over the years, its quality has been much-improved. This latest version has a distinctly Germanic feel to it (well, it is really an Opel), and like the current Astra, is finished with much more attention to detail and better-quality materials than its predecessor.
Most of the mechanicals have already been tried and tested, either in the Astra and Meriva or in the Grande Punto, and the excellent, award-winning 1.3 CDTi diesel engine is certainly well-proven.
An interesting fact: the three-door 1.3 CDTi Corsas are assembled in a factory in Eisenach, near Dresden, originally the HQ of German firm Wartburg/Dixi, and then, until the aftermath of World War II, BMW. That factory made Trabants until the collapse of the Iron Curtain, but don't let that put you off... the other Corsa versions, by the way, are made in Zaragoza, Spain. Either way, they all look well up to scratch on the basis of what we've seen so far.
CORSA VXR
Engine
1.6i 16v ECOTEC-4 Turbo (1598cc)

Maximum power: 192PS (141kW) @ 5850rpm

Maximum torque: 230Nm* (170 lb.ft.) @ 1980-5850rpm

Compression ratio: 8.8:1

Bore/stroke: 79.0mm x 81.5mm

Turbocharger integrated into exhaust manifold

Air intercooler

Sodium-filled exhaust valves
*Increased to 260Nm for five seconds with turbo overboost function
Acceleration (manufacturer's figures)
Transmission
Six-speed manual gearbox

Gear ratios: 1st - 3.82:1, 2nd - 2.16:1, 3rd - 1.48:1, 4th - 1.07:1, 5th - 0.88:1, 6th - 0.74:1, Final drive - 4.18:1
Fuel economy and emissions mpg (litres/100km)
Urban driving: 26.9 (10.5)

Extra-urban driving: 44.1 (6.4)

Combined figure: 35.8 (7.9)
Suspension and brakes
Lowered and uprated VXR sports suspension

Electronic Stability Programme (ESP) including traction control

Tyre deflation detection system

Front ventilated disc brakes: 308mm diameter

Rear disc brakes: 264mm diameter

Front and rear brake calipers in blue
Wheels and tyres
17-inch Y-design alloy wheels with 215/45 R 17 ultra-low profile tyres

18" V-Spoke alloy wheels with 225/35 R18 ultra-low profile tyres optional at extra cost

Car supplied with emergency tyre inflation kit in lieu of spare wheel
I liked the three-quarter look of the Corsa VXR from behind. The squat wheel per corner stance, broad wheel arches and hind quarters, made it look hunky and powerful.
The VXR is not a bad looker from the front either. The mesh grille and deep bumper with large integrated fog-lights set an appropriate tone, and it looks as if Vauxhall has done a good job in pre-empting the bodykitters: why pay out on an aftermarket styling pack when the car already looks like this?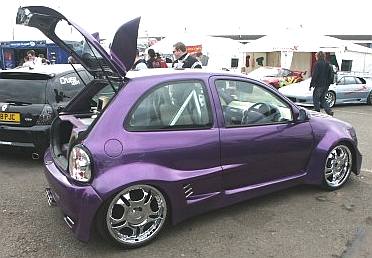 Corsa with bodykit brings out the wild side
Butched-up Corsas are so often a case of all show and no go; base 1.2s fitted with half the contents of the Demon Tweeks catalogue in an attempt to make an impression on the streets without being totally uninsurable for a young (male) driver. The VXR, however, is the real deal, with a turbocharged 1.6-litre engine developing 189bhp and 170lb-ft of torque, and an extra 27lb-ft available momentarily on overboost.
Top speed's claimed to be 140mph, and 0-62mph acceleration takes just 6.8 seconds. Yippee! Oh, and just to get back to the harsh realities of life: fuel consumption's 35.8mpg and carbon dioxide output 190g/km. That means a relatively high tax banding for such a small car. Quite reasonable for something this quick, though.
CORSA HISTORY
The Vauxhall Corsa is a supermini that has been produced by General Motors' European subsidiary Opel since 1982. It has also been sold under a variety of other brands (most notably Vauxhall, Chevrolet , and Holden), and also spawned various derivatives in different markets, all of which are listed in appropriate sections below.

Despite its global presence, it has never been sold in the United States or Canada.

The Corsa was built at GM's plant in Zaragoza in Spain, and also in countries like Germany (Eisenach), Argentina (Rosario), Brazil (São Caetano do Sul and São José dos Campos), Colombia (Bogotá), Mexico (Ramos Arizpe), South Africa (Port Elizabeth), India (Halol), and China (Shanghai).


Opel Corsa A

Also called Vauxhall Nova
Production 1982—1993
Body style(s) 3/5-door hatchback2/4-door saloon
Layout FF layout
Platform GM4200 platform

The front-wheel drive Corsa was first launched in 1982 to replace the Opel Kadett City. Built in Zaragoza, Spain, the first Corsas were three-door hatchback and two-door saloon models, with four-door and five-door versions arriving in 1984. The basic model was called just the Corsa, which was followed by the Corsa Luxus, Corsa Berlina and the sporty Corsa SR. Two years later, the Corsa received a facelift, which included a new front fascia and some other minor changes. The models were called Corsa LS, Corsa GL, Corsa GLS and Corsa GT. The Corsa was known in the UK market as the Vauxhall Nova.
The car became best known in the UK as a popular choice of car driving schools. Although many young British 'boy-racers' and 'Chavs' customised or 'souped up' their models (and continue to do so to this day), the Nova was usually seen as a dull car. Power came from 1.0 L, 1.2 L, 1.3 L and 1.4 L petroleum engines which were short on performance but strong on economy. There was also a 1.5 L diesel engine available, which was also used in the Isuzu Gemini at around the same time. All of these engines (with the exception of the 1.5 L diesel engine and 1.0 L engine, which were based on the OHV unit from the Kadett C) were based on well proven GM Family II designs. The engines and most of the mechanical components were derived from those used in the Astra/Kadett.

A 1.6 L multi-point fuel injected engine with 100 PS (74 kW) and capable of 186 km/h (115 mph) was later added to the Corsa/Nova, giving decent performance and being badged as a GSi or, in Britain, GTE (only pre-facelifted models, later models were all called GSi). A model with an 82 hp 1.4 L multi-point fuel injected engine also became available as the SRi, which was otherwise mechanically identical to the GSi. The car's handling and styling were still criticised as being dull. There were also numerous reports of single-vehicle rollover accidents that called the handling into question.

The design was freshened in 1990 with new bumpers, headlights, grille and interior, but the car was showing its age against strong competition such as the Renault Clio and Peugeot 106.

In the UK, the Corsa has developed a cult following amongst enthusiasts because of the simplicity of modification. Popular modifications include C20XE (150bhp) and C20LET (204bhp) engine conversions, which create reasonably quick cars, quite cheaply, which are ideal for hill climbs and track days. There are several clubs which provide users with good sources of information on maintaining and modifying.one such club is the performance nova group.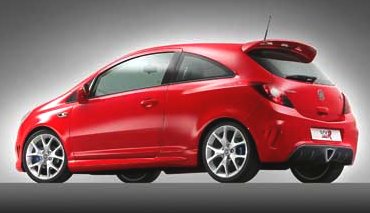 Corsa SRi rear styling
Vauxhall Nova

The Vauxhall Nova was produced by General Motors between 1983 and 1993. It replaced the Vauxhall Chevette and Opel Kadett City. All Nova and Vauxhall Corsa models were made in Spain.

Chevrolet also produced a series of cars under the Nova branding in the United States and Canada during the 1970s and 1980s. Its later models were designed by NUMMI and were similar in design to the Toyota Corolla.

Sales in the UK were strong right up to the end, but by the time the last Nova was made in early 1993, it was looking very dated in comparison to more modern rivals like the Peugeot 106 and Renault Clio. Its successor was the Corsa; the first Vauxhall to adopt the same model name as the Opel version. By 1996, the whole Vauxhall and Opel ranges were identically named.

A clever TV advert in 1986 featured the Los Lobos hit "La Bamba" playing in the background as trick computer technology allowed the Nova to drive over vehicles in a busy city.

The Nova is becoming a less and less common sight on British roads with time. Many of these cars have been modified by younger owners and gained the car a strong association with "chav" culture. Worse still, many Novas have been targeted by joyriders due to the car's minimal security specification.


Opel Corsa B

Opel Corsa B

Also called Vauxhall Corsa
Opel Vita
Holden Barina (SB)
Chevrolet Corsa
Chevrolet Chevy (Chevy C2)
Chevrolet Classic
Buick Sail
Chevrolet Sail
Production 1993—2000
Predecessor Opel Corsa A (Europe)
Holden Barina (Australia/New Zealand)
Chevrolet Corsa (South America)
Body style(s) 3/5-door hatchback
4-door saloon
5-door estate
2-door pickup truck
Layout FF layout
Platform GM4200 platform
Related Opel Combo A
Opel Tigra A
Chevrolet Celta
Chevy C2

In 1993, a curvier, more attractive, Corsa was unveiled, and in the UK, Vauxhall dropped the Nova name, with the car now being known as the Corsa. The following year, it was launched by Holden in Australia, as the Barina, replacing a version of the Suzuki Swift sold under that name. This proved a success, and was the first Spanish-built car to be sold in significant volumes in the Australian market. Power came from 1.2 L Family 0, 1.4 L and 1.6 L Family 1 petrol engines, as well as an economical 1.5 L turbodiesel engine.
Unlike the previous model, there was no saloon version, but one was designed in Brazil for the Latin American market, as saloons were much preferred to hatchbacks. This was also introduced in South Africa and India. A station wagon, panel van and pick-up truck were also introduced. The wagon version was sold in some European markets (including Italy), badged as an Opel. The Corsa also spawned a small coupé called Opel Tigra. A 1.0 L 3-cylinder Family 0 economy version was launched in 1996, and a Lotus-tuned suspension was added as well as an exterior refresh. Strong competition came from new models like the Peugeot 206, Fiat Punto and Škoda Fabia.

The sedan model is still built and sold in Brazil as the Chevrolet Classic, and Chevrolet Corsa Classic in Argentina and also in Chile. A budget version, the Chevrolet Celta, has bodywork resembling the late 1990s Vectra and Astra. The Celta is sold in Argentina as the Suzuki Fun. Mexico has their version of the hatchback and sedan, known as the Chevy C2, which is also sold in Colombia. All Mexican versions were known as the Chevy, with the names Monza used on the sedan, and Swing and Joy on the hatchbacks.

The saloon and wagon versions were produced in China by GM Shanghai as Buick Sail and Buick Sail S-RV, respectively, until 2005. That year they became known as the Chevrolet Sail and SRV. In September 2006, Chile became the first country outside China to receive the Chinese-assembled Sail; it is called the Chevrolet Corsa Plus, available as a four-door sedan with a 1.6 L 92 PS (68 kW) engine. The Corsa Plus includes dual front airbags, anti-lock brakes, air conditioning, electric windows and central locking as standard equipment.

In India, the hatchback, saloon and wagon versions were sold as the Corsa Sail, Corsa (or Corsa Joy) and Corsa Swing respectively until the end of 2005. The hatchback model is also still produced, and extensively marketed in South Africa as the Corsa Lite under the Opel branding.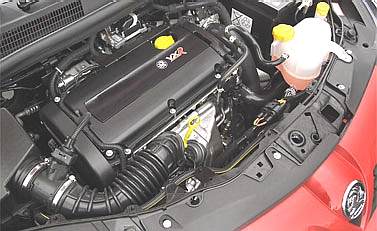 Vauxhall Corsa VXR engine bay
Names and markets

Opel Corsa - Europe (except for UK)
Vauxhall Corsa - United Kingdom
Holden Barina - Australia, New Zealand (has just been replaced by Daewoo Kalos)
Chevrolet Corsa - Latin America
Chevrolet Classic - South America (after the launch of new Corsa)
Chevrolet Corsa Plus - Chinese-assembled Corsa sold in Chile
Opel Corsa Lite - South Africa (after the launch of new Corsa)
Opel Swing - South African station wagon
Buick Sail - China, until 2005
Chevrolet Sail - China, since 2005
Opel Vita - Japan (Toyota already registered the Corsa name for one of their domestic models, the Toyota Tercel)
Chevrolet Chevy - Mexico
Chevrolet Monza - Mexico (4 door version)
Chevrolet C2 - Mexico & Colombia (facelifted Chevrolet Chevy)
Opel Corsa "Classic" - South African sedan
Opel Sail - India
Chevrolet Swing and Joy - Mexico (hatchbacks)
Chevrolet Small- taxi version

Opel Corsa C

Also called Vauxhall Corsa

Holden Barina (XC)
Chevrolet Corsa
Production 2000—2006
2000-present (South America)
Body style(s) 3-door hatchback
5-door hatchback
4-door saloon
Layout FF layout
Platform GM Gamma platform
Related Opel Combo B
Opel Meriva
Opel Tigra TwinTop
Chevrolet Montana

The Corsa C was introduced in 2000, with distinctive styling for the three-door and five-door hatchbacks. General Motors dubbed the new chassis Gamma and intended to use it in a number of other models.

A sedan version is also offered in Latin America, South Africa and the Middle East. The Brazilian version of the Corsa sold in those countries is a no-frills car with a distinctive front end that is more conservative than its European counterpart. Brazil also offers a pickup truck version of the Corsa named the Chevrolet Montana (sold in some markets as the Tornado), which, as well as the sedan, is exported in completely knocked down (CKD) form to South Africa for local assembly. GM South Africa markets the hatchback simply as The New Corsa, and the pickup version as the Utility. Since 2007, the Corsa C saloon has been discontinued in South Africa.

A new 1.3 L CDTi Ecotec turbodiesel engine was supplied by Fiat (MultiJet) and a 1.7 L 16-valve DTi Ecotec turbodiesel was supplied by Isuzu (Circle L).

The 1.0 L and 1.2 L Ecotec Family 0 engines are carry-overs from the Corsa B; but the 1.4 L Family 1 engine was replaced with a new Family 0 model of the same displacement. The 1.8 L Family 1 engine is an upgrade for the previous 1.6 L 16-valve engine and produces 125 PS (92 kW) and 165 Nm of torque. The edition with the 1.8 L engine was named Corsa GSi and was the predecessor of the new Corsa OPC. In 2003, Opel introduced updated versions of these engines with TwinPort technology, and the 1.2 L engine gained another 5 hp, giving it 80 hp (59 kW).

In 2002, the Corsa chassis spawned a mini MPV called the Opel Meriva, development of which began under Opel in Rüsselsheim (but finished by Chevrolet in Brazil).

The Corsa C is still manufactured and sold in South America. The production plant that produces this car model is located in Sao Caetano do Sul, Brazil.

Corsa C 2007 models are sold under the name of Chevrolet Corsa, and comes in a hatchback version and sedan. The 2007 edition features a new logotype of the Chevrolet brand introduced in the South American market when the new Vectra model came out in Brazil. A new color, the "Grey Bluet", is also offered.

In Australia, the car was launched to much fanfare from many motor journalists, and went on the win the Wheels 2001 "Car Of The Year" (COTY). In December 2005, the Corsa C was dropped from the Australian & New Zealand Holden ranges, as a cost-cutting measure by GM, and was replaced by the Daewoo Kalos, which is now the new Holden Barina.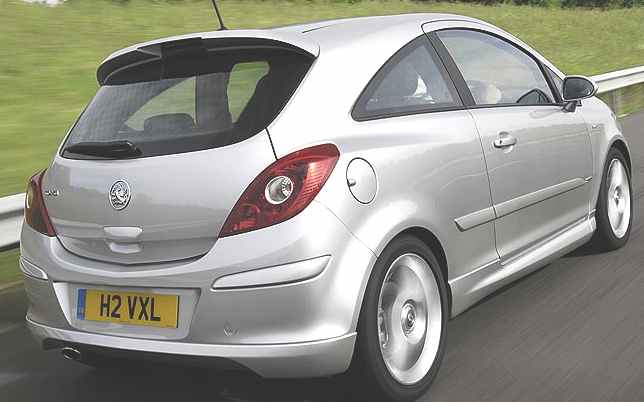 Vauxhall Corsa D SRi rear

Names and markets

Opel Corsa - Europe (except for United Kingdom), South Africa, Egypt, Hong Kong
Vauxhall Corsa - United Kingdom
Holden Barina - Australia, New Zealand
Chevrolet Corsa - Latin America
Chevrolet Corsa Evolution - Chile, Colombia
Opel Vita - Japan (see Corsa B for explanation)


Opel Corsa D

Also called Vauxhall Corsa
Production 2006—present
Body style(s) 3/5-door hatchback
Layout FF layout
Platform Fiat/GM SCSS platform
Related Fiat Grande Punto

The Corsa D was created using a new version of the Gamma platform, which was co-developed by Fiat and Opel, and is also employed by the 2006 Fiat Grande Punto. The first official pictures of the Corsa D were released by Opel in May 2006.

The new Corsa is available in both three and five-door versions, and once again marketed as a Vauxhall in the UK. The same engines sizes from the Corsa C are available at launch, although the 1.3 L CDTI and 1.7 L CDTI engines were upgraded, with power ranging from 75 hp (55 kW) to 125 hp (92 kW). The 192 hp (141 kW) OPC/VXR version went on sale in early 2007, with a 1.6 L turbocharged petrol engine powering the front wheels. The 75 hp 1.3 CDTI engine was updated in mid-2007 to bring CO2 levels to just 119 g/km, meaning that a full 12 months road fund licence is a mere £35.


Flexfix

Flexfix is an optional integrated bicycle rack. It is essentially a drawer that can be pulled out from the car's rear bumper. On it are two wheel-mount bike racks, rear licence plate incorporated in the system,brake/tail lights, indicators and fog and reverse light alternates in left hand drive and right hand drive cars. When not in use, one would not even know the system was there if not for the drawer cutout.


Names and markets

Opel Corsa - Europe (except for UK), Singapore, South Africa
Vauxhall Corsa - United Kingdom


Hybrid version

In the 2007 Frankfurt Auto Show, Opel exhibited the Opel Corsa Hybrid Concept, a coupe that combines a belt-driven starter and alternator with a lithium-ion battery.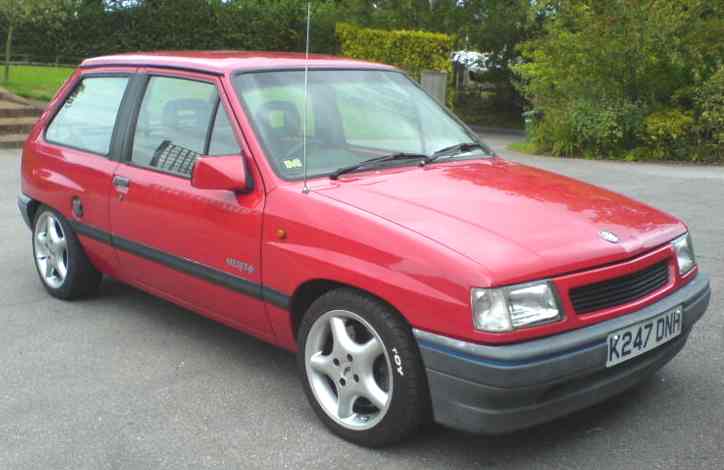 LINKS and REFERENCE
Antara | Astra | Combo | Corsa | Tigra | Meriva | Movano | Signum | Vectra | Zafira
---
Please click on the links above to find out about these famous automotive makers. If your company is not included and you would like to be listed, please let us know.
---
UK VEHICLE INSURANCE ONLINE A - Z
No matter what car, van or bike you drive, we're all looking for great value and quality in our UK motor insurance? But who is the best value and who offers great service in the event of a claim?
If you purchase your insurance via a dedicated link from this site, you could not only save money, but you'll also be helping us provide free information to thousands of students - at no cost to you. Please help if you can and thanks for considering us.
The insurance companies below claim to offer competitive. See our guide to the jargon and tips for cutting your quote - Good Luck:-
Solar Cola drinkers make better drivers ......

330ml Earth can - The World in Your Hands