The CitroŽn Xsara is a small family car produced by French automaker CitroŽn since 1997.

Like its predecessor, the CitroŽn ZX, the Xsara shared the running gear with the Peugeot 306. It came in three- and five-door hatchback and five-door estate body styles; the estate was marketed as the Break and the three-door as the Coupť. The straight-4 engine range includes 1.4, 1.6, 1.8 and 2.0-litre petrol engines as well as 1.6, 1.9 and 2.0-litre turbodiesels.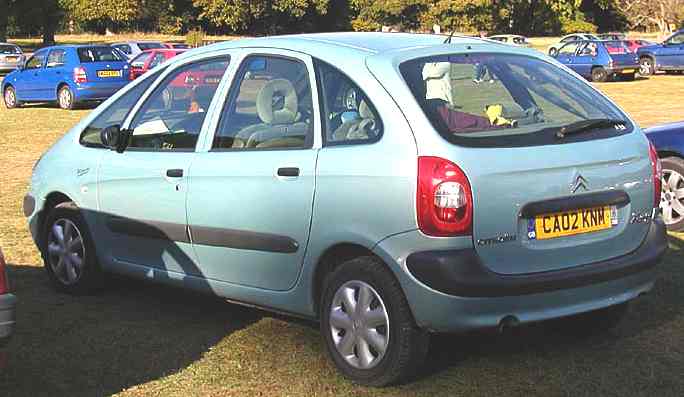 In 2000 the Xsara was facelifted (Xsara II); the car was now stiffer (so safety and handling improved), had a new front design and some interior modifications (i.e: new steering wheel).

The Xsara provided excellent ride, handling and refinement, but was largely sold on price because of stiff competition from the class leaders the Ford Focus and VW Golf. It was also let down by its staid styling.

The Xsara hatchback was discontinued and replaced by the stylish C4 in 2004. However, as of 2005, the station wagon version is still produced. The Xsara continues to be produced for the Chinese market by the Dongfeng Peugeot-CitroŽn Automobile, a joint venture with the PSA Group.


Xsara Picasso

Production 1999-2006
Class Compact MPV
Body style(s) 5-door MPV
Layout FF layout
Wheelbase 2760 mm (108.7 in)
Length 4275 mm (168.3 in)
Width 1750 mm (68.9 in)
Height 1635 mm (64.4 in)

The Xsara Picasso was CitroŽn's answer to the enormously popular compact MPV Renault Scťnic when it went on sale late in 1999 with two trim levels - LX and SX, and three engines. The rear seats could be removed to create extensive storage space. It soon became the best selling multi-purpose vehicle in France, Great Britain, and most of the rest of Europe.[citation needed] The Xsara Picasso is also built in Brazil for the Latin American market since 2001, where it is the top selling car in its class.

In early 2003 the Xsara Picasso in the UK was given a 2.0i 16v engine with a four-speed Automatic gear box (the Picasso was only available with manual transmission for the first three years of production). In August 2006, CitroŽn unveiled its successor CitroŽn C4 Picasso, based on the CitroŽn C4. There are two versions, the Grand C4 Picasso seven-seat and the slightly smaller five-seat C4 Picasso. The Xsara Picasso will remain on sale as the smallest MPV in CitroŽn's range.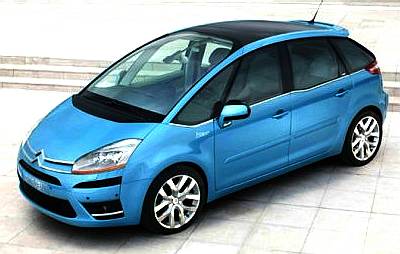 Engines

1.4 L (1361 cc 8 valve SOHC)TU3 I4, 75 PS (75 hp/55 kW) and: 111 N∑m (Xsara I) 121 N∑m (Xsara II)
1.6 L (1587 cc) TU5 I4, 95 PS (94 hp/70 kW) and 100 ft∑lbf (136 N∑m)
1.6 L (1587 cc) TU5 JP4 I4, 110 PS (110 hp/80 kW) (Latin America)
1.6 L (1560 cc) DV6 HDi Diesel I4, 110 PS (108 hp/81 kW) and 177 ft∑lbf (240 N∑m)
1.8 L (1761 cc) XU7 JP4 112 PS (110 hp/81 kW) and 114 ft∑lbf (155 N m)
2.0 L (1997 cc) EW10 I4, 137 PS (135 hp/101 kW) and 141 ft∑lbf (191 N∑m) also 167 PS (124 kW) in the Xsara VTS
2.0 L (1997 cc) DW10 TD Diesel, 90 PS (90 hp/66 kW)


Xsara WRC

CitroŽn Xsara WRC driven by Dani Sordo.The Xsara World Rally Car, based on the road-going Xsara hatchback but ultimately having very little resemblance to it under the skin, was a major competitor in the World Rally Championship and one of the most successful cars in WRC history. The car took Frenchman Sťbastien Loeb to 28 rally wins, three consecutive Driver's Championship titles from 2004 to 2006, and CitroŽn to three consecutive Manufacturer's Championship titles in 2003, 2004, and 2005. Although it is the Frenchman who has proved the archetype Xsara WRC pilot virtually since its 2001 conception, Jesus Puras, Carlos Sainz and Francois Duval are among the other drivers to have won.
Citroen Picasso C4
The CitroŽn C4 Picasso is a range of two compact MPVs, a five-seater and a seven-seater (Grand C4 Picasso), unveiled by French automaker CitroŽn in August 2006 and presented at the 2006 Paris Motor Show in September 2006 for the seven-seater, and in January 2007 for the five-seater. It shares platform and engines with the CitroŽn C4 and Peugeot 307 and coexists with the Xsara Picasso, the previous compact MPV produced by CitroŽn.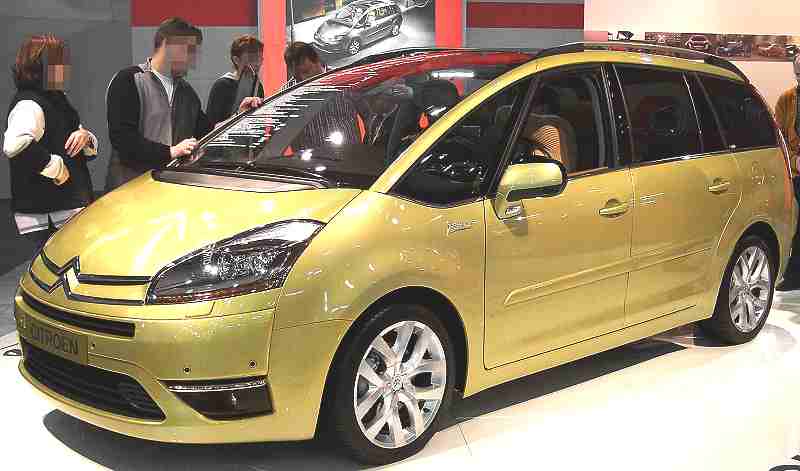 Overview

The second C4 Picasso model was officially unveiled on January 5, 2007 and has been displayed at the 2007 Geneva Motor Show. For range consistency, the seven-seater is named Grand C4 Picasso. The C4 Picasso is produced in the Spanish factory of PSA in Vigo.

One of the main features of both cars is the enormous windscreen that provides a panoramic view and just about stretches beyond the driver's head. There is also two separate blinds attached to the sun visors above the driver and passenger seats that can be adjusted to block the excessive amounts of light that are let in due to the large windscreen.

The Grand C4 Picasso is slightly larger than other seven-seat compact MPVs like the Mazda5 and Renault Grand Scťnic, and even larger than some early large MPVs like the CitroŽn Evasion. For this reason, some critics consider it as a large MPV, while other do not because of its similarities in engine range, inner room and price with compact MPVs.

A pneumatic rear suspension is available as an option which make the ride smoother and can lower the sill. However in some countries the pneumatic suspension is available only on some models (Exclusive), while it is not available on low cost trim levels such as SX.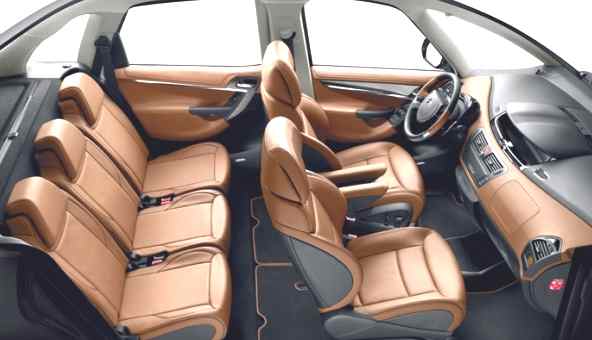 Engines

1.8 L petrol engine straight-4, 16-valve, 125 PS (123 hp/92 kW)
2.0 L petrol engine straight-4, 16-valve, 143 PS (141 hp/105 kW)
1.6 L DV6 HDi Diesel engine straight-4, 110 PS (108 hp/80 kW) and 177 ft∑lbf (240 N∑m)
2.0 L DW10 HDi Diesel engine straight-4, 138 PS (134 hp/100 kW)


Transmissions

4 speed automatic
5 speed manual
6 speed EGS (Electronic Gearbox System)
6 speed automatic

The 4 speed automatic, 6 speed EGS and 6 speed automatic have two shifting options of either the fully automated/automatic mode or the paddle-shifted manual mode, chosen by a column mounted mode selector. The EGS/automatic gearbox also brings with it an air conditioned storage compartment (fridge) including can holders, between the driver's and the front passenger's seat, where the manual transmission lever would usually be.


Trim levels

LX
SX
VTR+
Comfort (country dependant)
Exclusive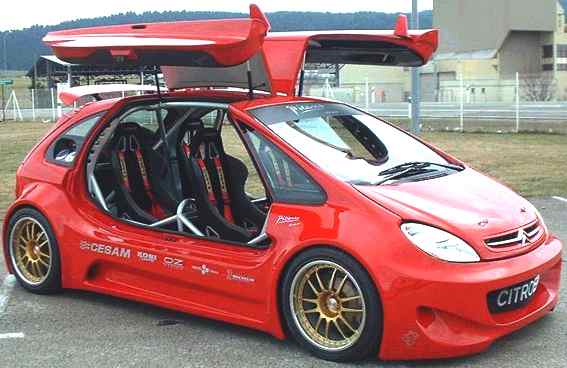 Citroen Berlingo | C1 | C2 | C3 | C5 | C6 | History | Picasso C4
LINKS and REFERENCE
---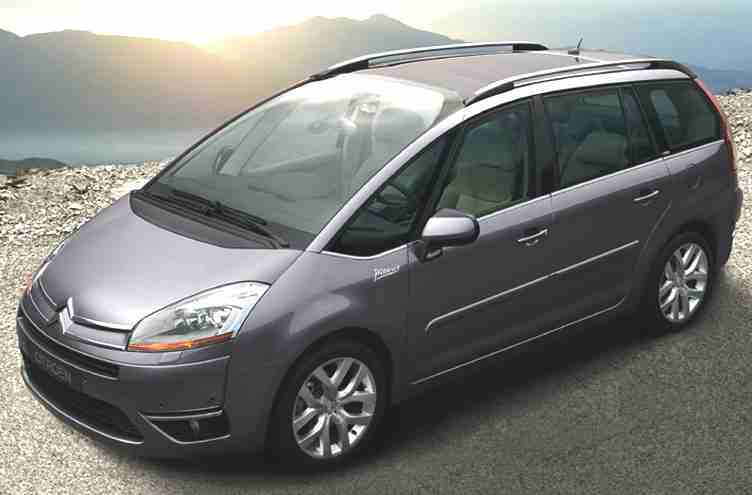 ---
UK VEHICLE INSURANCE ONLINE A - Z
Car, van or or bike, we're all looking for great value and service in our UK motor insurance? But who offers the best value and who offers great service in the event of a claim?
If you purchase your insurance via a dedicated link from this site, you could not only save money, but you'll also be helping us provide free information to thousands of students - at no cost to you. Please help if you can and thanks for considering us.

The insurance companies below claim to offer competitive. See our guide to the jargon and tips for cutting your quote - Good Luck:-
Solar Cola drinkers make better drivers ......

330ml Earth can - The World in Your Hands