The Citroen Berlingo is a panel van and leisure activity vehicle produced by the French manufacturer CitroŽn since 1996.
The Berlingo uses the same chassis, and indeed looks very similar, to its PSA Group stablemate the Partner. It was launched in 1996, and a revised version featuring a redesigned interior and front end was released in 2003. The passenger car version is named Multispace, and sells well in several European countries due to its practicality and comparatively low pricing.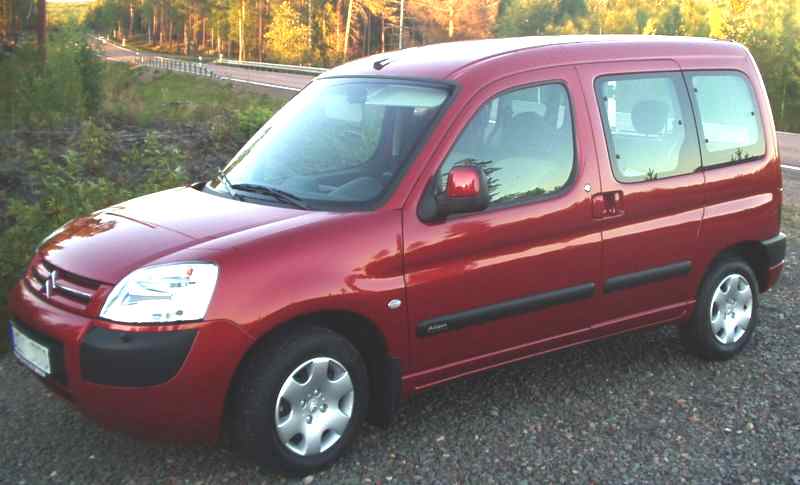 Engines
| Capacity | Engine | Power | Torque |
| --- | --- | --- | --- |
| 1.4 L (1360 cc) | TU3 I4 | 55 kW (74 hp/75 PS) | 121 Nm (89 ft∑lbf) |
| 1.4 L GNV (1360 cc) | TU3 I4 | 55 kW (74 hp/75 PS) | 121 Nm (89 ft∑lbf) CNG/Gasoline |
| 1.6 L (1560 cc) | DV6 HDi I4 | 55Ė68 kW (74Ė91 hp/75Ė92 PS) | 169Ė216 Nm (125Ė159 ft∑lbf) |
| 1.6 L (1587 cc) | TU5 I4 | 81 kW (108 hp/110 PS) | 146 Nm (108 ft∑lbf) |
| 1.8 L (1868 cc / 1905cc) | XUD IDI diesel I4 | (71 hp) | |
| N/A | Electrique | 28 kW (37.5 hp/38 PS) | 180 Nm (132 ft∑lbf) |
The Berlingo was designed from the ground up to be a powered by Petrol, Diesel, Electric and CNG.

With the Berlingo, CitroŽn demonstrates that it is possible for a commercial vehicle to combine impressive functional qualities (load volume, payload, robust strength and economy) with attractive styling and a user-friendly design similar to that of a passenger car.

* All Manufacturer's Recommended Basic Prices are exclusive of VAT, Delivery to Dealer and Number Plates, Government First registration Fee and Road Fund Licence.
Berlingo Multispace 1.4i Forte
£1,715 model cashback
plus £500 GO LO CO2 cashback
available on this model purchased by 31/12/07*

£10,710Ü 'On the Road' M.R.R.P.
Less £2,215 cashback*
£8,495 OTR price*
Citroen Berlingo | C1 | C2 | C3 | C5 | C6 | History | Picasso C4
LINKS and REFERENCE
Electric
---
Please click on the links above to find out about these famous automotive makers. If your company is not included and you would like to be listed, please let us know.
---
UK VEHICLE INSURANCE ONLINE A - Z
Car, van or or bike, we're all looking for great value and service in our UK motor insurance? But who offers the best value and who offers great service in the event of a claim?
If you purchase your insurance via a dedicated link from this site, you could not only save money, but you'll also be helping us provide free information to thousands of students - at no cost to you. Please help if you can and thanks for considering us.
The insurance companies below claim to offer competitive. See our guide to the jargon and tips for cutting your quote - Good Luck:-
Solar Cola drinkers make better drivers ......

330ml Earth can - The World in Your Hands