In just few weeks, at the festival from Worthersee, the Czech car producer will unveil the new Citijet concept, developed by a group of students and based on Citigo model. More, the convertible concept comes with an engine of just one liter.
Inside, we will find same elements from Sport Citigo model, as the red and white inserts, custom skirts, leather upholstery, LED ambient lighting and 300 watt audio system.
In terms of performance, the new CitiJet develops 75 horsepower and is able to sprint from 0 to 100 km / h in 13.9 seconds. It is able to touch a maximum speed of 170 km / h.
The Worthersee-bound concept car took 16 apprentices six months to build, and had the full backing of Skoda head designer Jozef Kaban and his team.

The CitiJet is based on the Skoda Citigo - that's Skoda's version of the Volkswagen Up - featuring a blue and white paintjob, 16in alloy wheels and a hand-made rear spoiler. There are two tailpipes at the back as well.

Don't get too excited though, because these workies haven't let their ambition run amok; underneath sits no insanely tuned 2.5-litre five-pot turbo, but a 1.0-litre petrol engine with 75bhp. Still, there's a red-stitch leather lined steering wheel, a 300-watt sound system and music-reactive LED lighting inside.

"Our apprentices have put their hearts and souls into this vehicle," Jozef said. Not only that, but the car is actually more a testament to Skoda's ongoing commitment to high quality vocational training and is thus a fertile ground for new automotive minds.

The "CitiJet" project allowed the trainees, two young women and 14 young men let their creativity run wild and were accompanied by Skoda's chief designer Jozef Kaba, who supports his team and the Skoda production. The result: an expressively styled city cabriolet car to be proud of.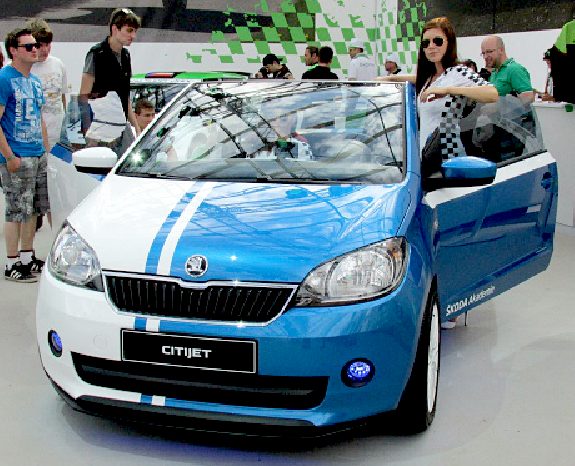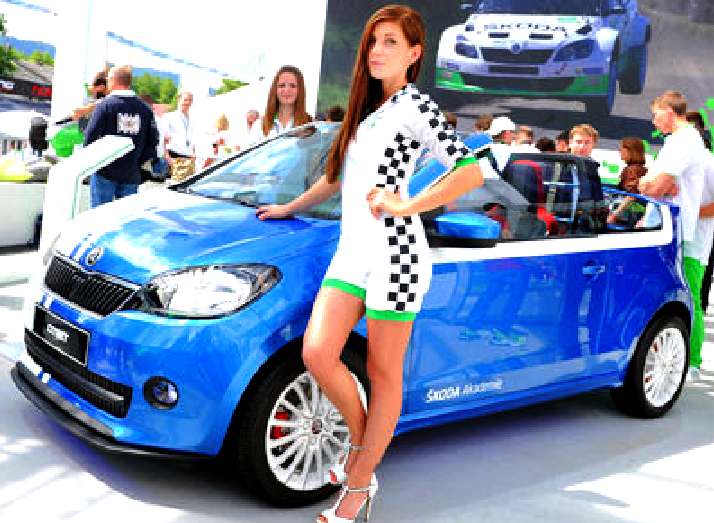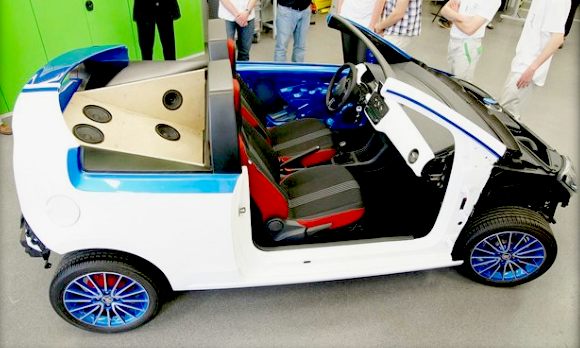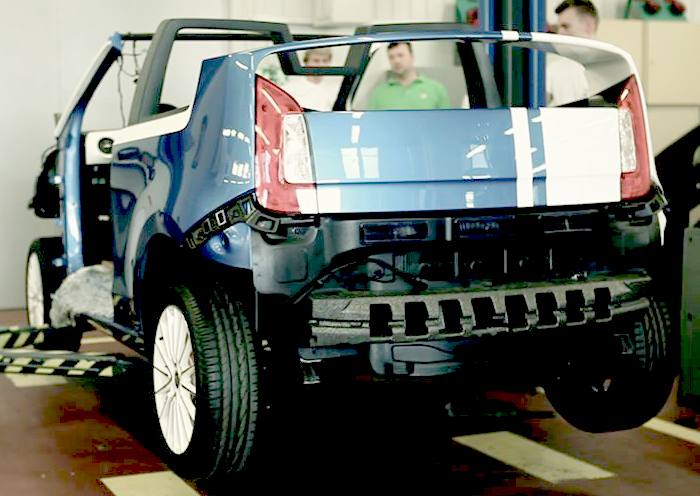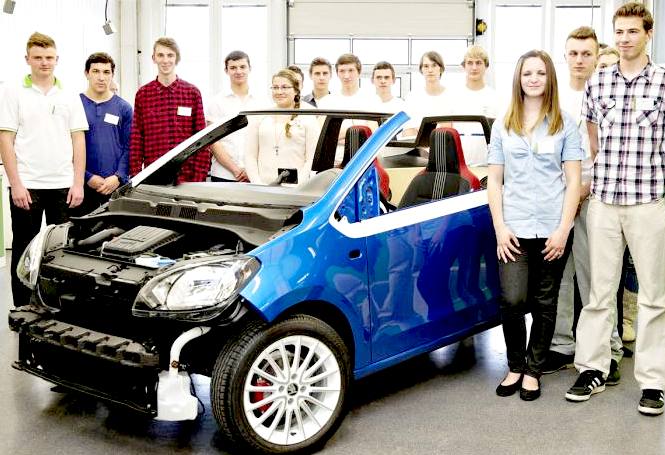 Skoda Gitogo conversion. The Citigo is compact yet roomy, economical yet agile, the ŠKODA Citigo is an ideal car both in and out of the city. It offers a surprisingly generous interior space. The boot volume is a sizeable 251 litres, which can be extended to 951 litres by folding down the rear seats. Another clever addition is the Portable Infotainment Device; it seamlessly combines navigation, a hands-free Bluetooth system and multimedia entertainment*.

The ŠKODA Citigo also places great emphasis on safety and has achieved a five star Euro NCAP safety rating. That's not all. For the first time in a ŠKODA vehicle, the designers have used a Head-Thorax side airbag to protect the heads of both the driver and front seat passenger. It's also award-winning. What Car? named the ŠKODA Citigo as the Best City Car (Ł9,000 - Ł10,000) as part of the 2013 What Car? Car of the year awards.
Škoda Auto, more commonly known as Škoda, is an automobile manufacturer based in the Czech Republic. Škoda became a wholly owned subsidiary of the Volkswagen Group in 2000, positioned as the entry brand to the group. Its total global sales reached 875,000 cars in 2011.

Škoda Works was established as an arms manufacturer in 1859 and Škoda Auto (and its predecessors) is one of five oldest companies that begun producing cars and has an unbroken history (together with Tatra, Daimler, Opel and Peugeot).

The origins of what became Škoda Auto go back to the early 1890s where, like many long-established car manufacturers, a company started out manufacturing bicycles. It was 1894, and 26-year old Václav Klement, who was a bookseller in Mladá Boleslav, in today's Czech Republic, which was then part of Austria-Hungary, was unable to obtain spare parts to repair his German bicycle. Klement returned his bicycle to the manufacturers, Seidel and Naumann, with a letter, in Czech, asking them to carry out repairs, only to receive a reply, in German, stating: "If you would like an answer to your inquiry, you should try writing in a language we can understand". A disgusted Klement, despite not having technical experience, decided to start a bicycle repair shop, which he and Václav Laurin opened in 1895 in Mladá Boleslav. Before going into business partnership with Klement, Laurin was established as a bicycle manufacturer in the nearby town of Turnov. In 1898, after moving to their newly-built factory, the pair bought a Werner "motorcyclist", which was produced by French manufacturer Werner Brothers. Laurin & Klement's first motorcyclette, powered by an engine mounted on the handlebars driving the front wheels, proved dangerous and unreliable—an early incident on it cost Laurin a front tooth. To design a safer machine with its structure around the engine, the pair wrote to German ignition specialist Robert Bosch for advice on a different electromagnetic system. The pair's new Slavia motorcycle made its debut in 1899.

In 1900, when the company had a workforce of 32, Slavia exports began, with 150 machines shipped to London for the Hewtson firm. Shortly afterwards, the press credited them as makers of the first motorcycle. The first model, Voiturette A, was a success and the company was established both within Austria-Hungary and internationally. By 1905 the firm was manufacturing automobiles.

After World War I the Laurin-Klement company began producing trucks, but in 1924, after running into problems and being hit by a fire, the company sought a partner, and was acquired by Škoda Works, an arms manufacturer which had become a multi-sector concern and the biggest industrial enterprise in Czechoslovakia. Most later production was under the Škoda name. After a decline during the economic depression, Škoda was again successful with models such as the Popular in the late 1930s.

During the World War II Occupation of Czechoslovakia, the Škoda works was turned into part of Reichswerke Hermann Göring serving the German World War II effort.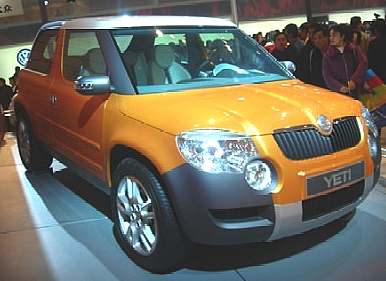 Skoda Yeti

MOTORSPORT

World Rally Championship

Following a long history of class victories in lower levels of motorsport, Škoda became a participant in the FIA World Rally Championship in the 1999 season, with World Rally Car models of the Škoda Octavia. Škoda's best result with the Octavia WRC was Armin Schwarz's third place at the 2001 Safari Rally. From mid 2003, the Octavia was replaced by the smaller Škoda Fabia. Škoda used the 2004 season to develop the car further, but did not achieve much success the following season. However, at the season-ending Rally Australia, 1995 world champion Colin McRae was running second before retiring.

Škoda then withdrew from the series, and the 2006 season saw Škoda represented by the semi-privateer Red Bull Škoda Team. Jan Kopecký drove the Fabia WRC to fifth place at the Rally Catalunya, and as late as the 2007 Rallye Deutschland the Fabia still achieved a fifth place result, again in the hands of Kopecký. Former works Ford and Citroen driver François Duval also drove a Fabia WRC in 2006 for the privateer First Motorsport team, achieving a sixth place on Rally Catalunya.


Super 2000

In 2009, Škoda entered the Intercontinental Rally Challenge (IRC) for the first time, using the Fabia S2000, winning three rallies and finishing second in both the drivers and manufacturers championship. In 2010, Škoda's won a total of seven IRC events winning both the manufacturers and driver championship for Juho Hänninen. The car was also raced by privateers in several championships, including Red Bull, Barwa, Rene Georges and Rufa in the 2010 Super 2000 World Rally Championship.

In August 2011, a special Škoda Octavia vRS hits world record in American Bonneville and became the fastest car in world with up to 2-litre engine, when hits 365,43 km/h. The current Škoda fastest serial car is Škoda Superb 3,6 FSI 4x4 with top speed 250 km/h (160 mph) and acceleration 0–100 km/h (0–62 mph) in 6.5 seconds.


British Touring Car Championship

In July 2011, Matt Hamilton announced that he would be making a return to the BTCC in 2012, piloting a Škoda Octavia vRS run by his fortmer team TH Motorsport. The car will be run to full NGTC (Next Generation Touring Car) spec.
LINKS
Skoda-citijet-to-cabrio-ton-foititon
Skoda-citijet-worthersee-concept-car-2014
http://hyyperlic.com/tag/skoda-citijet
http://auto-week.com/skoda-citijet.html
http://www.athleticradio.gr/motorsports-crete/311286-skoda-citijet-to-cabrio-ton-foititon
http://www.topgear.com/uk/car-news/skoda-citijet-worthersee-concept-car-2014-05-22
skoda-citigo-convertible-built-by-apprentices-for-worthersee
Please click on the links above to find out about these famous automotive makers. If your company is not included and you would like to be listed, please let us know.
UK VEHICLE INSURANCE ONLINE A - Z
No matter what car, van or bike you drive, we're all looking for great value and quality in our UK motor insurance? But who is the best - who is the cheapest and who offers the great service in the event of a claim?
See the insurance companies below who claim to offer competitive cover at sensible prices, our guide to the jargon and tips for cutting your quote - Good Luck:-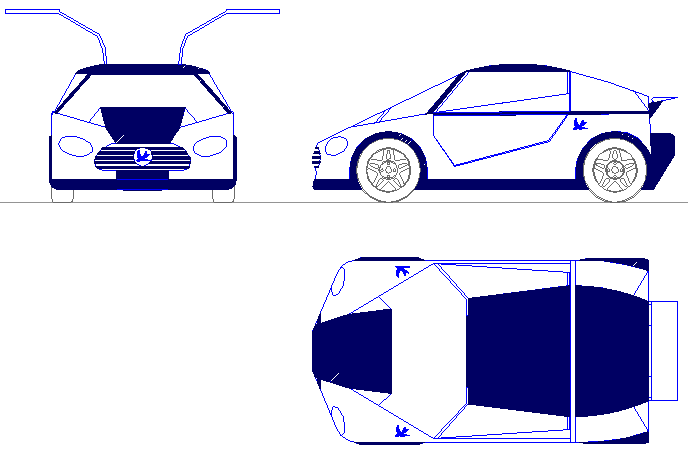 The Ecostar DC50 is thought to be the world's fastest recharging electric city car concept (June 2014)