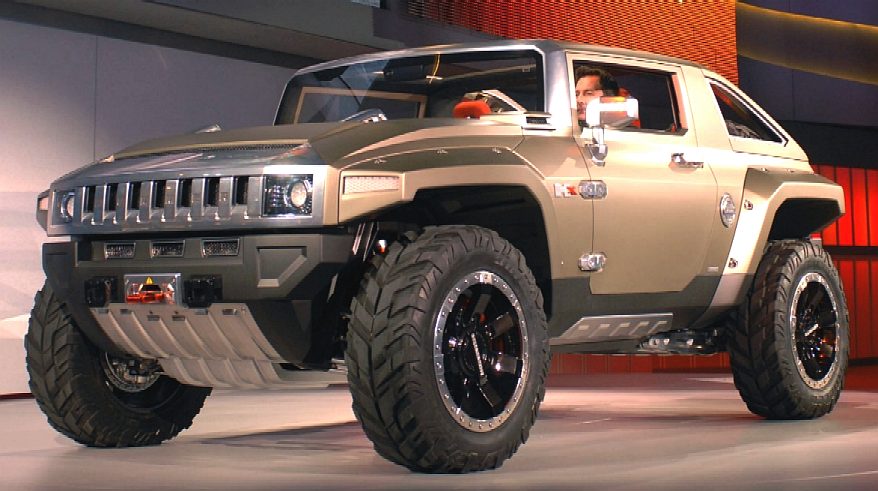 Hummer was a brand of trucks and SUVs, first marketed in 1992 when AM General began selling a civilian version of the M998 Humvee. In 1998, General Motors (GM) purchased the brand name and marketed three vehicles: the original Hummer H1, based on the Humvee; and the H2 and H3 models that were based on smaller, civilian-market GM platforms.

By 2008, Hummer's viability in the economic downturn was being questioned, and it was placed under review by GM management. Rather than being transferred to Motors Liquidation Company as part of the GM bankruptcy in 2009, the brand was retained by GM, in order to investigate its sale.

In 2009, a Chinese manufacturer, Sichuan Tengzhong Heavy Industrial Machinery Company, announced that it would acquire Hummer, pending government approvals, but later withdrew its bid. On February 24, 2010, Reuters reported that the Chinese ministry of commerce had prevented the deal, although a ministry spokesperson denied rejecting the application, which had been stalled for eight months. At the end of February, General Motors announced it would begin dismantling the Hummer brand.

Although the automaker announced two days later that it had been approached with new offers, by April 2010, any sale became unlikely, as inventory was depleted and Hummer dealerships began shutting down. After filling a rental-car fleet order, the last Hummer H3 rolled off the line at Shreveport on May 24, 2010.


Failed sale

On June 1, 2009, as a part of the General Motors bankruptcy announcement, the company revealed that the Hummer brand would be discontinued. However, the following day GM announced that instead it had reached a deal to sell the brand to an undisclosed buyer.

After GM announced that same day that the sale was to an undisclosed Chinese company, CNN and the New York Times identified the buyer of the Hummer truck unit as China-based Sichuan Tengzhong Heavy Industrial Machinery Company Ltd. Later that day, Sichuan Tengzhong itself announced the deal on their own website.

On January 6, 2010, GM CEO Ed Whitacre said he hopes to close the deal with Tengzhong by the end of January 2010. On February 1, 2010, it was announced that Sichuan and General Motors had agreed to extend the deadline until the end of February as Sichuan tried to get approval by the Chinese government. It was also revealed that the price tag of the Hummer brand was $150 million.

Later, on February 24, 2010, GM announced the Tengzhong deal had collapsed and the Hummer brand would soon shut down. There were reports that Sichuan Tengzhong might pursue the purchase of the Hummer brand from GM by purchasing it privately through the company's new J&A Tengzhong Fund SPC, a private equity investment fund owned by an offshore entity that was recruiting private investors to buy into its acquisition plan. The financial markets posed problems for established borrowers and even more for Tengzhong, a little-known company from western China, at the same time as the potential value of the Hummer brand continued to decline given high fuel prices and weak consumer demand.

The company announced it was willing to consider offers for all or part of the assets. American company Raiser along with several others expressed interest in buying the company. However, on April 7, 2010, this attempt failed as well, and General Motors officially said it was shutting down the Hummer SUV brand and offering rich rebates in a bid to move the remaining 2,200 vehicles.


Concept Vehicles - Hummer HX

The Hummer HX was developed in 2008 as an open-air, two-door off-road concept car, smaller than other Hummer models.
Plug-in Hybrid

Raser Technologies of Utah was to use technology similar to that in the Chevy Volt. Raser unveiled the prototype the 2009 Society of Automotive Engineers World Congress in Detroit. Using their E-REV (Extended-Range Electric Vehicle) powertrain technology, the Hummer plug-in hybrid would run up to 40 miles per day on its battery alone, then a small 4-cylinder internal combustion engine would start to generate more electricity.
REFUELING - Any form of electric vehicle is better than petrol or diesel, but an electric vehicle that can refuel in a few minutes will obviously have much more customer appeal than an EV that has to wait 30 minutes or even hours to charge up.
Battery technology is improving daily. A car with the new generation of battery cartridge exchange built in and the ability to load its own cartridge, will encourage energy companies to build service forecourts.
The Blueplanet Ecostar (BE3) LSR Team would be pleased to advise any energy company interested in this technology and of course any vehicle manufacturer who might be considering whether or not to include a future proof system into their next generation of road cars.
Please click on the links above to find out about these famous automotive makers. If your company is not included and you would like to be listed, please let us know.
UK VEHICLE INSURANCE ONLINE A - Z
No matter what car, van or bike you drive, we're all looking for great value and quality in our UK motor insurance? But who is the best - who is the cheapest and who offers the great service in the event of a claim?
See the insurance companies below who claim to offer competitive cover at sensible prices, our guide to the jargon and tips for cutting your quote - Good Luck:-
A taste for adventure capitalists

The world's fastest electric car: 350mph + using energy from nature. Featuring built in battery cartridge exchange, charged using renewable solar energy. Sponsors sought for the 2016 season.