Gilera is an Italian motorcycle manufacturer founded in Arcore in 1909 by Giuseppe Gilera. In 1969 the company was purchased by Piaggio, which now holds six marques and is the world's fourth largest motorcycle manufacturer.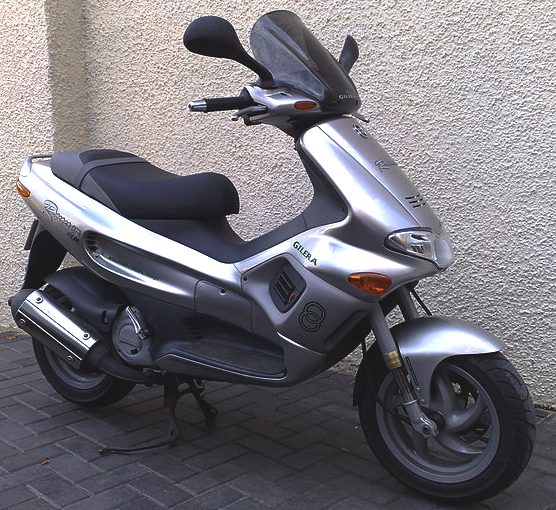 History

In 1935 Gilera acquired rights to the Rondine four-cylinder engine. This formed the basis for Gileras racing machines for nearly forty years. From the mid-thirties Gilera developed a range of four-stroke engine machines. The engines ranged from 100 to 500 cc, the most famous being the 1939 Saturno. Designed by Giuseppe Salmaggi, the Saturno was inspired by the pre-war Gilera VTEGS 500cc "Otto Bulloni" yet was quite different due to its unit construction.

After World War II, Gilera dominated Grand Prix motorcycle racing, winning the 500 cc road racing world championship six times in eight years.[citation needed] Facing a downturn in motorcycle sales due to the increase in the popularity of automobiles after the war, Gilera made a gentleman's agreement with the other Italian motorcycle makers to quit Grand Prix racing after the 1957 season as a cost-cutting measure.

In 1969 Gilera became part of the Piaggio group.

In 1992, Gilera made a return to the Grand Prix arena and Piaggio continues to produce small-displacement motorcycles with the Gilera name. The famous factory of Arcore was closed in 1993 and now the motorcycles (only scooters) bearing the name Gilera are produced by Piaggio in Pontedera.
ELECTRIC VEHICLES
Any form of electric vehicle is better than petrol or diesel, but an electric vehicle that can refuel in a few minutes will obviously have much more customer appeal than an EV that has to wait 30 minutes or even hours to charge up.
Battery technology is improving daily. A car with the new generation of battery cartridge exchange built in and the ability to load its own cartridge, will encourage energy companies to build service forecourts.
The Blueplanet Ecostar (BE3) LSR Team would be pleased to advise any energy company interested in this technology and of course any vehicle manufacturer who might be considering whether or not to include a future proof system into their next generation of road cars.
---
Please click on the links above to find out about these famous automotive makers. If your company is not included and you would like to be listed, please let us know.
UK VEHICLE INSURANCE ONLINE A - Z
No matter what car, van or bike you drive, we're all looking for great value and quality in our UK motor insurance? But who is the best - who is the cheapest and who offers the great service in the event of a claim?
See the insurance companies below who claim to offer competitive cover at sensible prices, our guide to the jargon and tips for cutting your quote - Good Luck:-
A taste for adventure capitalists

The world's fastest electric car: 350mph + using energy from nature. Featuring built in battery cartridge exchange, charged using renewable solar energy. Sponsors sought for the 2016 season.