The Combi Van is probably the ultimate surfer's vehicle. In standard trim, you cant get a much slower vehicle. For your image, you can't get a much cooler vehicle, and for general practicality and straightforward fun, you cant beat the classic VW camper van. Much as with the opportunities to improve the Volkswagen Beetle, the avenues that you can follow with a Vdub camper are endless, and one thing you can be sure of, it is fun all the way.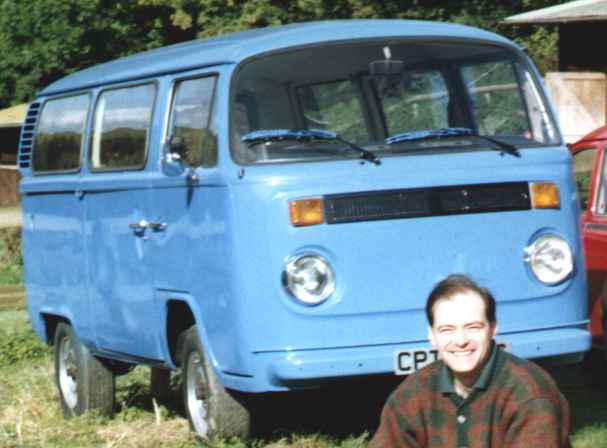 A proud operator with a Kombi Van in 1996
Rescued from a local vehicle dismantler for £70 (without wheels or an engine) the van above was brought back to life as a service vehicle to the Bluebird 9 (BE1) project. A rare two door model, she also sports an alternator! Nelson fitted her with a special tow bar which replaced the lower body panel, eliminating the need to jack the body for engine removal. A special tow bar was made which bolted to the Bluebird 9, turning the electric racing car into its own transporter. She changed hands in 2007 and is now being refurbished and re-painted for the Miss Ocean road show events to draw attention to ocean pollution and in particular; plastic waste.
T2 HISTORY
The Volkswagen Type 2 was the second automotive line introduced by German automobile manufacturer Volkswagen. It was a van introduced in 1950, initially based on Volkswagen's first model, the Type 1, also known as the "Beetle". The Type 2 is generally considered to be the forerunner of modern cargo and passenger vans. The Type 2 spawned a number of imitators both in the United States and Europe including the Ford Econoline, Dodge A100 and the Chevrolet Corvan, the latter even adapting the Type 2's rear-engine configuration. Updated versions of this line are still being actively produced in international markets.
Names and nicknames
From the beginning, the Type 2 has earned many nicknames from its fans, just like the Beetle has. Among the most popular, at least in Germany, are VW-Bus and Bulli (or Bully). The Type 2 was meant to be officially named the Bully, but Heinrich Lanz, producer of the Lanz Bulldog farm tractor, intervened. The model was then presented as the VW Transporter and VW Kleinbus, but the Bully nickname still caught on.
Interestingly, the official German-language model names Transporter and Kombi (Kombinationskraftwagen, "combined-use vehicle") have been incorporated into English and refer to delivery van . Kombi, however, is not only the name of the passenger variant, but is also the Australasian and Brazilian term for the whole Type 2 family in much the same way that they are all called VW-Bus in Germany, even the pickup truck variations. In Mexico, the German "Kombi" was 'translated' into "Combi", and became a household word given the vehicle's popularity in Mexico City's public transportation system. In Peru, where the term Combi was similarly adopted, the term Combi Asesina (Murdering Combi) is often used for buses of similar size, given the notorious recklessness and competition of Lima bus drivers to get passengers. The Portuguese people also have a particular name for it: they name it "Pão-de-Forma" (Breadloaf) because its design resembles a bread cooked on a form. Similarly, in Denmark, the Type 2 is referred to as "Rugbrød" (Rye bread).
The Australian band Men at Work made the use of the Kombi name somewhat popular in other parts of the world by using it in the first line of their 1981 hit record Down Under: "Travelling in a fried-out Kombi ...".
In America, however, it is a VW bus, a "vee-dub," a hippie mobile, hippie bus, or hippie van, and a "combie", Microbus or a transporter to aficionados. The early versions produced before 1967 used a split front windshield (giving rise to the nickname "Splitty"), and their comparitve rarity has led to their becoming sought after by collectors and enthusasts.
Variants
The Type 2 was available as a:
delivery van without side windows or rear seats (Panel Van)

delivery van with raised roof (Highroof Panel Van), or Hochdach

van with side windows and removable rear seats (Kombi, from German Kombinationskraftwagen (combination vehicle), i.e. both a passenger and a cargo vehicle combined)

van with more comfortable interior reminiscent of passenger cars (Bus; also called Caravelle since the third generation)

van with skylight windows and cloth sunroof (Samba-Bus, first generation only; also called Deluxe Microbus)

flatbed truck (Pick-up), or Single Cab, also available with wider load bed

flatbed truck, Double Cab, with two rows of seats (Crewcab Pick-up)

camping van (Westy; with Westfalia roof and interior)

semi-camping van that can also still be used as a passenger car and transporter, sacrificing some camping comforts (Multivan, available from the third generation on)
Apart from these factory variants, there were a multitude of third-party conversions available, some of which were offered through Volkswagen dealers. They included, but were not limited to; refrigerated vans, hearses, ambulances, police vans, fire engines and ladder trucks, and camping van conversions by companies other than Westfalia.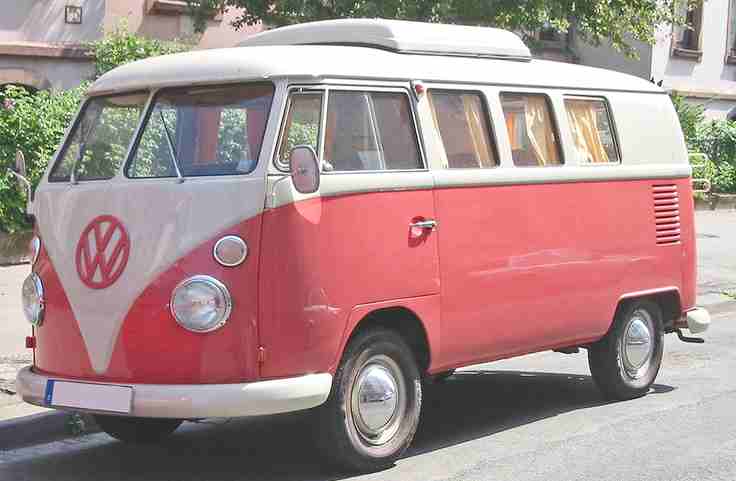 VW split screen V front camper
History
The idea for the Type 2 is credited to Dutch Volkswagen importer Ben Pon, who drew the first sketches of the van in 1947. The aerodynamics of the first prototypes were not good but heavy optimisation took place at the wind tunnel of the Technical University of Braunschweig. The wind tunnel work paid off, as the Type 2 was aerodynamically superior to the Beetle despite its slab-sided shape. Three years later, under the direction of Volkswagen's new CEO Heinz Nordhoff, the first production model left the factory at Wolfsburg.
Unlike other rear-engined Volkswagens, which evolved constantly over time but never saw the introduction of all-new models, the Transporter not only evolved, but was completely revised periodically with variations referred to as versions "T1" to "T5," although only generations T1 to T3 (or T25 as it is called in Ireland and Great Britain) can be seen as directly related to the Beetle (see below for details).
The Type 2 was among the first commercial vehicles in which the driver was placed above the front wheels. As such, it started a trend, at least in Europe, where the Ford Transit among others quickly copied the concept. In the United States, the Corvair-based Chevrolet Corvan cargo van and Greenbrier passenger van even went so far as to copy the Type 2's rear-engine layout, using the Corvair's horizontally-opposed, air-cooled engine for power. Except for the Greenbrier and a mid-70s water-cooled version from Fiat, the 850 Microbus — neither of which were produced in great numbers — the Type 2 remained unique in being rear-engined which was a disadvantage for the Panel Van which couldn't easily be loaded from the rear due to the engine cover intruding on interior space, but generally advantageous in terms of traction and interior noise.
Another trend that the Type 2 may not have started, but that it certainly gave momentum to, is the use of nicely-trimmed commercial vans as people carriers. This first took hold in the United States in the 1960s, aided by very intelligent, tongue-in-cheek advertising by the Doyle Dane Bernbach agency.
During the hippie era in the United States, the Bus became a major counterculture symbol. There were several reasons: The van could carry a number of people plus camping gear and cooking supplies, extra clothing, do-it-yourself carpenter's tools, etc. As a "statement", its boxy, utilitarian shape made the Type 2 everything the American cars of the day were not. Used models were incredibly cheap to buy — a majority were hand-painted (a predecessor of the modern-day art car). Some Bus enthusiasts (especially for antiwar activists) would replace the VW logo with a painted peace symbol up front. Since that time, however, the original 1950–1967 Type 2 (primarily the pre-1956 barndoors) has become a hot collector's item with special variations reaching into the North American five-figure price territory. The second generation has also passed its low-price years and is on its way to collector status.
The first generation of the VW Type 2 with the split front window, called the Microbus or Splittie among modern fans, was produced from March 8th, 1950 through the end of the 1967 model year. From 1950 to 1956, the T1 was built in Wolfsburg; from 1956 it was built at the completely new Transporter factory in Hanover. Like the Beetle, the first Transporters had a 1.2 L, 25 hp (19 kW), air-cooled four-cylinder boxer engine mounted in the rear. The 36 hp (22 kW) version became standard in 1955 while an unusual early version of the 40 hp (25 kW) engine debuted exclusively on the Type 2 in 1959. This engine proved to be so uncharacteristically troublesome that Volkswagen recalled all 1959 Transporters and replaced the engines with an updated version of the 40 hp (25 kW) engine. Any 1959 models that retain that early engine today are true survivors. Since the engine was totally discontinued at the outset, no parts were ever made available.
The early versions of the T1 until 1955 were often called the T1a or "Barndoor", owing to the enormous rear engine cover, while the later versions with a slightly modified body (the roofline above the windshield is extended), smaller engine bay, and 15 in (381 mm) wheels instead of the original 16 in (406 mm) ones were called the T1b. From the 1963 model year, when the rear door was made wider (same as on the T2), the vehicle was referred to as the T1c. 1963 also saw the introduction of an optional sliding door for the passenger/cargo area instead of the standard outwardly hinged doors.
In 1962, a heavy-duty Transporter was introduced as a factory option. It featured a cargo capacity of one metric ton (1,000 kg) instead of the previous 750 kg, smaller but wider 14 in (356 mm) wheels, and a 1.5 L, 42 DIN hp (31 kW) engine. This was so successful that only a year later, the 750 kg, 1.2 L Transporter was discontinued. When the Beetle received the 1.5 L engine for the 1967 model year, its power was increased to 44 hp DIN (32 kW).
German production stopped after the 1967 model year; however, the T1 still was made in Brazil until 1975, when it was modified with a 1968-79 T2-style front end and big 1972-vintage taillights into the so-called "T1.5" and produced until 1996. The Brazilian T1s were not identical to the last German models (the T1.5 was locally produced in Brasil using the 1950s and 1960s-era stamping dies to cut down on retooling, alongside the Beetle/Fusca where the pre-1965 bodystyle was retained), though they sported some characteristic features of the T1a, such as the cargo doors and 5-stud (205 mm bolt circle) rims. VW do Brasil production aircooled vehicles (including the VW Brasilia) are a rare find in the USA and usually sought after by collectors; the website vintagebus.com has several rare pics of the T1.5.
Among American enthusiasts, it is common to refer to the different models by the number of their windows. The basic Kombi or Bus is the 11-window (a.k.a. 3-window bus because of three side windows) with a split windshield, two front cabin door windows, six rear side windows, and one rear window. The deluxe model featured eight rear side windows and two rear corner windows, making it the 15-window (not available in Europe). And the sunroof deluxe with its additional eight small skylight windows is, accordingly, the 23-window. From the 1963 model year, with its wider rear door, the rear corner windows were discontinued, making the latter two the 13-window and 21-window respectively.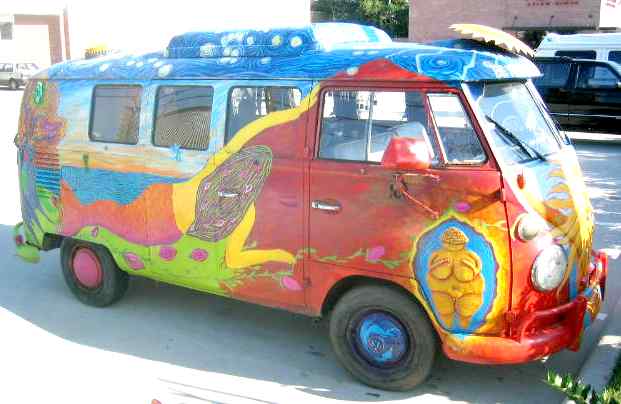 Camper bus as mobile art
T2
In 1968, the second generation of the Type 2 was introduced. It was built in Germany until 1979, with production shifting to Mexico in 1980 and to Brazil in 1996. Models before 1971 are often called the T2a, while models after 1972 are called the T2b.
This second-generation T2 lost its distinctive split front window and was slightly larger and considerably heavier than its predecessor. Its common nicknames are Breadloaf and Bay-window, or Loaf and Bay for short. At 1.6 L and 48 DIN hp (35 kW), the engine was also slightly larger. The new model also did away with the swing axle rear suspension and transfer boxes previously used to raise ride height. Instead, half-shaft axles fitted with CV joints raised ride height without the wild changes in camber of the Beetle-based swing axle transmission. The updated Bus transaxle is usually sought after by off-road racers using aircooled VW components.
The T2b was introduced by way of gradual change over three years. The 1971 Type 2 featured a new, 1.6 L engine with dual intake ports on each cylinder head and was rated at 50 DIN hp (37 kW). An important change came with the introduction of front disc brakes and new wheels with brake ventilation holes and flatter hubcaps. 1972's most prominent change was a bigger engine compartment to fit the larger 1.7 to 2.0 L engines from the VW Type 4, and a redesigned rear end which eliminated the removable rear apron. The air inlets were also enlarged to accommodate the increased cooling air needs of the larger engines.
This all-new, larger engine is commonly called the Type 4 engine as opposed to the previous Type 1 engine first introduced in the Type 1 Beetle. This engine was called "Type 4" because it was originally designed for the Type 4 (411 and 412) automobiles. There is no "Type 2 engine" or "Type 3 engine", because those vehicles did not feature new engine designs when introduced. They used the "Type 1" engine from the Beetle with minor modifications such as rear mount provisions and different cooling shroud arrangements.
In the Type 2, the VW Type 4 engine was an option for the 1972 model year onward. This engine was standard in models destined for the US and Canada. Only with the Type 4 engine did an automatic transmission become available for the first time in the 1973 model year. Both engines displaced 1.7 L, rated at 66 DIN hp (49 kW) with the manual transmission and 62 DIN hp (46 kW) with the automatic. The Type 4 engine was enlarged to 1.8 L and 68 DIN hp (50 kW) for the 1974 model year and again to 2.0 L and 70 DIN hp (52 kW) for the 1976 model year. As with all Transporter engines, the focus in development was not on power, but on low-end torque. The Type 4 engines were considerably more robust and durable than the Type 1 engines, particularly in transporter service.
1973 also saw the most noticeable exterior changes. The front turn indicators were squared off from the previous version and set higher in the front valence, above the headlights. Larger taillights were added to comply with U.S. lighting requirements as were larger bumpers. Crash safety improved greatly with this change due to a compressible structure behind the front bumper. This meant that the T2b was capable of meeting US safety standards for passenger cars of the time, though being vans they were not required to. The only thing that shrunk on the new model, or so it seemed, was the large and distinctive "VW" emblem on the front of the early model.
Later model changes were primarily under the skin. By 1974, the T2 had gained its final shape. Very late in the T2's design life, during the late 1970s, the first prototypes of Type 2 vans with four wheel drive were built and tested.

The T2 also has the distinction of being the basis for one of the most sought-after and valuable toys in US-history. In 1969, Mattel introduced a new model to their line of Hot Wheels die-cast toy cars. This was the "Beach Bomb," a customized Type 2 complete with surfboards. The prototypes had the surfboards placed in the car, sticking out from the rear window. These "Rearloaders" turned out to have an excessively high center of gravity, making them prone to tip over in banked curves, so the Beach Bomb was completely redesigned. The production model had its body sectioned to reduce height, a counter weight added to its base, and the surfboards were placed inside widened rear fenders to create a lower center of gravity, resulting in the nickname "Sideloader." Only a few dozen of the prototype "Rearloaders" have survived, with only two of them painted in "Spectraflame Hot Pink". One of these Hot Pink Rearloaders was sold privately in 2000 for $72.000 while the other sold in 2004 for over $50.000.
The T2c, so called since it got a slightly raised roof — by about 10 cm — in the early 1990s, was built for the South American and Central American markets. The T2c was produced in Mexico until 1991* with the 1.6 L air-cooled Type 1 engine, and from 1991 until 1996 with water-cooled engines from the VW Golf (a VW/Audi 1.4L). Since 1997, the T2c has been built in Brazil with air-cooled engines for the Brazilian market and with water-cooled engines for the Mexican market, the latter easily identified by their large, black-coloured, front-mounted radiators.
Since production of the original Beetle was halted in late 2003, the T2 remained the only Volkswagen model with the traditional air-cooled, rear-mounted boxer engine when the Brazilian model shifted to water-cooled on December 23, 2005. Previously, the watercooled T2c was sold in Mexico between 1991-2002.
The shift to water-cooled engines is in response to Brazil's emission laws which go into effect for 2006 and beyond. The new water-cooled engine will run on petrol as well as alcohol, which costs about 50% less than ordinary fuel. 2 The engine is a EA-111 1.4 8v Total Flex. 1390 cm³, 78 hp on petrol, and 80 hp when run on ethanol.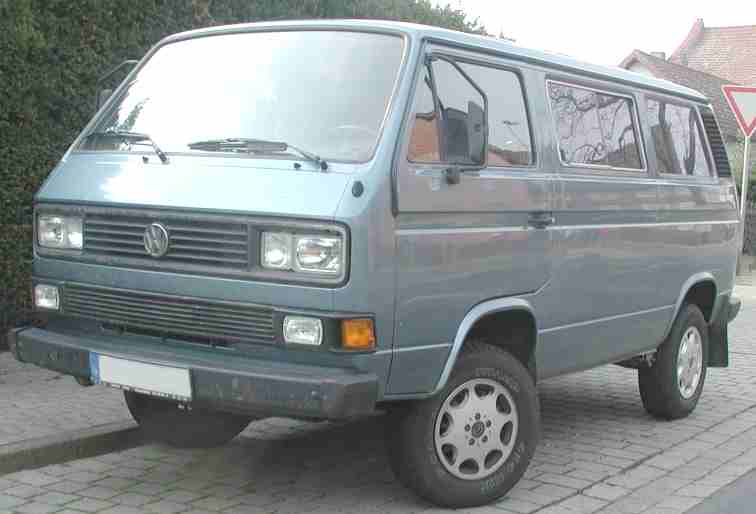 Late 1980s VW T3 Caravelle Syncro van
T3
The T3, known as the T25 in Britain and Ireland, and Vanagon in the US, was built from 1979 to 1991 (or 1992 if one includes the Syncro) and was the third distinct generation of the Type 2. It featured an all-new mechanical design that matched the T2 in length and height, but was wider by 12 cm and considerably heavier. Additional interior space was created by lowering the engine compartment; the rear door is 75% larger than the T2's. The suspension and almost all mechanical components were completely changed, and frontal crash protection was greatly increased. The body was considerably squared-off, though retaining the overall impression of previous versions. Body variants remained the same as before.
Until 1982, the T3 was available with the same air-cooled engines as the T2. Starting in 1981, water-cooled diesel engines were available options and for 1984, water-cooled gasoline boxer engines replaced the previous air-cooled ones.
From 1985, the T3 Syncro represented the first production Type 2 with four-wheel-drive. The Syncro drive system was full-time four wheel drive, with drive to the front axle controlled by a viscous coupling that delivered power when required. European Syncros were normally fitted with front and rear pneumatically operated differential locks to improve traction. These were not normally fitted to US-spec Vanagons due to fears over product liability.
Engine size and performance grew considerably over the T25's production run, from the 1.6 L, 50 DIN hp (37 kW) and 2.0 L, 70 DIN hp (52 kW) air-cooled engines to 1.9 L water-cooled powerplants rated at 60 DIN hp (44 kW) or 78 DIN hp (57 kW) to the top-of the line 2.1 L, 112 DIN hp (82 kW) (95 hp for vans with catalytic converters) fuel-injected version. Likewise, the diesel engine grew to 1.9 L and 65 DIN hp (48 kW). There was a turbodiesel option, but only in 1.6 L, 70 DIN hp (52 kW) trim. The 1.9 L turbodiesel upgrade was not available until the introduction of the T4.
In its home market, the T3 was replaced by the T4 for the 1990 model year, but some Syncro models and vehicles for Deutsche Post and the German military continued to be produced in Graz, Austria until 1992. The last German-built T3s were the very sought-after "Limited Last Edition" models of which 2,500 were built.
Meanwhile, the T3 was still being built in South Africa, with a slightly modified body (larger windows, different ventilation, less room above the engine), fuel-injected four and five-cylinder inline engines and new equipment packages. South African T3 production was halted in 2002.
Communities
Today, many VW Bus communities and clubs exist on the Internet, hosting pictures, discussion forums, technical articles, and more; their membership allows experts to help out curious novices requiring assistance with their vehicles.
List of VW Communities & Clubs
Front-engined successors
Since 1990, the Transporter in most world markets has been front-engined and water-cooled similar to other contemporary Volkswagens. It is quite noteworthy that this happened almost two decades later than it did for the passenger cars, especially since commercial vehicles are usually not purchased for sentimental reasons. A new front-engined Transporter with design cues from the T1 model was planned for the 2007 model year and targeted at the US market. However, in May 2004 Volkswagen announced that the design had been scrapped and would be replaced with another, more cost-efficient one to be marketed globally.
For more details on Volkswagen's front-engined Transporters, see VW Eurovan (US brand name – all types still marketed as Transporter in the UK and Ireland).
In 2001, a Volkswagen Microbus Concept was created.
In 2006, the Brazilian branch of Volkswagen AG start selling VW Bus with a new 1.4L water-cooled rear-mounted engine. This marks the end of the Brazilian air-cooled engine era. The "new" VW Bus (called "Kombi" in Brazil) uses the old generation 2 body.
Pop culture
In the 2006 Pixar movie Cars, the hippy van Fillmore is a VW Type 2.

Vehicles known as Campers in the video game Grand Theft Auto: San Andreas are based on the Type 2.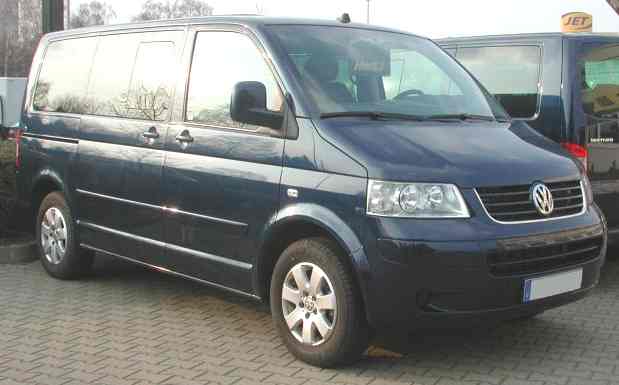 VW Transporter 2004 Eurovan
General Links
www.abvwc.org.uk The site of the Association of British VW Clubs

http://www.planetcampers.co.uk

a site of interest to owners or those wanting to own a camper van
http://www.volkswest.co.uk/ A site by an enthusiast for enthusiasts, including for sales pages & show dates

VW On-line The site for all things VW

The Westfalia Owners Web Site (The VW Camping Van Site). The purpose of this non-commercial site is to provide a meeting place and information exchange for Westfalia and VW camper van lovers.

Volks Range Tools (formerly VUU Tools) are now offering a 10% discount on tools and a 5% discount on any VW/Audi parts they supply to CVWOC members. They also have a range of good quality used parts available.

Carmen Gear Carman Gear VW T shirts/clothes.

Volks Zone is a great new site that caters for Aircooled VWs, it contains loads of info for the Aircooled VW owner, such as regional club listings, show listings, classifieds and links to other VW related sites.

Helen's Beetle is a site that was suggested by a visitor to Jamboree '99. Go check it out, it's great fun and has loads of VW info, as well as articles all about Helen's Beetle.

The Audi World Site is a site set-up by Audi themselves, this site contains loads of information on Audi.

The Volkswagen Group UK Web Site is a site set-up by the UK arm of the Volkswagen group. It has plenty of new model information, as you would expect, you can also order a current model brochure on-line.

The Findit Volkswagen Links Page and the Findit Volkswagen Page are a great source of information on all things VW. They also have loads of links to other VW/Audi related sites.

The Volks Mart website has been set up to allow people to advertise their Air-cooled VW's & parts on the Internet.

Status VW Parts is a mail order VW parts company.

Bayford Thrust is the site to visit for information about the availability of Four Star Petrol

http://www.thepartsbin.com A company who import VW parts and sell online

www.bugsales.co.uk a site devoted to the buying and selling of aircooled items.

www.audivwparts.co.uk a company who specialiase in importing parts.

www.importpartsbin.com a company who spcialise in importing a vareity of manufacturers parts including VW

www.redcorrado.comA site of interest to Corrado owners based in the West Country

www.campers2go.co.uk a company who hire Type Two camper vans based in Dorset

www.paintprotection.co.uk and http://www.splashgroup.co.uk/ are paint companies for cars.

http://www.chanray.com/ - Chanray Surfshop, a website with classified ads for VW Campers.

www.bba-reman.com - a company selling remanufactured parts such as ECU's and ABS pumps.

www.rockauto.com - parts for American and Import vehicles built since 1945, rock bottom prices.

http://www.bugbabe.co.uk/ - BugBabe Clothing - clothes for VW girlies!

www.livetoenvy.co.uk - VW Clothing site

Classic & Cal Look VW Site - Beetle & Karmann Ghia site

Volkswagen Camper Magazine - Volkswagen Camper & Commercial Magazine

R & R Security - Locksmiths who specialise in cutting new or old VW and Audi keys, locks etc from codes.

http://www.allaircooled.com/ - Links to Air-cooled businesses, personal sites, clubs and pages around the world!

http://www.superbeetles.com/ - Online Magazine dedicated to the Beetle

Obriens Camping - supply Electrolux Dometic fridges, coolboxes, portable refrigerators and freezers for caravan and camping, powered by gas, mains and 12v.

Velcoe Publishing publishers of VW books.

Spark Plugs This company specialises in the supply of NGK spark plugs (including Platinum plugs and Iridium IX plugs) and glow plugs for your UK vehicle at cost savings of up to 30% on MRRP.

www.cornwallcampers.co.uk - a local company hiring out VW campers for holidays.

www.boschparts.co.uk - a long standing uk based company offering BOSCH automotive parts at discounted prices, who can source virtually any BOSCH part and also provide online help for fitment, etc.

www.partspalace.com - company selling parts for VW and Audi at up to 60% off dealer prices.

Power-Steering.co.uk - this company supply or repair power steering racks and pumps for VW's.
Club Links

Alive & Dubbin VW Owners Club VW club based in Plymouth Devon.

Follow this link to the website of the London & Thames Valley Volkswagen Club. Be sure to sign their guestbook while you're there.

The Type 2 Owners Club is a UK club club that caters for all models of VW Transporter, from the original Split Screen van to the latest T4. They also run VanFest which is one of the bigger shows on the UK VW scene.

Edubs is an internet VW club, based in the UK. They have been running for over three years and have now got over 150 members. There is all sorts of VW related stuff here, it can be used as a forum to get all sorts of information on your beloved VW.

The Official Homepage of Club GTI, Click here to find out the latest information from the GTI scene. Club GTI caters for all types of VW GTI, from Golfs to Corrados. Club GTI hold local group meetings all over the country and they also regularly attend the CVWOC Jamboree.

Club Scirocco is a UK based club for owners and enthusiasts of both MK I and MK II Sciroccos.

Jetta Owners Club This is a club for owners and enthusiasts of VW Jettas

The Corrado Club of Great Britain is a site based in the UK, that caters for all things Corrado.

The Bug Runners Air-cooled Club is a small club of about 10 - 15 active vehicles with assorted owners, drivers, passengers and friends, based in North Staffordshire and South Cheshire.

Volkswagen Cabriolet Owners Club, GB is a club for owners and enthusiasts of aircooled Karmann built cabriolets. They have members from all over the world and they hold meetings all over the UK.

Volkswagen Type 3 & 4 Club is a UK club that caters for the owners and enthusiasts of Type 3 & 4 Volkswagens and their variants.

Club Concept is a brand new club and as far as we know is the UK's only New Beetle club.

Havoce Volkswagen Club is a club that caters for all VW owners, based in the Midlands and Gloustershire area of the UK.

Malvern Volkswagen Onwers Club is a relativley young club based in the Malvern area of Worcestershire.

New Lancs Volkswagen Club is a well estabished Volkswagen club based in and around Lancashire area of England.

The Split Screen Van Club is a national club that caters for Splittie owners and enthusiasts from all over the UK.

The Isle of Wight VW Club is a club on the Isle of Wight for VW enthusiasts.

Wacky Racers is a VW club based in SE London

The Essex VW Club is a VW Club based in Essex

Sheffield VW Owners Club club based in Sheffield.

The Baywindow Mafia. (The only Baywindow specific bus club and web community!)

SpecialPlates.com (Information on pressed alloy German plates for VWs)

the_busman_chronicles (VW Bus related Blog)

LoveMyBus .com (Videos, Pictures, Classifieds, Online Forum!)

VWikipedia (A WIKI dedicated to all things air cooled, contributions needed)

dsk.com.au (home of the splitty! online forum)

Full Moon Bus Club (VW camping club, hosting monthly gatherings)

Club80-90.co.uk (The UK's biggest and best T25 resource)

VW Transporter and Microbus Specification Guide 1967-1979 by Vincent Molenaar & Alexander Prinz

Type2.com (home of T1 and T2 mailing lists)

ratwell.com (home of Baywindow FAQ)

Vanagon.com (home of T25 mailing list)

onlyaircooled.com (How To Maintenance)

VW do Brasil's web site for the T2c (Portuguese text only)

Bullikartei (German club for T1, German text only)

T2 IG (T2 Community of Interest, German text only)

VW Bus Museum Salzgitter (German text only)

VolksZone Forums (UK-centric and very active VW community site)

VintageBus.com (early Type 2 source)

VW T2 Artistic Photos (a collection of origial VW T2 images *recommended*)

Oregonbusclub.org (Great VW Bus club serving Oregon and surrounding areas.)

Dead Bus Diaries (VW Bus related blog)

HWProtos (Mattel "Rearloader" BeachBomb registry)
BACK TO BAHA LINKS PAGE | BAJA HISTORY
Please click on the links above to find out about these famous automotive makers. If your company is not included and you would like to be listed, please let us know.
A taste for adventure capitalists

Probably the world's fastest electric car: 350mph + using energy from nature. Featuring built in battery cartridge exchange, charged using renewable solar energy. One day soon .........