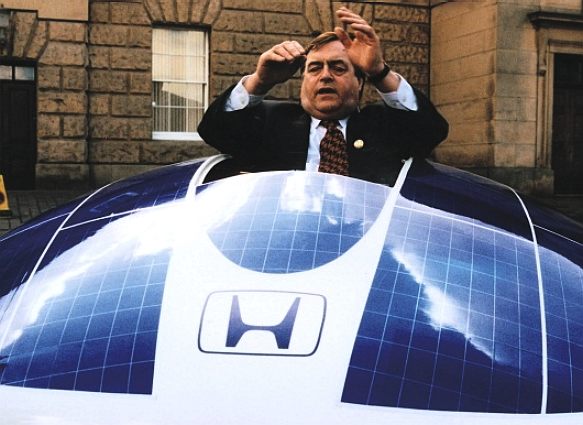 The well known motoring magazine consistently reports automotive news and scoops, a sample of which is shown below :-
AUTO CAR

NEWS | ROAD TESTS | VIDS & PICTURES | ASK A QUESTION | TRACK DAY DIARY | CARS FOR SALE

TOP STORY


Nissan Almera replacement goes off-road




Spies for Autocar.co.uk have caught the latest part of Nissan's 4x4 explosion testing on public roads. Hidden beneath this X-Trail body is the underpinnings of the Qashqai, the smallest of Nissan's off-road range. ...


SPORT NEWS

"I can't wait for them to finally finish the road works on the M25 near Heathrow, the two years of commuting misery they have caused... "
Paul Barker


SNAPSHOT
LATEST NEW CARS
ASK GOODWIN

Formula One threesome - in a Ferrari?
Enlarge

ROAD TEST


Peugeot 1007 (05-) 1.4 HDi Sport 3dr Hatchback

more

FIRST DRIVES


VIDEO


"Is the "Autocar India" magazine (sold for Rs 50-75, don't remember exactly) sold in India belong to Autocar International? ..."


"Autocar is produced under licence in many countries including India. Be sure to read the excellent column in Autocar India by a bloke called Goodwin...."
Autocar is a weekly British automobile magazine published by Haymarket Motoring Publications Ltd. It refers to itself as "The World's oldest car magazine".


History

The publication was launched as The Autocar by Iliffe and Sons Ltd "in the interests of the mechanically propelled road carriage" on 2 November 1895 when, it is believed, there were only six or seven cars in the United Kingdom. In his book Drive On! L. J. K. Setright suggests that the magazine was set up by Henry Sturmey as an organ of propaganda for Harry J. Lawson, founder of the Daimler Motor Company and a journalist on the magazine in its early days. Henry Sturmey stood down as editor of The Autocar magazine and left the company in 1901.

Autocar claims to have invented the road test in 1928 when it analysed the Austin 7 Gordon England Sunshine Saloon. Autocar has been published weekly throughout its life with only strikes in the 1970s interrupting its frequency. In 1988, it absorbed its long-time rival The Motor magazine, founded by Temple Press Ltd on 28 January 1903, briefly calling itself Autocar & Motor afterwards, before reverting to Autocar. The magazine has scored many firsts in its history including the first full road tests and independent performance tests of the Jaguar XJ220, McLaren F1, and the Porsche 911 GT1. It was also the first magazine to produce independently recorded performance figures for the Bugatti Veyron, which were published in the 31 May 2006 issue.


Regular features

News – includes "scoop" photographs and information about still-secret future models.

First drives – brief road tests of new models.

Group tests - analysis of how a model compares relative to rivals

Motorsport – summaries of current racing news, predominantly in Formula 1 and rallying.

Road tests – Thorough test and analysis of one new model per issue. In the issue closest to Christmas, Autocar traditionally publishes a "road test" of a more unusual vehicle. These have included tests of New Bus for London, HMS Ark Royal, Concorde, and HMS Diamond.

Used car news

Long term car tests

New car data


Writers

In the 1950s, the magazine's Sport Editor, John Cooper, used Cooper T11 parts to create the Cooper-Alta.

Former Autocar writers have included Russell Bulgin, Chris Harris and Top Gear presenter James May who was fired from the magazine in 1992 for putting a hidden message in a supplement hinting at the tedium he had experienced whilst compiling it.

Current Autocar writers include Steve Sutcliffe, Richard Bremner, Formula 1 journalist Alan Henry, used-car expert James Ruppert, and Editor-in-Chief Steve Cropley.

The current editor is Jim Holder.


International editions

Autocar has been licensed to publishers around the world and is now published in, amongst others, Japan, India, Malaysia, Indonesia,Vietnam and China.


Price

In 1952 The Autocar retailed for one shilling, equivalent to five pence in post decimalization British currency. In 1968 the cover price of Autocar was increased from two shillings to two shillings and six pence (equivalent to a post decimalisation increase from ten pence to twelve and a half pence). By 1972 the price had increased fivefold in the two decades since 1952, to 25p. In 1992, the price was £1.25. As of January 2012 the magazine sells for £3.10.
---
Please click on the links above to find out about these famous automotive makers. If your company is not included and you would like to be listed, please let us know.
UK VEHICLE INSURANCE ONLINE A - Z
No matter what car, van or bike you drive, we're all looking for great value and quality in our UK motor insurance? But who is the best - who is the cheapest and who offers the great service in the event of a claim?
See the insurance companies below who claim to offer competitive cover at sensible prices, our guide to the jargon and tips for cutting your quote - Good Luck:-
A taste for adventure capitalists

The world's fastest electric car: 350mph + using energy from nature. Featuring built in battery cartridge exchange, charged using renewable solar energy. Sponsors sought for the 2016 season.