In the early 80's Nelson Kruschandl was approached by Jamie Tones to form a team for a race at the Arlington Speedway racing circuit near Eastbourne in East Sussex. Stewart Angel and Rick Bowell volunteered to mechanic for Nelson and help convert a poorly Morris Marina to pass scrutineering as seen by their artwork on the rear flank of the vehicle.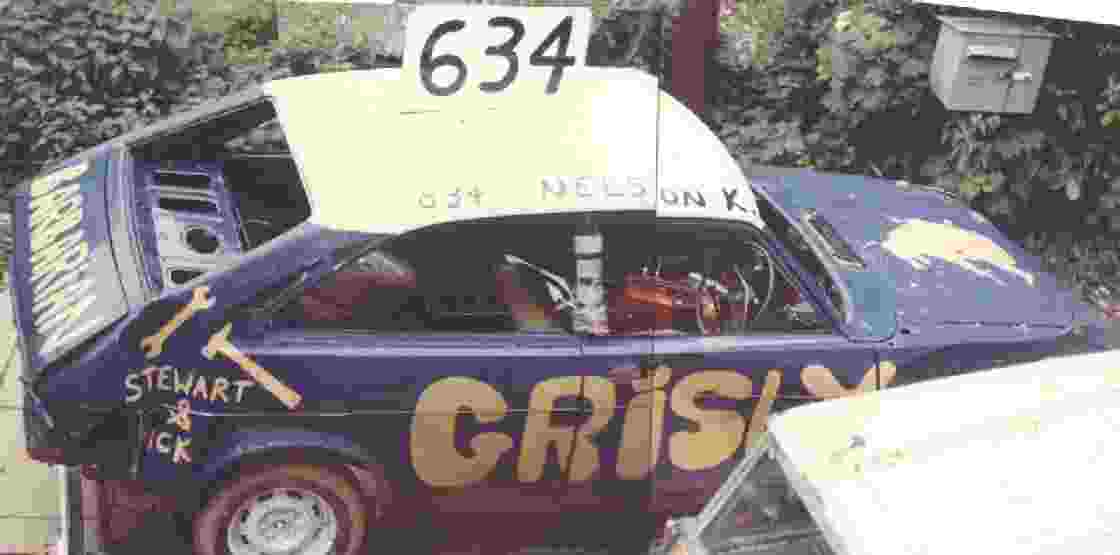 The Morris Marina raced by Nelson Kruschandl at Arlington Raceway
The Team Barbarians entered two vehicles Jamie driving a Ford Escort, Nelson the Morris Marina 1300 pictured above. Nelson finished his first race in sixth place (i.e. only six cars were running when the race ended). Jamie was wiped out when his Escort was crushed in a multi vehicle pile-up. In his second race Nelson having come to terms with the slippery dirt track, got a bit over enthusiastic charging into the back of an Austin Cambridge, in doing so snapping a steering tie rod. This abruptly ended his banger racing career when he couldn't locate spares or secure transportation in time for the next event. However, it was a fun (if expensive) outing much enjoyed by all.
---
Please click on the links above to find out about these famous automotive makers. If your company is not included and you would like to be listed, please let us know.
UK VEHICLE INSURANCE ONLINE A - Z
No matter what car, van or bike you drive, we're all looking for great value and quality in our UK motor insurance? But who is the best - who is the cheapest and who offers the great service in the event of a claim?
See the insurance companies below who claim to offer competitive cover at sensible prices, our guide to the jargon and tips for cutting your quote - Good Luck:-
A taste for adventure capitalists

The world's fastest electric car: 350mph + using energy from nature. Featuring built in battery cartridge exchange, charged using renewable solar energy. Sponsors sought for the 2016 season.