By the age of 30 the son of the speed ace Sir Malcolm Campbell had outgrown the technology of his father's Bluebird K4 hydroplane racing boat. Once the spark was lit, there was no stopping him despite a 170mph crash in 1951. After the crash Donald looked for a new boat. He wanted something more dramatic than Sir Malcolm had raced and safer. The obvious answer was a jet powered 3 pointer boat. More power; more noise and three contact points with the water - hence more stable.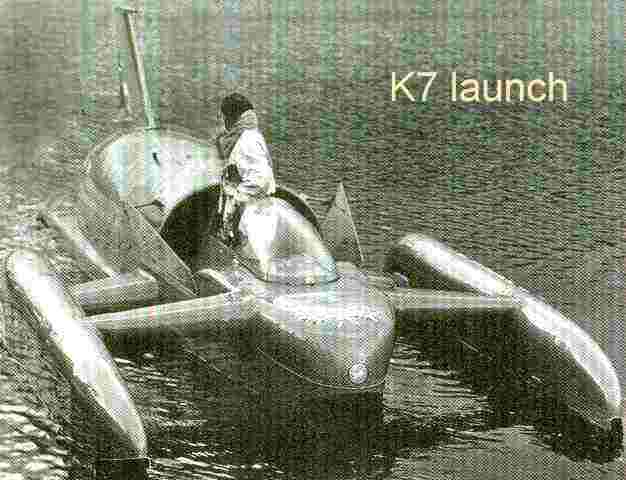 Bluebird K7 launching backwards
The K7 was to prove a very successful boat that was destined to set 7 World Water-Speed records between 1955 and 1964. The first record run was at Ullswater where Donald set a record of 202Mph. In the same year this was raised to 216mph at Lake Mead. There followed a sequence of record raising runs at Lake Coniston where he attained 248mph in 1958 and on each successful attempt Donald collected the £5,000 prize money offered to anyone who broke the record by Billy Butlin, of holiday camp fame. The prize money was a good way to finance the project and may explain so many incremental records. Donald finally raised the water speed record to 276mph at Lake Dumbleyung, Australia in 1964, having earned a theoretical £35,000 prize money.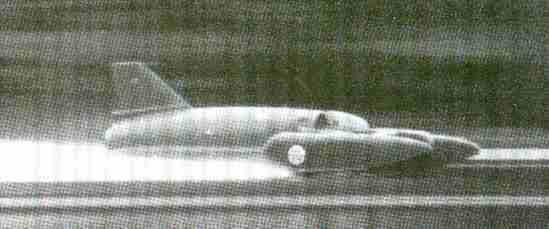 The K7 first run 4 January 1967
Three years later in January of 1967, Donald was trying to raise his own record to 300Mph on water, when the K7 flipped spectacularly at Coniston water. He had achieved a one way run of 297Mph, but he turned K7 around without refueling and without waiting for his wake to settle, he set off on the return run. The boat lifted out of the water after exceeding a speed of over 300Mph, somersaulted and nose dived into the water disintegrating on entry. Donald's body was only recovered in May 0f 2001.
Overall length………………………..26 ft 4 ins.
Overall beam………………………...10 ft 6 ins.
Overall height………………………..4 ft 8 1/2 ins.
Length of floats………………………12 ft 3 3/4 ins.
All-up weight…………………………2 1/2 tons (approx.)
Construction...............................high duty 'Birmabright' light alloy hull,
built around a high tensile tubular steel main frame.
POWER UNIT
Make & type……..Metropolitan Vickers "Beryl" turbo-jet engine of Straight-through design
with: 10-stage axial compressor, single stage turbine.
(Later replaced with a Bristol Siddley Orpheus from a Gnat fighter plane)
Dimensions……….11 ft 9 ins. Long, 3 ft 2 ins. Diameter, 1780 lbs. Weight
Thrust…………….4,000 Thrust-lbs (Beryl). Sea level static at 8,000 revolutions per minute.
Fuel……………… Kerosene, stored in a "saddle" tank.
Consumption……. 650 gallons Kerosene per hour; 3 tons of air per minute.
External links
---
Please click on the links above to find out about these famous automotive makers. If your company is not included and you would like to be listed, please let us know.
UK VEHICLE INSURANCE ONLINE A - Z
No matter what car, van or bike you drive, we're all looking for great value and quality in our UK motor insurance? But who is the best - who is the cheapest and who offers the great service in the event of a claim?
See the insurance companies below who claim to offer competitive cover at sensible prices, our guide to the jargon and tips for cutting your quote - Good Luck:-
A taste for adventure capitalists

The world's fastest electric car: 350mph + using energy from nature. Featuring built in battery cartridge exchange, charged using renewable solar energy. Sponsors sought for the 2016 season.