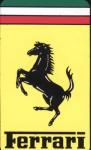 Enzo Ferrari was born in Modena Italy on February 18 1898. He came from a well to do family that owned a metal foundry making railroad parts, they were the first in his town to own a car.
When WWI came Enzo's father and brother (Dino) were drafted into the Italian army, whom both died from influenza in 1916. Enzo was forced to leave school to run the foundry, when the business collapsed he started work as a metalworker at the Modena Fire Brigade workshop as a turning instructor in order to support his widowed mother.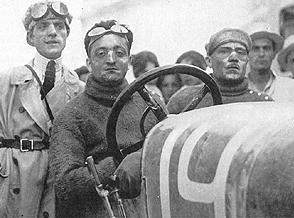 Enzo Ferrari 1919
Enzo himself was later drafted into the Italian army where he worked shoeing mules for the mountain artillery, after a few months he becomming seriously ill and was released from the military. Not interested in going back to shcool and against his mothers will, he found work as a test driver in Turin in late 1918. Enzo then moved to Milan to work at CMN (Costruzioni Maccaniche Nazionali) as a racing car driver. His first real race came in the 1919, the Parma-Berceto, he then entered the Targa Florio that same year. Enzo then founded Scuderia Ferrari, (literally means Ferrari Stable) who were mainly sponsors and trainers for Alfa Romeo.
THE PRANCING HORSE EMBLEM

The famous symbol of Ferrari is a black prancing horse on yellow background, usually with the letters S F for Scuderia Ferrari.
The horse was originally the symbol of Count Francesco Baracca, a legendary "asso" (ace) of the Italian air force during World War I, who painted it on the fuselage of his planes. Baracca died very young on June 19, 1918, shot down on Mount Montello after 34 victorious duels and many team victories. He was the Italian ace of aces and he soon became a national hero.
Baracca had wanted the prancing horse on his planes because his squad, the "Battaglione Aviatori", was enrolled in a Cavalry regiment (air forces were at their first years of life and had no separate administration), and also because he himself was reputed to be the best cavaliere of his team. The Scuderia Ferrari logo Coat of Arms of the City of StuttgartIt has been supposed that the choice of a horse was perhaps partly due to the fact that his noble family was known for having plenty of horses in their estates at Lugo di Romagna. Another theory suggests Baracca copied the rampant horse design from a shot down German pilot having the emblem of the city of Stuttgart on his plane. Interestingly, German sports car manufacturer Porsche, from Stuttgart, borrowed its prancing horse logo from the city's emblem. Furthermore astonishing: Stuttgart is an over the centuries modified version of Stutengarten (an ancient german word for "Gestüt", translated into english as mare garden or stud farm, into italian as "scuderia").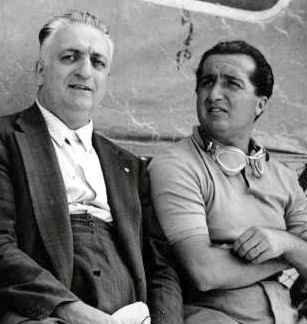 Enzo and Dino Ferrari
On June 17, 1923, Enzo Ferrari won a race at the Savio track in Ravenna, and there he met the Countess Paolina, mother of Baracca. The Countess suggested that he might use the horse on his cars, suggesting that it would grant him good luck, but it the first race at which Alfa would let him use the horse on Scuderia cars was eleven years later, at SPA 24 Hours in 1932. Ferrari won.
Ferrari left the horse black as it had been on Baracca's plane; however, he added the canary yellow background because it was the symbolic color of his birthplace, Modena. The prancing horse has not always identified the Ferrari brand only: Fabio Taglioni used it on his Ducati motorbikes. Taglioni's father was in fact a companion of Baracca's and fought with him in the 91st Air Squad, but as Ferrari's fame grew, Ducati abandoned the horse; this may have been the result of a private agreement between the two brands. The prancing horse is now a trademark of Ferrari.
ALFA ROMEO
Ferrari was officially hired by Alfa Romeo as head of their racing department in 1938, then in 1940, upon learning of the company's plan to take control of his beloved Scuderia, he quit Alfa. Since he was prohibited by contract from racing for several years, the Scuderia briefly became Auto Avio Costruzioni Ferrari, which ostensibly produced machine tools and aircraft accessories for Piaggio and RIV as Italy was gearing up for WWII. Ferrari did in fact produce one race car, the Tipo 815, in the non-competition period; it was thus the first actual Ferrari car, but due to the war it saw little competition.
Ferrari experienced an emotional breakdown in the late twenties and stopped racing for a short time, but in 1927, he returned. He continued to race for Alfa Romeo until his son was born, in 1932. Although Ferrari was a good racer, his talent was in the direction of organization and handling of small details. He worked for Alfa Romeo for nine years, but Ferrari wanted to design his own cars. After being released from his severance agreement with Alfa Romeo, Ferrari started his own car business. However, a stipulation of his release was that he could not race or design anything under his name for four years.

In 1943 the Ferrari factory moved to Maranello, where it has remained ever since. The factory was bombed in 1944 due to making machines for ball bearing production, it was rebuilt in 1946 to include a works for road car production. The first Ferrari road car was the 1947 125 S, powered by a 1.5-litre V12 engine; Enzo reluctantly built and sold his automobiles to fund the Scuderia. While his beautiful and blazingly fast cars quickly gained a reputation for excellence, Enzo maintained a famous distaste for his customers, most of whom he felt were buying his cars for the prestige and not for racing. Ferrari has long been one of the ultimate toys for the rich and young (or young-at-heart).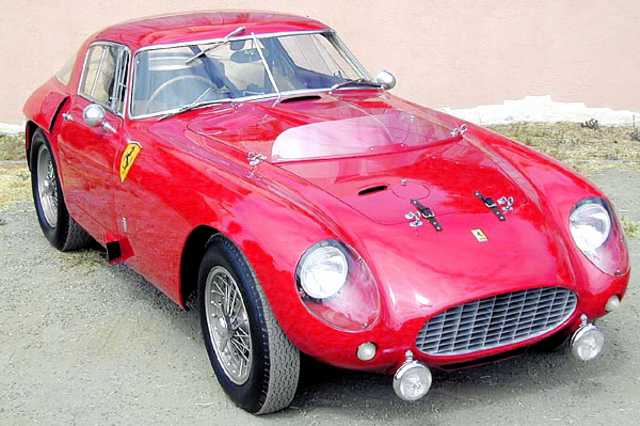 Ferrari Berlinette 375
Ferrari cars feature highly-tuned small V8 and V12 engines, often in a mid-engined configuration. But until the introduction of fuel injection in the 1980s, they were quite temperamental and were dificult to maintain. Before the mid 1980s they carried a reputation for unreliability and bad engineering, though these were written off by enthusiasts as "character." Ferrari owners have famously and religiously defended the merits of their cars while virulently criticizing other brands.
The fifties were a time of economic boom, mostly for the north. Italy was becoming a world economic power, and was experiencing rapid expansions in the industrial labor forces. With the boom came low inflation, low unemployment, and higher consumer spending. This was considered an economic miracle, there was a great demand for Italian goods (Galt Lecture, 1997). The north offered the jobs which caused massive migration from the south. With the southern workers mostly being uneducated and having no representation in the work force, they were candidates for exploitation.
As with any economic boom, there are also hardships. For Ferrari, the end of the boom came when his son, Dino, died of muscular dystrophy in 1956. This also led to the end of his marriage to Laura, who never got over the death of her only son. After he and his wife separated, he moved into an apartment at the factory. He started to work seven days a week and throw himself into the business. Following the death of his wife, he publicly announced that the son of his mistress was his new heir.


The Scuderia joined the Formula One World Championship in the first year of its existence, 1950. Jose-Froilan Gonzalez gave the team its first victory at the 1951 British Grand Prix. Alberto Ascari gave Ferrari its first World Championship a year later. Ferrari is the oldest team left in the championship, not to mention the most successful: the team holds nearly every Formula One record.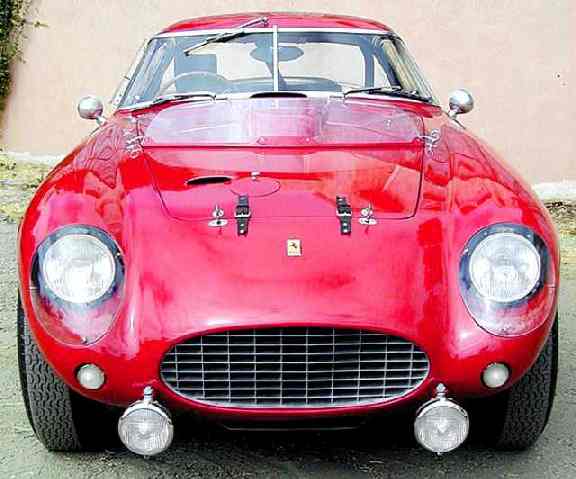 Ferrari Berlinetta 375
In the fifties the Ferrari racing company experienced numerous accidents, one of which led to Ferrari's indictment for manslaughter. One of his drivers lost control of his car and was killed along with spectators in the stands. Ferrari was acquitted of the charges, and he "urged strict new safety regulations to protect both drivers and the public".
In the years that followed Italy went through another crisis. In the sixties, the economy declined. An increase in inflation eroded wages. The late sixties were composed of student movements which included students helping the working class by fighting for and winning higher wages. During this time Ferrari was also experiencing economic troubles. He sold part of his company to Fiat in 1965, which kept it going for a few more years. In 1969, Fiat assisted him again and bought the up a total of 90% of the company, with the stipulation that he would control until his death.
The now classic Berlinettas battled the 24 Hours of Le Mans. The works engines produced 384 bhp at 7500 rpm. Customer 375mm Berlinettas and Spyders utilized a new short stroke engine of 84mm x 68 mm for a total displacement of 4523cc. This engine produced 340 bhp at a lower 7000 rpm.
Ferrari stepped down as president of the company in 1971. However, he continued to run many aspects of it, including control of his stock interest, until his death in 1988.

Enzo Ferrari was given the Italian award of Cavaliere for sporting mertit in 1924 and went on to receive further honours from the nation: Commendatore in 1927, Cavaliere del Lavoro in 1952. In 1960 he received an honorary degree in mechanical engineering from Bologna University. In 1988 Modena University gave him in Physics. He was awared the Hammerskjold Prize by the UN in 1962, the Columbus Prize in 1965, the Gold Medal from the Italian school of Art and Culture in 1970, the De Gasperi Award in 1987.

Under his leadership (1947-88) Ferrari won over 5000 races all over the world and earned 25 world titles. The most important achievements have been 9 Formula 1 Drivers' World titles, 8 Formula 1 Constructors' World Championships, 14 Manufactures' World titles, 9 wins at Le Mans 24 Hours race, 8 at the Mille Miglia, 7 at the Targa Florio.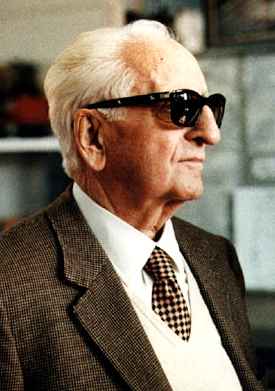 Enzo Ferrari 1980

Enzo Ferrari died in Modena on August 14 1988. After the death of Enzo Ferrari, Scuderia Ferrari struggled to come to terms with the loss of its founder. The team was dragged down with internal politics marring the performances on the track. Despite a good run with Mansell and Prost the team soon became un-competitive. The turning point for Ferrari was the signing of the current world champion Michael Schumacher and Ross Brawn in 1996, since then the team has re-found it's racing history and are now back at the front of the grid.
FERRARI 250 GT
Introduced in the fall of 1962, the 250 GT Berlinetta Lusso was Ferrari's latest intermediate model, a vehicle to bridge the gap between competition racers and luxuriously appointed 2+2 Coupe's. In the past, models like the 250 GT Pinin Farina 'Notchback' and SWB Lusso had occupied this middle ground, however, Ferrari's new model struck a perfect balance between what were two very different automobiles. It combined exceptional performance and sultry looks and today the GTL is widely regarded as one of Pininfarina's greatest ever designs - no small complement considering some of their exquisite bodywork from the last 60 years.
The Lusso's tubular steel Tipo 539 chassis was eminently comparable to the frame seen on Ferrari's awesome 250 GTO. Sharing an identical wheelbase of 2400mm, primary points of difference were smaller diameter steel tubing and the Lusso's forward mounted engine to increase cabin space. Otherwise, the independent front suspension and live rear axle set up, with hydraulic discs all-round and Borrani wire wheels, was very much the same. Once again, the single overhead camshaft, 60° V12 used in these GTL's was another descendent of Colombo's original unit, Lusso's representing the pinnacle of development for the legendary 250 unit. Designated Tipo 168, the engine was little more than a mildly de-tuned version of Ferrari's racing spec units used in the aforementioned GTO. Displacement remained at the by now familiar 2953cc thanks to a bore and stroke of 73mm x 58.8mm respectively. Output was 250bhp at 7500rpm with a compression of 9.2:1 and three twin choke Weber 36 DCS downdraught carburettors. However, by special request, both these could be altered according to the desires of any particular client. For example, some Lusso's received high compression units whilst hot 36 DCZ or even 40 DCL and DCZ carburettors were fitted to some motors. Indeed, it's believed that one or two GTL's left Maranello producing a GTO-rivalling 290bhp!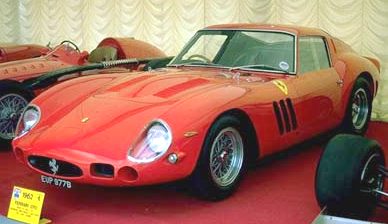 Ferrari 250 GTO 1962
The Ferrari 250 GTO was made from 1962 to 1964. There were 39 produced and they were only available as coupes (hardtops). Today's going rate for a good 250 GTO is in the $10,000,000 range! Obviously this is the way beyond the budgets of most mortals.
The design of the GTO was instantly and universally admired. Its appeal has withstood the test of time, and it is considered to be one of the best looking sports cars of all time.
"GTO" stood for Grand Turismo Omologato, or Grand Touring Homologated. This naming is widely considered to be a very effective ruse, by which Ferrari convinced the FAI (international sanctioning body for racing) that this car was a version of Ferrari's mass produced 250 GT.
Jedan od najrijeđih i danas najcijenjenijih (najskupljih) Ferrarija nastao je 1962 godine zbog tada novoosnovanog GT Svjetskog prvenstva.

Glavni inženjer bio je Giotto Bizzarrini, a što je dosta neobično za Ferrari, on je uz konstruiranje šasije i izdizajnirao automobil što je uobičajeno bio Pininfarinin posao. Karoserijski specijalist Sergio Scaglietti kome je Enzo povjerio posao izrade novog Ferrarija pobrinuo se da nekim detaljima poput stražnjeg izdignutog spojlera automobil bude čvrsto na cesti. U svakom slučaju, ovim senzacionalnim Ferrarijem Bizzarrini se dokazao i kao odličan dizajner. (jedan od posebnih detalja su i tri otvora za hlađenje motora koji su se mogli i zatvoriti)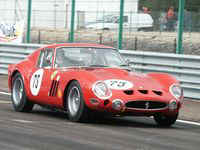 Pravila GT natjecanja su zahtjevala homologaciju, odnosno proizvodnju minimalno 100 cestovnih primjeraka modela s 3-litrenim motorom da bi se moglo na piste. Nakon nekih kontroverzi između uprave GT prvenstva i Enza (umjesto 100 napravljeno 39 komada!) ipak je veliki Il Commendatore nekako zataškao problem tvrdeći kako on proizvodi automobile s 3-litrenim motorima još od 1955! (vrijede li pravila za velike!? ;-))
Dakle, ispod poklopca nalazio se 3-litreni V12 agregat snage 295 konja koji je Ferrari GTO (Gran Turismo Omologato) tjerao do vrlo visokih 280 km/h. Zna se da je Enzo najviše pažnje posvećivao razvijanju motora i karoserije, dok mu je podvozje s ovjesom bilo manje važno. Tako je i GTO imao konstrukciju krutih osovina koja je svoju premijeru imala još 1947 godine.

To ipak nije bilo važno jer GTO osvaja GT prvenstvo 1962, ´63 i ´64 godine, a što je bilo gotovo najvažnije, osvajan je i Le Mans. Ferrarijeva dominacija trajala je do sredine pojave automobila s središnje ugrađenim motorom (od 1966 Ford GT40 preuzima ulogu nepobjedivog). Tada Ferrari svu snagu ulaže u Formulu 1.
1996 was a year for building for the future and in 1997 and 1998 Ferrari lost out on the title's only in the final race of the season. 97 will be remembered from the Jerez incident in which Michael Schumacher tangled with title rival Jacques Villeneuve handing the Williams driver the title. In 1998 it was Mika Hakkinen in the McLaren who took the title on the final day of the season after Schumacher's Ferrari stalled on the grid at Suzuka.
In 1999 a Schumacher driver's title looked on the cards until a leg breaking accident at Silverstone ruled him out of the title battle, it was left to Eddie Irvine to take the fight to Hakkinen and fight he did, the title again went to the final race of the season but not even the return of Michael Schumacher could prevent Hakkinen taking the crown once again, Ferrari however took victory in the constructor's championship.
2000 was a turning point for Ferrari's fortunes, another tough battle with McLaren was won in style with a fine end of season comeback which saw Michael Schumacher win the final four races of the season to secure both titles for Ferrari. And in 2001 the success would be repeated, this time Ferrari had less of a challenge and Schumacher had wrapped up another title long before the season was over.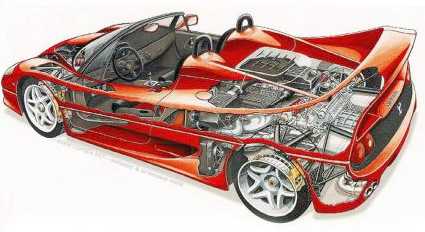 In 2002 Ferrari launch the F2002 and it will be a car that is long remembered in the history of the Scuderia. The F2002 simply dominated the season after making a delayed debut in Brazil. Schumacher won the driver's title quicker than any other driver before and Ferrari won by a record margin of points. However this success caused the FIA to worry about the sport becoming boring and in 2003 they were to introduce a raft of changes to try and slow down Ferrari and keep the title's competitive.
The changes to F1 in 2003 did at least stop Ferrari running away with the title's once again, but they did not stop the winning streak from continuing. Schumacher once again took the driver's title this time fighting off a double challenge from Montoya and Raikkonen. Ferrari took their 5th straight victory in the constructor's title and put another notch on their domination of the sport in this period of time.
2004 would see Ferrari continue to dominate F1, after the tough battle in 2003 many expected Ferrari's winning run to come to an end at the hands of their Michelin shod rivals, but the F2004 was simply the class of the field as Ferrari went on the rampage once again similar to 2002 where nobody had an answer to their pace. Ferrari were so far ahead of the rest they stopped developing the chassis in the summer to work on the 2005 car, thus allowing their rivals some hope as they caught up with the champions towards the end of the season, but by then it was all done and dusted and the team sealed yet another double championship win, with 15 wins from 18 races.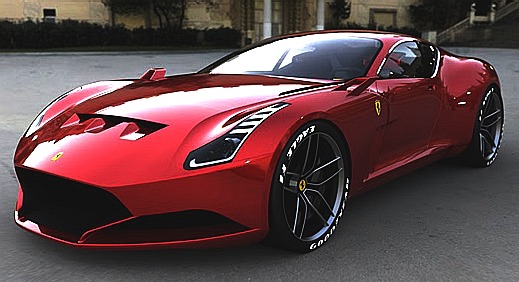 Ferrari 612 GTO
As of 2004, the team's records include fourteen World Drivers Championship titles (1952, 1953, 1956, 1958, 1961, 1964, 1975, 1977, 1979, 2000, 2001, 2002, 2003 and 2004), fourteen World Constructors Championship titles (1961, 1964, 1975, 1976, 1977, 1979, 1982, 1983, 1999, 2000, 2001, 2002, 2003 and 2004), 179 grand prix victories, 3445 and a half points, 544 podium finishes, 174 pole positions, 11,182 laps led, and 180 fastest laps in 1622 grands prix contested. Famous drivers include Tazio Nuvolari, Juan Manuel Fangio, Alberto Ascari, Phil Hill, Mike Hawthorn, John Surtees, Niki Lauda, Jody Scheckter, Gilles Villeneuve, Nigel Mansell, Alain Prost and Michael Schumacher.
FIAT and FERRARI

As of 2004, FIAT owns 56% of Ferrari, Mediobanca owns 15%, Commerzbank AG owns 10%, Lehman Brothers owns 7%, and Enzo's son Piero Ferrari owns 10%.
Team Statistics >> 2004
Debut: Monaco 1950
Drivers' titles: 14
Constructors' titles: 14
Starts: 1574
Wins: 182
Pole positions: 178
Points: 4188.5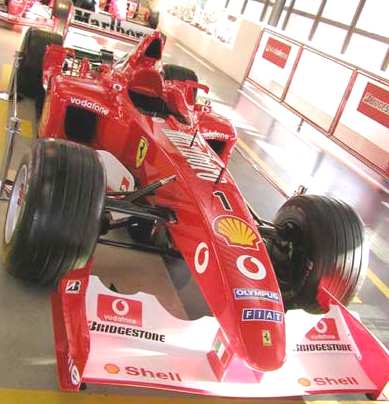 RACE RESULTS 1951 >>
1951: First Grand Prix win in Britain.
1952: Alberto Ascari World Champion with six wins
1953: Alberto Ascari World Champion with five wins
1956: Juan Manuel Fangio World Champion with three wins
1958: 2nd in Constructor's Championship with 40 points
1959: 2nd in Constructor's Championship with 32 points
1960: 3rd in Constructor's Championship with 22 points
1961: 1st in Constructor's Championship with 40 points
1962: 5th in Constructor's Championship with 18 points
1963: 4th in Constructor's Championship with 26 points
1964: 1st in Constructor's Championship with 45 points
1965: 4th in Constructor's Championship with 26 points
1966: 2nd in Constructor's Championship with 31 points
1967: 4th in Constructor's Championship with 20 points
1968: 4th in Constructor's Championship with 32 points
1969: 5th in Constructor's Championship with 7 points

Ferrari F1, Ferrai FXX, and Ferrari 599XX extreme sounds
1970: 2nd in Constructor's Championship with 55 points
1971: 4th in Constructor's Championship with 33 points
1972: 4th in Constructor's Championship with 33 points
1973: 6th in Constructor's Championship with 12 points
1974: 2nd in Constructor's Championship with 65 points
1975: 1st in Constructor's Championship with 72.5 points
1976: 1st in Constructor's Championship with 83 points
1977: 1st in Constructor's Championship with 95 points
1978: 2nd in Constructor's Championship with 58 points
1979: 1st in Constructor's Championship with 113 points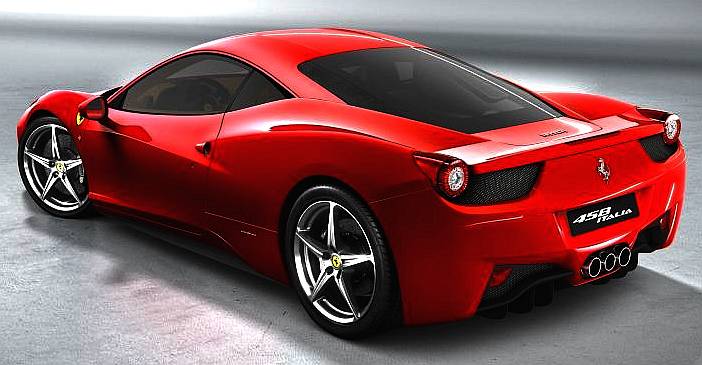 Ferrari 458 Italia
1980: 10th in Constructor's Championship with 8 points
1981: 5th in Constructor's Championship with 34 points
1982: 1st in Constructor's Championship with 74 points
1983: 1st in Constructor's Championship with 89 points
1984: 2nd in Constructor's Championship with 57.5 points
1985: 2nd in Constructor's Championship with 82 points
1986: 4th in Constructor's Championship with 37 points
1987: 4th in Constructor's Championship with 53 points
1988: 2nd in Constructor's Championship with 65 points
1989: 3rd in Constructor's Championship with 59 points
1990: 2nd in Constructor's Championship with 110 points
1991: 3rd in Constructor's Championship with 55.5 points
1992: 4th in Constructor's Championship with 21 points
1993: 4th in Constructor's Championship with 28 points
1994: 3rd in Constructor's Championship with 71 points
1995: 3rd in Constructor's Championship with 73 points
1996: 2nd in Constructor's Championship with 70 points
1997: 2nd in Constructor's Championship with 102 points
1998: 2nd in Constructor's Championship with 133 points
1999: 1st in Constructor's Championship with 124 points
2000: 1st in Constructor's Championship with 170 points
2001: 1st in Constructor's Championship with 179 points
2002: 1st in Constructor's Championship with 221 points
2003: 1st in Constructor's Championship with 158 points
2004: 1st in Constructor's Championship with 262 points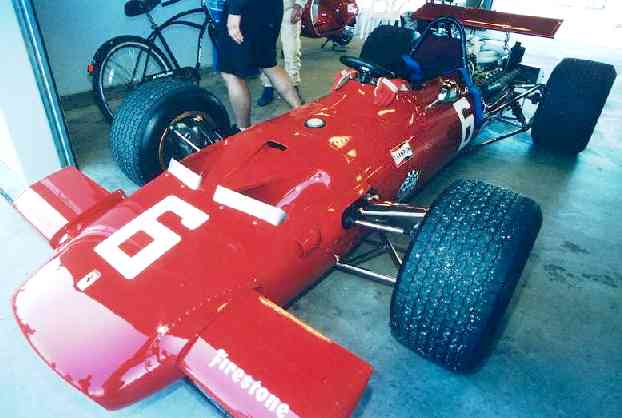 ---
LINKS:
F1 LINKS:

Pitpass.com
News On F1.com
GrandPrix.com
F1Racing.net
Enzo Ferrari - movie trailer
FERRARI OFFICIAL LINKS:

Ferrari-World.com
Michael Schumacher Official Site
Rubens Barrichello Official Site
Felipe Massa Official Site
Shell Ferrari Site
RACING CIRCUIT LINKS:
Melbourne
Sepang
Bahrain
Imola
Barcelona
Monaco
Nurburgring
Montreal
Indianapolis
Silverstone
Magny-Cours
Hockenheim
Hungaroring
Spa-Francorchamps
Monza
Zuhai
Suzuka
Interlagos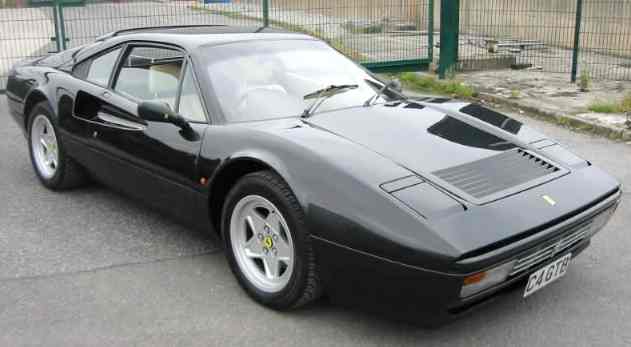 Ferrari 328 GTB
---
Please click on the links above to find out about these famous automotive makers. If your company is not included and you would like to be listed, please let us know.
Ferrari Enzo v McLaren F1
UK VEHICLE INSURANCE ONLINE A - Z
No matter what car, van or bike you drive, we're all looking for great value and quality in our UK motor insurance? But who is the best - who is the cheapest and who offers the great service in the event of a claim?
See the insurance companies below who claim to offer competitive cover at sensible prices, our guide to the jargon and tips for cutting your quote - Good Luck:-
The World in Your Hands

The world's fastest electric car: 350mph + using energy from nature