Students at the University of Johannesburg have taken on the task of producing the faculty's first solar-powered car(s) with the intention of taking on the best of the best at the South African Solar Challenge.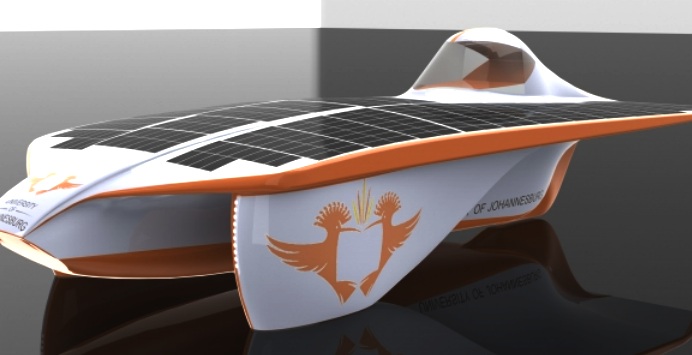 ILANGA II
At the heart of the solar powered vehicle is an aluminium space-frame chassis together with pushrod double wishbone front suspension and rear swing arm suspension. Ilanga was designed in accordance with the FIA and World Solar Regulations. The outer body of the vehicle is supported by lightweight ribs and stringers with solar power converters arranged as shown (green boxes). The fibreglass shell of the vehicle has been designed to be as aerodynamic as possible while still being aesthetically pleasing and providing sufficient surface area for solar panels.
The solar cells have been arranged in five arrays or segments, with the arrays incorporating a maximum power point tracking system to ensure maximum cell efficiency. A set of lithium technology batteries will act as an energy buffer to power the vehicle when the solar power is insufficient. Managing the energy flow between the solar panels, the battery pack, and the permanent magnet synchronous motor is a critical control problem that will maximize the vehicle efficiency, range, and speed. The system also incorporates a health and usage monitoring system which records information on power consumption, cell and motor temperature and available solar energy.
WARREN HURTER - PROJECT LEADER
Warren is a Qualified Mechanical Engineer working towards a masters degree. He was chosen to Project Manager the UJ Solar team, and will also be designing a survival cell (to FIA specs) as well as the suspension steering and braking system for Ilanga II.
On the prototype Ilanga in 2011 Warren was the project manager, chassis designer, power train designer and solar cell encapsulation organiser. His goal for 2012 is to put the University of Johannesburg on the map by producing a second competitive solar vehicle to represent the university at the South African Solar Challenge.
CONTACTS
LINKS:
---
SOLAR CAR TEAMS
| ORGANISATION A-Z | CAR'S NAME | TEAM NAME |
| --- | --- | --- |
| | Helios | Faculty of Engineering |
| | | |
| | Sky Ace TIGA | |
| | Sol of Auburn | Sol of Auburn |
| | Aurora | Aurora Vehicle Association |
| | | Das SolarCar der Fachhochschule |
| | SLO Burn Sidewinder | |
| | | |
| | | The Solar Knights |
| | | |
| | | |
| | | |
| | | |
| | | Solar Car Racing Team |
| | | |
| | | |
| | | |
| | Dark Horse | EAC Skunkworks |
| | | |
| | | |
| | | |
| | Heliodet | |
| | | |
| | | |
| | | |
| | Surya, Ratha, Mercury | |
| | Fusion | |
| | | |
| | Paragon | |
| | Solar Wing | |
| | | |
| | Tesseract | |
| McGill University Monteal, Canada | | |
| | | McMaster Uni Solar Car Project |
| | | Genesis II Solar Racing Team |
| | | |
| | | |
| | | |
| | The Double Deuce | Sunsetters - Solar Race Team |
| | N'Uvation | |
| | | Het Nuon Solar Team |
| | OSU model S | |
| | Solaris | Sun Panthers |
| | RA 6 | Principia College Solar Car Team |
| | SPOT 2 | Purdue University Solar Racing |
| Queen's University Canada | | |
| | | Red River College Solar Car Team |
| | | |
| | | |
| | Cougar Cruiser | |
| | | |
| | Solar Motion | |
| | | |
| | Solstice | |
| | | Tamagawa Solar Challenge Project |
| | FUTURA 2 | |
| | Solaris 1 & 2 | |
| | Phaethon model | Team SunLake TOYOBO |
| | Columbia Sunraycer | Texas A&M Motorsports Team |
| The Power of One - Toronto | Xof1 | The Xof1 solar car team |
| | | |
| | | |
| | Drifter | |
| | | UC Calgary Solar Car Team |
| | | |
| | | |
| | Ilanga II | |
| | Solution, CATalyst | KSU Solar Car Racing Team |
| | Gato del Sol II | |
| | | |
| | | |
| | Borealis III | U of M Solar Vehicle Project |
| | Suntiger VI | The Mizzou Solar Car Project |
| | | |
| | | |
| | | UOI Solar Vehicle Team |
| | UNSW Sunswift III | |
| | | |
| | Keystone | |
| | | Queensland Solar Team |
| | | |
| | Persian Gazelle | |
| | Solar Steer | |
| | | Solraycers |
| | | |
| | | Heliotrope Solar Car Team |
| | | |
| | | |
| | | |
| | | |
| | | |
| | Sunseeker 05 | |
| | | |
Ilanga I road tests
SOLAR CAR EVENTS
American World Solar Challenge - Formula Sun